July 07, 2023
Reading Time:
6
min
3angleFX Review: A Reputable Broker with Extensive Market Offerings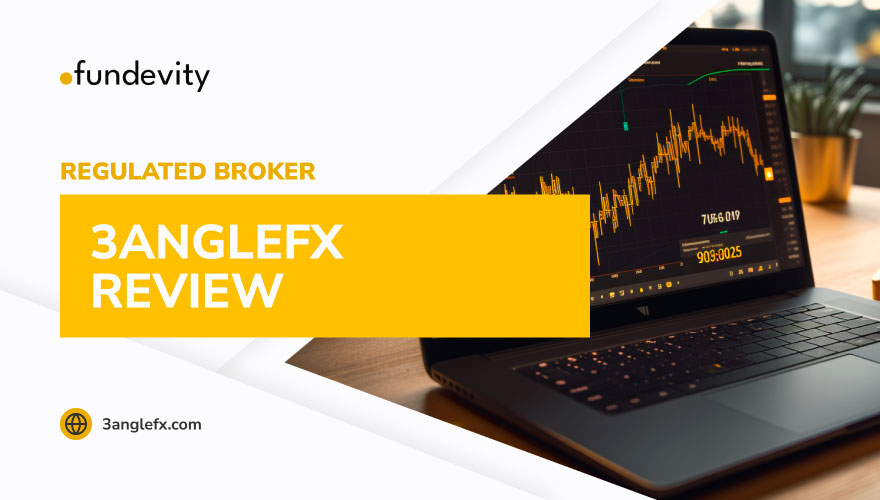 The 3angleFX login and homepage are easy to navigate. You will find extensive information about the broker, their services, and the markets they cover. This article provides an in-depth analysis of 3angleFX. It explores critical aspects such as licensing, trading options, and the platform they use. Our goal is to present this information in a lucid and organized manner. 
This will ensure that you gain a solid understanding of the broker's characteristics and offerings. If you are eager to delve deeper into their services, continue reading this 3angleFX review.
Unveiling the Legitimacy of 3angleFX
So, is 3angleFX regulated or not? 3angleFX is the trading name of Triangleview Investments Limited, a reputable investment firm based in Cyprus. Since its establishment in 2019, the company has garnered recognition in the financial industry. This company is licensed by CySEC under license number 384/20. In that way, they ensure compliance with regulatory standards.
However, in July 2022, CySEC fined 3angleFX's parent company, Triangleview Investments Ltd, €50,000 for failing to comply with the jurisdiction's regulations regarding client funds protection.
General information
Name:

Triangleview Investments Limited

Regulation status:

Regulated by CySEC

Warnings from Financial Regulators:

No official warnings

Website link:

https://3angleFX.com/

Active since

2019

Registered in

Cyprus

Contact info:
Email: [email protected], [email protected]
Trading platforms:

MetaTrader 5, Webtradeer, and Mobile trading app.

The majority of clients are from:

South Africa; Spain; Poland

Customer support:

Yes (

24/5 live chat, online messaging, and email support

.)

Compensation fund:

Yes
3angleFX Markets: Exploring the Range of Market Instruments
As a broker, 3angleFX includes a wide array of trading options designed to meet diverse investors' needs. Traders can engage in Contracts for Difference (CFDs) across various financial instruments, including FX, stocks, commodities, indices, and cryptocurrencies. 
These instruments are listed below:
Forex. With 3angleFX, traders can access an extensive array of currency pairs. This enables investors to take part in the dynamic global currency market. And they can capitalize on fluctuations in exchange rates and generate profits.
Stocks. 3angleFX provides the opportunity to trade stocks. That empowers investors to buy and sell shares of distinguished companies listed on major stock exchanges. 
Commodities. With 3angleFX, traders can access a wide range of commodities. That includes precious metals like gold and silver, energy products like crude oil, and agricultural goods. This unlocks exciting possibilities for traders to seize potential profit opportunities.

Indices. 3angleFX also offers index trading for those who want to speculate on market performance. Traders speculate on market indices representing specific sectors or regions. 
3angleFX provides traders with a wide range of market instruments. This enables them to explore diverse market segments. Their comprehensive CFD trading platform equips traders with the essential tools and confidence.
Trading Platforms: Advantages and Considerations
3angleFX offers a range of trading platforms. Each platform comes with its set of advantages and considerations, ensuring traders can find the right fit for their trading goals. Let's look at the available platforms and what to remember when choosing one.
MetaTrader 5 (MT5): Advanced Features for Optimal Trading
3angleFX provides the highly acclaimed MetaTrader 5 (MT5) trading platform. This one is widely recognized for its robust features. MT5 offers an intuitive interface, extensive charting capabilities, and a diverse set of technical indicators. Traders can leverage real-time market analysis, automated trading systems, and customizable strategies. 
With MT5, traders can execute trades seamlessly, access a wealth of tools, and enhance their decision-making process. MT5 is available for free and is compatible with Windows, iOS, and Android devices. It is also available in multiple languages, making it accessible to traders from all over the world. The platform is also secure and compliant with industry regulations.
WebTrader: Accessible and Convenient Trading
For traders who prefer web-based platforms, 3angleFX offers WebTrader. This platform allows traders to access their trading accounts through a web browser without downloading anything. 
WebTrader provides a user-friendly interface and essential trading functionalities. That makes it accessible and convenient for traders on the go. WebTrader lets you monitor market conditions, execute trades, and manage your positions from any device.
Note: The 3angleFX Wiki page is not available. Yet, several sources of information available online provide details about the broker.
Mobile Trading: Trading on the Go
Recognizing the importance of mobile trading, 3angleFX provides a mobile trading app compatible with iOS and Android devices. With the mobile trading app, traders can stay connected to the markets and manage their trades while on the move. 
The app offers real-time price quotes, interactive charts, order management, and account monitoring. Whether you are commuting or away from your desk, the mobile app allows you to seize trading opportunities.
Choosing the Right Platform for You
When choosing a trading platform, it's crucial to consider your trading preferences, goals, and needs. Factors such as platform features, usability, device compatibility, and availability of tools should be considered. 
It's advisable to explore demo accounts or trial versions of the platforms to firsthand experience their functionalities. This will help you determine the platform that best suits your needs.
General Trading Environment at 3angleFX
3angleFX traders can expect a dynamic trading environment designed to enhance their trading experience. Here are some key aspects of 3angleFX's general trading environment:
Transparent pricing. 3angleFX is committed to pricing transparency. Traders can expect competitive spreads and fair pricing on their trading instruments. Clear and transparent pricing allows traders to understand trade costs.

Order execution. 3angleFX is dedicated to efficient order execution. Traders can enjoy fast and reliable trade execution. This helps traders capitalize on market opportunities and cut slippage risk.

Customer support. 3angleFX offers responsive and professional customer support. Traders can have assistance and guidance whenever they need it. A reliable customer support team can help traders navigate any challenges they may encounter.

Educational resources. 3angleFX understands the importance of continuous learning in trading. The broker provides a range of educational resources, including trading guides and market analysis. 

Account types. 3angleFX offers two different account types. These are Live and Demo accounts. You can choose an account type that suits your trading style and preferences. 

Risk management. 3angleFX emphasizes risk management in trading. They offer stop-loss orders, take-profit orders, and negative balance protection. Risk management tools help traders control their exposure and protect capital.
By fostering a secure and supportive trading environment, 3angleFX aims to create a positive experience for all. Traders can expect secure execution and educational and professional support. This will enable them to trade with confidence and pursue their financial goals.
3angleFX Funding Policy: Everything You Need to Know
The policy applies to deposits and withdrawals made by clients of Triangleview Investments Ltd. Let's take a look! 
Clients can fund their accounts through various methods, including bank transfers and cards.

Deposits are transferred to the client's trading account within one business day.

Only funds from the client's accounts are accepted. Also, the company may request documentation to confirm the source of funds.

Clients can request withdrawals, which will be processed on the same day or the next working day.

The company does not charge fees for deposits or withdrawals, but other bank charges may apply.

The company is not responsible for malfunctions in payment systems or systems operated by third parties.

Refund requests can be made by clients who have deposited funds into their trading accounts.

Refunds will be executed promptly, and the business relationship will be terminated.

The company deducts service charges if applicable, and currency conversions are based on the daily exchange rate.

Clients are responsible for maintaining their systems and protecting against viruses.

In case of a mistake by the company, funds will be refunded to the client's account.

The company has the right to decline internal transfers without further explanation.
Note: Deposit and withdrawal options at 3angleFX are limited to credit cards and bank transfers. The minimum deposit is $100, and no service fees are charged by the broker for these transactions.
3angleFX's Impressive Reputation
3angleFX has established an impressive reputation, as reflected in its outstanding Trustpilot rating. With a remarkable 4.5-star rating based on 14 reviews, users express high levels of satisfaction with the platform. The majority of reviews are 5-star ones, indicating an overwhelmingly positive experience. These positive ratings testify to users' exceptional experiences with 3angleFX.
Users highly value the platform's reliability, robust features, and dedicated customer support. They appreciate the comprehensive range of trading tools and platform reliability. Furthermore, round-the-clock customer service ensures users can receive assistance whenever they need it. Traders consistently praise 3angleFX. This is why it got the highest grades on Trustpilot, contributing to its growing reputation in the industry.
If you are interested in learning more about regulated brokers like 3angleFX or Alchemy Markets, we are here to help. Please contact us for further assistance, and check out our social media pages for more information.
Long Story Short – 3angleFX
3angleFX forex broker is a reputable and regulated firm operated by Triangleview Investments Limited. Since its establishment in 2019, the company has obtained a valid CySEC license, ensuring client protection. The 3angleFX CySEC license is solid. Yet, keep in mind that the same regulator fined this company.
They include a diverse range of trading options, by all means. Users can analyze markets using the UI-friendly MetaTrader 5 (MT5) platform. Also, 3angle FX has received an impressive Trustpilot rating, with users expressing only positive experiences. 
A growing reputation in the industry can be attributed to its reliable features, comprehensive trading tools, and round-the-clock support. Traders can navigate global financial markets more effectively with 3angleFX and Alpha Fx. If you need advice on choosing a secure broker, please contact us. We provide free advisory services for our readers.
FAQ Section
Is 3angleFX safe?
Yes, they are safe and secure. In addition, they are regulated by CySEC.
Where Is 3angleFX located?
3angleFX forex broker has its headquarters in Cyprus.
What Are The 3angleFX Withdrawal Requirements?
Does 3angleFX Have a Demo Account?
Yes, they offer a demo account with virtual money and actual market conditions.