February 14, 2023
Reading Time:
4
min
AFS-Equity Review: Find Out Why AFS-Equity.Com Is a Scam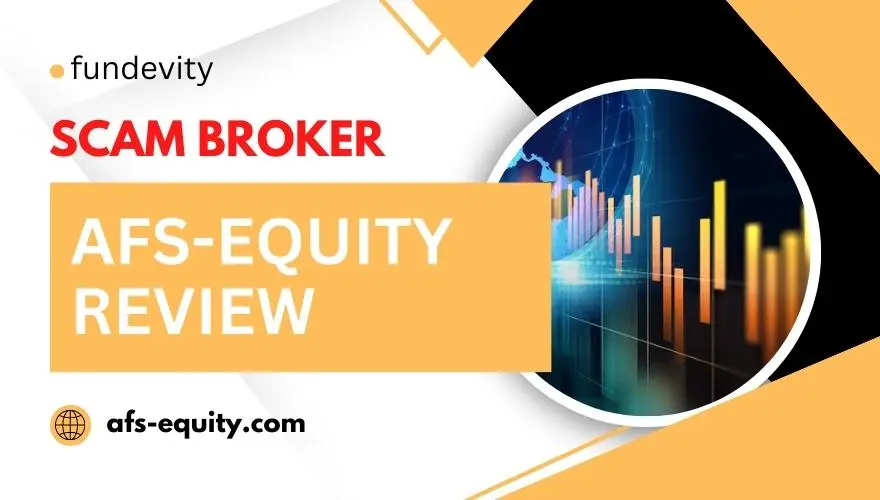 Reading throughout this AFS-Equity review, you will find out why this company is one of the most non-transparent brokers we have ever seen. Information like headquarters, telephone number, leverage, alleged owner, and much other information are all unavailable on their website. This kind of hard-to-find data is making this trader more than suspicious.
Legit agents would make all the necessary information easy to access, providing you with easy-to-reach contact information and crystal-clear license data. But that does not stand for this phony broker.
AFS-Equity is giving their users two options to contact them – by e-mail and Telegram app. That means you would not be getting your answer soon enough. Also, this dealer says that they deliver industry-leading trading conditions, recognized by renowned international awarding bodies. But we cannot find either those trading conditions or those international awards. Your scam alert should be ringing by now.
| | |
| --- | --- |
| Company | AFS-Equity |
| Website | https://www.afs-equity.com/ |
| Address | Not available |
| Email | [email protected] |
| Phone | Not available |
| Minimum Deposit | 1,000$ |
| Leverage | Not available |
| Bonuses | Trading bonuses |
| Regulation | No regulations |
| Warning | AMF Canada, Quebec |
Security and Compliance for AFS-Equity
After researching the databases of Tier 1 license providers, we can say the name of AFS-Equity cannot be found. That means they are unregulated, and they are performing their activities illegally. It also means your money is far from safe, in case you invested or plan to invest funds with them. And since they do not have a known country of residence, you can't take any legal action against them.
This non-legit broker was founded in 2022, and within a couple of months of operating it already got blacklisted by AMF Canada, Quebec, due to many complaints from Canadian residents.
Also, it's important to note that AFS-Equity does not provide services to residents of the United States, Germany, Cyprus, Israel, and many other countries.
These, and many more facts we are going to write down below, are the reasons why you should go with reliable intermediaries. You can find a number of them at the end of this AFS-Equity review. In the end, you want your money to be handled by a reliable company, and not by a bogus trader.
Website's Trading Platform Overview
Allegedly, AFS-Equity is a dealer that's using industry-standard platforms, such as MetaTrader 4, MetaTrader 5, Webtrader, and Native Mobile App. Since every trader, even a beginner, has heard of these platforms, they are using them as bait, to lure new users into their scam.
Nowadays, outright scammers just say that they are using standard platforms, but later on, you realize you aren't able to download the customized version of those. Which is the case now. No matter what platform they claim to be using, at the end of the day, they are an unauthorized company, and they can disappear at any time.
With regulated agents, you can use these platforms without fearing your money will disappear all of a sudden.
Deposit and Withdrawal for AFS-Equity
The minimum deposit for AFS-Equity is a shocking amount of 1000$. There are some trustworthy brokers whose minimum deposit is as low as 10$, which makes the AFS-Equity offer absurdly high. Especially when we add up other inconsistent and non-transparent things about this illicit trader.
The website of this shady trader doesn't provide any information regarding the payment methods for deposit and withdrawal. Legitimate agents typically offer clients a wide choice of transparent payment methods, including bank transfers, credit and debit cards, and established e-wallets such as PayPal, and others.
AFS-Equity Offers Bonuses and Promotions
Trading bonuses are one of the key points in how scammers attract new users. The story of getting rich in no time is always tempting. Even though such promotions may seem promising, they are always followed up with a couple of additional conditions. In this case, you need to fulfill the minimum turnover requirement to withdraw the bonus funds.
These requirements are very high, and almost impossible to reach. Even for highly experienced traders. If you somehow get credited with a bonus, your deposit money gets mixed up with the bonus funds, and it's impossible to distinguish them.
As you can see, this is a pretty complicated investment scam, and it's easy to get confused. You are dealing with elite con artists, and you shouldn't be ashamed if you get tricked by them.
How Did This Brokerage Perpetrate Fraud?
This cyber fraud is being operated like any other online scam, by using people's ignorance. In this case, ignorance of the foreign exchange market (Forex). Fraudster brokers use legitimate-looking websites to pull the customer's attention, and once customers leave their contact phone, experienced phony agents immediately call them. During that conversation, they say you can have a millionaire life once you deposit 1000$.
Of course, your money will never be invested in the market, yet it will go straight into scammers' pockets. You will neither see your alleged profit, nor the money you deposited. Furthermore, you should always do your research before using some traders' services.
You can always contact us if you want to report an investment scam. That's a brave thing to do because you are stopping them from deceiving other people.
AFS-Equity Summary
AFS-Equity is yet another phony broker company that's frauding people, which is the reason they got a warning from the AMF Canada, Quebec, just after a few months they have been performing activities. Many complaints and negative reviews have done their part. This company website lacks the necessary information that any reliable broker has.
Also, they require an absurdly high amount of a minimal deposit, which is another reason why you should not trust them. But, the most important thing is – they are unregulated and they don't undergo any laws. Long story short, they are scam brokers!
FAQs About AFS-Equity Broker
Is My Money Safe With AFS-Equity?
Your money is insecure with AFS-Equity, and you should act fast on the chargeback.
What Is The Minimum Deposit for AFS-Equity?
The minimum deposit for AFS-Equity is 1000$, which is a lot higher than industry standards.
Does AFS-Equity Offer Demo Account?
Unlike many reliable broker companies, AFS-Equity doesn't offer demo accounts. You can only use live trading accounts.