December 06, 2022
Reading Time:
4
min
Asian-Trade Review: All About Asian-Trade.Info Scam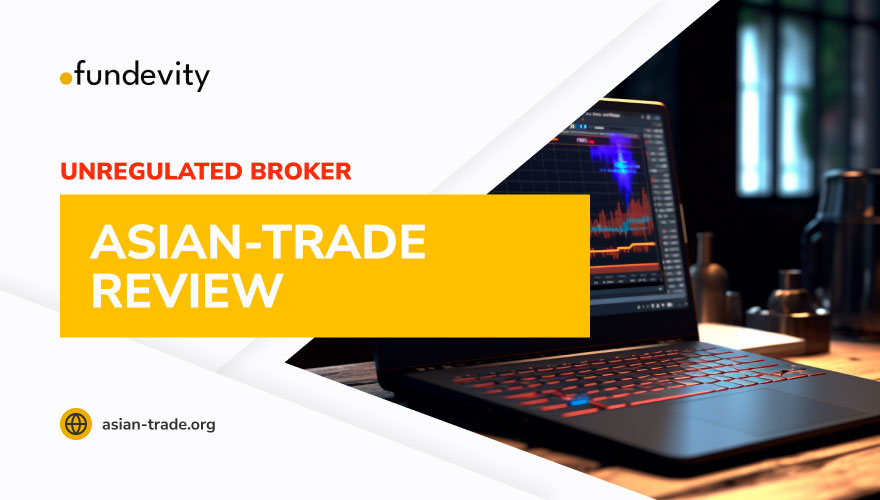 Asian-Trade is probably one of the sillier attempts of an investment scam we have encountered so far. 
Their ludicrous claims are something only a child could believe, and their website is chock-full of statements asserting that they have a history of "remarkable achievements and technological breakthroughs." Seriously, who writes something like that? Not a legitimate broker, that's for sure.
The shady brokerage offers its users a good trading platform, and some nice spreads, but that's about it. What's more Asian-Trade is unregulated and operates without a license which is a big no-no in the world of online trading and investing. 
One thing is certain Asian-Trade is not somebody you want to put your trust in.
| | |
| --- | --- |
| Company | Asian-Trade |
| Website | Asian-Trade.Info |
| Address | Japan |
| Email | [email protected] |
| Phone | +44 999 99999999 |
| Minimum Deposit | 100JPY |
| Leverage | 1:500 |
| Bonuses | N/A |
| Regulation | Unregulated |
| Warning | N/A |
Reliability of Asian-Trade – Regulation and Fund Safety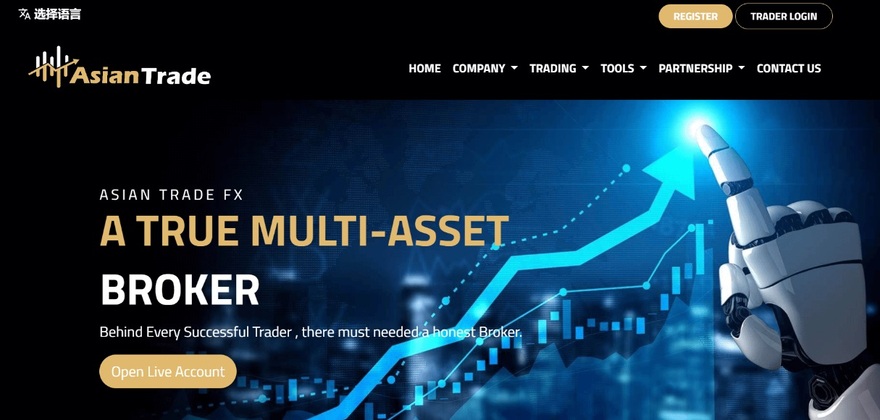 The reliability of Asian-Trade is a thing of imagination, there is nothing reliable about this illicit broker. 
Their webpage doesn't mention having a license at all. We tried finding out where is the company based, but again were greeted by utter nonsense. 
The company claims to have an office in Japan. Simply Japan, there is no address or anything. Next to their "location", there is a map of London for some reason.
Japan is notoriously strict about its regulations and requirements for trading. The chances of an amateur scam brokerage like this having a Japanese trading license are basically non-existent. 
A quick check with the FCA of the UK and the FSA of Japan confirmed this suspicion. Asian-Trade is not regulated in either of these countries.
What's more, the links which are supposed to take you to the Customer Agreement and Terms and Conditions pages, lead nowhere. Besides the Privacy Policy, their site was devoid of any documents which might shine some light on Asian-Trade and its operations.
Asian-Trade Available Trading Platform
One surprising fact about Asian-Trade is that it offers a distribution of the MetaTrader 4. The leading industry standard is a primary choice for many traders nowadays as it offers various advanced functions which help traders stay at the top of their game. 
The software is only surpassed by its successor, the MetaTrader 5. This is not such a huge surprise though, as quite a few swindler firms such as Asian-Trade manage to get their hands on this software somehow these days. It's important to note though, with or without a great platform, Asian-Trade is not a company that you should invest in.
Trading Instrument Available at Asian-Trade
The Asian-Trade scam offers its clients several trading instruments including Forex, metals, indices, and cryptocurrency according to their trading instruments page. 
A closer inspection of these pages reveals that the writer probably had no idea what he was dealing with. The sentences decorating these sections of their website were either nonsensical or copy-pasted from popular sites like Investopedia.
The trading conditions offered are also rather dubious. For example, the company offers leverage of up to1:500, which is something only a scam broker would do. The maximum leverage in Japan is 1:25, while in the EU and UK it's 1:30. 
Seeing how the financial swindler claims to be based in Japan, this is clearly another sign that we are dealing with a trading scam.
Deposit and Withdrawal Methods
The minimum deposit required by Asian-Trade is 100JPY which is somewhat less than 1$. Many well-known brokers and even some of the biggest brands in the market offer micro-accounts where clients have to make a symbolic deposit such as 1$. 
Then again, many scammers like to make average offers such as this one, in an attempt to fit in the standard and look normal.
The section of the website describing payment methods is another clear sign that Asian-Trade broker is just another investment scam. 
There are many contradictory claims to be found here, such as that they accept cryptocurrency as a method of payment. They even go as far as to say that "using Bitcoin to transact is easy and accessible to anyone".
In the deposit menu, however, we encounter a different story altogether. Here we find only two options, credit cards, and bank transfers. Upon clicking either of the options, a message informs us that further instructions on how to make a deposit will be relegated through e-mail.
Asian-Trade doesn't say much about withdrawals and doesn't mention any withdrawal fees. One thing is sure though, sending your money to Asian-Trade means you will most probably never see that money again.
 How Does The Fraud Work?
Asian-Trade scam profits off of stories of people who accidentally acquired some Bitcoin back in 2012 and now they're rich and they never have to work again. 
Or even more trustworthy stories of real traders and investors who made their fortune in the global trading market. While some of these stories are true, investing through scammers such as Asian-Trade won't make you an inspiration to some aspiring traders in the future.
Scam brokers such as Asian-Trade lure in their victims with amazing promises and initially low expectations. For example, they might require you to deposit some minor sum of money in the beginning, just so you could get a taste of the high life. 
The next step in their scheme is to inform you of your ever-growing pile of money which is currently making you more money. Because of this, you should invest even more money so that you could get filthy rich.
Asian-Trade Summary
As you can see from our Asian-Trade review, this is a closed case. Asian-trade is a broker scam, and you'd do well to avoid them. 
Not all investment scams are as easy to detect as this one and some sophisticated scams have actually left people bankrupt.
We truly hope that our honest review can help you stay informed about the various tricks that scammers use. If you want to become an investor or trader in the future, be sure to keep learning in order to stay away from phony brokers like Asian-Trade.
FAQs About Asian-Trade Broker
What Funding Methods Does Asian-Trade Accept?

Asian-Trade allegedly accepts payments through bank transfers and credit cards.
How Long Do Asian-Trade Withdrawals Take?

This information is unavailable on their website.
Is My Money Safe with Asian-Trade?

No, your money is not safe with Asian-Trade.