August 10, 2023
Reading Time:
6
min
Aura FX Review: Unregulated Broker's Murky Waters and Hidden Agendas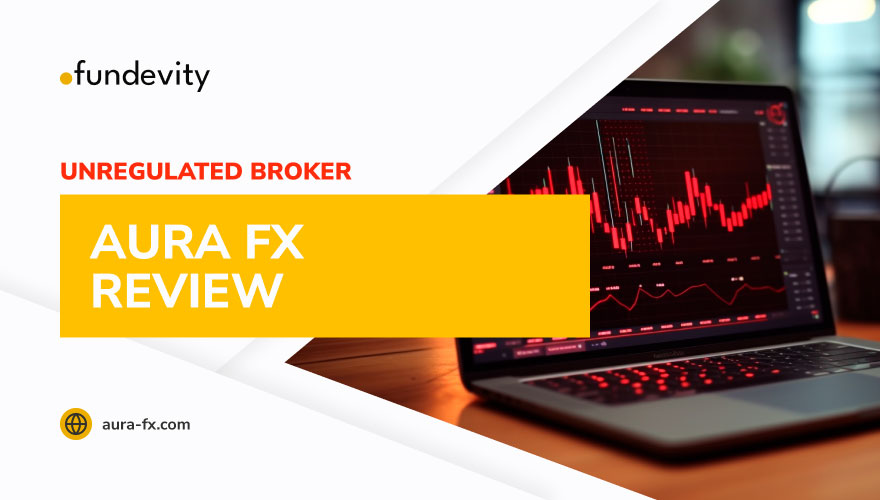 Welcome to the world of online trading! Today, we're taking a close look at Aura FX – an unregulated broker that's been catching attention in the trading community. Are you ready to take a deep dive into this Aura FX review? Is the broker still a part of the New Zealand Register? We'll dig into what they're all about, explore any concerns, and shed light on how they operate. Get ready for an eye-opening journey that could help you avoid some trading pitfalls. Let's get started!
General information
Name:

AURA FX (NZ) Ltd

Regulation status:

Unregulated broker

Warnings from Financial Regulators:

No official warnings

Website link:

https://www.aura-fx.com/

Active since

2014

Registered in

n/a

Contact info:
[email protected]
Trading platforms:

MT4

The majority of clients are from

United States 

India 

South Korea 

Thailand 

South Africa

Customer support:
Only email at [email protected]
Compensation fund:

No
Aura FX License: The Regulatory Maze
Founded in 2013, Aura FX broker positioned itself as a player in the FX and CFD market. It offers a range of services under the New Zealand-based company AURA FX NZ Ltd. Namely, the platform initially held a place in the New Zealand Register of financial services providers until November 2017. Yet, the regulatory compass seems to have lost its bearing since then. Currently lacking regulation, Aura FX presents a conspicuous risk to investors, a concern that casts shadows over its legitimacy.
It's intriguing to note that when we downloaded the broker's MT4 platform, a different entity emerged – Aura Group Ltd. This raises suspicions regarding the authenticity of the company's brokerage services. Further doubts surface when we observe the connections between Aura FX and other brands like PureECN, accompanied by complaints of denied withdrawals from traders. Caution appears to be the motto when dealing with this broker.
Adding to the puzzle, AuraFX also operates under a UK domain. The broker's Terms of Business reveal its role as a Market Maker. That raises eyebrows and hints at potential conflicts of interest.
Trading Assets Available: Navigating the Mirage
Aura FX offers a bunch of instruments to trade – like currency pairs (FX), metals, and stock groupings (indices). For example, you can deal with pairs like EUR/USD and AUD/USD. If you're into stocks, there's US30, SPX500, and NAS100. And if metals are your thing, they've got XAU/USD and copper.
But here's the thing: while it all sounds good, the missing regulations bit makes us wonder if these options are as solid as they appear. It's like having a fancy menu at a restaurant, but you're not sure if the chef's any good. So, take a pause and think twice before diving in. Remember, your choices should be as clear as day in the trading game.
Note: This dubious firm strategically targets traders from the United States, India, South Korea, Thailand, and South Africa.
Aura FX Trading Platforms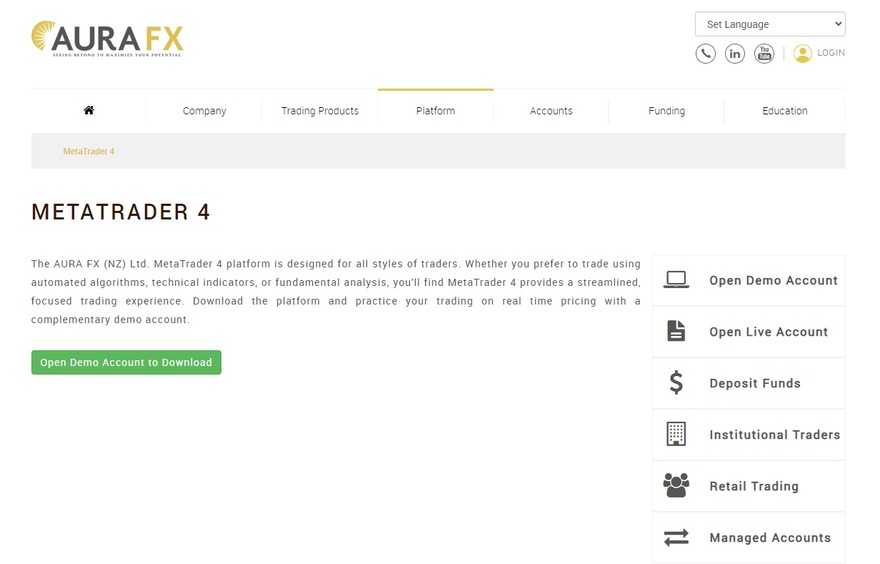 For traders, a reliable platform is akin to a navigator's compass, guiding them through the ebbs and flows of the market. Aura FX claims to provide the industry-standard platform, MetaTrader 4 (MT4), available in both desktop and mobile versions. 
Developed by MetaQuotes, MT4 boasts a fast and UI-friendly interface. It comes with professional markers including charting tools, 50+ built-in indicators, and a plethora of Expert Advisors (EAs). These go with an extensive back-testing environment.
Yet, a word of caution is in order. The domain of online trading is rife with fake brokers offering MT4, and Aura FX's unregulated status raises the stakes. The tactful path is to align with regulated firms offering both MT4 and MT5. These will provide you with a secure trading haven. The benefits of these platforms are various, empowering traders with the tools needed to navigate the markets. 
General Trading Environment: Revealing the Facets
Unraveling the layers of Aura FX's trading environment reveals several key aspects that deserve reflection. Let's take a look! 
Minimum Initial Deposit.

AuraFX requires a substantial initial deposit of $1000. This is a considerable sum compared to other NZ-licensed brokerages that impose no such minimum.

Commission & Spreads.

While Aura FX advertises a fixed 0.8 pips spread on EUR/USD, our demo MT4 experience unveiled a tighter spread of 0.3 – 0.4 pips. A scenario that appears too rosy to be unblemished, hinting at possible disparities with live accounts.

Leverage.

The offered leverage of 1:200 stands as the average in the trading landscape.
Earnings & Withdrawal: Financial Transactions
When it comes to handling your payments with Aura FX, they provide a few ways to do it. You can use bank transfers, cards, or digital wallets like Skrill and Neteller for your transactions. This may seem like the broker aims to make things easier for you.
Yet, it's crucial to note that the legitimacy of a brokerage often shows in the variety of payment options they offer. This is where Aura FX comes up short. Unlike trustworthy brokers that give you many ways to handle your funds, Aura FX seems to limit your choices. 
In the trading world, having diverse options for your financial transactions is not just convenient. Notably, it's a sign of reliability and commitment to serving traders well. The limited selection raises questions about how dedicated Aura FX is to its clients. Keep that in mind.
Note: Stay clear of fake brokers, like Stockswide, that could rob you. It's wise to steer away from such risky choices in the trading world.
Trader Reviews: Echoes of Trust and Deception
When it comes to checking out a broker, reviews are like your compass. But with Aura FX, things get tricky. There's a noticeable absence of Trustpilot reviews, which is a concern on its own. It's like walking into a restaurant without any customer feedback.
What's worse, we stumbled upon fabricated reviews online. Yeah, you read that right – fake reviews.
Trusting your money to a broker is a serious business. You want honest opinions from real traders. When those reviews are missing or fake, it raises a big question mark. It's like trying to read a book with pages torn out – you're missing vital info.
So be cautious. Authentic reviews guide your decisions. If those reviews are missing or seem fishy, it might be best to tread carefully. Your trading journey deserves transparency, not smoke and mirrors.
Avoiding Broker Scams: Smart Tips for Traders
When it comes to trading, staying vigilant can save you big trouble. It can help you avoid bogus brokers like Aura FX and STB Markets. Here's what you need to watch out for!
Unrealistic Promises

. If a broker guarantees huge profits with minimal risk, it's probably too good to be true.

Lack of Regulation

. Always check if the broker is regulated by a reputable authority. If not, walk away.

Hidden Fees

. Sneaky brokers might surprise you with unexpected fees. Read the fine print!

Pushy Sales Tactics

. If a broker is overly aggressive and rushing you, they might have ulterior motives.

Complex Terms

. Don't get tangled in complicated rules. Legit brokers keep things straightforward.

Withdrawal Issues

. If you struggle to get your money back, that's a major red flag.
Popular Broker Scams
Ponzi Schemes

. New investors' money pays returns to earlier investors – until the whole thing collapses.

Fake Signals

. Dishonest brokers offer false signals to make you trade more, earning them commissions.

Phishing

. Scammers impersonate brokers to steal your money and personal info. Double-check URLs and emails.

Churning

. Some brokers make excessive trades in your account, racking up fees while you lose.

Mirror Trading

. Brokers copy losing traders' moves to your account, ensuring you also lose.
Stay away from fake brokers like Aura FX and Stellarfx. Stay sharp, do your homework, and stick with well-regulated, reputable brokers. It's your money – protect it!
Long Story Short – Aura FX
So, here is where our journey ends. What can we summarize from our Aura FX review? Notably, Aura FX stands out – but not in a good way. It's not regulated, which raises concerns about its legitimacy and intentions. The trading scene seems uncertain, and real reviews are hard to find. So, it's important to be careful. 
When it comes to your money, being cautious is key. If you're navigating this tricky financial world, we're here to help. Reach out to us for guidance on brokers that play by the rules and keep your journey safe and clear. We want to make sure you have a safe trading experience!
FAQs
Is Aura FX Safe?
No. Aura FX lacks regulation, raising many safety concerns.
Is It Safe to Trade With Aura FX?
Trading with Aura FX might not be secure due to regulatory uncertainties.
What Is Minimum Deposit With Aura FX?
The minimum deposit with Aura FX is $1000. This is way too much!