May 27, 2023
Reading Time:
3
min
Bitcoin Code Review – What Rings A Bell?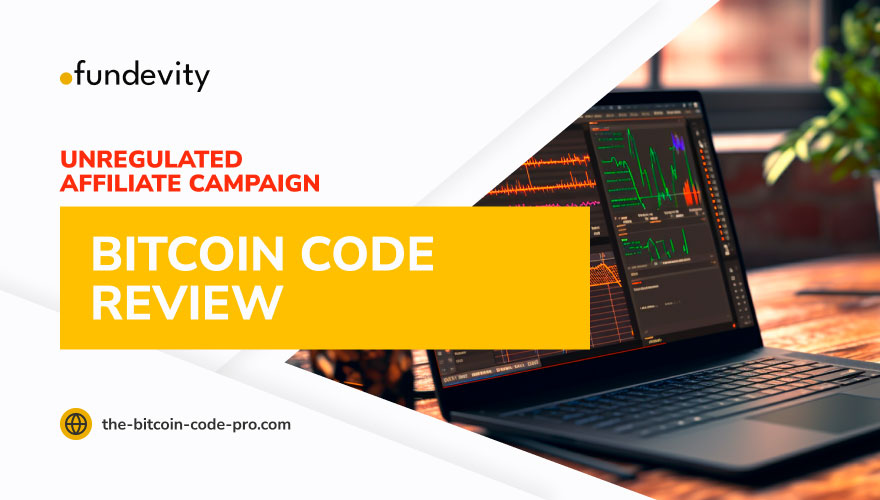 Bitcoin Code is an official platform for automated trading. This campaign is present for a long time. Yet, traders still didn't learn what is coming up after registering. With non-existent ownership information of the software, you know there is something shady.
Therefore, keep reading this latest Bitcoin Code review to find out the flaws. Also, brokers worth checking that might use such software find in our Nexospro and Finance Proof review.
| | |
| --- | --- |
| Company | N/A |
| Headquarters | UK (allegedly) |
| Website | Bitcoin-code.app |
| Warning | N/A |
| Platforms | Web trader |
| Minimum Deposit | $250 |
| Leverage | N/A |
| Spread | N/A |
| Review Rating | 1/5 |
Is Bitcoin Code a Reliable Company? Broker's Regulation
In general, Bitcoin Code is software for automated trading. Therefore, the software should be licensed for such purposes. Since the company claims to operate from the UK, we are starting our research there. But as expected FCA never issued a license for such a software. Also, regulators like BaFin, CONSOB, ASIC or CFTC never provided authorization for this software.
Another key point is their disclaimer. On the positive side, it's transparent. On the negative side, you don't know what is waiting for you behind the curtains. Bitcoin Code sends your information to a third-party broker by you accepting terms and conditions.
In general, we have seen many non-regulated brokers using such technology. In many cases, it didn't end up good. As you can see from Bitcoin Code reviews as well.
Overview of Bitcoin Code Trading Software
Bitcoin Code trading software can't be compared to any third-party program. Primarily because it's a web-based one. As a web-based software, the company claims to provide cutting-edge technology for auto-trading. Generally speaking, pro traders don't like those due to a lack of security. Such platforms are easily manipulated through the back end. Therefore, traders could be misled.
With Meta Trader or cTrader, clients have much more control over the account. Besides, numerous trading options are available. Starting with advanced indicators and charting tools, but also social trading. Such software as Bitcoin code can only trade with technical analysis. But it might also be completely fake. As we could see from Bitcoin Code reviews.
Even though in many cases you get access to the platform, you can't use a demo account everywhere. It all depends on the broker that you are assigned to. Instead, find a licensed one to avoid any headaches.
Trading Account at  Bitcoin Code
With Bitcoin Code, there is only one requirement. You are paying upfront $250 to get access to the software. There are no account-type divisions. Primarily, because this company only provides software access. But you are trading with other companies.
As shown above, you will rarely get a demo account before you start. But even if you do, everything is possibly manipulated. Have in mind again, that this software is not licensed. Like many other brokers, you will be assigned to.
Instead, below you have a list of brokers with lower minimum requirements. But also with a demo and micro accounts available.
Method of Deposit and Withdrawal
Funding methods vary from company to company. Bitcoin Code as the campaign doesn't provide any funding policy. Their goal is to attract you to register. Once your information is transferred to a broker, you are not a Bitcoin Code responsibility anymore. Therefore, it's important to clarify with whom you are trading.
With this in mind, you don't know as well what are withdrawal options. Not to mention withdrawal conditions. An investment scam at its finest. Important to know is that you can always use a card with unknown companies. In case anything goes wrong, you can file a chargeback request with your bank.
Another key point is crypto. Many scam companies will give benefits for crypto transfers. But have in mind that those are hardly traceable and anonymous.
How the Fraud was Committed?
As you can see, campaigns like this are fishing for inexperienced traders. Most of the time, greedy ones. In many cases, people are attracted by quick money-making schemes. Once you register you are accepting for your data to be shared. Thus, nobody knows how many times your information can be recycled.
So, to avoid the stress of calling customers often fail under pressure. With such pressure, you hardly have time to go through legal documents and policies. Consequently, traders end up with high deposits and no withdrawals. But if they were calm enough to do research they could avoid it.
Luckily, if any broker stole your money there is a solution. Our expert recovery team has even solutions for crypto transfers. CipherTrace software is cutting-edge technology for tracing such transactions. Let us tell you more about it and advise you on the next step. Get in touch today!
Bitcoin Code
Summary
Completely anonymous ownership.

Bitcoin Code software is not licensed.

Non-transparent trading conditions.

No funding methods information is available.

The company states to send your info to the third party with your acceptance of T&Cs
FAQs About
Bitcoin Code
Broker
Can You Make Money With Bitcoin Code?
Software possibly works, but it's unclear if you can withdraw the profits.
Is My Money Safe with Bitcoin Code?
No. The software is not licensed, but also possibly the brokers you are working with.
Does Bitcoin Code Offer a Demo Account?
No. The only way to test out the software is by depositing at least $250.