December 03, 2022
Reading Time:
5
min
Black Credit Cards: What You Need to Know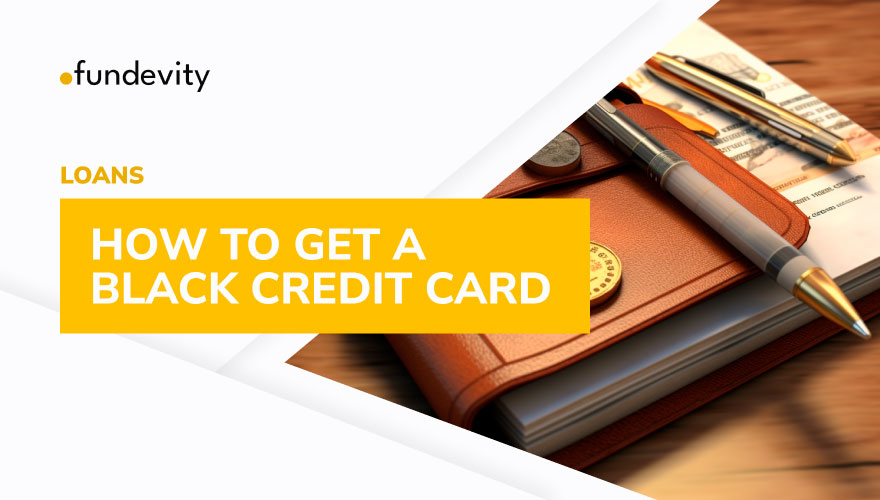 Credit cards come in all shapes and colors these days. And while most people think of them as simply a way to finance their purchases, there are actually a lot of different types of credit cards out there with varying benefits.
One type of credit card that you may not have heard of is the black credit card. These cards are reserved for only the most qualified applicants and come with a host of exclusive perks and privileges. In this article, we will explore what black credit cards are, how to get one, and some of the benefits that come with them.
When it comes to credit cards, black cards are often seen as the epitome of luxury. They typically come with a higher credit limit and better perks than regular cards. But what exactly is a black credit card? And how do you go about getting one?
A black credit card is simply a high-end credit card that comes with exclusive benefits and perks. Some of the most popular black cards on the market include the American Express Centurion Card, the JPMorgan Chase Palladium Card, and the Citi Prestige Card. Although you can even find a Visa or Mastercard one.
To be eligible for a black credit card, you will usually need to have excellent credit and a high income. In some cases, you may also need to make a significant deposit. Black cards typically come with annual fees of $500 or more, so they are not for everyone.
If you are looking to get a black credit card, here are a few things you need to know:
1. Check your credit score and history first. To be eligible for a black credit card, you will need excellent credit. That means having a score of 750 or above on the FICO scale. If your score is lower than that, you may still be able to get approved for a regular rewards card instead.
2. Consider your spending habits. Black cards typically come with higher credit limits, so it's important to make sure you can handle that much debt responsibly before applying. Ask yourself how often you will use the card and whether you can afford it.
In case you are looking for black credit cards, it's best to consult with your financial advisor and see if you are able to get one.
What is a Black Credit Card?
So, what is a black credit card? A black credit card is a premium credit card that usually comes with exclusive perks and benefits not available with other cards. The credit card most associated with the phrase "black card" is the Centurion card from American Express or the "Amex black card."
It was released in 1999 and created such a buzz that other card issuers wanted to create their own deluxe credit cards to reward their highest-spending customers.
They are typically offered by invitation only to high spenders-who have good or excellent credit scores. Black cards often come with higher credit limits and may offer rewards such as cash back, travel miles, or even concierge services.
The Amex black card helped launch the metal card trend, and these days many consumers have at least one metal card in their wallets. But remember that the first and true black card is invitation-only and was designed for only the most top-tier spenders.
How to Get a Black Credit Card
Now that you know the meaning of a black credit card, let's see how to get one. There are a few ways to get a black credit card. The first is to simply apply for one. There are many different types of black credit cards available, so find one that best suits your needs and apply.
Another way to get a black credit card is to be invited by someone who already has one. This person must be a current cardholder in good standing with the issuer. Once you are invited, you will go through the same application process as anyone else would.
If you don't want to go through the hassle of applying or being invited, you can always become an authorized user on someone else's account. This person will need to add you as an authorized user and provide permission for you to use their account. You will then have access to all the features and perks that come with the card.
Becoming an authorized user is a great way to get started with a black credit card without having to go through the entire application process. It's also a good option if you are not sure if you will qualify for a particular card or if you want to test out the waters before committing to anything.
What Perks Do Black Credit Cards Provide?
As we have mentioned above, black credit cards come with some amazing perks, so let's what those are.
Perks of black credit cards:
Access to exclusive events and experiences
Invitations to VIP parties and red-carpet events
Complimentary upgrades at hotels and resorts
Airline lounge access
24/7 concierge service
Waived annual fees
In other cases, having a black card can help cardholders navigate the rigor of a high-demand business lifestyle with services like Royale Lifestyle Management which comes complimentary with the Dubai First Royale Mastercard.
What Credit Score Is Needed to Get a Black Credit Card?
It's not a secret that black credit cards have very high requirements in order to get one. In general, black credit cards tend to be reserved for those with excellent credit scores. This means that if you are looking to get a black credit card, you will most likely need a credit score of 780 or higher.
While there are some black credit cards that are available to those with good or even fair credit scores, they tend to come with fewer perks and benefits than those reserved for those with excellent credit. So, if you are hoping to get a black credit card with all the bells and whistles, you all need to make sure your credit score is up to snuff.
If your credit score isn't quite where it needs to be to qualify for a black card, don't despair. There are plenty of other great rewards cards out there that can still provide you with plenty of value. Just focus on boosting your credit score so you can eventually qualify for the card of your dreams.
At the end of the day, if you are not able to get qualified for a black credit card, regular ones also bring very good perks and rewards. You can still rack up some points and miles with them and spend them after.
Are Black Credit Cards Worth It?
According to the Centurion card member agreement, the card comes with a $10,000 initiation fee and a $5,000 annual fee. That alone for some people is what they earn in five months. With that in mind, black credit cards have become a symbol of wealth and status.
To be honest, they are not that much different from regular credit or debit cards when it comes to purchases. Yes, you will be able to get amazing perks and rewards with black credit cards, but at the end of the day, if you are not able to afford the initiation fee and annual fee, it's best to choose a regular one.
So, although we can't tell you if this card is going to be good or bad for you since it all depends on personal interest. We do recommend you first do the needed diligence and check with your bank if this is something you will be able to afford.
Bottom Line
Black credit cards have been very popular ever since they have been made. Although there are many different ones out there in recent years, the one true black credit card is Amex black card. We do agree there are many amazing benefits these cards bring and offer, but at the end of the day, they are not for everyone.
They come with enormous initiation fees and also annual fees, which makes them inaccessible for everyone to get them. In case you are interested in getting one, we do advise you first to see if your finance can manage those fees. At the end of the day, they are the status of wealth.