August 06, 2023
Reading Time:
6
min
Braga Capital FX Review: Targeting Traders from Mexico and the US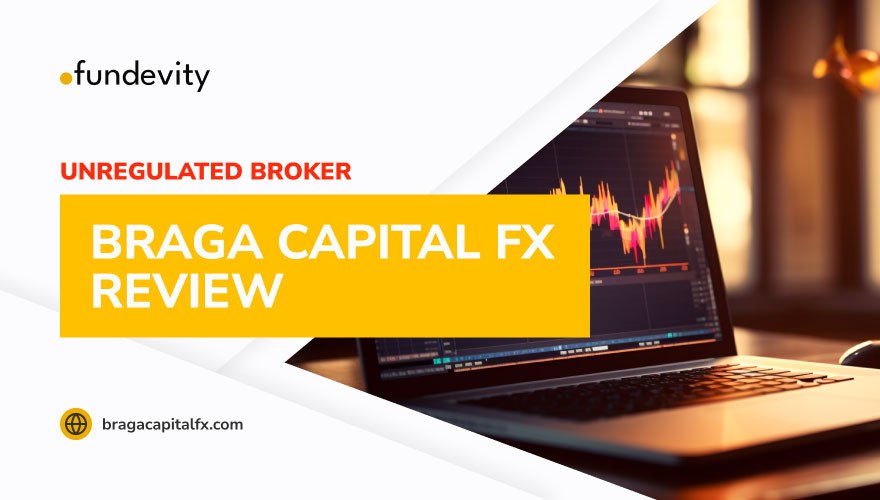 In this Braga Capital FX review, we will shed light on a broker that operates a website in the Spanish language but is not located in Spain. Instead, its address is listed as Kingstown, St. Vincent and the Grenadines. This offshore location is known to be popular among broker scams, and we will discuss why traders should avoid brokers based there. 
Braga Capital FX lacks proper regulation and raises many suspicions. Keep reading this article for more valuable details! 
General information
Name:

BRAGA CAPITAL FX LLC

Regulation status:

Unregulated Broker 

Warnings from Financial Regulators:

CNMV, FSMA

Website link:

https://bragacapitalfx.com/ 

Active since

2023

Registered in

St. Vincent and the Grenadines

Contact info:
[email protected]
Trading platforms:

Web

The majority of clients are from:

Mexico

Chile

United States 

Customer support:

Email and form

Compensation fund:

No
Braga Capital FX Regulation: A Suspicious Broker
Braga Capital FX claims to offer trading services but falls short of legitimacy. Operating from an offshore location notorious for fraudulent brokers, it lacks regulation and raises red flags. For traders' safety, it is fundamental to steer clear of such unregulated firms.
When it comes to brokers based in St. Vincent and the Grenadines, it's like sailing into the Bermuda Triangle of the trading world! This offshore territory has unfortunately earned a reputation for being a hotbed of broker scams. With lax regulations and a lack of oversight, these waters can be scary. To avoid getting lost in the sea of potential fraud, it's wise to steer clear of such brokers and seek safe harbors like regulated options.
Regulated brokers adhere to strict industry standards and are overseen by respected regulatory bodies like ASIC, FINRA, BAFIN, CYSEC, and FCA. Choosing regulated brokers ensures traders' funds are protected and provides a higher level of security and transparency.
CNMV Warning to Braga Capital FX
The Spanish regulator CNMV has issued a warning against Braga Capital FX. This truly adds more weight to the suspicions surrounding this broker. The CNMV's warning highlights the potential risks involved with this broker and advises traders to avoid it at all costs. Also, note that the FSMA republished the original warning. 
Traders must avoid brokers that have received warnings from regulators. These warnings indicate potential risks and suspicious practices associated with such brokers. Engaging with them could result in severe financial consequences, as a matter of fact! Instead, it is highly advisable to choose regulated and respected brokers that adhere to industry norms and provide a secure environment. 
By making careful decisions, traders can protect themselves from potential harm. Serious consideration of these warnings can protect both capital and peace of mind in trading.
Trading Assets Available: Unregulated Offerings
At Braga Capital FX, you'll find a variety of trading assets. In particular, you will find CFDs, cryptocurrencies, metals, and indices. But here's the thing: these offerings are unregulated, and that's a red flag!
Steering clear of unregulated assets is essential for your safety as a trader. They come with higher risks and lack regulatory oversight and protection. So, play it smart and avoid these potential pitfalls.
And speaking of caution, Monaxa is another broker to avoid. It has been flagged as having questionable practices, so it is best to stay away.
Remember, your choices matter in the trading world. Opt for regulated assets and brokers to safeguard your investments and enjoy a safer trading experience. Stay informed and stay safe!
Trading Platforms: Basic Webtrader vs. MT4 and MT5
When it comes to trading platforms, Braga Capital FX falls short with its basic web trader. This one cannot match the refined capabilities of the widely renowned MT4 and MT5 platforms. Regulated brokers favor MT4 and MT5 due to their advanced features, intuitive user interface, and an overload of trading tools that empower traders to make smart decisions.
Yet, even with these top-notch platforms, caution is advised. Unscrupulous broker scams might also utilize MT4 and MT5 to deceive traders. Therefore, it's crucial to ensure you are trading with a reputable, regulated broker that uses these platforms for legitimate purposes.
By selecting a regulated broker that offers the secure environment of MT4 or MT5, traders can elevate their trading experience. This is done by taking advantage of advanced charting tools, expert advisors, and seamless trade execution. It's a choice that emphasizes safety and a chance to explore trading's full potential.
General Trading Environment – Lack of Clarity
The trading environment at Braga Capital FX lacks transparency. The broker's website states spread "desde 0,3 pips," leverage "hasta 1:100," and ultra-fast order execution. However, crucial information about account types and other standard offerings found with legitimate brokers is missing. Another noteworthy aspect is the Braga Capital FX login page, which seems odd as it offers a demo account. If this wasn't a fake company, one would think the Braga Capital FX demo account had some special features.
Legitimate brokers, in contrast, provide clear information about their account types, spreads, leverage options, and other crucial details that empower traders to make wise decisions. Furthermore, avoid Monfex, another dubious broker with questionable practices.
It's worth noting that this broker offers support via email: [email protected]. Yet, there is no phone or live chat support on their site. 
Earnings & Withdrawals
Braga Capital FX is the master of secrets! When it comes to withdrawals, this broker seems to have a talent for keeping traders in the dark. No flashlight, no roadmap—just mystery all around!
Do you know what's even more unsettling? The missing pieces of the puzzle—they don't even bother to spill the beans about minimum deposit requirements! It's like reading a cryptic message without a decoder ring. Frustrating, right? But don't worry! There's a light at the end of the tunnel—reputable brokers! These reputable FX companies know how to do things right. They lay all the cards on the table, leaving no stone unturned. With clear instructions, they will lead you to smooth withdrawals and transparent earnings.
To add to the excitement, they offer a variety of payment options, like a buffet of choices. Whether you prefer bank transfers, credit cards, or even crypto, they've got you covered! So, if you're tired of the mystery and crave a trading adventure with clarity and creativity, steer your ship toward a regulated broker. Sail the seas of smooth withdrawals with confidence, and may fortune always be in your favor!
Trader Reviews: Suspicious Reputation
Now, what about the Braga Capital FX withdrawal policy? This bogus firm has got many negative reviews online. Clearly, this indicates potential problems with its services. While there are no Trustpilot reviews for this broker, it is vital to consider user feedback before engaging with any broker. 
Genuine reviews offer insights into the broker's reliability and credibility. Why is this so crucial? Well, it lets traders make smart trading decisions. Don't overlook the significance of reviews – they can be your guiding light in the vast sea of trading options. 
Take a moment to explore what others have experienced, and let their experiences steer you away from potential pitfalls. Stay vigilant, use the power of reviews wisely, and may your trading journey be a successful one!
Beware of Dubious Brokers: Protect Yourself
Deceptive brokers like Braga Capital FX and Monaxa often use many tactics to lure gullible traders. To protect yourself from falling victim to such scams, consider the following measures:
Research Thoroughly. Investigate brokers' backgrounds and check for regulatory compliance.

Check Online Reviews. Trustpilot reviews and other user feedback can offer valuable insights.

Avoid Unrealistic Promises. Be wary of brokers promising unrealistic profits or bonuses.

Choose Regulated Brokers. Opt for brokers regulated by reputable authorities for added security. If you need help with this, you can always contact us for a free consultation! 
Also, avoid MorganStern, another untrustworthy broker with questionable practices.
Braga Capital FX: Target Locations
Braga Capital FX sets its sights on luring traders from vibrant regions like Mexico, Chile, and the United States. The appeal of these promising markets might seem tempting. Yet, before taking the plunge, exercising the highest caution is crucial. Conducting thorough research and background checks is a must, especially when dealing with brokers with fishy credentials.
Potential traders in these target locations need to be vigilant and well-informed about the risks involved. Don't rush into making decisions that could have significant consequences. Take the time to investigate, read reviews, and seek advice from experienced traders to gain valuable insights.
While the Braga Capital FX platform might seek out traders from these regions, that doesn't mean it can target you. Protect yourself and your investments by making smart decisions. And remember that knowledge is your most potent weapon in the trading world. Stay alert and navigate the trading waters confidently!
Long Story Short – Braga Capital FX
Braga Capital FX operates as a highly suspicious broker from an offshore location. The absence of regulation and transparency raises significant concerns about its legitimacy. What's worse, it leaves traders questioning its credibility.
To ensure a safe trading experience, traders should choose brokers regulated by reputable authorities such as ASIC, FINRA, BAFIN, CYSEC, and the FCA. These regulatory bodies enforce strict standards, protecting traders' funds and ensuring fair trading practices.
Remember, regulated brokers are the way to go for investment safety and peace of mind. So, don't let unregulated entities cloud your judgment. Stay smart, stay informed, and navigate the world of trading with confidence, backed by trusted regulatory oversight.
Feel free to reach out to us anytime for a complimentary consultation! We're here to assist you!
FAQs
What Is Braga Capital FX?
Braga Capital FX is a broker operating from St. Vincent and the Grenadines, offering unregulated services.
Is Braga Capital FX Safe For Trading?
No, Braga Capital FX lacks regulation and raises suspicions, making it unsafe for trading.
What Are The Braga Capital FX Platforms?
Braga Capital FX offers a basic web trader, which pales in comparison to the popular MT4 and MT5 platforms.