May 21, 2023
Reading Time:
4
min
BrokersPark Review: The Truth about BrokersPark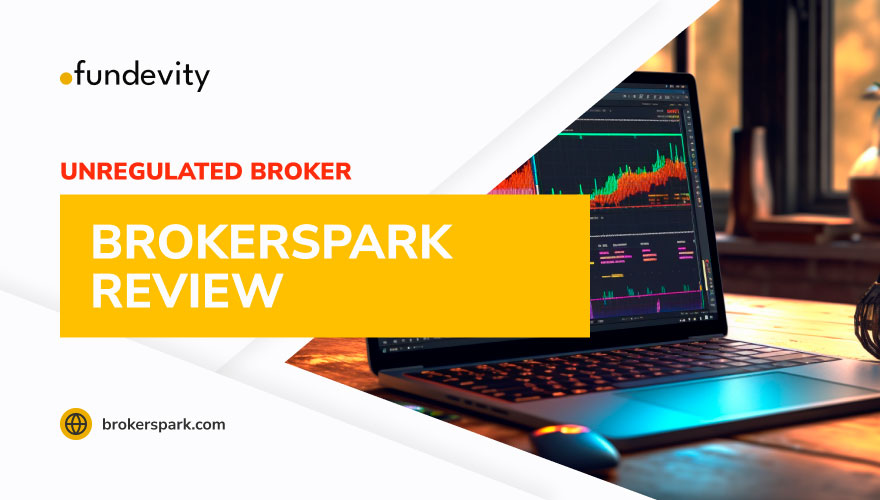 With a promise of fully regulated services across the globe, BrokersPark boasts trading in FX and CFDs with leverage as high as 1:200 through the popular MetaTrader 5 platform. However, if you're considering this option, it's important to take a closer look. 
As a relatively newly developed company, BrokersPark lacks substantial information, leaving potential clients in the dark about fund security and other key details. In this comprehensive BrokersPark review, we'll delve deeper into the company's offerings and shed light on areas of concern. Before investing with this broker, exercise caution and read on to fully understand what BrokersPark can and cannot offer.
| | |
| --- | --- |
| Company | Brokers Park Ltd |
| Headquarters | Saint Vincent and the Grenadines (SVG) |
| Website | brokerspark.com |
| Warning | Bank of Russia |
| Platforms | MT5 |
| Minimum Deposit | $100 |
| Leverage | 1:200 |
| Spread | N/A |
| Review Rating | 1/5 |
License and Safety of Funds at
BrokersPark
BrokersPark claims to hold a license in St. Vincent and the Grenadines, yet this assertion raises concerns that cannot be missed. The Financial Services Authority (FSA) of St. Vincent and the Grenadines, which does not license Forex, does not provide oversight, regulation, or licensing for international brokers involved in such activities. 
As a result, even if a broker is registered in St. Vincent and the Grenadines, they are not subject to regulation. In the case of BrokersPark, the company provides an address for an office in SVG and lists a phone number in the UK. Curiously, their Facebook page is almost entirely written in Turkish. Moreover, while the company claims to have received numerous awards, they do not mention them on its website. The exact nature of these accolades remains unknown. 
Understanding these issues will help you make an informed decision before choosing this broker for your investment needs. Please be careful when dealing with companies like BrokersPark and EagleFx to ensure your safety.
BrokersPark –
Trading Platform 
BrokersPark claims to provide two trading venues on its website, including the renowned MetaTrader 5 developed by MetaQuotes. This platform boasts advanced trading tools, including algorithmic trading, real-time market reports, advanced charting, and a user-friendly interface. 
Available for download on desktop and mobile devices (Android & iOS), MT5 is a popular choice for many traders. However, Brokers Park's lack of regulation is a significant concern, considering that many legitimate brokers also offer this platform.
On the other hand, BrokersPark offers WebTrader, a web-based platform with limited features compared to MT5. While lacking the advanced tools that make MT5 superior trading software, WebTrader is an excellent choice for beginners due to its intuitive and user-friendly interface. For more experienced traders, however, MT5 offers a more comprehensive range of tools. 
Account Types Available
BrokersPark lures traders in with three account options with varying costs: Standard for $100, Pro for $2,500, and ECN for $10,000, all offering 1:200 leverage. However, such high leverage ratios can lead to significant losses, and onshore regulatory bodies like ESMA enforce a 1:30 cap for retail clients. BrokersPark claims to provide negative balance protection, but we have our doubts. 
Besides, the broker doesn't offer demo accounts for potential traders. This is a red flag as it may indicate that they are trying to push traders into live trades without testing their platforms and conditions. In contrast, reputable brokers typically offer free demo accounts to enable traders to make informed decisions.
Deposit and Withdrawal
Lack of transparency regarding essential aspects of a broker's service is a red flag. Unfortunately, BrokersPark, a shady entity, follows this pattern. Firstly, their website doesn't provide information on the required initial deposit amount. While legitimate brokers usually have initial deposits ranging from $10 to $100, scammers may demand higher amounts. BrokersPark falls into the latter category.
Moreover, their website does not have easily accessible terms and conditions. It's another red flag as legitimate brokers usually have transparent and easily accessible terms and conditions.
On the bright side, BrokersPark offers many payment options, including Visa and Mastercard, wire transfers, Skrill, Neteller, BTC, and Perfect Money. All these payment methods are safe and reliable. The firm also provides 24/7 customer support to assist customers with payment-related issues.
Note: It is crucial to exercise caution and prioritize your safety when dealing with firms like BrokersPark, Maddex Capital, and other dubious entities.
How Does This Scam Operate?
Unscrupulous companies often entice unsuspecting victims with enticing ads and banners promising unbelievable profits. They will go to any lengths to present themselves as the easiest path to a luxurious lifestyle to capture your attention. 
Once you engage with them, scammers will bombard you with phone calls and emails, urging you to deposit money into their scheme. Over time, they will pressure you to invest even more money in their fraudulent scheme. To further lure you in, they may even make it appear as though you are earning substantial profits.
However, when you attempt to withdraw your funds, these fraudsters will come up with various excuses to prevent you from doing so. They may claim that additional taxes must be paid, making it appear as though you cannot access your money. They often do this to ensure that the time to recover your funds through Visa or Mastercard withdrawals expires. 
Currently, this period is 540 days. Unfortunately, recovering your funds can be challenging if you use crypto, which is why fraudulent companies prefer such payment methods. Therefore, it is crucial to conduct thorough research into any company before investing in it.
BrokersPark
Summary
On the surface, BrokersPark appears to hold a license from St. Vincent and the Grenadines. Yet, it's important to note that the SVG FSA does not actually regulate forex traders. This lack of regulatory oversight raises concerns about many aspects of the broker, including account types, withdrawal methods, and the absence of demo accounts. 
Although this firm does offer multiple payment options, the initial deposit amount remains ambiguous. Aside from that, information about their fees, commission structure, and customer service is currently unavailable. While their site contains some data, it remains unclear whether they maintain an active social media presence. 
Given these gaps in knowledge, potential clients may struggle to fully assess the value offered by the company. Finally, if you're seeking assistance identifying the best broker for your needs, don't hesitate to contact us for a free consultation.
FAQs
Is my money safe with BrokersPark?
No, your money is not safe with this company.
Does BrokersPark offer a demo account?
No, they do not have a demo account in their offerings.
How secure is BrokersPark?
They are not safe at all. Beware of this fact.