April 02, 2023
Reading Time:
3
min
Caplita Review: All About CentralMargins.Com Broker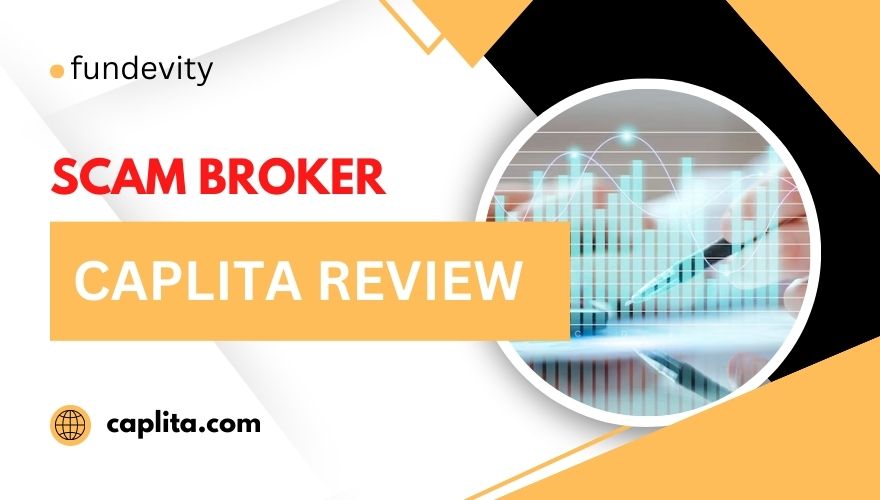 Caplita appears to be yet another typical scam broker. It is devoid of any meaningful information regarding their contact and license details. The lack of transparency is connected with their sky-high initial deposit requirements.
They are beyond what any reasonable trader would consider appropriate. Likewise, the platform is selective with its client base. That suggests a lack of inclusivity and is often a warning for deceitful activity. This Caplita review will help you find out more about this scam.
| | |
| --- | --- |
| Leverage | 1:40 |
| Regulation | No |
| Headquarters | n/a |
| Minimum Deposit | 5,000 EUR |
| Review Rating | 1/5 |
| Broker Type | Forex |
| Platforms | Web |
| Spread | n/a |
Regulation and Safety of Funds at Caplita
When it comes to Caplita, the lack of transparency is glaringly apparent. Despite completing a thorough search, we were unable to find any other contact details apart from an email address. This leaves us in the dark regarding their physical location.
Even more troubling is the fact that the broker hasn't said anything about any license. They are simply stating that their website is owned and operated under the CAPLITA brand name within the European Economic Area.
In light of this, it is worth noting that the firm provides several features that are prohibited within the EEA. This includes offering bonuses and 1:40 leverage to retail traders. These facts lead us to believe that Caplita is an unlicensed broker operating outside the regulatory purview. Without the required licensing and regulatory oversight, traders are at risk.
So, be careful when dealing with unlicensed brokers, as they often employ manipulative tactics. It is critical to ensure that your broker is regulated by a respected authority to avoid any potential risks to your investment portfolio. Finally, we recommend that traders avoid Caplita entirely and instead opt for a regulated broker that operates by law.
Caplita Trading Software
Caplita has implemented a concerning account opening process. They need traders to possess pre-existing login credentials to access their client area.
This tactic is often employed by scam brokers who distribute credentials to a few that they deem easy targets. By doing that, these brokers can avoid unnecessary attention. Moreover, their fraudulent activity can remain concealed for longer periods of time.
Although Caplita supposedly offers a web-based trading platform accessible through desktop and Android applications, we were unable to test it out due to our inability to log in. As a result, we cannot vouch for the quality of the so-called platform. It is advisable to trade with a broker that offers highly functional trading software, such as MetaTrader 4 or MT5.
Caplita Account Types
This broker has various account types on their website. They are as follows:
Beginner
Trader
Expert
VIP
Exclusive
These accounts may seem tempting, but they have no real benefits. Remember that this is a broker scam that should be avoided at all costs.
Note: There are some firms that market systems—be it signal sellers or automated trading—and often sell wobbly things that do not yield promising results. These phony web pages often prey on people on many platforms or forums. Be mindful of this!
Deposit and Withdrawal Options
It's nearly impossible to know which deposit methods Caplita accepts. The firm mentions in its Terms that it accepts bank cards and wire transfer deposits.
However, it is not clear if this is true. If it is, it would suggest that you could still have the option to retrieve your money. Keep in mind that both Visa and MasterCard accept chargebacks within 540 days of the transaction. All in all, avoiding fake brokers altogether would be the most effective option.
Offshore Brokers' Fraudulent Tricks
You should beware that phony brokers have various tactics to scam you. You will see a number of withdrawal issues almost always. Likewise, you will encounter strange fees.
Bear in mind that there are bogus high fees, regularly surpassing 20%. Those fees will have another label – withdrawal processing fees. Also, there's almost always a profit fee. Scammy sites want you to pay for these in advance.
Furthermore, there are excessive guaranteed returns. This one is another favorite deception method that you should be aware of. Fraudsters will always promise you huge guaranteed returns. Trading leveraged instruments carries significant risks. Any broker fraud will try to persuade you that your returns are 100% guaranteed.
Please try to use brokers that are regulated. This is important to remember.
Caplita Summary
We hope this Caplita review was in any way helpful to you. We want to save as many traders from losing their funds.
Caplita broker doesn't have any license, and their platform is deficient. Always check all the FX businesses carefully. Do this before you conduct any transaction.
FAQs
Is Caplita a Good Broker?
This is certainly not a good forex broker. It is in your best interest to avoid it to stay safe.
What Is The Minimum Deposit for Caplita?
The only minimum deposit amount that the broker discloses is $5000. This is way too much.
Does Caplita Offer a Demo Account?
It is not clear whether this broker scam offers a demo account. It is in their best interest to steal your money.