December 07, 2022
Reading Time:
7
min
Car Insurance Premium Guide – What Are Car Insurance Premiums?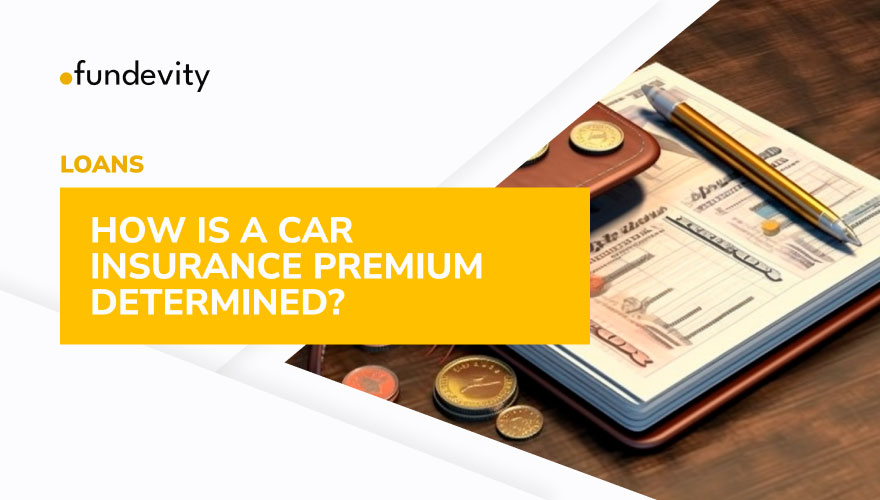 If this is your first time purchasing automobile insurance, you may be curious about how insurance firms decide how much to charge for your premium. The premium is the money you have to pay in order for your automobile to be covered by your insurance policy.
Your driving history, the number of miles you put on your automobile each year, the level of protection you select for your insurance policy, and even your age can all have an impact on the cost of your automobile insurance premium.
To put it another way, your automobile insurance premium is the money that you hand over to your insurance provider in exchange for coverage. There are a lot of different factors that go into determining your car insurance premium, such as how frequently you have to pay it, how the insurance firm determines it, and how it can shift over time.
Let's have a look at how the calculation of a car insurance premium operates, as well as the typical cost of insurance and the elements that can influence the rates you pay for insurance.
What Exactly Is a Car Insurance Premium?
The cost of having your automobile insured is known as the premium. You may get a rough idea of how much you'll have to spend on automobile insurance by requesting a quotation and doing some comparison shopping. You can choose to make payments to your insurance carrier once a month, twice a year, or once a year.
In most cases, your automobile insurance premiums will increase if the insurance firm considers you a higher risk. This is why a middle-aged motorist with no claims or fines on their record will pay less for insurance than an adolescent driver with limited experience behind the wheel.
If you maintain continuous payment of your automobile insurance premiums, your policy will remain in effect, covering you financially in the case of an accident or property damage. 
Your insurance firm has the right to terminate your policy if you are more than 30 days late with premium payments, and your driving privileges could be revoked unless you immediately pay the premiums and reinstate coverage.
How Is a Car Insurance Premium Determined?
Car insurance premiums are extremely individualized. Providers will utilize a number of variables to determine your individual pricing. The extent to which you benefit from each of these characteristics depends on a number of different variables, some of which are under your control. Your automobile insurance premium may be affected by the following:
Details of your driving background and insurance claims. If you have a spotty driving record or a history of filing claims, your insurance premium will reflect that. A history of moving offenses is indicative of a dangerous propensity behind the wheel. The insurance provider consequently raises premiums to compensate.

The exact same thing is true for insurance claims. When you file an insurance claim, it increases your likelihood of filing another claim in the future. Your insurance premium increase is the firm's way of reducing its exposure to risk and getting ready for future claims.
What you drive. Your automobile insurance rate will be heavily influenced by the type of automobile you drive. Insurance for a brand-new automobile or a high-end SUV, for instance, may cost many times as much as that for a used car that's ten years old. Repair costs for luxury automobiles are higher in the event of a breakdown or collision.

The insurance provider is obligated to pay you the market value of your car if it is stolen or written off. The higher the car's value, the more you can expect to pay for insurance.
What you've driven before and how old you are. Because of their increased risk of being involved in an accident, insurance firms charge extra to cover young and inexperienced drivers. 

In most places, young drivers can expect to see a decrease in their automobile insurance premiums once they turn 25. The best prices are usually available in your forties and fifties, but once you hit 65, the rates start to go back up.
Your residence. Another thing that can affect how much you pay is your location's ZIP code. The greater incidence of car accidents, theft, and vandalism in cities means that city drivers typically pay more than their suburban counterparts. Your insurance firm also considers claims made due to severe weather in your area (such as hail).
What Is the Average Car Insurance Premium?
The cost of full coverage automobile insurance is approximately $1,771 per year, while the cost of basic coverage is approximately $545 per year. On the other hand, the answer to the question "how much does automobile insurance cost" in a certain region can change depending on a number of different aspects that are considered.
It is possible for one city or state to have higher insurance costs than others due to a number of reasons, including the state in which you reside, individual rating factors, the frequency with which accidents and claims are reported, and even the cost of labor and materials.
For a comprehensive coverage policy, the annual premium for automobile insurance from some of the most reputable insurance firms in the country can run anywhere from $1,200 to $2,500.
However, due to the fact that every automobile insurance provider has its very own unique underwriting procedure, the prices of automobile insurance might vary significantly from one insurer to the next.
When searching for the finest automobile insurance provider, it is important for drivers to remember that the coverage they select also plays a factor in the decision. Comparatively speaking, the premium for complete automobile insurance coverage is approximately 225% higher than the premium for minimum coverage.
How Often Do You Pay Your Car Insurance Premiums?
When do you typically make your automobile insurance payments? All of it is up in the air. Your business likely offers a variety of payment plan schedules to choose from.
The insurance term determines how often payments must be made (often monthly, quarterly, or semiannually). When you pay for your insurance in full, rather than in installments or through a third party, you can save money.
Picking a payment method requires careful consideration of a few factors. While settling your premium in advance can result in a discount, if doing so will put undue strain on your finances, you may want to look into making payments instead.
The majority of insurance providers also let you switch up your payment schedule mid-policy. It's possible that you'll want to pay for your insurance on a monthly basis at first, but that you'll decide it's more cost-effective to pay it off all at once later.
Feel free to get in touch with your agent if you have any specific queries about the various payment plans available to you.
How to Lower Your Car Insurance Premium
Even if you can't change factors that affect your automobile insurance rates, such as your age or where you live, there are still steps you can do to bring your premiums down if they're too expensive.
Rather than lowering the sum of coverage you have on your policy, which would leave you vulnerable in the occurrence of an accident, you might be able to achieve lower premiums by increasing the number of your policy's deductibles. A deductible is the sum of money you pay before an insurance firm begins to pay out on a claim. 
The cost of your automobile insurance can be reduced while still providing you with complete protection by increasing your deductible for comprehensive and collision coverage.
Auto insurance discounts might also help you save money on your premiums. Your premiums for coverage may be reduced further if you meet the following criteria, even though any reductions you classify for were implemented when you purchased your policy:
Take an approved defensive driving course.
Sign up for electronic invoicing.
Equip your motor automobile with various preventative measures.
Register for the telematics or usage-based savings program offered by your insurance firm.
Even if you are a high-risk driver, your premiums will automatically go down as a result of this. Your monthly prices will gradually decrease if you stay accident-free, avoid getting fines, and report no claims for as long as you keep your insurance policy.
Comparing the rates offered by various car insurance firms is the most effective method for reducing the sum you pay each month for car insurance. 
Although insurers take into account a large number of the same factors when determining your prices, several firms have earned a reputation for providing reasonable premiums to high-risk motorists and those who live in regions with premiums that are higher than the national average. 
If you look around for several insurance policies, you can increase your chances of finding the provider that offers the most affordable premiums to drivers in your situation.
Car Insurance Premium vs. Car Insurance Quote: What's the Difference?
When you request a quotation for insurance from a firm, the sum that is provided to you is an estimate of the premium that the firm would charge you for the insurance policy. When preparing an insurance quote, insurance firms typically do not collect as much information as they do when actually drafting a policy. 
This is done so that they can strike a compromise between accuracy and ease of use. When you get a quote, for instance, you can simply be asked whether your credit is good, average, or poor. 
Your credit-based insurance score, also known as a CBI score, may be factored into the premium that your insurance provider assigns to you after you have already signed up for coverage. It's possible that your actual fee will be higher or lower than what was initially quoted for it.
Your information serves as the foundation for an insurance firm to generate a quote for you, but the actual cost of your premium may differ for a number of different reasons such as:
A record of your past driving behavior. Your ultimate premium will be greater than the initial quote you were given if you omit the fact that you received a speeding ticket. When determining the final cost of your policy, your insurer will look at your driving record.
Your car's automobile identification number (VIN). Your insurer will need the Vehicle Identification Number (VIN) in order to finalize the premium, despite the fact that your estimate will be determined by the year, make, and model of your automobile.
You either upped your coverage or altered your deductible. If you decide to acquire more coverage, increase your policy limitations, or lower your deductible, your premium could hike from the sum quoted initially.
Your credit. Your insurance premium may be heavily influenced by your credit history, which insurers normally check.
When Does a Car Insurance Premium Increase?
The most common lengths of coverage for automobile insurance policies are six and twelve months. Your insurance premiums won't vary no matter how long your tenure is, and they won't change at all throughout that tenure unless you make changes to your coverage, such as when you get a new automobile or relocate to a different home.
Your insurance firm will reevaluate the appropriate sum of your monthly premium once the period of your policy has expired. Your premiums may go up if you were engaged in a mishap or caught speeding, but they could go down if you attended a defensive driving course. Your premiums could go up if you were embroiled in a mishap or caught speeding.
It's also possible that your premium will vary even if nothing has changed about the way you drive because insurance firms are continuously tweaking the models they use to assert how much to incur for policies.
Bottom Line
Each motorist has their own preferences when it comes to selecting the finest automobile insurance provider. Finding the right automobile insurance provider can be difficult, so prioritizing your needs as a motorist might assist.
While some drivers prioritize cost, others could prioritize a firm with a history of satisfied customers or cutting-edge technology tools like an intuitive mobile app and convenient online services.
Car insurance quotations can be obtained from organizations that best suit your individual requirements once you've figured out what those requirements are.