June 30, 2022
Reading Time:
4
min
Cash Advance vs Payday Loan: A Detailed Comparison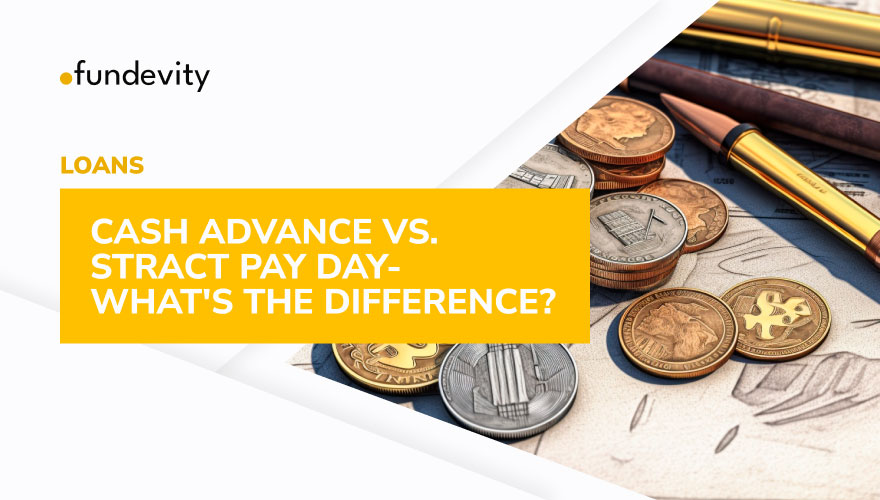 You can borrow against your next paycheck using payday loans and app-based cash advance services to address your immediate financial requirements. These services, however, may cause more harm than benefit due to their exorbitant borrowing prices. According to the Federal Reserve, the average APR for credit cards thus far in 2020 is 15.09 percent.
Despite the concerns, some clients believe they are their only alternative in financially difficult situations. Here's everything you should think about before getting a payday loan or cash advance, as well as funding options and financial tactics to assist you to avoid both.
What Is a Payday Loan?
A payday loan is a sort of short-term borrowing in which a creditor provides you with high-interest credit based on your income. Its principle is usually taken from your next paycheck. 
Payday loans are designed to be paid off in one single sum when you receive your next paycheck. The interest rate on these loans is therefore fixed. Many payday creditors don't even charge an interest rate; instead, they charge a predetermined flat cost ranging from $10 to $30 for each $100 borrowed.
You borrow against an income source such as your paycheck, pension, or Social Security to receive a payday loan. You either write a check for the loan sum or give the creditor permission to access your bank account.
If you don't pay back the loan on time, the creditor can take money from your account using the check or withdrawal authorization.
Payday Loan Pros and Cons
Pros
Payday loans are intended to be returned when the debtor's next paycheck arrives. In the meanwhile, they can be used to cover a wide range of expenses, including bills, household appliances, repairs, and nearly any other unforeseen expense.
Here are some of the most significant benefits of payday loans:
Easy accessibility.
They have fewer restrictions than other types of loans.
You can get accepted even if you have bad credit.
The loan is unsecured.
Cons
While payday loans are frequently rapid and handy, they can also have substantial disadvantages. This implies that payday loans aren't right for everyone, and they might make it more difficult to get out of debt.
They are pricey.
Payday loans are regarded as predatory.
It's easy to get caught in a debt cycle.
They have access to your financial information.
Some payday creditors employ dubious collecting techniques.
What Is a Cash Advance Loan?
A cash advance is a small, short-term borrowing from a bank or other financial institution. Many credit card issuers offer a feature that allows cardholders to withdraw a specific amount of money. Cash advances have high-interest rates and costs, but they appeal to debtors since they are approved quickly and funded quickly.
Make certain you comprehend interest rates. You'll almost certainly be charged interest on a cash advance immediately away. The normal grace period for credit card purchases does not apply.
Cash Advance Loan Pros and Cons
Pros
No collateral is required for instant access to unsecured funds.
Easy to obtain—no credit check or underwriting is required.
Online loan applications are promptly processed.
You can apply for an online loan at any time of day, including weekends and holidays.
There are no lines.
It doesn't matter what the loan is for.
Cons
APR and fees are really high.
There is no grace period—credit card cash advances accrue interest from the first day.
It could have an impact on your credit score.
If your money is stolen, there is no safety net.
Extra charges may apply.
Are Cash Advances and Payday Loans Good or Bad?
Now that you know the distinctions between cash advances and payday loans, you should think about the disadvantages of each. One disadvantage is that they are extremely costly. Payday loans, in particular, are infamous for trapping clients in a cycle of debt. Because payday loans are so costly, debtors frequently need to take out additional loans to settle their debt.
Cash advances might also be quite costly. You must not only pay an upfront charge to obtain one, but you must also begin accumulating interest on the amount advanced right away. Worse, the APR will almost certainly be far greater than the purchase APR on your credit card.
Alternatives to Cash Advances and Payday Loans
Using your home's equity. Although acquiring a home equity loan or line of credit isn't an instant option, if you have a lot of equity in your home, you might want to consider it. However, if you are unable to repay it, you may lose your home. Also, keep in mind that home equity loans may be more difficult to come by since creditors tightened their rules in response to the COVID-19 outbreak.
Withdrawals from retirement accounts. Under the Coronavirus Aid, Relief, and Economic Security Act, eligible individuals can withdraw more than $100,000 from their retirement savings accounts without paying the usual 10% penalty if they have been affected by COVID-19.
Seek assistance from friends or relatives. In certain situations, turning to family and friends for a loan may be a better option to taking out a high-interest-rate credit card cash advance or payday loan.
Form a banking partnership. COVID-19 relief loans may be available through a local bank or credit union if you meet their credit requirements and have a consistent income. Examine your credit ratings and demonstrate that you are a good credit risk.
Consider taking out a peer-to-peer loan. Although these loans involve less paperwork than a bank or credit union loan, you must still have a credit score of 600 to 640 and a consistent source of income.
Request assistance from your employer. Although it may be difficult, you could request that your company buy back your vacation days or give you an advance on a future paycheck. To enhance cash flow, consider adjusting your payroll contributions on your paycheck. However, you should be aware that you may have to pay extra taxes the next year as a result.