November 09, 2022
Reading Time:
6
min
Cash Back Credit Cards: What is Cash Back on Credit Cards?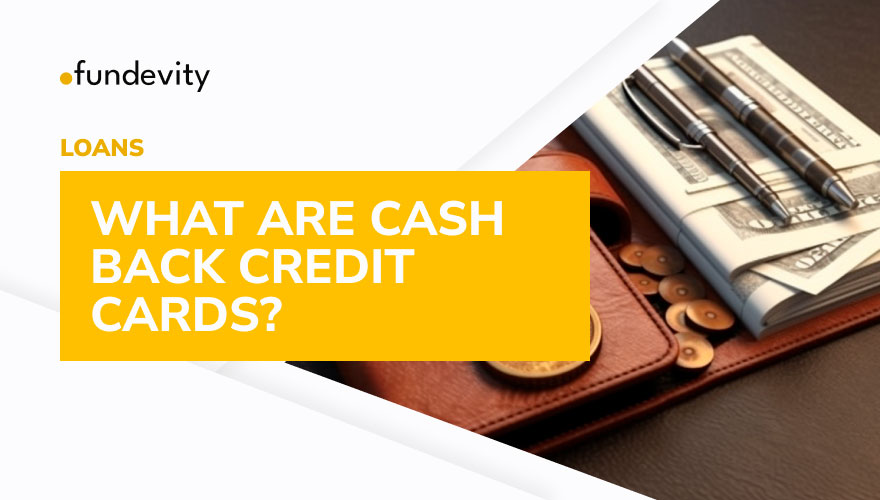 Cash back is a term used to describe two distinct but related credit card and debit card-based monetary transactions that have become increasingly common in the previous couple of decades. 
Most frequently, this is a credit card perk that gives back a tiny portion of the sum spent on each purchase made above a specified level.
Cash back credit cards give you a certain percentage of your total purchase price back in cash. However, the percentage of cash-back you receive may be different for different types of transactions. To maximize your perks, it's ideal to choose a cash-back credit card that fits your needs.
Let's go further into the subject of cash-back credit cards to find out all the information you need to select the best credit card for your needs.
What Are Cash Back Credit Cards?
When credit card user makes a purchase, they are rewarded in the form of cash-back. Card issuers may offer cash-back benefits in the form of either money or points, which can then be exchanged for goods and services in an online marketplace.
Cash back credit card perks provide a rebate of some sort on all purchases. In the case of a credit card that offers a flat 1.5% cash-back on all purchases, that translates to 1.5 cents in perks for every dollar spent. 
While some credit cards provide a set % cash-back on all transactions, others provide larger cash-back percentages on frequently purchased items like gasoline and groceries.
Cash back benefits have a set cash value, in contrast to the variable value of points or miles awarded by many travel credit cards. This cash-back can be used in a variety of ways, including statement credits, online purchases, and more.
How Do Cash Back Credit Cards Work?
Credit card companies provide credit cards with cash-back benefits that settle 1% to 5% on each purchase. Customers are motivated to sign up for credit cards and remain loyal when they are rewarded monetarily for doing so.
Your credit card's perks program will outline how much cash-back you'll get for various types of purchases. Example: If your credit card offers a cash-back rate of 1%, you'll get $1 back after settling $100. Your earned cash-back will be saved up until you decide to cash it in.
Credit card companies provide a wide variety of ways to cash in your perks, such as a statement credit, direct deposit into your checking or savings account, gift card, or even a donation to a charity of your choice.
If your credit card gives cash-back on certain types, the issuer will look at the four-digit merchant type code to decide whether or not your purchase is eligible for cash-back.
For all purchases, certain credit cards provide the same percentage cash-back rebate. Some provide larger cash-back rates on specific types of purchases, such as airfare, restaurants, groceries, and gas. Moreover, some cards allow you to switch up your bonus type or switch between the quarter's highest-earning cash-back types.
How to Earn Cash Back on Credit Cards?
Obtaining a cash-back credit card is the first step toward earning perks. There are a large variety of credit cards available, and some even give new users a bonus once they make their first purchase.
Find out what kinds of transactions get you to cash-back, and use your credit card for those. Cash back may not be available on all purchases. Cash advances, balance transfers, and purchases made using cash equivalents often do not qualify for cash-back.
In addition, if you are late with your credit card installments, you may lose the ability to earn cash-back. You may lose access to any available funds in your account if it is terminated or closed.
Lastly, when a refund or cancellation occurs on a purchase that yielded cash-back, the perks account will be reduced by the amount of the cash-back earned on that purchase.
Types of Cash Back Credit Cards
Most cash-back credit card programs can be categorized into three broad types.
Flat Rate – With a flat rate cash-back credit card, the cash-back percentage is always the same. Anywhere a customer shops, be it Costco or Amazon.com, they will receive the same percentage cash-back.

You can get a fixed proportion of your money back from participating shops and brands with a flat-rate cash-back program. For example, the FNBO Evergreen Rewards Visa Card gives you a flat 2% cash-back on everything you buy. 
Tiered – With a tiered cash-back program, you get a greater percentage of cash-back on certain types of purchases than on the rest. Tied cash-back credit cards may provide higher perks on specific types of expenses, such as 3% on grocery, 2% on gas, and 1% on everything else.
Bonus Categories – Bonus category cash-back cards are perks credit cards that offer a greater rate of cash-back on expenditures made in specific types, such as dining out, gas, and groceries, by as much as 3 percent. There is a 1% rebate on any other purchases.

Credit cards with bonus categories are quite similar to those that give tiered cash-back in that they provide a greater cash-back percentage on certain categories that change on a regular basis while providing a constant percentage on all other transactions. Basic cash-back is still earned on all purchases, not just those that fall under bonus categories.

However, it's possible that you'll need to do something to activate your prizes before you can begin earning at the next level. 
Cash Back Credit Cards: Pros and Cons
The pros and cons of using a cash-back credit card are listed below.
Pros
It's possible to get a welcome bonus when you sign up for some cash-back credit cards.
A simple way to earn cash perks whenever you shop.
It could include cash-back perks and product discounts.
Cons
Cash back credit cards may have a higher APR than other cards.
There might be a limit on how much money you can get back.
If you don't make installments on time and have your credit card closed as a result, you could forfeit any points you've accumulated.
Is Cash Back Free Money?
Cash back is not truly free money because you have to expend money on goods or services in order to receive it. 
The purpose of cashback programs offered by credit card companies is to encourage card usage. Credit card companies who provide cash-back perks assume that their customers' increased expenses will cover the cost of the perks. 
The monetary perks you could earn are merely a cut of the merchant charges imposed by your credit card company. In short, increases in interest rates and charges imposed on merchants are how cardholders fund cash perks.
How to Use Cash Back Credit Cards the Right Way
Paying down your monthly credit card balance in full is the first step toward maximizing your cash-back perks. Otherwise, you'd have to settle interest, which would very certainly outweigh any cash-back perks you would receive.
Since each cash-back credit card has its own specifics, utilizing multiple cards can help you optimize your perks.
Use a credit card that earns a bonus in the category in which you are making a purchase whenever possible to maximize your cash-back perks. When executing purchases that do not qualify for the bonus categories, however, use a flat-rate cash-back card instead.
You can also accumulate cash-back perks on your credit card account and use them whenever you're ready. Cash backs can be put to a variety of uses. Among the most widely used options for cashing in are crediting accounts, making purchases in online shops, and receiving gift cards.
Cash perks from some cards can also be donated to charity or deposited straight into a bank account. Some cards let you use your reward money to book flights and hotels directly through the card issuer's website.
Lastly, you can use your cash-back perks to settle for some or all of your purchases with some credit card companies by linking your perks to a service like PayPal or Amazon.com.
Invest some time into learning how to maximize the value of your cash-back incentives from your credit card company.
Bottom Line
Credit cards that offer cash-back give cardholders a certain percentage of their money back on purchases that meet certain criteria. While some cashback cards provide a certain percentage back on all transactions, others provide bonus cash-back on select types.
You can choose to have your cash back put into your bank account, applied to your credit card bill, or used as a statement credit for future expenditures.
In a nutshell, a credit card that offers cashback is a fantastic investment. It is possible to earn a substantial yearly cash-back bonus if you make your installments in full each month and don't incur any charges or interest.
However, if you have a credit card balance, the interest you settle each month will certainly outweigh the benefits you receive. Customers who can reliably and routinely make full monthly installments may be the greatest candidates for cash-back credit cards.
Now that you fully grasp how cashback works with credit cards, you can evaluate your purchase routines to see if a cashback card might be beneficial to you. If you do opt to move forward, it's a good idea to shop around and look at things like cash-back rates, yearly charges, APRs, and bonuses to see what works best for you.