April 01, 2023
Reading Time:
3
min
CertaInvest Review: Signs That This Broker Is a Fraud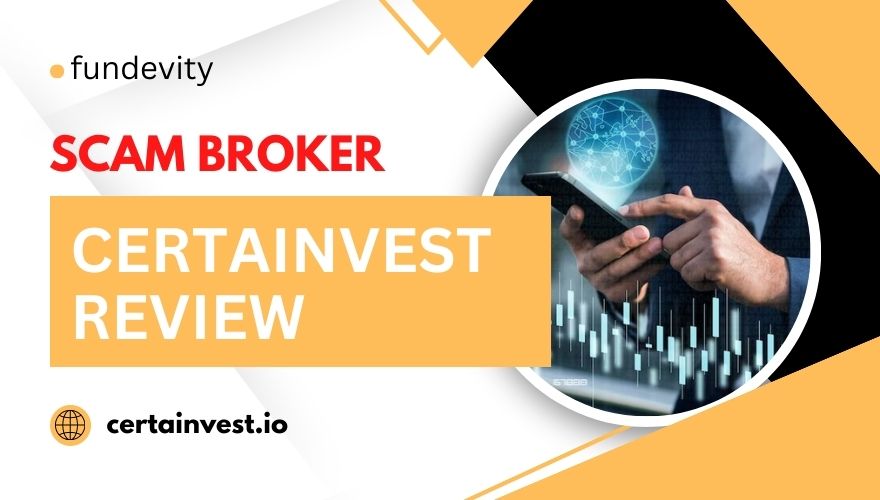 Designed with reassuring blue colors CertaInvest says that its services are all about reliability and trust. If you trust that, you may easily be deceived that what you have here is a legit and professional FX and CFD broker.
You may think that they are offering excellent trading conditions and a cutting-edge trading platform. In reality, however, what we have here is a true scam. This is an offshore site with no legit FX license. On top of that, it has already been exposed by the financial authorities in the UK. So if you are still weighing the idea of trading forex pairs and more with this scam, better think twice and read the following CertaInvest review.
| | |
| --- | --- |
| Leverage | 1:600 |
| Regulation | No |
| Headquarters | N/A |
| Minimum Deposit | $250 |
| Review Rating | 1/5 |
| Broker Type | FX |
| Platforms | Web |
| Spread | 3 pips |
License and Safety of Funds at CertaInvest
This shady broker may try to lure you in with calming blue colors and talk of reliability and trust. However, don't be fooled – this is actually a scam!
They want you to think they offer great trading conditions and innovative tech, but the truth is they are not a legit FX and CFD broker.
The website is based offshore and doesn't have a proper license. Plus, the financial authorities in the UK have already exposed this scam. So, if you're pondering trading forex or other assets with this broker, be very careful. It's best to think twice and read this CertaInvest review for more information.
CertaInvest Trading Platform
This broker boasts about its top-notch web-based trading platform, but we couldn't even access it. This is a red flag that they may be a scam, mainly because they don't offer proven and reliable trading software like MetaTrader 4 or MetaTrader 5 – the industry standard in FX trading.
MetaTrader 5 has a 4.5-star rating, over 10 million downloads on Google Play, and more than 403,000 reviews. It's the most popular trading platform in the industry for good reason. It provides real-time quotes, news, and various FX and stock charts. You can even run algorithmic trading sessions using Expert Advisors.
These are trading bots that you can customize with a scripting language called MQL5. MQL5 is an object-oriented high-level programming language intended for writing automated trading strategies and technical indicators. So, when choosing a trading platform, it's best to stick with industry standards like MetaTrader 5. You won't regret it!
Account Types Available at CertaInvest
CertaInvest is a fake company that apparently offers various trading accounts to its clients. Yet, the information about them is useless. This goes without saying.
You may find some details, such as the minimum deposit required and the types of assets that can be traded, but there is a lack of specific details. For instance, there is no clear explanation of trading fees or commissions associated with each account. Overall, stay away from this broker scam.
CertaInvest Deposit and Withdrawal
CertaInvest broker says you can pay with VISA, Mastercard, bank wire transfer, or Bitcoin, but we couldn't confirm this. Be careful because some scam websites insist you pay with Bitcoin, which is difficult to get back if you get scammed.
It's also hard to know who owns the Bitcoin wallet you're sending money to. If you pay with VISA or Mastercard and something goes wrong, you can ask for a chargeback from your bank within 540 days. CertaInvest's minimum deposit is 250 EUR, which is what most brokers ask for anyway.
How Does This Scam Operate?
The forex trading market can be attractive for investors looking to make money. Yet, sadly, there are many fraudulent tactics perpetrated by fake forex brokers that can cause substantial financial losses.
These scammers often use worldly-wise tactics to lure unsuspecting traders into their traps, promising unrealistic returns and offering fake investment opportunities. Once a trader has invested their money with these brokers, it can be very difficult to recover their funds.
Scammers generally use a variety of methods to conceal their identities and evade law enforcement. It is vital for traders to do their due diligence and thoroughly research any forex broker they are considering.
This is critical to avoid falling victim to these fraudulent schemes. By working with legit, licensed brokers and being vigilant about potential scams, traders can reduce their risk and enjoy the potential rewards of forex trading.
CertaInvest Summary
This sham broker should be avoided at all costs. The CertaInvest review points out several red flags that indicate this investment scheme is a scam, such as the use of scammy trading software and a fake address.
If you have been victimized by this broker, please don't hesitate to contact us. We are ready to help you report their shady practices and prevent others from being harmed.
FAQs
Is my Money Safe with CertaInvest?
CertaInvest is not a regulated broker and has been associated with fishy activities, which raises concerns about the safety of your funds.
Does CertaInvest Offer a Demo Account?
There is no clear information on CertaInvest's site about whether they offer a demo account.
How Secure Is CertaInvest?
CertaInvest's security standards are not well-documented, which could be a cause for worry among investors.