September 02, 2023
Reading Time:
5
min
CharterPrime Review: Taking a Closer Look at This Broker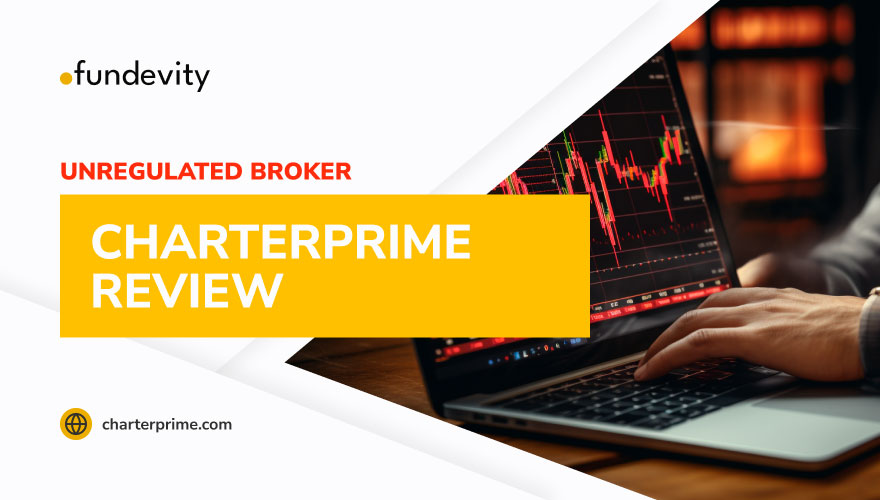 Caution is key in trading. This is true, especially when dealing with offshore brokers like CharterPrime or Rallyville Markets. In this CharterPrime review, we'll closely examine their regulation claims, uncovering potential deception that traders should be mindful of. Keep reading for more! 
General information
Name:

Charterprime Limited

Regulation status:

Unregulated Broker

Warnings from Financial Regulators:

No official warnings

Website link:

www.charterprime.com

Active since

2013

Registered in

St. Vincent and the Grenadines, Australia, Hong Kong

Contact info:
[email protected]
Trading platforms:

MT4 & Web

The majority of clients are from:

Malaysia 

Australia 

United States 

Singapore

Peru 

Customer support:

email

Compensation fund:

No
CharterPrime Regulation –  Legitimacy Concerns
So, is CharterPrime legit? Founded in 2012, CharterPrime claims it stands as a reputable Forex broker. But, is this true? 
First and foremost, we must see if CharterPrime is regulated. The primary reason we decided against this broker was its registered address. The company clearly states it's incorporated in St. Vincent and the Grenadines. This nation's association with fake brokers and scams is unfortunately well-known. St. Vincent and the Grenadines doesn't have a regulatory authority for the FX industry. As a matter of fact, this leaves traders with little protection.
The lack of solid information, especially about licensing, raises concerns. The broker appears to take pride in its offshore address, without offering any real benefits. Also, they lie about having the ASIC regulation as no such broker exists in their database. 
It's crucial to remember that CharterPrime is unregulated, posing a risk to all invested capital. For our readers, we strongly recommend considering brokers from the UK, EU, US, or Australia. These regulated brokers offer secure and UI-friendly trading experiences, unlike unlicensed ones whose main intent is to defraud clients. Regulated brokers stick to strict rules and requirements, enforced by regulators. The FCA and CySEC, for instance, provide compensation schemes that refund users' money in case of broker bankruptcy. There are guarantees up to €20,000 and £85,000.
Note: CharterPrime said it operates under the strict regulation of New Zealand authorities. Also, they said they hold the status of a registered financial provider in Australia, with its headquarters situated there. This is entirely fake! 
Exploring Trading Assets with CharterPrime
CharterPrime has a lot of trading options to show us. These include CFDs, FX, commodities, and metals. These choices come with competitive fees and solid execution conditions.
Operational on the STP system, CharterPrime directly links orders to a network of liquidity partners. Namely, it does that through broker collaborations. This approach ensures solid and efficient trade execution. This seems beneficial, but don't forget about their unregulated status!
Also, it's wise to exercise caution and avoid the TegasFX broker due to similar regulatory concerns.
CharterPrime's Trading Platforms
In our CharterPrime review, it's time to dive into the tools for executing trades and studying markets. CharterPrime provides MetaTrader 4 (MT4), a well-known platform celebrated for its versatility and effectiveness. This is a solid choice, by all means. 
Note: Charter Prime has received a warning from the Securities Commission Malaysia.
Web Platform
Investors worldwide love MT4 for its UI-friendly and nice design and powerful tools. 
It's web-accessible, ensuring convenient trading without compromising features. This is relatively beneficial. 
Desktop Platform
MetaTrader 4 has strong analysis functions, available on PC, MAC, and mobile versions. It supports automated strategies through Expert Advisors (EAs) or trading robots. We all know how beneficial this is! 
EAs have no restrictions at CharterPrime. You can use pre-made ones, modify them, or create personal code with some features, suitable for pros.
Mobile Platform
Indeed, there's a mobile app with customization and better charting. It covers key trading needs like market analysis, research tools, order placement, and much more. 
All in all, CharterPrime's platforms may not be as good as Webull's. Yet, they do suit various trading styles, ensuring traders can trade as they prefer.
Trading Conditions: CharterPrime Account Types
CharterPrime seems to know the importance of flexibility in trading strategies. The business tries to suit your needs by offering many account types with distinct pricing structures. Let's dive into the details:
Variable Account
The CharterPrime Variable Account provides zero commissions and a dynamic market spread. 
This option ensures a seamless trading experience without extra commission charges.
ECN Account
For razor-sharp spreads, traders can opt for the CharterPrime ECN Account. Here, the spread can go as low as 0.0 for some instruments. 
However, please note that there is an $8 charge per standard lot for each trade.
Swap Free Account
Made for those who prefer to avoid interest charges, the CharterPrime Swap Free Account is available. 
Although the spread is slightly higher than the variable account type, there's a $40 carry fee per lot on Wednesdays. This option is exclusively offered for USD-denominated accounts.
Comparing the Accounts
Variable Account:
Platform: MT4 (Desktop/Mobile)

Commission Charges: $0 per lot

Spread: Varies

Minimum Deposit: $100

Leverage: Up to 1:500

Minimum Trade Size: 0.01 lots
ECN Account:
Platform: MT4 (Desktop/Mobile)

Commission Charges: $8 per lot

Spread: From 0.0 pips

Minimum Deposit: $100

Leverage: Up to 1:500

Minimum Trade Size: 0.01 lots
Swap Free Account:
Platform: MT4 (Desktop/Mobile)

Commission Charges: $40 per lot (Every Wednesday)

Spread: Varies

Minimum Deposit: $100

Leverage: Up to 1:500

Minimum Trade Size: 0.01 lots
With CharterPrime, clients can choose the account type that best fits their strategy. But, be mindful of their offshore status. 
Withdrawal Issues at CharterPrime
When it comes to withdrawals, it's important to note that we're relying on website information since we lack access to a user area. 
While we advise taking this information with caution, we'll share what's available. Let's hop into it!
CharterPrime Minimum Deposit
Starting with a minimum deposit of $100, CharterPrime offers clients various funding options. 
Namely, these include China UnionPay, several crypto wallets, alternative methods, and bank transfers.
CharterPrime Fees and Withdrawal Charges
Withdrawals involving ETH are subject to a $5 fee or 0.5 percent of the withdrawal amount. 
For bank transfers, a commission of $40 exists. Alternative methods come with charges ranging between 1 and 2 percent. And the minimum withdrawal stands at $100.
Withdrawal Processing Time
It's worth noting that the average processing time for withdrawal requests is around 3 days.
All in all, our recommendation remains that we cannot approve this broker. It offers minimal advantages and lacks regulation, exposing investments to risk.
Protecting Yourself from Scam Broker Tactics
Scam brokers often use a variety of scammy strategies. Be cautious of promises of huge profits that appear too good to be true. Moreover, stay skeptical of vague claims about regulations, and don't be rushed into quick investments.
Always conduct thorough research before choosing any FX broker. Remember, if an offer sounds too tempting, it's probably a trap. Your financial security matters, so staying informed and cautious is your best shield against fake brokers like Alpha Fx and CharterPrime.
Trustpilot Reviews
The fake broker has an average of 3.7 stars on Trustpilot, with a mix of positive and negative reviews. While some positive feedback may seem real, it's essential to approach them with caution. There's a chance that a few positive reviews could be fabricated to improve the broker's reputation. 
Remember, it's always wise to examine user reviews and cross-reference them with other sources. Do this to get a comprehensive understanding of the broker's legitimacy and service quality.
Final Verdict – CharterPrime
All in all, we could only see potential red flags. The broker's offshore registration in St. Vincent and the Grenadines raises legitimacy concerns due to the lack of proper FX regulation. Mismatched claims about regulation and transparency issues further question CharterPrime's credibility. 
The review covers many aspects, stressing the need for caution. Trustpilot reviews are mixed, with some potentially fabricated positives. All of this is enough for you to avoid this company altogether. 
Contact us for a free consultation today! We're here to provide you with some solid broker recommendations. 
FAQs
Is Charterprime Regulated?
CharterPrime is not properly regulated. Beware of that.
Is It Safe to Trade With Charterprime.com?
Trading with charterprime.com carries risks due to its lack of regulation.
What Is the Charterprime's Withdrawal Policy?
There is a common of $40, and the minimum withdrawal stands at $100.