July 05, 2023
Reading Time:
5
min
CM Globals Review: Unchain the Power of Transparent Trading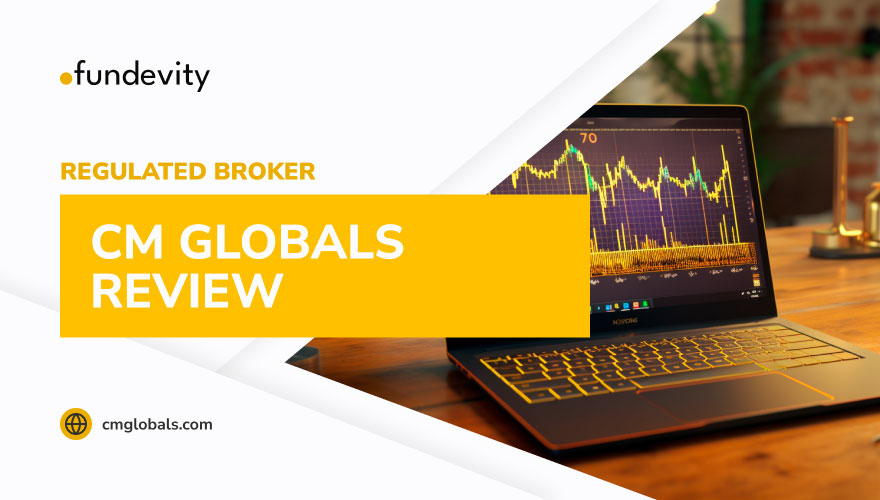 Step into the realm of CM Globals, the Australian titan in the equities and foreign exchange markets. With unwavering values, they enable confident navigation by providing transparency and top-notch service. Experience stability amid market shifts, as their collaborative community thrives on inspiration. 
They forge a positive impact fueled by continuous research and innovation. Should you let CM Globals guide you to financial success? Their strong foundation of trust and reliability is the cornerstone of their success. That is all they promise, but is it the truth? Find out in the following CM Globals review.
CM Globals Regulation: A Beacon of Legitimacy
In the extensive landscape of financial markets, CM Globals emerges as a beacon of trust. They are committed to regulatory excellence and creating a safe and secure environment for clients. CM Globals is an outstanding brokerage house from Australia. It operates under the supervision and regulation of esteemed global institutions. They hold two licenses:
The Australian Securities & Investment Commission (ASIC) and

Money Services Businesses Canada (MSB).
As a registered entity, CM Globals serves as an Authorized Representative of MGF Capital Pty Ltd. It holds the Australian Financial Services Representative Number: ACN 665 491 663. Their operations are audited and shared with regulatory commissions and institutions.
CM Globals is also registered with the Financial Transactions and Reports Analysis Centre of Canada (FINTRAC). All that proves their unwavering commitment to global financial regulations. 
Besides regulatory oversight, CM Globals boasts a robust financial structure. They are backed by 24,000,000 AUD. With a worldwide network spanning 12 countries, CM Globals possesses significant influence globally. Collaborating with six Liquidity Providers and serving over 200,000 investors, they have established a vast and dynamic network. Their four back offices further support their operations, enabling efficient management.
CM Globals Awards
CM Globals has been honored with prestigious accolades. They received the title of "Most Transparent Broker 2022" from forexdailyinfo.com. This is a testament to their commitment to providing high-quality services and developing trust. They have also been awarded the prestigious "Best Customer Service Australia 2022" award by intlbm.com for their customer-centric approach.
General information
Name:

CM Globals PTY Limited

Regulation status:

Regulated by ASIC

Warnings from Financial Regulators:

No official warnings

Website link:

https://www.cmglobals.com/

Active since

2023

Registered in:

Australia

Contact info:

+61 3 6153 0261,

[email protected]
Trading platforms:

Co-Mobile

The majority of clients are from

Turkiye, Germany

Customer support:

Yes (

[email protected]

24/7,

Whatsapp via +61 485 855 815

)

Compensation fund:

n/a
Unlock a World of Trading Possibilities With CM Globals
This company delivers an extensive range of trading assets. They enable their clients to access a diverse and dynamic market landscape. Namely, their platform opens the door to a world of possibilities. It allows investors to explore various assets and capitalize on global market movements. The trading instruments available at CM Globals are:
Forex

Stocks

Indices

Crypto

Commodities

Bonds

ETFs

Options 
The range of trading assets offered by CM Globals is constantly expanding.
CM Globals Platform: Enhance Your Trading Experience
CM Globals, a leading brokerage firm, provides traders with something different. While conventional platforms like MT may be commonplace in the industry, CM Globals introduces a revolutionary option known as Co-Mobile. This cutting-edge platform revolutionizes the way traders engage with the market. It offers advanced features and an unparalleled user experience.
Co-Mobile, available on CM Globals' website, combines state-of-the-art tech with a user-friendly design. It empowers traders to execute their strategies with ease and precision. Whether you are a seasoned trader or new to the world of investments, Co-Mobile caters to all skill levels.
Their platform offerings show their commitment to staying ahead of the curve. With Co-Mobile, traders can stay connected to the market wherever they go, accessing a wide range of trading instruments and leveraging robust analytical capabilities. 
This broker offers brokerage services to individual investors in 12 countries. Yet, information on the CM Globals account types or CM Globals fees is not available on their website.
Experience a Dynamic Trading Environment at CM Globals
CM Globals presents a dynamic and versatile trading environment. It has a comprehensive educational program and diverse analysis offerings. While details like leverage, spread, and other conditions remain undisclosed, the brokerage stands out with its advanced education program tailored to empower traders.
At CM Globals, traders can access a wealth of learning resources. This includes the in-depth Fundamental Analysis, Technical Analysis, Psychology, and Advanced Analysis modules. These comprehensive courses equip traders with a profound understanding of market dynamics, chart patterns, and psychological aspects. This can significantly impact trading decisions.
CM Globals focuses on continuous learning and skill development to help traders achieve their full potential. Still, it remains unclear whether the broker supports a demo account. This makes it difficult to assess the availability of a CM Globals demo.
Note: Do you want to find more regulated brokers like T1Markets? Contact us for a free consultation.
Payment Solutions at CM Globals: Embrace Flexibility
This firm includes a wide range of payment options to enhance convenience for its traders. With a commitment to staying ahead of the curve, this brokerage supports an array of payment methods. These include Bitcoin, Paypal, Neteller, wire transfer, Tether, and more, enabling fast and secure transactions.
By incorporating Bitcoin, CM Globals recognizes the growing prominence of cryptocurrency in the financial world. This provides traders with an alternative and decentralized payment solution. Meanwhile, established platforms like Paypal and Neteller offer familiar and trusted avenues for swift and hassle-free transactions. For those preferring traditional banking methods, wire transfers ensure easy funds transfer.
CM Globals' payment options meet traders' needs and preferences worldwide, ensuring a smooth funding process. By embracing these convenient payment solutions, traders can focus on their trading strategies.
CM Globals Customer Support: Your Partner in Trading Success
At CM Globals, delivering exceptional customer support is a cornerstone of their commitment to trader satisfaction. With a range of convenient channels available, CM Globals ensures prompt and reliable assistance whenever needed. By offering email support at [email protected] and a contact form on their website, the broker provides a direct line of communication for any queries.
The dedicated support team at CM Globals is comprised of knowledgeable professionals well-versed in financial markets. They are ready to assist traders with prompt and accurate responses, addressing any technical issues or trading-related questions.
With a focus on building lasting relationships, CM Globals takes the extra mile to ensure their customers' needs are met. All in all, CM Globals' support team stands ready to provide the guidance you need to thrive on your trading journey.
Trader Reviews: Exceptional Trustpilot Ratings
CM Globals has earned an impressive reputation, evident from its excellent Trustpilot rating. With an outstanding 4.4-star rating based on 19 reviews, users express high satisfaction with this broker. The majority of reviews received 5 stars or 74%, and the rest 26% are 4-star ratings. Users value the platform's reliability, features, and responsive customer support. They appreciate the range of tools and the platform's unwavering dependability. 
The availability of 24/7 customer service ensures prompt help whenever users need it. This helps to reduce user anxiety and makes them more confident in their trading decisions. Reliable customer service also builds trust among users, which is essential for long-term loyalty.
For more information about regulated brokers like CM Globals or AAAFx, please contact us for help! Explore our social media pages to learn more about our services.
Long Story Short – CM Globals
CM Globals is a reputable brokerage that prioritizes transparency and top-notch service. They offer a safe and secure trading environment with licenses from ASIC and MSB. Their accolades, including "Most Transparent Broker 2022" and "Best Customer Service Australia 2022," highlight their commitment to excellence. 
CM Globals provides diverse trading assets and an innovative Co-Mobile platform. While specific details are undisclosed, they excel at education with modules on Fundamental Analysis, Technical Analysis, Psychology, and Advanced Analysis. Traders benefit from a dynamic environment and payment options, including Bitcoin. 
CM Global's customer support team is accessible via email and a contact form. Overall, they empower traders on their path to financial success. We can assist you in finding the top regulated brokers like Swissquote and CM Globals. Contact us now! 
FAQ Section
Does CM Globals have a demo account?
It is unknown if this company offers a demo account.
What is the minimum deposit for CM Globals?
The website does not provide any information on account opening or funding requirements.
Is CM Globals a licensed broker?
Yes, they are a licensed broker. They have two licenses issued by ASIC and MSB.