August 13, 2023
Reading Time:
5
min
Coinverse NFT Review: The Dark Side of a Shady Crypto Exchange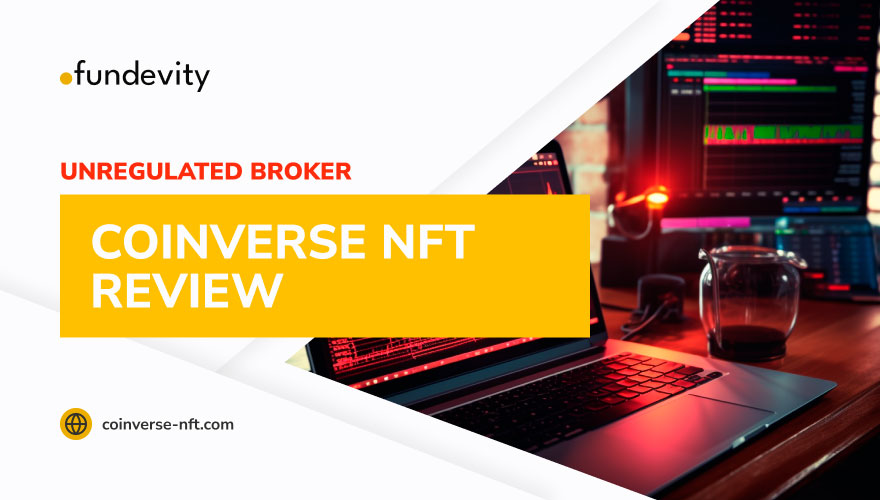 Welcome to the world of crypto, where innovation meets opportunities but also potential risks. In this Coinverse NFT review, we're taking a closer look at an unregulated crypto exchange. Our aim is to uncover the truth hidden behind its appealing surface. 
We will talk about the important need for wise decision-making in the intricate domain of cryptocurrency. As we delve deeper, you'll realize just how crucial it is to navigate this complex landscape with caution and knowledge. Stay tuned!
General information
Name:

Coinverse NFT

Regulation status:

Unregulated Crypto Exchange 

Warnings from Financial Regulators:

No official warnings

Website link:

https://coinverse-nft.com/

Active since

2023

Registered in

n/a

Contact info:
[email protected]
Trading platforms:

WebTrader

The majority of clients are from

India 

Japan 

United States 

Australia 

Customer support:
Chat & email at [email protected]
Compensation fund:

No
Coinverse NFT: The Mirage of Legitimacy
When you first encounter Coinverse NFT, its flashy website and enticing claims might make you think it's a trustworthy platform. Yet, don't be fooled by appearances. Beneath this polished exterior lies a troubling reality – Coinverse NFT is nothing more than a scam. 
Despite boldly stating that it's regulated in Canada, the US, and Australia, there's no concrete evidence to back up these claims. This lack of proof raises serious red flags about its credibility. Scams have also been reported by a number of people who trusted Coinverse NFT. This highlights the urgent need to expose the Coinverse NFT scam and protect potential investors from its deceptive tactics.
To stay safe, use trusted exchanges like Coinbase, Kraken, and Binance. These platforms protect investments and provide secure trading. Making informed choices helps navigate the crypto world's risks.
Note: This fraudulent firm strategically targets individuals in countries like India, Japan, the United States, and Australia.
Available Trading Assets: The Illusion of Choice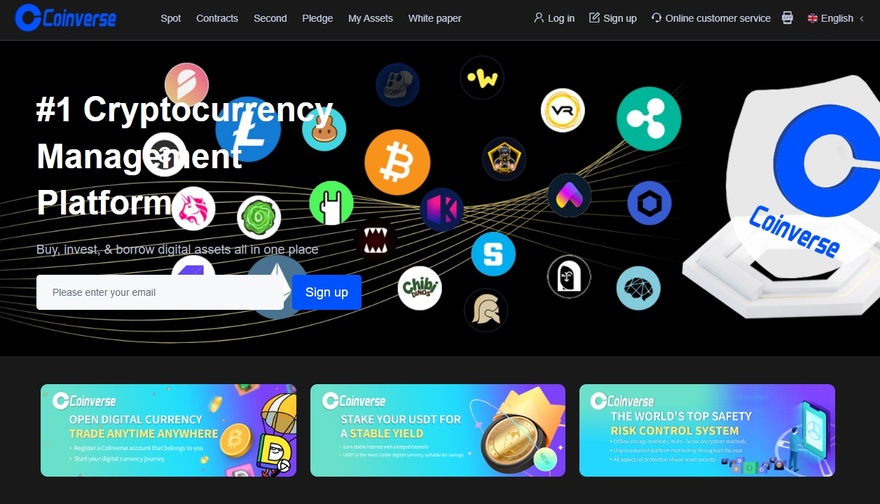 When it comes to Coinverse NFT's offerings, their extensive crypto pairs might catch your eye. They boast not only the usual USDT/BTC and USDT/ETH pairs but also some unconventional ones like USDT/APE. What's more, Coinverse NFT jumps into the world of Decentralized Finance (DeFi), Non-Fungible Tokens (NFTs), and the exciting Metaverse. 
This might seem tempting and widen their target audience. However, keep in mind that reliable platforms like Binance and Coinbase offer solid security. They're like sturdy shelters for traders, especially when compared to the risky landscape of Coinverse NFT. It's crucial to prioritize your safety in this ever-evolving crypto world.
Note: Lately, things have been a bit tough for crypto. The SEC has charged Binance and its founder for selling BNB, BUSD, and crypto-lending products without registering. This raises concerns that the SEC isn't very friendly to crypto lately. It's a reminder that the crypto world and regulators need to find common ground.
Coinverse Platforms: Navigating the Labyrinth
While trustworthy exchanges provide traders with easy-to-use platforms, Coinverse NFT disappoints with its lackluster WebTrader. Established platforms put significant effort into crafting sophisticated tools for both new and experienced traders. 
Opting for these reliable platforms is crucial. They house advanced tools, ensure smooth transactions, and offer real-time data. This empowers traders, giving them the confidence to make informed decisions. Remember, a solid trading platform is your compass in the intricate world of trading.
Trading Benefits: Dissecting the Illusion
Let's talk about the perks that Coinverse NFT brags about – cool stuff like innovative products, smooth copy trading, and easy token transactions. Sounds great, right? But wait, take a closer look at these so-called advantages. They're more like smoke and mirrors. Their claims of top-tier security? Well, they don't quite measure up. And guess what? 
The Trustpilot reviews are nowhere to be found, which doesn't exactly boost their credibility. Now, look at exchanges like Binance or Kraken. They've got a solid reputation for trust and safety – something Coinverse NFT lacks. So, when you're concerned about your investments, sticking with a reliable exchange makes a whole lot more sense.
Note: Traders, be cautious and steer clear of TradeCare365. With them, your money is at risk. 
Earning & Withdrawal: Navigating Murky Waters
Alright, let's take a closer look at the whole deal of getting your cash in and out of Coinverse NFT. The thing is, they're not exactly waving a flag about how you can do it. This lack of clarity might tickle your skepticism. But guess what? There's a twist to this tale. Also, there's some not-so-cool stuff on their website. We're talking about those fake Coinverse login pages that seem to pop up out of nowhere. 
Now, let's spin the narrative and talk about the dependable crypto exchanges out there. They're on a different wavelength. They want you to know the nitty-gritty of their payment methods – it's all about giving you a clear picture. They've got your back with a bunch of options that you can count on, making sure your money stays snug and secure. Because really, your financial peace of mind is where it's at.
Trader Reviews: The Deafening Silence
Interestingly, Coinverse NFT seems to be operating in a feedback vacuum – no Trustpilot reviews in sight. This silence holds more weight than you might think, by all means. It's a glaring sign of potential credibility issues. But there's more to uncover, by all means. 
Our investigation revealed something troubling – fabricated online reviews that seem calculated to manipulate public opinion. This significant absence of genuine feedback should raise red flags for potential investors. It's a clear reminder to exercise caution and approach all decisions with careful consideration. After all, genuine feedback is a crucial aspect of assessing any platform's legitimacy.
Note: Stay clear of TorroCapital and its dubious offerings. This is a suspicious company too. 
Fake Crypto Exchanges: Exposing the Ploy
Sadly, the cryptocurrency world has seen its fair share of scams that have left many investors in deep trouble. Let's look at a couple of well-known cases.
Mt. Gox.

Once the biggest Bitcoin exchange, Mt. Gox went bankrupt in 2014, losing over 850,000 Bitcoins worth billions due to hacking.

BitConnect.

Promising huge returns, BitConnect turned out to be a Ponzi scheme, collapsing in 2018 and leaving investors with massive losses.

PlusToken.

Claiming high returns, PlusToken vanished in 2019, causing an estimated $2 billion loss.

Pincoin and iFan.

These Vietnamese ICOs gathered funds from investors and disappeared, leaving them empty-handed.

QuadrigaCX.

This Canadian exchange lost access to millions when its CEO died, later revealing mismanagement and owing over $190 million to customers.

FTX Exchange.

Do we need to say anything about this? It's all clear as the sky. 
These examples stress the importance of careful research before investing. Stick to reputable, regulated exchanges like Coinbase, Binance, and Kraken to avoid falling victim. 
Remember, if it sounds too good, it might be a scam. It's a smart move to avoid TradeDu, Coinverse NFT, and similar fake firms. 
Long Story Short: Coinverse NFT
Cryptocurrency can be a maze of promise and risk. Coinverse NFT's story teaches us to be careful. Its tempting offers, hidden truths, and fake reviews make a point we can't ignore.
As we finish exploring Coinverse NFT, remember to stick with trusted exchanges like Binance and Coinbase. These giants not only keep your money safe but also bring calm to the chaotic crypto world.
Got questions about safe crypto exchanges or the crypto world? Just ask. You don't have to navigate this tricky path alone. Book a free consultation with us today!
FAQs
Is Coinverse NFT Regulated?
Coinverse NFT isn't regulated. Stay away from them to protect your assets.
How Much Is Coinverse NFT Withdrawal Fee?
Coinverse NFT's withdrawal fees differ, but there is no data on their website.
Does Coinverse NFT Have a Mobile Trading App?
Yes, Coinverse NFT provides a mobile trading app, but it's bogus.