September 21, 2022
Reading Time:
4
min
Conforming Loans Explained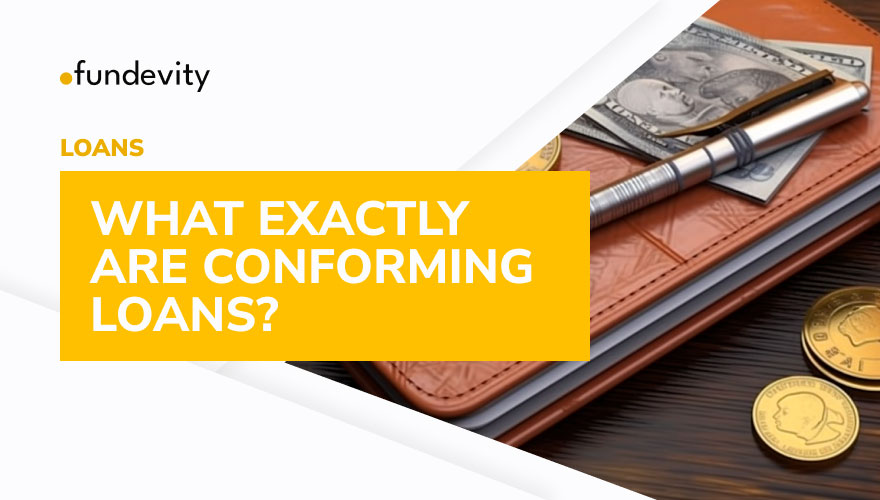 Conforming loans are a type of loan that are designed to fit the needs of borrowers who have good to moderate credit and low to moderate debt levels. Conventional lenders may not provide these loans to borrowers with high debt levels because doing so could increase the risk of a borrower defaulting on the loan.
Here we will discuss what a conforming loan is, its benefits and drawbacks, and as well how to get one.
Conforming loans are designed for borrowers who may not qualify for the most popular types of loans but still need financing. There are a few key things to keep in mind when applying for a conforming loan: the loan must have a fixed interest rate and be within your financial means.
To explain it simply, it's a type of mortgage that lenders can sell to Fannie Mae or Freddie Mac. They as well have to be at or below the loan limits that have been set by FHFA. That means that they can't be larger than home loans.
What Exactly Are Conforming Loans?
Conforming loan definition means that this is a type of mortgage that can be compared to home loans, but the amount you are looking to borrow can't be larger than with a home loan. This type of mortgage needs to meet certain criteria for purchase and sale by the government sponsors Fannie Mae and Freddie Mac. The basic meaning of this loan is that you have to fall into certain categories, including your credit score, how much you are looking to borrow, and the property you are looking to buy.
How Do Conforming Loans Work?
As mentioned above, Fannie Mae (FNMA), Freddie Mac (FHLMC), and FHFA set the rules for conforming loans and their limits. So, if you want to take out this type of loan, it's important to know that FNMA and FHLMC don't issue the loan itself, but they do it through banks and credit unions.
Besides the loan limit, once you take it out, there are rules to follow. They need to include your loan-to-value ratio and debt-to-income ratio as well. On top of that, they also follow your credit history and score and certain documentation.
Conforming vs. Non-Conforming Loans: What's the Best Option?
When you get a loan, your bank may classify it as a conforming or non-conforming loan. So, let's explain them more.
Conforming loans are usually the easiest to get and require the least documentation. They have a lower interest rate and don't require as much money down.
Non-conforming loans are more difficult to obtain but can have a higher interest rate and require down payments of 25%. However, they often have more lenient requirements when it comes to credit history and income.
To answer the question, which one is better, a conforming vs. non-conforming loan? Well, the answer is that it depends on you and your needs. For someone, the non-conforming loan can work better, while for others conforming can be a better fit. Whatever you decide to go with, make sure you do the needed research and consult with the expert.
If you are not sure about choosing between these two, you can always turn to conventional loans at the end of the day.
Pros and Cons of Conforming Loans
as good for you in the long run because they may not offer the best terms. Additionally, if you can't repay your conforming loan on time, it could lead to higher interest rates and penalties. That's why you need to weigh both their benefits and drawbacks of them before making a decision. Here are some of them.
Pros of conforming loans:
Easy to qualify
Lower mortgage rates
Smaller down payment
Cons of conforming loans:
Conforming loan limit
Insurance
Pros
When it comes to taking out any type of loan, you want it to be fast and easy. The great thing about conforming loans is that you can qualify for them easily without much of a hassle. On top of that, they offer smaller down payments in comparison to other types of mortgages.
Cons
Unlike other types of mortgages, with conforming loans, you will have to pay for mortgage insurance. This alone can add up to you paying more than you borrowed, and if not careful, you can end up in debt. Also, the amount you can borrow is set by the lender since they don't want it to turn into a jumbo loan. So, the amount you are going to get might not be enough.
How Are Conforming Loan Limits Determined?
So far, we have mentioned that conforming loans have certain limits and rules to them. Well, let's now see how they are actually determined. The limit of the conforming loan is the dollar cap on the size of the mortgage that FNMA and FHLMC will guarantee or purchase. It's important to know that the limits are changed and adjusted every year so they can reflect the changes in the average home price in the USA.
FHFA is the one who is in charge of determining the limits of conforming loans by using the October to October increase or decrease in home prices.
How to Apply for Conforming Loans
When applying for a loan, lenders will look at your credit score, income, and other factors to determine your eligibility for a conforming loan.
Lenders will look at your debt-to-income ratio and your credit score to see if you are likely to be able to repay a conforming loan. Your debt-to-income ratio is the percentage of your monthly income that goes to debt payments. Lenders want you to pay off your debts as quickly as possible so that you don't increase your chances of being in trouble with creditors in the future.
Your credit score is a number that reflects how likely you are to be able to repay a loan in full and on time. Your credit score is based on information in your credit reports, such as the amount of debt you have, the types of loans you have taken out, and your payment history. A good credit score means you will likely be approved for a conforming loan.
Bottom Line
If you were looking to buy a house or property, your financial advisor might have suggested you take out a conforming loan. Not a lot of people know what this type of mortgage actually is.
That's why we explained it more in this article.
Here you can find out more about them, how they work and what are some rules and limits they have. Our advice, like always, is to do proper research and consult with an expert about them. Ask them to guide you step by step through the terms and conditions, so you can use the information form here to make the best decision for yourself.