March 17, 2023
Reading Time:
5
min
Credible Personal Loans Review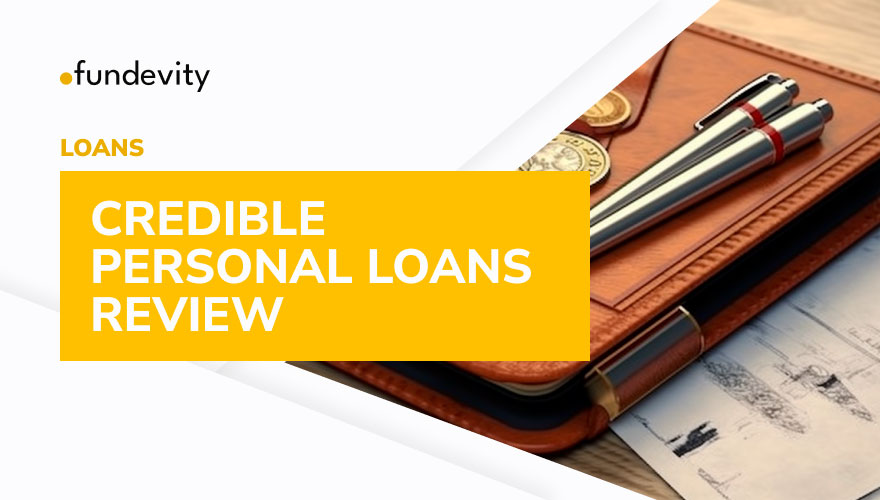 Are you in need of a personal loan? It can be difficult to know which lenders to trust as there are a lot of options out there. One option you may have come across is Credible Personal loans, but are they reliable and legit? In this Credible Personal loan review, we'll cover and explore the pros and cons of using them for your financial needs.
We'll also cover topics such as their interest rates, loan terms, customer service, and more so that you can make an informed decision about whether or not to take out a loan from a Credible Personal loan company.
Credible is an online marketplace that helps borrowers connect with lenders. In other words, they are not a lending company but a loan servicer. The platform offers personal loans, student loans, and business loans. You can use Credible to compare loan offers from multiple lenders and choose the one that best suits your needs.
| | |
| --- | --- |
| Website | https://www.credible.com/personal-loan |
| Loan Amount | From $600 to $100,000 |
| Loan Terms | 24 to 84 months |
| APRs | 5,40% to 35,99% |
| Origination Fee | No |
| Prepayment Fee | No |
| Immigration Status Considered | U.S citizens, permanent residents |
| Employment Statuses Considered    | Full or part time employed, self-employed |
| Intended Use | Debt consolidation, home improvements, wedding costs, car financing, vacation, moving costs |
| Joint Loan Applications Accepted | Yes |
| Verification Documents Required  | Social Security number, pay stubs, tax returns |
| Late Fee | No |
| Minimum Credit Score | 600 |
| Minimum Income | N/A |
| Loan Purpose | Personal use |
| Supported Income Types | All |
| How Long To Get Funds | 1- 2 business days |
| Other Prerequisites | Must be at least 18 years old |
Credible Overview
Credible is an online personal loan marketplace that offers a simple, straightforward way to compare loan options and find the best rate for you.
With Credible, you can see multiple loan offers from different lenders in one place, so you can easily compare rates and terms to find the best fit for your needs. They also offer a helpful loan simulator tool, which can show you how different repayment scenarios would affect your overall cost of borrowing.
Overall, Credible is a great option for anyone looking for a personal loan. The company makes it easy to shop around for the best deal, and its loan simulator tool can help you understand the true cost of borrowing before you make a decision.
To get started with Credible, you'll need to complete a short form with some basic information about yourself and your loan requirements. Once you submit the form, Credible will match you with potential lenders and provide you with up to eight loan offers. From there, you can compare rates, terms, and conditions to find the best deal.
If you decide to move forward with one of the loan offers, Credible will help you complete the application process with your chosen lender. Once your loan is approved, the funds will be deposited into your account within three to five business days.
Credible Personal Loan Rates, Terms, and Fees
If you're looking for a personal loan, Credible is a great option to consider. They offer competitive rates and terms, as well as a variety of options to choose from.
Credible offers personal loans with fixed or variable interest rates. Loan terms range from 24 to 84 months, and you can borrow anywhere from $600 to $100,000. There are no origination fees or prepayment penalties.
On top of that, their APR starts from 5,40% and goes up to 35,99%. This is considered an average APR in comparison to similar lenders. You can also use a personal loan from Credible for just about anything including debt consolidation, home improvement projects, medical expenses, or even a major purchase.
How Does Credible Personal Loans Work?
Credible Personal loans is an online lending marketplace that connects borrowers with multiple lenders to provide personal loans. Credible does not lend money directly to borrowers.
Instead, Credible provides a platform for borrowers to compare loan offers and choose the best option for their needs. Credible does not charge any fees for its services.
To get started, borrowers can fill out a short online form with some basic information about themselves and their loan needs. They will then match the borrower with multiple lenders who are willing to provide personal loans.
The borrower can then view and compare different loan offers before choosing the one that best suits their needs. Once the borrower accepts a loan offer, they will work directly with the lender to complete the loan process.
What Types of Personal Loans Does Credible Offer?
Credible Personal loans offer a wide array of loan options from their lenders. These include the following:

Personal loans

Student loans 

Student loans refinancing 

Mortgages

Mortgage refinancing

Debt consolidation



Overall we would say this is a great variety of loan options that can fit almost anyone's needs. And it's also great that the maximum borrowing amount is quite high for all loan types.
What Are the Eligibility Requirements for Credible Personal Loans?
The first thing you'll need to do is check your credit score. Credible personal loans are available to people with good or bad credit, but you may be offered better terms if your credit score is on the higher end. If your credit score is below 600, you may still be able to qualify for a loan, but you may be required to provide a cosigner.
Once you know what kind of loan you're looking for, research lenders to find one that best suits your needs. When considering a lender, take into account the interest rate they're offering, the fees they charge, and the repayment terms. It's also important to read reviews from other customers to get an idea of their experience.
Once you've selected a lender, you'll need to fill out an application. This will include information such as your name, address, Social Security number, and employment history. Be sure to be accurate and honest when filling out the application, as any false information could result in your loan being denied.
Pros and Cons of Credible Personal Loans
Credible Personal loans is an online personal loan marketplace that offers a simple and transparent loan process. But like any other lender, they do have both pros and cons that you should weigh out and consider before deciding to work with them. 
One of their biggest pros is that they are a BBB-accredited company that has a rating of A+. On top of that, Credible Personal loans are no-fee loan services which is a huge plus for them.

On the other hand, even though they don't charge any fees, their lender might charge you. That is considered a big downside. You may also not be approved at all since they are looking for a minimum credit score of 600.
| | |
| --- | --- |
| Pros | Cons |
| They have BBB accreditation | They are not a direct lender |
| Good loan amount range | Some lenders may charge additional fees |
| No prepayment, origination or late payment fees | You might not get approved  |
| Fast approval process | Only 18 personal loan partners available |
Is Credible Personal Loans Safe and Legit?
When it comes to personal loans, you want to make sure that you are borrowing from a reputable and reliable source.
But what about the safety and legitimacy of Credible Personal Loans? The company is licensed by state regulators and has a strong reputation in the industry. They are also accredited by the Better Business Bureau (BBB) and have an A+ rating from the organization.
When it comes to safety, Credible uses encryption technology to protect your personal and financial information. Overall, we believe that Credible Personal Loans are a safe and legitimate option for borrowing money.
Summary of Credible Personal Loans
Credible is a loan servicer offering personal loans, student loans, student loan refinancing, mortgages, and much more.

Their personal loans range from $600 to $100,000 and have terms from 2 to 7 years. 

The company isn't a direct lender issuing loans to borrowers but actually works with other lenders to connect them with the clients, in other words, they are a marketplace.

In order to qualify, the borrower must have a credit score of at least 600 and be over 18 years old US citizen, or a permanent resident.

Lastly, they are considered a good and reputable company with an online rating of 4.7 out of 5 stars.
Credible Personal Loans FAQs
1. How much can I borrow with a Credible Personal Loan?
You can borrow anywhere from $600 to $100,000 with Credible personal loans.
2. How long does it take to get a loan through Credible Personal Loans?
Actual wait time does depend greatly on the lender you choose but in general, it's about 1-2 business days,
3. Can I apply for a loan with Credible Personal Loans if I am self-employed?
Yes, you can apply for Credible personal loans if you are self-employed but you need to fulfill other requirements.