August 14, 2023
Reading Time:
6
min
Crew Trade Review: A Broad Analysis of Trading Opportunities and More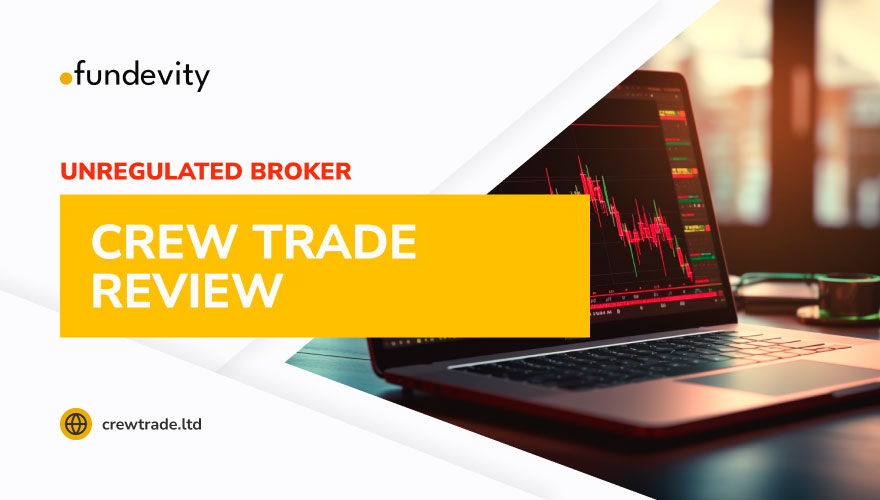 Welcome to our Crew Trade review, where we dig deeper into FinTech and explore the blockchain technology company, Crew Trade. 
Crew Trade was founded with the goal of revolutionizing the financial landscape. Yet, it seems like they failed. In this article, we will critically analyze Crew Trade's legitimacy, the diverse trading assets they offer, and other crucial aspects of this company.
Crew Trade Regulation: Unraveling the Truth
Crew Trade operates as an anonymous brokerage, which may raise eyebrows for some investors. Moreover, the company is unregulated, making it essential to approach its services with caution. A significant concern is that Crew Trade has been marked as a scam. 
It was listed among fraudulent scam companies in 2023 by Crypto Legal. They are a reputable law firm specializing in blockchain technology and cryptocurrency. 
Potential investors should be aware of these red flags and stay away from Crew Trade and TradeCare365. It is important to research any company before investing. And, it is wise to consult a financial advisor before investing large amounts of money. Finally, please try to understand the risk associated with any investment.
Note: For a safe trading experience, it's best to find brokers regulated by trusted authorities like FCA or ASIC.
General information
Name:

Crew Trade

Regulation status:

Unregulated Broker

Warnings from Financial Regulators:

No official warnings

Website link:

https://www.crewtrade.ltd/

Active since

2023 (2022 for domain age)

Registered in

N/A

Contact info:
Email: [email protected]

Address: 102 Holly Springs Dr. Peachtree City, Georgia(GA), 30269.

Trading platforms:

N/A

The majority of clients are from:

South Africa 

United States 

United Kingdom 

Botswana

Nigeria

Customer support:

Yes (24/7 at

[email protected]

)

Compensation fund:

No
Trading Assets Available at Crew Trade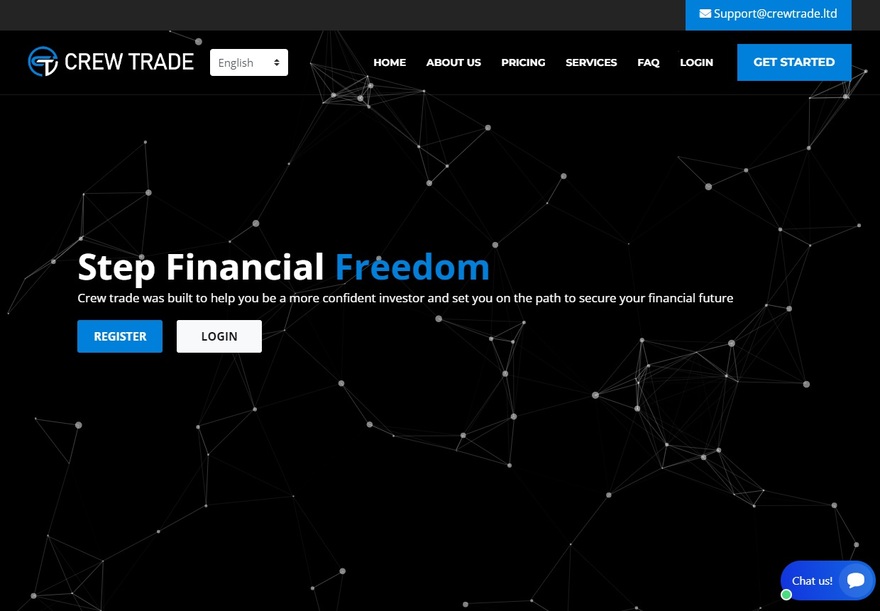 This suspicious company offers a wide array of trading assets for its clients. Let's take a look at them:
Cryptocurrency: The Future of Finance.

Crew Trade crypto offerings are a huge blessing. Crypto assets are digital assets designed for secure, decentralized transactions. Operating on blockchain technology, these currencies have gained popularity as an alternative Crew Trade investment option. Crew Trade allows users to trade popular cryptocurrencies like BTC and ETH. 

Stock & Forex: Seize Global Opportunities.

Crew Trade forex and stock markets provide investors with opportunities to trade currencies and shares. With global reach and profit potential, these markets attract both seasoned and novice traders.

Real Estate: Exploring Tangible Investments.

Crew Trade also provides access to real estate trading, an exciting avenue for short-term property flipping. Investors aim to buy undervalued properties and sell them for a profit quickly.
It is crucial to recognize the risks associated with each trading asset. Always perform thorough research before making investment decisions.
The Role of Miners in Crew Trade
The Crew Trade mining process allegedly revolves around trust and security. Miners play a crucial role in processing and verifying crypto transactions. This is the unwritten rule. They ensure the integrity of blockchains while being rewarded with transaction fees and newly minted coins. 
This Proof-of-Work mechanism, powered by real energy, makes Bitcoin and other cryptocurrencies secured by an immense hash power provided by specialized high-performance computers in large data centers. However, avoid mining with this suspicious entity.
Trading Platforms at Crew Trade
Details about Crew Trade's trading platform are not disclosed on their website. This lack of information may be due to concerns about the safety of the platform. 
Or it could be a need to protect proprietary algorithms and software. We don't know for sure. As a result, users have to contact Crew Trade to get more information about their trading platform and its features.
All in all, it's advisable to choose reputable brokers that support MT4 or MT5. 
Trading Environment: Crew Trade Account Types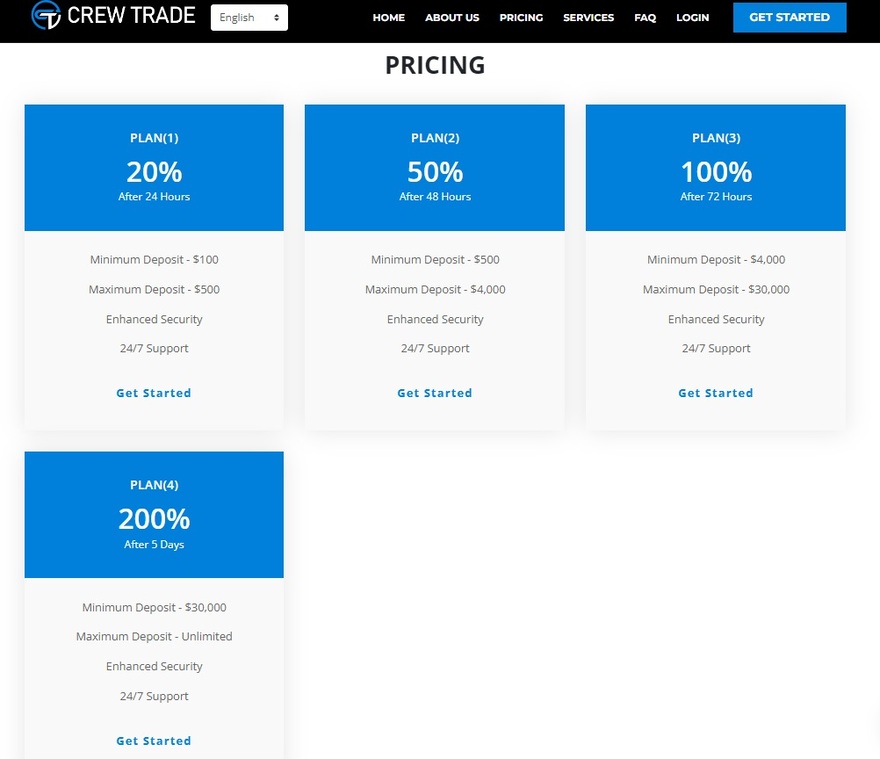 Crew Trade offers several investment plans, each with different return levels and deposit requirements. However, it is crucial to remain skeptical, as high returns often come with higher risks. Here are some of the plans they offer:
PLAN (1)
Return: 20% after 24 hours

Minimum Deposit: $100

Maximum Deposit: $500

Enhanced Security and 24/7 Support
PLAN (2)
Return: 50% after 48 hours

Minimum Deposit: $500

Maximum Deposit: $4,000

Enhanced Security and 24/7 Support
PLAN (3)
Return: 100% after 72 hours

Minimum Deposit: $4,000

Maximum Deposit: $30,000

Enhanced Security and 24/7 Support
PLAN (4)
Return: 200% after 5 days

Minimum Deposit: $30,000

Maximum Deposit: Unlimited

Enhanced Security and 24/7 Support
Please remember that high-return plans often carry higher risks. So, it's essential to invest only what you can afford to lose. That's why it's important to make sure the platform you choose has the necessary measures in place to protect your investments.
Look for platforms that offer good security and 24/7 support to ensure you're always protected and well taken care of. Also, look for regulated and reputable companies that care about your safety. Avoid suspicious brokers like Crew Trade or offshore brokers like TorroCapital.
Can I Withdraw Money From Crew Trade?
According to Crew Trade's FAQ section, the minimum deposit amount is $100, varying depending on the investment plan. The company claims to offer unrestricted withdrawals starting at $120, with a maximum withdrawal amount of $1,000,000. 
Withdrawal requests are aimed to be processed instantly. But the payment service provider may need more time based on the chosen payment method. Potential investors must also assess the Crew Trade fees to understand the cost implications.
Account verification is required for withdrawals to prevent fraudulent transactions. Note that the company can reject any withdrawal request that does not meet the requirements. Also, the company reserves the right to change the terms and conditions without notice.
Customer Support: A Backbone for Traders
Crew Trade provides customer support via email and lists their addresses for further inquiries. You can reach them at:
Email: [email protected], or

Address: 102 Holly Springs Dr. Peachtree City, Georgia (GA), 30269. 
Prompt and responsive customer service is crucial in the trading industry. Customers need to have the assurance that their inquiries will be answered quickly and accurately. This helps them feel confident in their investments and also encourages them to use the platform more often.
Trader Reviews: A Missing Piece of the Puzzle
As of the time of writing this review, there are no available trader reviews on Trustpilot. It is essential to look out for reviews and testimonials from other traders before considering investment decisions. 
Doing your research and understanding the market is key to making smart conclusions. Keep that in mind. It's important to exercise caution when trusting third-party reviews as they may not always be accurate. It is always a good idea to consult with a financial advisor before making any investment decisions. Always feel free to reach out to us for reputable broker recommendations. 
How the Scam Works
Sneaky brokers use various schemes to trick you. They often create problems when you try to take out your money. They might also charge strange and excessive fees. 
These fees can be really high, sometimes more than 20%. In addition, they might call them something else, like "withdrawal processing fees." What's more, they usually ask for a fee upfront, saying it's for your future profits. Please beware of that. They want you to pay before you even start.
Another thing to watch out for is unrealistic promised returns. This is a common trick too. Scammers will always tell you that you'll make huge profits guaranteed. But be careful, as trading with things like leverage can be risky. Don't fall for a scam that says you're guaranteed to make lots of money in a short time period.
Long Story Short – Crew Trade
Crew Trade offers a vast range of trading assets, including crypto, stocks, forex, and real estate. But, you must approach their services with distrust. 
Consider the company's anonymous nature and lack of regulation. With various investment plans, users may have opportunities to earn some profits. But they should carefully assess the associated risks. Remember, thorough research and risk management are vital when engaging in the financial markets.
In conclusion, Crew Trade provides exciting opportunities for traders seeking financial freedom. Yet, they are unregulated and not to be trusted. It's essential to remain cautious and informed to navigate this dynamic and rewarding landscape. If you need help choosing the right broker that fits your trading style and preferences, contact us today! Book a free consultation about the best brokers today!
FAQ Section
Is Crew Trade Regulated?
No, Crew Trade is not regulated. Keep that in mind.
Is Crew Trade Trustworthy?
Since they are not regulated and licensed, they cannot be trustworthy.
What Are The Crew Trade Platforms?
This specific information was not disclosed on their website.