May 26, 2023
Reading Time:
4
min
Cronosca Review – Avoid This Illicit Company At All Costs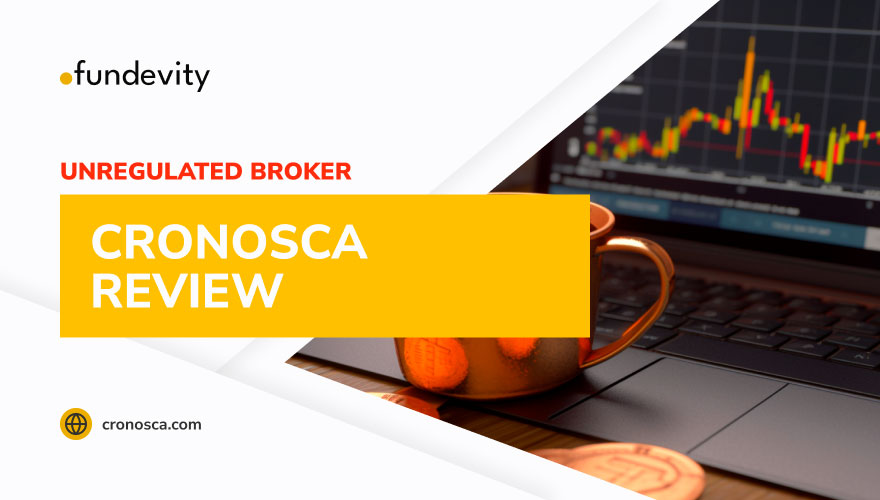 Cronosca company presents itself as a trusted crypto exchange. But nothing about them says it's trusted. Even a newbie in the business wouldn't have such a bad design and poor transparency.  Above all, their website stopped working.
But many more discrepancies you can find in our unbiased Cronosca review. Also, don't skip our XBTFX and Yobstocktrade reviews which at least have a website accessible.
Company

N/A

Headquarters

N/A

Website

Cronosca.com

/

m.cronosca.com

Warning

N/A

Platforms

Proprietary

Minimum Deposit

N/A

Leverage

1:1

Spread

None

Review Rating

N/A
Cronosca Regulation and Fund Security
So, let's start with regulations. Since the broker doesn't reveal their headquarters country you can assume it's offshore. Otherwise, they wouldn't be so mystic about it. Nevertheless, they would as well present their license if they are licensed.
To get proof of their fake business we are digging into some registers. We are starting with CFTC, FCA, BaFin, ASIC and CONSOB. These are some of the strictest regulators and most trusted among traders. Thus, as expected Cronosca scam broker was never listed in any of these registers. However, with such poorly designed business, it's just a matter of time before they end up on a warning list.
None of the features available with a licensed broker, you can't expect here. But the most important one here is transparency. Practically you are trading blindly here and hoping that they will have mercy on you. But those are illicit swindlers and they don't care about anyone.
Cronosca
Trading Software
Luckily, the mobile version of the website is still active. Since they present themselves as a crypto exchange they don't have conventional trading software. That's practically a platform where traders can buy and sell cryptos. It's equipped only with basic analytical tools that any company has. But this company lacks transparency and security.
The problem with non-licensed companies is that they can do whatever they want. Simply, they are not monitored at all. In the end, it's not rare that all data presented on the platform is fictive. Which is actually the way how traders get scammed. Instead, you can find a Tier 1 licensed broker with Meta Trader or cTrader. In this case, that's our suggestion to avoid headaches.
Available Account Types at Cronosca
This crypto exchange doesn't have any kind of beneficial offer for its customers. Their only goal is to get you to deposit more money. In general, that's logical for anyone who wants to make money while investing.
But everyone should be wondering how this broker earned anyone's trust. Above all, the company doesn't reveal even minimum deposit requirements or trading costs and fees.
Deposit and Withdrawal Process
Important to realize is that this scam broker doesn't have any kind of terms and conditions available. If you were looking for any legal documents you won't find it. In fact, with such low transparency, nobody should invest here even $1.
We can assume that this company accepts card payments and wire transfers. However, deposit and withdrawal processing times remain mysterious. So as withdrawal fees. But don't get surprised if you are asked to pay fees upon requesting a withdrawal. How much it's going to be remains unknown.
Also, another trick that investment scam companies often use is invalid documents and AML laws. Once they see that you are not paying any fees, they will try to prolong the withdrawal process. Either you are losing everything or your account gets frozen. Have in mind that with some licensed exchanges you don't even need approval. Money is on the way right after you submit a withdrawal request.
How the Fraud Was Perpetrated
Brokers like this won't hesitate to lure traders everywhere. From fake online advertisements and social media platforms to even LinkedIn. Simply because some of the platforms raise trust. Once you get on board, you might as well be contacted by their agents. Whether to provide you assistance or to pitch you for more money.
The most important thing to remember is not to fall for any cheap tricks. Whatever they promise to you it's questionable. They are not a regulated company, therefore they don't comply with any laws.
Cronosca
Summary
With an anonymous website and no ownership information, this is one of the worst exchanges ever. The company website is already broken. Trading conditions are completely mysterious. Same as deposit and withdrawal options. There is literally not even a single reason for anyone to deposit money here.
But even if you were scammed by these guys, let us know. It's not a shame to get scammed. It can happen to anyone. However, it's important to put some action and recover your money. Our expert recovery team can advise you on further steps. Whether you should file a chargeback or use our CipherTrace software to track crypto.
You are one click away from starting a money recovery process. Don't let these swindlers get away with your money. Get in contact with us now.
FAQs About
Cronosca
Broker
Is Cronosca a Regulated Broker?
No. They don't have any licenses nor that they provide any security measures for clients.
Is My Money Safe at Cronosca?
No. Funds deposited here go straight to their scamming pockets. Funds are completely insecure here.
What Is The Minimum Deposit at Cronosca?
The company doesn't have a minimum deposit requirement clearly presented on its poorly designed website.