March 08, 2023
Reading Time:
3
min
Cryptoslark Review: Learn More About This Scam Broker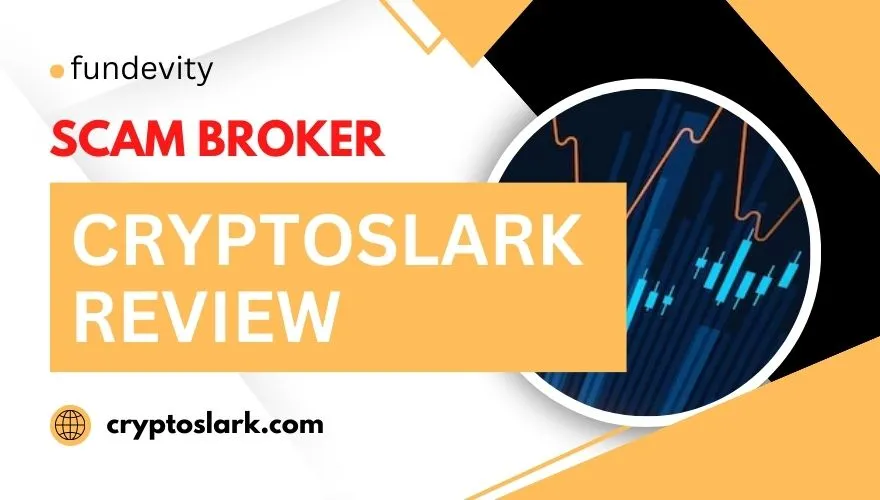 The crypto market nowadays is sadly the home of countless scammers of all kinds. You have deceitful brokers, crypto exchanges, Ponzi DeFi projects, and even completely fake tokens.
This tragic inclination is the result of the thriving interest in the assets. Cryptoslark is one of the scammy unlicensed brokerages. Keep reading this Cryptoslark review to discover more!
| | |
| --- | --- |
| Company | n/a |
| Website | https://cryptoslark.com/ |
| Address | New York |
| Email | [email protected] |
| Phone | n/a |
| Minimum Deposit | 0.005 BTC – $100 |
| Leverage | n/a |
| Bonuses | +5.0% BTC & +7.2% ETH |
| Regulation | No |
| Warning | n/a |
Cryptoslark Funds Safety and Regulation
Cryptoslark scam broker never listed licensed corporate data. Yet, only unviable declarations instead, all of which are inaccurate. For example, Cryptoslark tells that it's certified to engage in virtual currency trade activity by the New York State Department of Financial Services.
However, the statement is false and very likely fraudulent. Undoubtedly, Bitstamp is approved by this authority, which further increases our skepticism that Cryptoslark is a clone firm impersonating the legit exchange!
Another shadowy statement says that Cryptoslark is compliant with the laws of the Republic of Singapore. Still, they fail to provide real corporate information. That includes names, phone numbers, permissions, etc. We did the research and can confirm that all claims are also inaccurate.
Cryptoslark cannot be tied to any corporation registered in Singapore. That said, it becomes apparent that the Cryptoslark broker is not legit. Moreover, it is nearly an illegal entity providing fraudulent trading and investment services! Cryptoslark is risky, and you should keep this in mind.
Cryptoslark Trading Platform
The simple web-based trading platform is available with Cryptoslark. The problem with it is not only how simplistic the platform is. Notably, there is the capacity to place automatic trades. However, there is no way to get to refined elements available with Metatrader 5.
At the same time, there is a greater problem with the platforms like Cryptoslark.
Often, they will offer trustworthy software – but even then, the average offshore broker is familiarized with manipulating its platform to show trades that are not real.
The scammers are taking your deposits, pocketing them, and showing unreal trading activity. This is why you need to cling to licensed firms that offer promising trading platforms!
Withdrawal and Deposit at Cryptoslark
At Cryptoslark, you can deposit with crypto assets only. Without a doubt, for a broker that is concentrated on crypto, that is not unforeseen at the least. Yet, there is a lot that only taking crypto tells about a company.
The minimum deposit amount with Cryptoslark is $100. This is quite a lot when regulated companies nowadays open small accounts for $10 at most.
Nevertheless, offshore brokers want your funds at all costs. So, they generally demand higher minimum deposits than legit businesses.
Note: Have you ever been victimized by a particular scam broker? If the answer is yes, there are a few things you can do. If you made a deposit through your bank, you can ask for a refund. Getting your money back is possible!
Unauthorized Brokerage Scam Methods
Keep in mind that you can lose money in forex trading. Have caution, especially if you are a beginner. Do proper research before opening an account with any broker. Even proficient investors who use the services of trustworthy brokers do this.
New traders can be tricked by many fake websites posing as brokers. Scammers will tempt you with many promises of easy profits. Stay away from easy earnings and trade with regulated brokers only.
Usually, these fraudsters promise big profits for a tiny investment. They will urge you to invest even more, and after you deposit, your money will be gone.
You won't even see a single buck from these pledged returns. It will become unattainable to get to the necessary withdrawal amount. Scammers hide behind fake names and addresses. So, you won't be able to trace or hold them accountable.
Tip: Beware! Many newly registered scam brokers will claim they support MT4 and MT5. Don't let them convince you that this is true! Always do your research first!
Cryptoslark Summary
Cryptoslark is just another scam broker to stay away from. As you may see from this Cryptoslark review, there are many reasons to avoid this investment scam. This broker uses manipulative trading software and a fake address.
Also, they are trying to replicate a legitimate company called Bitstamp. They have stolen their logo and claim to have a headquarters that is the same as that of Bitstamp.
If you have any negative experiences with this fraudulent broker, let us know. We can help you report this unscrupulous broker.
FAQs About Cryptoslark Broker
How Trustworthy is Cryptoslark Broker?
Cryptoslark broker is unregulated and not trustworthy at all. Try to stay away from it!
Is Cryptoslark a Legitimate Company?
Cryptoslark does not have a license. This broker is far from a legitimate company.
Are There Any Hidden Fees for Withdrawals at Cryptoslark?
Some of the fees are not defined. However, you will pay a tremendous fee for a withdrawal.