May 17, 2023
Reading Time:
4
min
CTmatador Review: Putting CTmatador to the Test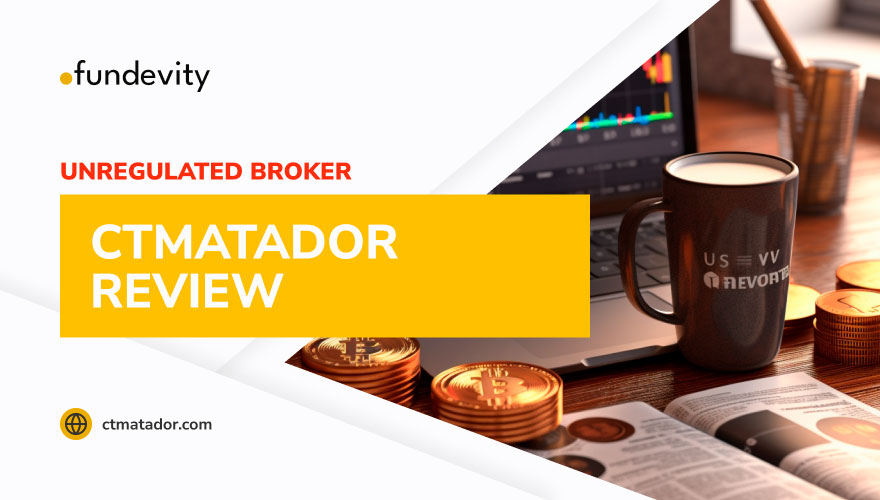 CTmatador makes it mandatory for you to open an account to get any answers from them. This requirement is also highlighted in the company's FAQ section, where they suggest that your personal account manager can assist with any questions you may have. 
The big question, however, is whether you should take the plunge and trust this firm with your money. To help you make an informed decision, we have conducted a comprehensive CTmatador review. We will delve deeper into this broker's features, benefits, and drawbacks. This will give you an objective assessment of what to expect if you decide to trade with them.
| | |
| --- | --- |
| Company | Wind Holdings Ltd |
| Headquarters | Saint Vincent and the Grenadines |
| Website | ctmatador.com |
| Warning | FINMA, FSMA, CNMV, AFM |
| Platforms | WebTrader |
| Minimum Deposit | $2,500 |
| Leverage | N/A |
| Spread | 0.5 pips |
| Review Rating | 1/5 |
CTmatador: A Close Look at Fund Safety and Regulation
CTmatador is under the ownership of Wind Holdings Ltd, a company based in Saint Vincent and the Grenadines. Several investment firms are flocking to this offshore island in 2023, according to reports. Unfortunately, the absence of regulatory supervision is the main reason behind this trend.
The Financial Services Authority (FSA), which is the governing body of this Caribbean island, has declared that it does not regulate FX and binary options firms. This has created a gray area, allowing many brokers to set up offices there without proper oversight.
It is crucial for trading firms to obtain a license in the country of their service. Despite the FSA's lack of authority, they emphasize regulation and licensing. As such, CTmatador should have its regulation overseen by a Tier 1 regulator, such as the FCA, ASIC, or BaFin.
Our research indicates that CTmatador is currently operating without proper regulation, providing financial services illegally. This raises significant concerns about the safety of traders' funds and investments. It is crucial to be cautious when dealing with unregulated brokers and conduct thorough research.
Trading Software Overview
When it comes to the elusive CTmatador trading venue, our knowledge is scant. The broker tantalizingly teased a proprietary WebTrader but withheld further details.
Intrigued, we signed up for a demo account and were granted access to the basic chart, a simple yet sleek interface with three chart types and three groups of indicators. But the platform's real gem is its social trading feature, allowing traders to connect and learn from each other in a dynamic community.
However, we couldn't help but wonder if the impressive profits of some users were too good to be true, as the lack of transparency and the inability to switch to daily or weekly best-ranked traders raised suspicions of bot involvement.
Also, before we delve deeper, we must warn you that another broker, AppleTrade, has been exposed as a scam. 
CTmatador – Account Types Explained
CTmatador does not offer any account types, making it difficult for traders to customize their trading experience. However, the broker does provide a demo account that can be accessed directly through their website. 
With this account, you can get an overview of the platform, explore available assets, and execute a few trades without risking any actual funds. It's important to keep in mind that the demo account is risk-free, and the real challenge begins when you decide to deposit real money into your account. It's worth noting that CTmatador's minimum deposit requirement is set at $2,500.
Deposit and Withdrawal Options
CTmatador broker allows traders to make deposits using cards and wire transfers. However, the fees for these transfers and the minimum withdrawal amount are not disclosed on the broker's website. This lack of transparency can be a red flag for traders, as it may serve as an excuse for CTmatador to prevent people from withdrawing their profits.
It's worth noting that CTmatador offers bonuses to traders. However, these bonuses may also prevent traders from withdrawing their profits until they meet a certain rollover requirement. Specifically, traders must wager the deposit plus the bonus amount 25 times before withdrawing profits. This can be a significant hurdle for traders looking to cash out their earnings.
If you suspect that you have fallen victim to the CTmatador scam, please contact us for assistance. We can help you initiate the chargeback process to retrieve your funds before the broker disappears. Time is of the essence, so the sooner you begin the process, the better your chances of successfully resolving the dispute.
Exposing the Fraudulent Tricks of Offshore Brokers
It's crucial to remember that fake brokers often employ many shady tactics to lure unsuspecting people. One of their go-to tactics is making unrealistic promises of high profits. These brokers may claim to possess a secret formula that guarantees massive returns, but this is rarely the case.
Fraudulent brokers, such as CRmatador and Novatech Fx, may also use fake positive reviews to give the impression of a spotless reputation. They may also pressure investors into making hasty decisions by setting unrealistic deadlines, presenting their offer as limited, and creating a sense of urgency.
Besides, some of these brokers may offer so-called "risk-free" trades. This is to entice investors into putting their cash in without doing proper due diligence. It's crucial to be aware of these tactics and avoid falling victim to them. Don't let these brokers trick you into investing your hard-earned money.
CTmatador Summary
After all, CTmatador is an offshore broker that has raised some red flags due to its lack of regulation and transparency. The scarcity of regulatory oversight from a Tier 1 regulator is concerning, and traders should exercise caution when thinking about CTmatador. The demo account is an ideal starting point, but traders must keep in mind that the real challenge begins when they deposit actual funds. 
Besides, the lack of information about deposit and withdrawal options and fees raises suspicion. In addition, the bonuses come with a significant rollover requirement, making it difficult to withdraw profits. It is crucial to be aware of any fraudulent tricks and conduct thorough research before investing in any broker.
FAQs
Is CTmatador a Good Broker?
No. This broker is not a good option for trading.
What Is The Minimum Deposit for CTmatador?
The minimum deposit is way too high. It is $2500.
Does CTmatador Offer a Demo Account?
Yes. This broker provides a demo account.