May 28, 2023
Reading Time:
4
min
Cuarto Capital Review: A Broker Who Deliberately Remains Anonymous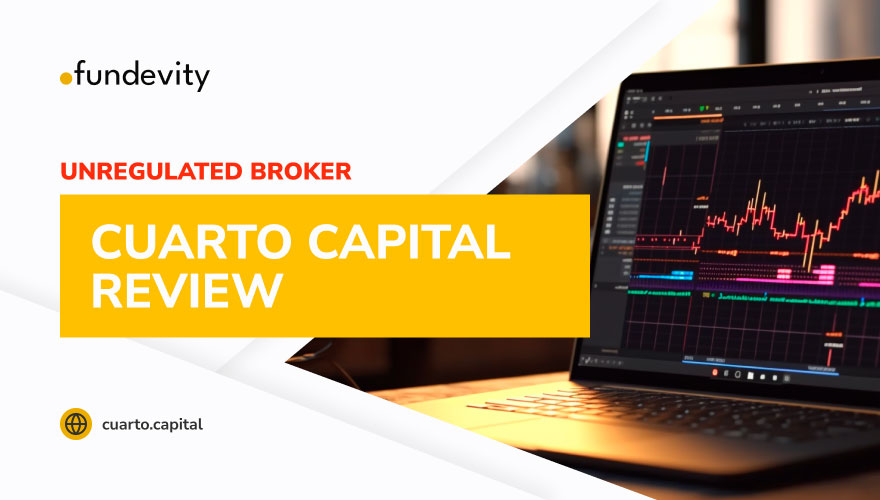 When it comes to forex trading, it's crucial to choose a reliable and trustworthy broker. Unfortunately, brokers like Cuarto Capital fall short of these standards and engage in deceitful practices. This unscrupulous broker intentionally remains anonymous and avoids accountability. Also, the National Securities Market Commission, the regulatory body overseeing Spain's securities markets, has issued an official warning against Cuarto Capital. 
The warning highlights that the broker operates without proper authorization, solidifying its status as yet another fraudulent entity.
If you come across Cuarto Capital or similar offshore brokers, we strongly advise seeking a more reliable and trustworthy alternative. Let's dig deeper into this Cuarto Capital review. 
| | |
| --- | --- |
| Company | Nexus LLC |
| Headquarters | St. Vincent and the Grenadines |
| Website | cuarto.capital |
| Warning | CNMV, ATVP |
| Platforms | WebTrader |
| Minimum Deposit | 250$ |
| Leverage | 1:300 |
| Spread | n/a |
| Review Rating | 1/5 |
Cuarto Capital: Funds Safety and Regulation
At first glance, Cuarto Capital's website lacks vital information. Particularly concerning is the absence of easily accessible contact details, such as a phone number or social media links. These details should be readily available to any legitimate business.
Furthermore, there is a dearth of documentation regarding their operations. It is difficult to determine their location or the individuals responsible. Moreover, legitimate brokers are obligated to obtain the necessary licenses. And they also must comply with regulatory requirements to operate legally. However, establishing whether Cuarto Capital possesses these essential credentials is a challenge.
Interestingly, in their Terms and Conditions document, Cuarto Capital claims to be registered in St. Vincent and the Grenadines (SVG). It is worth noting that this dubious broker also operates under Nexus LLC. That is a license holder in Saint Vincent and the Grenadines (SVG). However, the nature of the relationship between Cuarto Capital and Nexus LLC remains unclear, as there is no mention of their affiliation or connection.
Cuarto Capital's Trading Platform: Unreliable and Suspicious
Distinguishing Cuarto Capital's web-based platform from other suspicious and simplistic platforms can be a daunting task. Considering the broker's fraudulent nature, concerns exist about the authenticity and reliability of its trading platform.
Exercising caution is of the utmost importance, and it is advisable to steer clear of such deceitful platforms. Instead, opt for reputable and trustworthy trading platforms that are associated with legitimate and regulated brokers. One such platform is MetaTrader, which is widely regarded as the industry's gold standard. It offers an exceptional trading experience with its intuitive interface, advanced tools, and customizable options. With millions of users worldwide, MetaTrader has established itself as a reliable and trusted choice.
Cuarto Capital's Bonuses and Promotions: Shady Practices and Hidden Conditions
Cuarto Capital's bonus clause is another troubling aspect. According to this clause, traders must trade the total bonus amount divided by 5 in lots before becoming eligible for a payout.
These types of requirements are the primary reason regulatory bodies prohibit incentives. The purpose is to safeguard clients from unscrupulous brokers. Yet, Cuarto Capital pays no attention to regulatory demands.
Cuarto Capital's operations are not ethical and transparent. Never deal with a broker that disregards regulatory standards. It is essential to know the risks associated with brokers who do not follow regulations. Remember, they may not guarantee your investments' safety. It is better to be safe than sorry, so always do your due diligence when choosing a broker.
Account Types Available
Cuarto Capital offers six distinct account types, each with its minimum deposit requirement:
Platinum Account – $100,000

ECN Account – $500,000
It is imperative to note that only the gold account provides access to all trading assets. The silver account offers lower spreads and a bonus on your initial deposit. Yet, we remain skeptical about the claim that the last two account types include personal meetings.
Withdrawal and Deposit at Cuarto Capital
The brokerage does not provide transparent information about deposits or withdrawals. Although we know the minimum deposit is $250, the minimum withdrawal amount remains undisclosed.
The lack of details in the terms and conditions raises doubts about payouts. Scammers often conceal payment options when offering crypto transfers. It is logical to note that crypto transactions are not easily reversible, and recovering funds may present challenges.
It is advisable to use a credit card when transferring funds to an unverified broker. This way, you can request a chargeback within 540 days.
Unauthorized Brokerage Scam Methods
Unauthorized brokerage scams use various fraudulent methods to deceive and exploit unsuspecting individuals. Some common scam methods include:
Fake brokerages: Scammers set up unregistered and unregulated brokerage firms, enticing people with attractive offers.

Account manipulation: Scammers may manipulate trading accounts by falsifying trades, altering balances, or withholding funds, preventing users from accessing their money.

Phishing and identity theft: Scammers use deceptive tactics, such as phishing emails or fake websites, to trick individuals into sharing their personal information. This information is used for identity theft or unauthorized access to accounts.

Pump and dump schemes: Fraudulent brokers artificially inflate stocks or crypto prices by spreading false information. Once the price rises, scammers sell their holdings, causing the value to plummet and leaving unsuspecting investors with significant losses.

Ponzi schemes: Scammers lure investors by promising unusually high returns, using funds from new investors to pay off earlier investors.
Researching and choosing regulated and reputable brokers is essential to protecting your investments. Don't use fraudulent brokers such as Cuarto Capital or StarTrader.
Discover More About Us to Find the Best Brokerage Options
Finding the right broker requires thorough research, which can be time-consuming. By delving into our company, you'll gain valuable insights into our values, expertise, and services. Our objective is to equip you with the necessary information and resources, empowering you to make an informed decision when selecting a broker. 
Whether you're a novice investor or a seasoned trader, learning more about us will help you find the appropriate broker that aligns with your goals and aspirations. Take the next step toward a prosperous investment journey by exploring further with us.
Cuarto Capital
Summary
Cuarto Capital is an untrustworthy and fraudulent broker that remains anonymous. Their lack of transparency, questionable trading platform, and restrictive bonus clause raise concerns. 
To ensure your investments are secure, avoid offshore brokers like Cuarto Capital or Dizl FX Ltd. Instead, choose regulated alternatives with transparency and accountability. When selecting a broker, consider platforms like MetaTrader that adhere to regulatory compliance. Prioritizing reputable and regulated brokers is crucial for safeguarding your investments. Remember that.
FAQs
How trustworthy is Cuarto Capital as a broker?
They are not trustworthy. You should avoid them.
Is Cuarto Capital a legitimate company?
No, they are not legit as they are not regulated.
Are there any hidden fees for withdrawals at Cuarto Capital?
That remains unknown. Cuarto Capital lacks clear fee information.