March 23, 2023
Reading Time:
4
min
DakkenGroup Review: Do Not Deal With DakkenGroup.Pro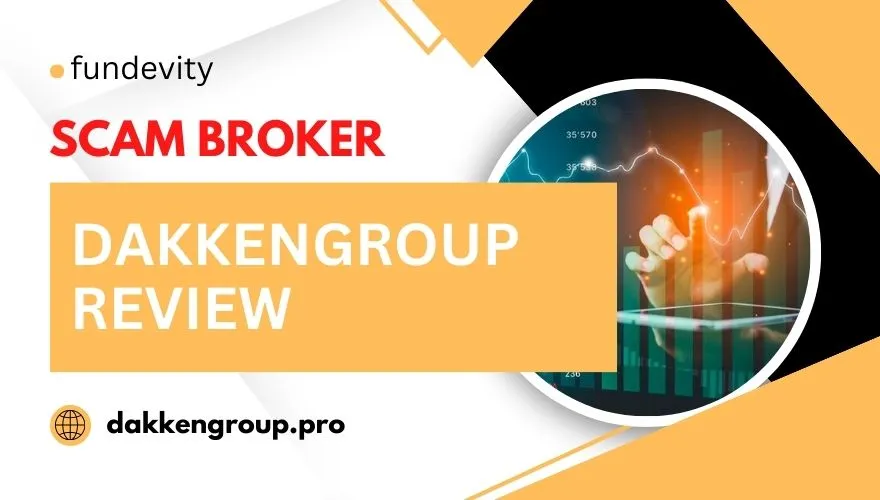 This DakkenGroup Review is fairly straightforward as the broker is very clearly just another scam based in an offshore haven with zero regulation.
To start with we took a look at DakkenGroup's website which at the very bottom in tiny print states that they are registered to an address in Saint Vincent and the Grenadines. Over the years Saint Vincent and the Grenadines has become one of the preferred locations for scam brokers as the local financial authority has no power over forex brokers.
From there things only get worse with convoluted terms and conditions as well as promises of top tier trading platforms when the reality is just another poorly functioning web trader.
Company
DakkenGroup 
Website
Dakkengroup.com

Dakkengroup.pro

Dakkengroup.cc

Address
First Floor, First St. Vincent Bank Ltd Building, James Street, Kingstown, St Vincent and the Grenadines
Email
[email protected]
Phone
No listed Phone number 
Minimum Deposit
$250
Leverage
1:400
Bonuses
%35 on top of the deposit 
Regulation
Not regulated 
Warning
CNMV has issued a warning 
DakkenGroup Regulation and Fund Security
From the get go DakkenGroup should not be in your list of potential forex brokers as this brokerage is not safe to trade with.
The reasoning behind this is that they are based in an offshore scam haven (Saint Vincent and the Grenadines) and by virtue of this they are not subject to any form of regulatory oversight. This means that the broker is pretty much free to do as they please and this is not a good thing for their clients.
When looking for a broker the first thing that you have to research is where they are based and if they are registered with the local financial authority. Once you have checked this out it is important that you also take a look at who the regulator is, if it is someone like CySEC, or ASIC you know you are safe as they are top tier regulators.
DakkenGroup Trading Software Overview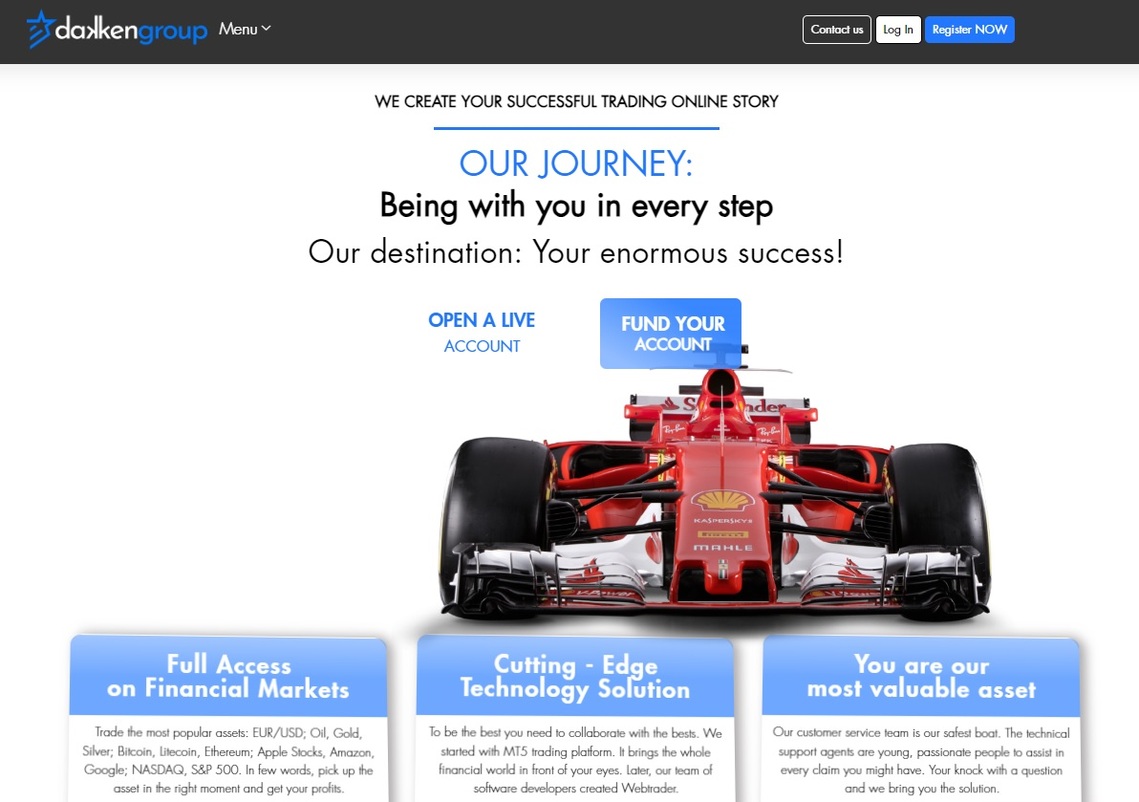 This is where the lies come in from this scam broker. They say that they provide their clients with a choice between the top tier industry favorite MetaTrader 5 or their proprietary web trader.
On paper this sounds great as it provides everyone with the chance to choose what they prefer. In reality this is far from the truth. The broker does not provide access to MetaTrader 5 but only to the web based trader that they have built.
In terms of functionality the two can not compare, MetaTrader 5 offers a whole host of tools and features that users can and do use to help them make the best trade decisions possible making their success significantly more likely. Not to mention the degree to which traders can customize their MetaTrader 5 experience.
The web trader not so much. It offers the most basic functionality and pretty much no degree of customization. When choosing a broker make sure that the platform they offer is right for you.
DakkenGroup Account Types
As is standard with scam brokers there are a number of account types with increasingly ridiculous minimum deposits, in this DakkenGroup is no different. The accounts that this brokerage has on offer are as follows:
Ripple: Minimum deposit $250
Ether: Minimum deposit $15,000
Bitcoin: Minimum deposit $100,000
Luxury: Minimum deposit $1,000,000
As you can see the lowest tier account (Ripple) has a pretty steep minimum deposit of $250 and it only gets worse and more predatory from there ending with the luxury account which requires a whopping million dollar deposit.
This is typical behavior of scam investment firms as they try to get as much money as possible from their clients in one go.
Deposits and Withdrawals Procedure
When it comes to deposits and withdrawals this brokerage paints themselves as a complete scam as they forgo legitimate payment methods and choose to only accept payments in crypto currency.
This means that if/when there is an issue with you trying to get your money back there is quite literally nothing that you can do about it. This is a common tactic amongst scam brokers as it ensures that they are in an advantageous position.
In terms of making a withdrawal their website claims that it takes 3-5 business days, this is including international payments as well, but it is highly unlikely that you will ever be able to withdraw your funds from the account once deposited.
When making a deposit to a broker make sure that it is via credit card, wire transfer or e-wallet as these are legitimate payment methods that are subject to charge backs and recalls.
How Is Fraud Carried Out?
Financial frauds based on shady offshore brokerages typically have a similar structure.
Potential victims click on a Facebook or social media advertisement, which directs them to a website where they are prompted for their email address in exchange for access to a video that offers a get-rich-quick plan including investing with the brokerage. Once they acquire the victim's email address, the con artists will harass them with a barrage of attractive offers in an effort to induce a first deposit. If that fails, the con artist will ask the victim for more ways to contact them and will then make an extra effort to persuade the victim to make a deposit.
To top it all off the scammers will insist on payments and deposits made with illegitimate methods like crypto currency. This makes it so that the victim has no way of retrieving their funds due to the anonymous nature of crypto payments.
DakkenGroup Summary
In terms of this broker there is quite literally nothing positive to say, this DakkenGroup review has gone over all of the glaring red flags that this investment firm blatantly displays.
Starting with their offshore location it is immediately obvious that it is not worth seriously considering them for your brokerage needs as they are not subject to regulation from any financial authority let alone one that is considered top tier.
Secondly these scammers only take payments via crypto currency which should be enough for all traders to know that the broker is planning on taking your money and running off with it because the payments are untraceable.
Finally it is worth considering the brokers listed in our recommended brokers list as they are all subject to strict regulation and adhere to proper brokerage practices, as well as provide relatively low barriers to entry starting just at $5.
FAQs About DakkenGroup Broker
How Secure is the DakkenGroup Trading Platform?
The trading platform is a basic web trader liable to manipulation from the broker.
Does DakkenGroup offer Demo Account?
No this broker does not offer a demo account even though they say that they do
What Is the Minimum Deposit for DakkenGroup?
The minimum deposit required by DakkenGroup is $250