June 26, 2023
Reading Time:
4
min
DBSInvesting Review – Not Many Positive Things To Write Here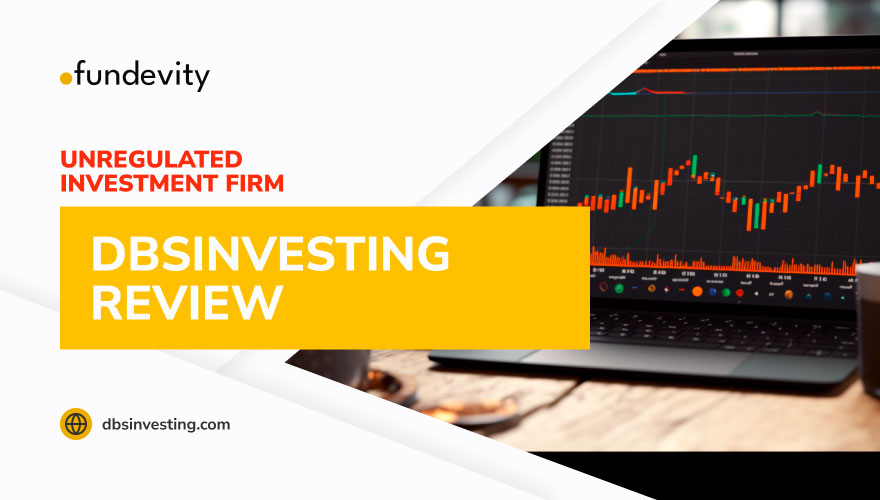 | | |
| --- | --- |
| Company | Halebore LTD |
| Headquarters | UK |
| Website | Dbsinvesting.com |
| Warning | BaFin |
| Platforms | Web trader |
| Minimum Deposit | $250 |
| Leverage | 1:200 |
| Spread | From 2 pips |
DBSInvesting broker is under the ownership of Halebore LTD company. With its headquarters in the United Kingdom, it should present reliability. But even at first glance, you can see there is something that doesn't add up. To find out what are pros and cons of trading here, read our DBSInvesting review carefully.
Our readers rarely skip our add-ons. Therefore, we invite you to check our comprehensive Nexospro and Liquidspro reviews.
Is DBSInvesting a Reliable Company? Broker's Regulation
DBSInvesting broker is far from reliable. We all learned that a UK-based broker must have an FCA license. Or at least TPR issued by the FCA as well. But it looks like that this scam broker doesn't know about it. Since they don't have any kind of regulations.
Instead, while researching Tier 1 registers we found a warning against them. Looks like they were trying to harm German traders. Therefore, German BaFin ran an investigation and issued a warning against this investment scam in April 2023. There you go.
Considering this, you can't expect any transparent activities from this shady company. If you think about the benefits of a Tier 1 license you will realize the difference. For instance, with the FCA, traders are entitled to compensation funds of up to 85.000 GBP. With DBSInvesting scam broker that number is zero.
Overview of Trading Software
DBSInvesting broker also tries to mislead traders with their software. As can be seen, they offer the DBSInvesting app. It should be a proprietary app with numerous advanced features. Instead, it's only a basic web trader often used with offshore scam brokers.
What makes us even more suspicious is that the company promotes mobile apps. Also, to trade anywhere and anytime. Thus, it appears to be only available for Android devices. While iOS users will be left out of this deal. Luckily, trying to open it in the Google Play store revealed the truth. The app doesn't even exist and it only leads you to the registration page.
On the positive side, you can test the services via a demo account. But with only $1K on the balance and high leverage, you can wipe your balance in a blink of an eye. There is not enough place for expanding knowledge. Especially knowing that the broker is not regulated.
Broker Using AnyDesk
But if you don't know how to trade, this broker will jump in. For that purpose, they actively use remote-controlling apps. For example AnyDesk. Some fake market specialists without a license will guide you through the process.
But before you even know they collected all the information. But primarily how much money you have under your name. And slowly they are building trust with traders until they either make you deposit the money or simply steal it. That's why you never give access to your devices.
DBSInvesting Referrals
Another key point is the DBSInvesting referral program. This way the company ensures to have more newbies. Which means more potential victims. Licensed brokers have the disclaimer that 75% of traders lose money while trading.
Thus, DBSInvesting proudly presents its program. But most likely results they present to you are fake. Firstly, because they want to extract more money from you. Secondly, they want you to spread the word about your good results. But with non-licensed brokers don't fall for such fairy tales.
Trading Account Offered
Account types with DBSInvesting don't offer much. The only promoted benefits are related to the broker's assistance and bonuses. Which are mainly banned all across Europe. Nevertheless, traders can choose between:
Basic            $250
Bronze          $5.000
Silver            $25.000
Gold             $100.000
Platinum       $500.000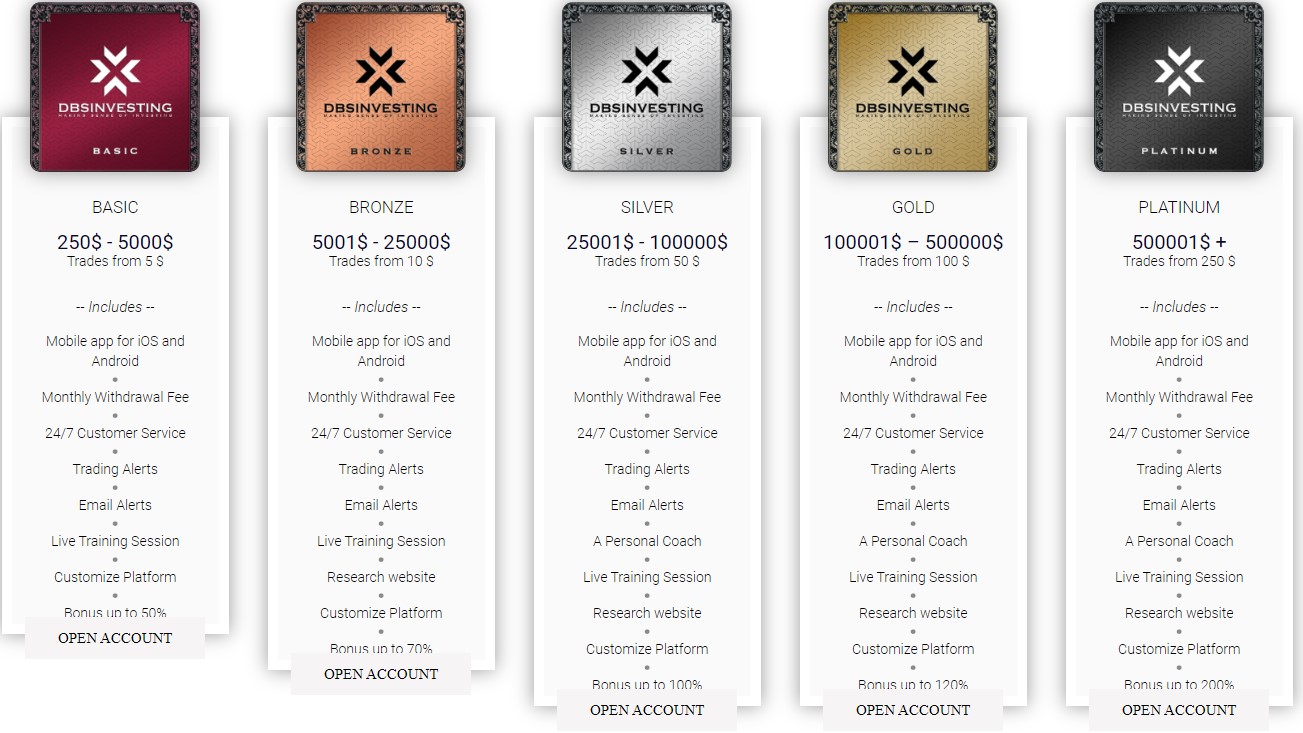 Unfortunately, Islamic believers don't have suitable options here. Also, the company doesn't offer micro-account trading. They only play big.
Method of Deposit and Withdrawal
Another crucial point of every brokerage is its funding methods. But also policies. With DBSInvesting scam broker traders can choose between a few options:
Debi/Credit cards
QIWI
WebMoney
Yandex
iDeal
As we can see from DBSInvestnig broker reviews, these options are out of function. Most likely because the broker wants to skip the basic account and pressure you for a higher deposit. But also more anonymous payment methods like crypto. But considering completely missing the withdrawal policy, that wouldn't be a smart move.
How the Fraud was Committed
Luckily, DBSInvesting reviews discover the bitter truth. The broker is constantly pressuring traders for bigger deposits. Thus, the reasons and excuses they make up are hilarious.
Whether it's liquidity verification, non-existent fees or taxes. Everything is made up to extract your last money. All standard tricks are used by this investment scam broker.
Forex Brokers Recommendation
In general, patience and knowledge are the things that will keep you safe. Practically, only regulation. Therefore, you should find yourself a trusted Tier 1 licensed broker.
It takes some time to test them all out. That's why micro-accounts are a good choice. But once you find a suitable, the journey starts.
DBSInvesting Summary
Generally speaking, there is nothing positive about this company. They are hiding their ownership in the legal documents. They are UK-based brokers without a license. On top of that, the company earned a warning from a trusted regulator. If that is not enough to rethink your decision to invest here, you might check user-experience reviews.
But you should keep in mind that even if you were a victim there is a solution. Our specialized fund recovery team is there to assist you. Get in touch with us and book your first free consultation.
FAQs About DBSInvesting Broker
Is DBSInvesting a Good Broker?
No. The company doesn't provide any security or reliable services backed up by regulation.
Is DBSInvesting Legit?
No. Without a license, they can't compete. Especially after a warning from BaFin.
Does DBSInvesting Offer a Demo Account?
Yes. Quite a poor platform, but a demo account with $1K is available for testing.