May 20, 2023
Reading Time:
5
min
Definite Area Review: They Work Without a License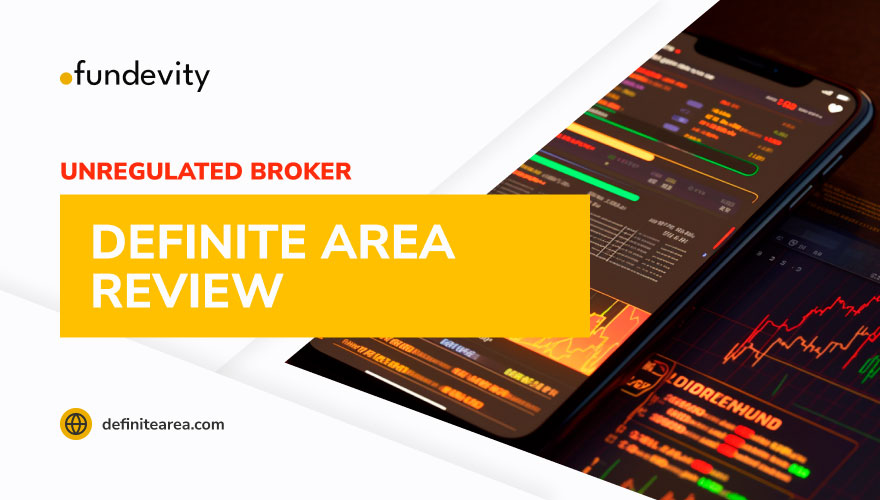 Definite Area is an FX brand that boldly shows the online domain without a license. As expected, this revelation comes as no surprise. It should be noted, however, that this establishment has a myriad of problems.
It is our intention here to provide you with a preemptive warning and disclose the pitfalls you may have already faced with this broker in the past. Rest assured, our intentions are not only to illuminate the challenges. We also want to present viable solutions to navigating these turbulent waters. Embark on an exploration of truth as you delve into our Definite Area review, where every intricate detail awaits your analysis.
Company

Definite Area Company

Headquarters

N/A

Website
definite-area.com
Warning

FSMA

,

CNMV

, AFM

Platforms

WebTrader

Minimum Deposit

$250

Leverage

N/A

Spread

N/A

Review Rating

1/5
License and Regulations of
Definite Area
As far as we know, Definite Area isn't affiliated with any particular jurisdiction. So yeah, it's safe to say they're pretty anonymous. The legal documents state that users must follow local laws and regulations to access the Definite Area. Shouldn't it be the other way around? Brokers should play by the rules, not us!
And here's the kicker: anonymous brokers are the worst. You can't trace them, and they're the sketchiest scammers out there. If you invest in them, good luck getting your money back. It's a serious uphill battle, if not impossible.
Definite Area is an unregulated broker, and that's a big risk! Unless you're cool with throwing your hard-earned cash down the drain, we advise against investing in them. In fact, by funding their fraudulent schemes, you're doing them a huge favor. Stick with regulated brokers if you're into real FX and CFD trading. You don't have to look elsewhere than Europe, the UK, the US, or Australia.
Those regulators are quite strict and do everything they can to protect your rights and market integrity. They can penalize brokers, demand compensation from clients, and even set industry standards and rules.
Note: Please note the importance of prioritizing your safety when engaging with companies like Definite Area, Seastock24, and other questionable entities.
Trading Platforms Available
So, here's the deal with Definite Area's platform. It's pretty basic, nothing fancy. They offer a limited selection of indicators, and their social trading feature seems wonky. Plus, you won't find options for placing pending orders or automated trading features. If you ask us, it's better to stick with well-regulated brokers that offer platforms like MetaTrader4 or MetaTrader5.
Let us tell you, those platforms are top-notch. They're the go-to for forex enthusiasts. MetaTrader4, especially, has been a game-changer for traders. It's super reliable, user-friendly, and packed with all the tools you need.
But here's what sets MetaTrader4 apart: automated trading strategies, also known as "Expert Advisors" or EAs. These are like trading bots developed by the MT4 community, and you can even buy and sell them on the MQL marketplace. It's pretty awesome!
Even though MetaTrader4 has been around for over 15 years, and the developers have stopped updating it, it's still thriving. MT4's trading volume is higher than its successor, MetaTrader5, and its Android app has over 10 million downloads with an average rating of 4.7 out of 5. That's some serious traction!
Definite Area – Account Types
At Definite Area, you can choose from seven different trading accounts. They are as follows:
Standard Account – $250 minimum deposit,

Bronze Account – Minimum deposit of $3,500,

Silver Account – Minimum deposit of $10,000,

Gold Account – Minimum deposit of $25,000,

Platinum Account – Minimum deposit of $50,000,

Pro Account – Minimum deposit of $100,000, and

VIP Account – Minimum deposit of $250,000.
These accounts vary in terms of bonuses, strategies, leverage options, and access to trading education. The minimum deposit to start trading is $250.
Now, here's the deal with demo accounts. Definite Area does not offer demo accounts. When you open an account, you'll get access to their platform, but it's only a general overview. In other words, you can't place any trades without depositing money.
Considering the shady nature of this firm, it's not advisable to risk even a single penny with them. It's wise to steer clear and protect your hard-earned money.
Deposit and Withdrawal Methods
Let us break it down for you regarding the payment options in Definite Area's user area. First, it took a bit of searching to locate the payment gateways. When we finally found them, we couldn't help but notice how unprofessional their design was. Not an encouraging sign, to say the least.
Definite Area only offers credit and debit card methods. And here's the kicker: the minimum deposit requirement is €250. But wait, it gets even more questionable when we look at withdrawal options. Users can withdraw funds using two methods: wire transfer and crypto wallet.
Here's the catch: these methods are different from depositing options. That means that Definite Area is fully aware that they're breaking anti-money laundering laws. These laws clearly state that users must withdraw funds through the same payment methods used for depositing. It's another red flag that this broker is risky.
Their site says withdrawal requests take between 1 and 7 days. That's quite a range, leaving users uncertain and waiting longer than expected. They charge transfer fees for deposits and withdrawals. Yet, they don't disclose the specific amounts for these fees. It's all vague and leaves you wondering.
Overall, these payment conditions from Definite Area are sketchy at best. They pose a significant risk to anyone involved. Protect your money and steer clear of this broker as well as Astrocapitaltrade.
Offshore Brokers' Fraudulent Tactics
Scammers employ various tactics to target their victims. Brokers like Definite Area utilize one such tactic by advertising on popular platforms such as Google, Facebook, and Instagram. Once you provide them with your personal information, brace yourself for an onslaught of unsolicited phone calls and emails.
With each interaction, the broker will present enticing offers, urging you to make immediate investments. As a final ploy, account managers may include you in Telegram chats, where they share purportedly exclusive trading signals with a select group of traders. All of these tactics are aimed at extracting more money from unsuspecting individuals.
Scammers may even approach you through private messages and social media comments, irrespective of whether you have shown any prior interest in trading. They exploit your lack of experience or knowledge in the field to further their deceitful agenda.
Definite Area
Summary
Definite Area is an anonymous and unregulated broker. For your money's sake, avoiding investing with them is advisable. Their trading platform is basic and lacks advanced features such as pending orders and automated trading. Definite Area offers seven trading accounts. However, they do not provide demo accounts, and accessing their platform requires a deposit.
In terms of payment options, Definite Area accepts credit and debit cards. The withdrawal methods differ from the deposit methods, which raises concerns about potential violations of anti-money laundering laws. The specific transfer fees are undisclosed, leaving the payment conditions unclear. We advise you to avoid investing in this company due to the associated risks involved. Finally, if you need guidance in finding the right broker, do not hesitate to reach out to us for a free advice session.
FAQs
Is the Definite Area regulated?
This trading company is not regulated. Beware of that.
What is the minimum deposit for Definite Area?
The lowest deposit is $250. This is relatively high.
Is Definite Area a trustworthy broker?
No, this broker is not trustworthy. Keep that in mind.