May 03, 2023
Reading Time:
4
min
Demaxis Review – Facts About Demaxis.Com Broker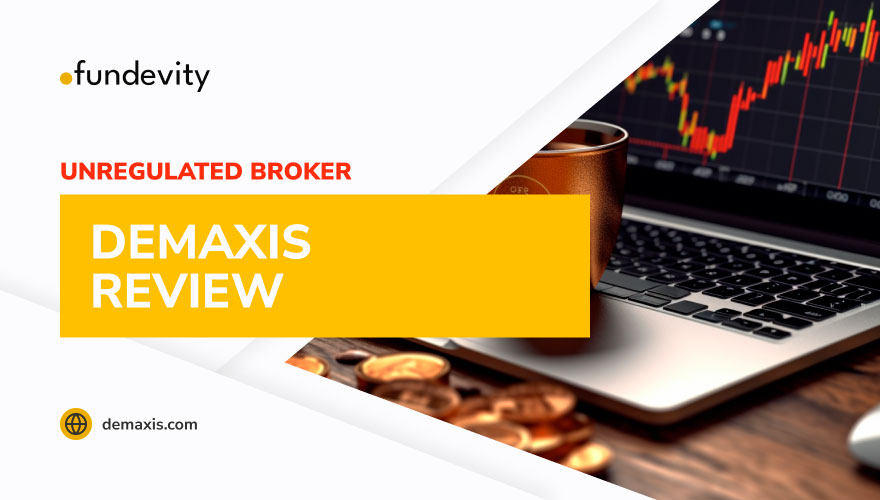 As you traverse the vast expanses of the internet, you may stumble upon a broker's website adorned with bold declarations of being "globally licensed and regulated". Yet, it would be wise to exercise caution and verify such statements. In the case of Demaxis, these assertions ring hollow, as the site is owned by an unregulated offshore entity. 
The lack of details regarding their trading terms is also troubling. As we delved deeper, we could not unearth any credible evidence that Demaxis is, in fact, a legitimate brokerage service, rather than a shady online scam. Our advice, therefore, would be to refrain from entrusting your money to Demaxis. Stay tuned for more details in this Demaxis review!  
Furthermore, we highly recommend that you avoid the scam brokers TradeFCM, Coinexx, and Foxane.
| | |
| --- | --- |
| Company | Demaxis Ltd |
| Website | demaxis.com |
| Address | St. Vincent and Grenadines |
| Email | [email protected] |
| Phone | +18007652408 |
| Minimum Deposit | $2,500 |
| Leverage | 1:400 |
| Bonuses | No |
| Regulation | No |
| Warning | No |
Demaxis Regulation and Fund Security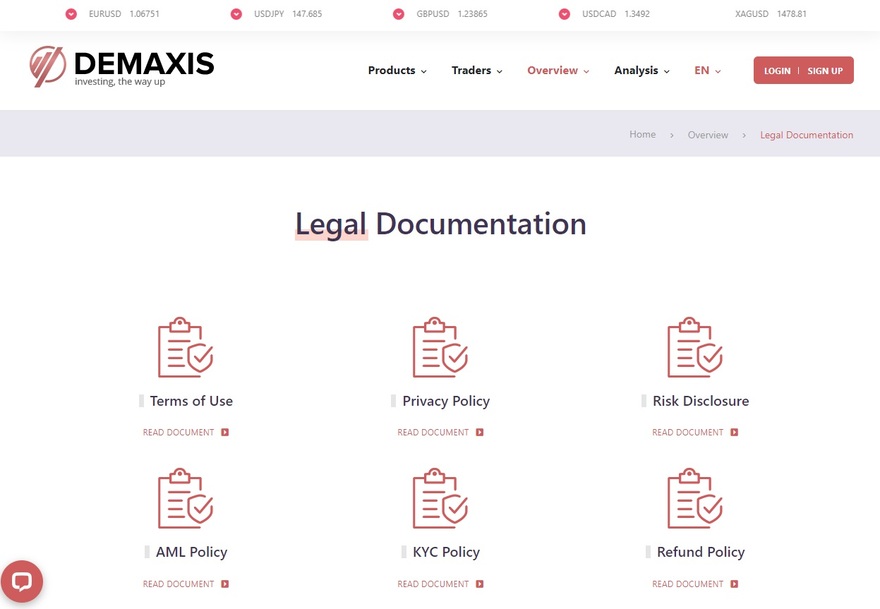 Brokers often tout their worldwide regulations. However, if their license is legitimate, it should be prominently shown on their website. Our search for such legitimacy in Demaxis' case proved ineffective. Their claim to be based in SVG as a licensed trader was a red flag, as this country no longer offers trading licenses. This made us look beyond their website.
In the world of regulated trading, the Tier 1 group holds the key. Regulators such as ASIC, BaFin, and FCA are known for their strict rules and stringent licensing requirements. Alas, our search through their registers revealed no trace of this broker. Thus, the first signal of a possible scam was already flashing brightly.
Demaxis openly lied about their non-existent regulation to confirm our suspicions even more. Their minimum deposit requirement was exorbitantly high, and their trading platform lacked transparency. The cherry on top was their absurdly high leverage, with nothing competitive to offer. Overall, we cannot recommend Demaxis as a trustworthy broker.
Note that brokers such as Demaxis, Foxane, TargoSwiss, and other questionable companies should be avoided.
Trading Software: Is It a Reliable Option or a Risky Bet?
One of the most significant factors when it comes to Demaxis is its highly-touted trading venue. They boast the latest technological innovation with an amazing ultra-competitive venue. With over 20 indicators and lightning-fast execution, they even compare it to the highly regarded MetaTrader.
Whereas, the reality is vastly different once you try to download their software. Instead of downloading the app, you're redirected to the company's signup form. This is their cunning method of enticing you to provide private details in exchange for nothing. Upon registration, you'll receive a call from their agent, and the dubious journey begins. Not only are they non-transparent about their trading platforms, but they're also trying to mislead you into exposing personal information.
Available Account Types at Demaxis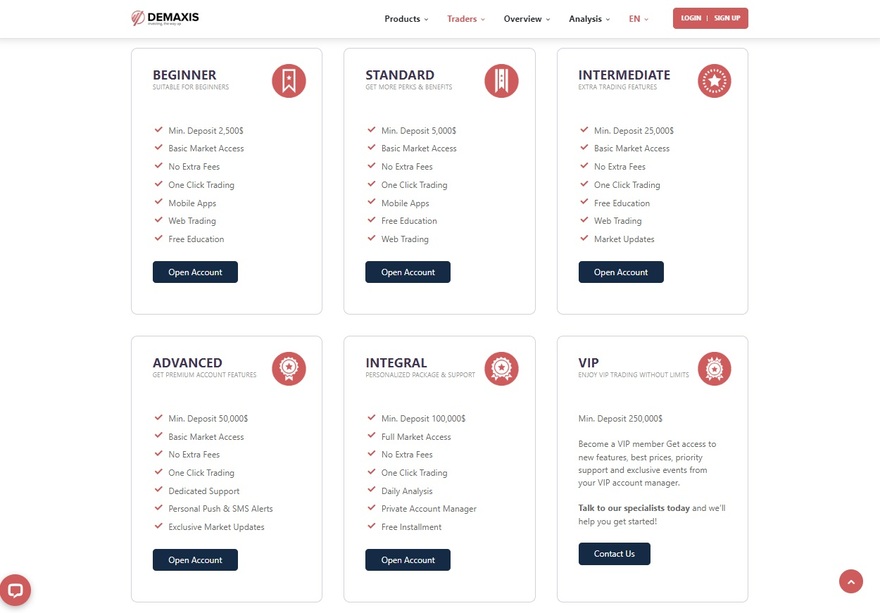 As a potential investor, it's important to be mindful when dealing with brokers who make promises that sound too good to be true. When it comes to trading accounts at Demaxis, here's what we know. Let's take a look! 
Beginner: Requires a deposit of $2,500

Standard: Requires a deposit of $5,000

Intermediate: Requires a deposit of $25,000

Advanced: Requires a deposit of $50,000

Integral: Requires a deposit of $100,000

VIP: Requires a deposit of $250,000
As a broker scam, Demaxis may not be the best option for your needs. Make sure to do your research and carefully consider all of your options before making any decisions.
Deposit and Withdrawal Process
It's crucial to be cautious when considering brokers who make claims that are too good to be true, as Demaxis does. While they state that they do not charge any fees, note that they claim to be globally approved and regulated when in reality, they are not.
Relying only on their terms and conditions may lead to serious consequences, so it's fundamental to conduct research before making any judgments. With that said, here are the funding methods that Demaxis accepts for deposits:
Visa/Mastercard

Wire transfer

Crypto transfer
It's worth noting that the lack of clarity and faulty claims by Demaxis should raise red flags, and you should consider other choices before investing your hard-earned money. Always be open-eyed and do your due diligence before making any investment judgments to avoid fraud.
Note: As unregistered companies, both Demaxis and AzaForex have a history of deceiving their clients. It is important to note these resemblances.
The Ingenious Tactics Employed in Enforcing the Fraudulent Scheme
The world of trading is riddled with bogus brokers who engage in shady practices to lure investors. These brokers often use complex tactics to perpetrate their schemes, including putting together a web of lies to manipulate investors into believing they are honest. From using fake certificates to impersonating regulators, these fraudulent brokers will stop at nothing to swindle investors of their money. Keep this in mind! 
Their schemes are often well-planned and executed with precision, making it tricky for investors to detect their scheming activities. Yet, by conducting a detailed analysis, investors can recognize these brokers and avoid falling victim to their tactics. It's compulsory to be open-eyed and take necessary precautions to protect yourself from these scams. Do that by verifying the broker's credentials and checking for red flags like promises of unrealistic returns or unsolicited offers.
Demaxis
Summary
Demaxis, an online trading company, claims to be licensed and regulated around the world. This website is owned by an unregulated offshore entity, which poses a risk to investors. Their high minimum deposit amounts and poor transparency on trading platforms raise red flags. Demaxis is not a reliable option at all, and investors should be cautious when considering brokers that make claims that are too good to be true. Moreover, investors should always be open-eyed and analyze brokers before making investment decisions. 
FAQs
Is Demaxis a Regulated Broker?
Their lack of transparency, absurdly high leverage, and high minimum deposit requirements suggest that they may be a scam.
Is My Money Safe at Demaxis?
No. There is no credible evidence to support Demaxis's claim of being a fair brokerage service.
What Is The Minimum Deposit at Demaxis?
Demaxis requires a minimum deposit of $2,500 and offers account types ranging from beginner to VIP.