October 24, 2022
Reading Time:
6
min
10 Different Credit Card Types That You Need to Know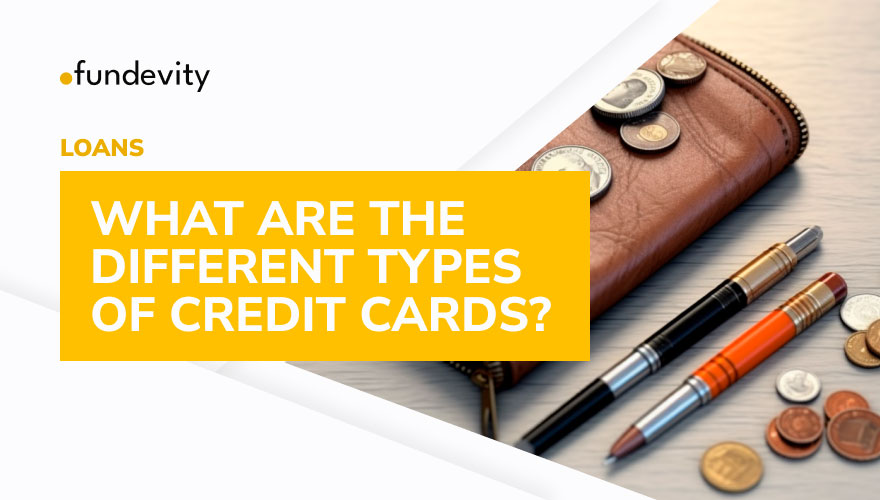 Numerous credit cards are issued by dozens of financial institutions. Step one in selecting your first credit card is to determine the credit card type you want, taking into account your specific financial circumstances. There are a wide variety of credit card types, from no-frills starter cards to high-end cards with extensive perks and benefits.
1. Balance Transfer Credit Cards
The ability to transfer balances between credit cards is standard, but a balance transfer credit card is a credit card type that provides a promotional APR on balance transfers for a limited time. Balance transfers are a good option if you have a large outstanding balance on an existing credit card but want to avoid paying the high-interest rates being charged on that balance.
There is a wide range of interest rates applicable to balance transfers; some go as low as 0%, though this is often subject to conditions such as a transfer fee. The more appealing the card is, the longer (and lower) the promotional rate will be. However, solid credit history is usually required for acceptance.
2. Rewards Credit Cards
Some rewards credit cards even offer bonus points in common spending categories like groceries, gas, and dining out, in addition to the points you earn on all of your purchases.
Reward credit cards typically let you choose from a few different redemption options, such as cashback, statement credits, gift cards, and even merchandise. This makes them an excellent choice for everyday spending when you are sure that you can pay off your balance in full each month. 
Putting the cost of necessities like food and cleaning supplies on a credit card that offers rewards can help you earn points toward future travel or cash back.
3. Cash Back Credit Cards
Cash-back credit cards make it simple to accumulate rewards on your purchases; these incentives may take the form of cash or statement credits, but the specifics may vary from card to card. In this space, you can find programs that give you a flat rate of rewards as well as those that offer bonus points in specific areas like dining out or taking a vacation. 
It's not uncommon for some cards to provide a set rate of points on all transactions in addition to extra rewards in areas that rotate every three months.
Even if some cash-back credit cards with more attractive promotional offers and rewards structures may incur annual fees, these are often low, coming in at about $100.
4. Student Credit Cards
Credit cards for students are tailored to the needs of young individuals who typically have limited credit histories. If you are applying for a credit card for the first time, you may have more success getting accepted for a student credit card.
Obtaining a low rate of interest on debt transfers or rewards programs are nice to have on a student credit card, but they aren't must-haves. In order to qualify for a student credit card, students often need to be enrolled at a four-year institution.
5. Travel Credit Cards
In the case of a travel credit card, you can earn rewards that are more directly applicable to your travel expenses, such as flexible travel credits that can be applied to any trip purchase or points that can be transferred to airline or hotel loyalty programs. You can earn points for specific programs with some travel credit cards, including frequent flyer or hotel loyalty programs.
Keep an eye out for luxury travel credit cards if you frequently travel for work or pleasure, as these cards generally come with benefits such as airport lounge access, annual travel credits, and credits for Global Entry or TSA PreCheck. The greatest travel rewards credit cards make it easy to rack up points and miles for use on future vacations without ever leaving home.
6. Business Credit Cards
Separating personal and professional costs with a business credit card is easy, and users can earn points on all business purchases. Credit cards for businesses come in a wide variety of forms, including those that offer cash back, general incentives, travel perks, and even secured lines of credit. 
To be approved for a business credit card, you must have an established business or other sources of regular revenue.
An excellent business credit card is one that provides benefits for regular purchases and simplifies routine tasks. You should look for a credit card that offers valuable perks like a rewarding rewards program, detailed cost reporting, and other tools that can improve your bottom line. 
You can find business credit cards that offer a flat rewards rate on all transactions, while others offer larger benefits on categories of spending that are particularly important to a company, such as travel or internet access. Typically, corporate credit card incentives can be redeemed either for cash back or airline miles.
7. Secured Credit Cards
The vast majority of credit cards do not require you to put down any sort of collateral. When applying for a secured credit card, however, you will be expected to make a cash deposit equal to the amount of credit you will be granted. 
You might apply for a secured credit card and put down a $500 deposit to get a $500 credit line. A minimum initial deposit (and thus credit limit) of $49 is required.
Secured credit cards, which require you to put up collateral in case you don't make your payments, are the easiest sort of credit card to be get approved for, and they can be quite useful if you need to start building credit from scratch or restore your credit after a financial setback.
8. 0% APR Credit Cards
It's possible to save money on interest if you transfer a balance to a card that offers a 0% or low-interest rate for a limited time, provided you utilize the card responsibly and complete the payment before the introductory period ends. The costs of a balance transfer should be considered. As a result, any money saved may be affected.
The minimum duration of introductory pricing is six months. You can put all of your attention toward reducing your debt at that time. For one thing, during the duration of the promotional rate, you might not have to pay any interest at all.
After the introductory period ends, the regular APR will be applied. Furthermore, the normal APR will be applied to the entire debt, not just any new purchases. The regular interest rate will be applied to any outstanding debt once the introductory period ends.
And if you're late on payments or go over your credit limit, the card's terms and conditions may require it to activate immediately.
9. Charge Credit Cards
The monthly debt on a charge card must be completely paid in full, and there is no defined maximum spending restriction. There is normally no financing fee or minimum payment with charge cards because the entire sum must be paid each month. 
If you make a payment late, your credit card company may charge you a late fee, limit your ability to make purchases, or even cancel your card.
In addition, in order for you to be approved for a credit card, you need ideally to have an established credit history.
10. Prepaid Credit Cards
It is the responsibility of the cardholder to add funds to a prepaid card first before using the credit card.  The balance on the card is deducted from the cost of the purchase. In order to continue using the card beyond the predetermined limit, additional funds must be added to it.
Because the funds for purchases are deducted directly from the deposit, prepaid cards have no interest or minimum payments. These cards aren't credit cards and won't improve your credit in any meaningful way as you work to rebuild it. Prepaid cards function like debit cards but are not linked to a bank account. Many people rely on them to help them control their spending.
How to Choose the Best Credit Cards for You?
See what your credit rating is. However, your options will be more limited if your credit score is only "fair" or if it is extremely low, and you may need to begin with a secured credit card.
Make a list of your objectives. Determine your credit card goals before applying for a new one. Knowing what you want to get out of your new credit card will help you limit your alternatives. There is no "wrong" aim to pursue with different credit cards.
Assess your debt. On the other hand, if you don't have any debt and intend to keep it that way, you can prioritize other credit card perks, such as incentives or cash back.
Look at various reward programs side by side. A cash-back, flexible travel rewards program is a good option if you want to earn rewards toward a specific objective.
Be wary of hidden charges and additional fees. Finally, it is important to evaluate the total cost of using various credit cards over time. You should be aware of the possibility of annual costs, late fees, application fees, over-the-limit fees, and so on.
Bottom Line
Learning about the many credit card options is useful before settling on one. A travel credit card could come in handy if you plan on making regular visits back home. On the other hand, a cash-back card can potentially help you save cash by rewarding you for your purchases.
However, if you are planning to start over in a new country, a secured credit card might help you establish your credit history.
Keep in mind that credit cards normally have a high APR, providing them an expensive option to borrow if the debt isn't paid in full every month. However, credit cards should not be used as a means of managing long-term debt, despite the fact that they can be helpful for reducing monthly payments and providing additional security on purchases.