July 04, 2023
Reading Time:
5
min
EbonFX Review: Decoding the Innovations of Their Trading Platform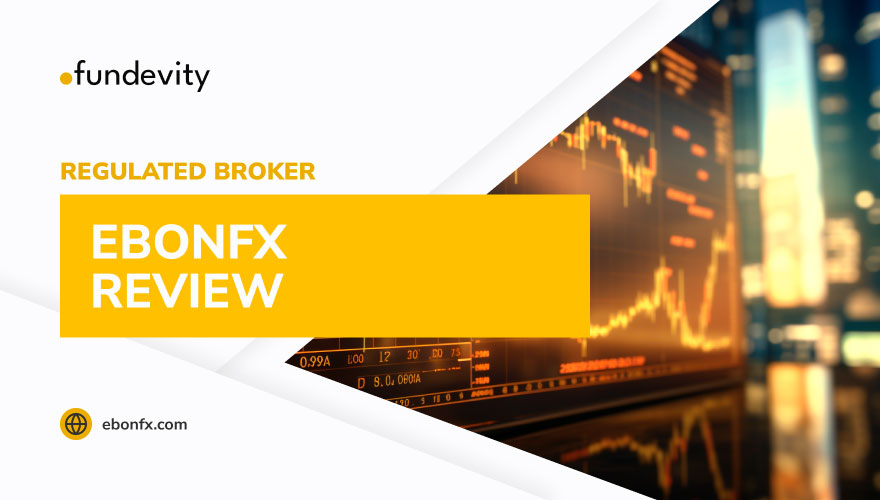 Are you eager to discover more about EbonFX and the range of trading services they offer? If so, you've come to the right place. In this comprehensive EbonFX review, we will delve deep into their trading instruments, trading conditions, and much more. Join us as we take a closer look at EbonFX and uncover the secrets of its platform. You won't regret it! 
| | |
| --- | --- |
| | General information |
| Name: | EbonFX |
| Regulation status: | Regulated Broker, ASIC |
| Warnings from Financial Regulators: | No official warnings |
| Website link: | https://www.ebonfx.com/ |
| Active since: | 2010 |
| Registered in: | Sydney, Australia  |
| Contact info: | +61 2 7255 9988 |
| Trading platforms: | Web |
| Majority of clients are from: | Australia, Singapore, United States |
| Customer support: | Phone, form & chat |
| Compensation fund: | Yes |
Discovering the World of EbonFX
Similar to Trust Capital, EbonFX is an FX and CFD broker that was created by a group of professionals. Their collective experience allowed them to identify a gap in the market. This is specifically regarding the underserved needs of SMEs in Australia regarding international payments. Thus, EbonFX was established with a customer-focused approach, putting the client at the forefront of their business philosophy. 
With a team comprising professionals from various financial sectors, including global markets, institutional banks, listed entities, and international brokers, EbonFX brings a wealth of expertise to the table. Their key strength lies in the relationships they maintain with their clients as they grow.
EbonFX Regulation and Security: Guaranteeing the Safety of Your Funds
Regulation and safety are paramount in the financial industry, particularly when it comes to choosing a broker. EbonFX is owned and operated by Compass Global Holdings Pty Limited, trading as EbonFX. It is a member of the Australian Financial Complaints Authority (AFCA). So, EbonFX falls under the regulation of the Australian Securities and Investments Commission (ASIC). 
This affiliation ensures that EbonFX adheres to the stringent guidelines and standards set forth by a reputable financial authority. The EbonFX broker prioritizes security for your funds. They employ SSL encryption to safeguard personal and financial information. Also, client funds are kept in segregated accounts, further enhancing the safety of these assets.
Exploring EbonFX's Investment Products
Diversification is a crucial aspect of trading, allowing investors to spread their risk across different assets. EbonFX trading firm offers a range of trading instruments to suit various trading preferences. It offers clients access to the forex market, commodities, indices, and even crypto. 
With competitive spreads and leverage options, EbonFX aims to help traders maximize profits while effectively managing risk. Yet, it's also crucial to note that EbonFX's trading instruments selection might not be as extensive as what some other forex brokers offer. Keep that in mind. Potential clients should carefully evaluate whether the options align with their trading strategies and objectives.
EbonFX: Account Types
At the time of this EbonFX review, the account types offered by EbonFX are not prominently displayed on their website's landing page. The broker may provide a range of account options. Yet, the details regarding each account type are not readily available. 
To obtain info about the available account types, it is wise to directly contact EbonFX. By reaching out to them, traders can understand the features, benefits, and conditions associated with each account type. This will enable traders to make informed decisions based on their individual trading preferences and goals.
EbonFX Trading Software: Features and Trading Conditions
It is important to note that EbonFX was formerly known as Compass Global Markets. This was an Australian cross-border payment and foreign exchange business. Trading platforms and software play a vital role in the overall trading experience. 
EbonFX provides a UI-friendly web-based platform accessible to traders of all levels. It is easy to execute trades and monitor market movements on the platform. In addition to the trading platform, the EbonFX app has a range of trading tools.
Tip: XProMarkets is a global CFD trading venue that offers a wide assortment of assets for profitable investments.
MT4 and MT5
As a trader, choosing the right platform to execute your trades is a crucial decision that can make all the difference to your success. MetaTrader 4 (MT4) and MetaTrader 5 (MT5) are two of the most popular trading platforms used by traders worldwide. Here are some reasons why traders should always pick MT4 or MT5:
Modern interface. Both MT4 and MT5 offer a modern interface that is easy to navigate. This is ideal for both novice and experienced clients. They offer advanced charting capabilities, an extensive library of indicators, and automated trading tools.

Versatility. MT5 is more versatile and suitable for traders looking to trade a broader range of financial instruments. It allows trading in multiple instruments like currencies, stocks, cryptos, indices, and more. On the other hand, MT4 is designed for FX trading.

Back-testing. MT5 allows faster backtesting than MT4, making it easier for traders to test their trading strategies and improve their overall trading performance.

Customizability. Both MT4 and MT5 offer customizability, allowing traders to customize the interface to their needs. MT5 offers more customization options.

Availability. MT4 is still available on their website for free download and remains by far the most popular trading platform. MT5 is also widely used, but it doesn't replace the previous platform as it is different and simply offers more than MT4.
Choosing between MT4 and MT5 depends on your trading preferences. It also depends on the broker you choose. If you are primarily focused on Forex trading, MT4 may be the right choice. On the flip side, MT5 is more versatile and suitable for traders looking to trade a broader range of instruments.
Deposit and Withdrawal Methods
Sadly, there is no information on their site regarding EbonFX's specific payment methods. However, it is common for forex brokers to provide a range of payment methods. This includes bank transfers, crypto, cards, and e-wallets. Forex brokers favor bank transfers due to their secure and reliable nature. 
Cards are also popular among clients for their ease of use. E-wallets, such as PayPal and Skrill, have gained increasing popularity for their fast and secure transaction capabilities. Also, crypto coins like Bitcoin and Ethereum are more widely accepted as payment methods in the forex industry. To obtain more information about EbonFX's payment methods, visit their website or contact their customer support.
EbonFX's Top-Notch Customer Service
Prompt customer service is essential for traders. This is especially true when they require quick and reliable assistance. EbonFX is committed to providing excellent customer support to its clients. They have a dedicated team of experienced foreign exchange specialists with in-depth knowledge of the currency markets. 
These specialists are ready to guide and support traders as they navigate forex trading intricacies. Customer support is available via phone, contact form, and live chat. This ensures that clients can easily reach out for assistance whenever they require it.
EbonFX Client Reviews
When considering a broker, it is often helpful to gauge existing clients' experiences. However, as of now, no Trustpilot reviews are available for EbonFX. This could be attributed to the company's relatively recent establishment. 
As EbonFX continues to grow and attract more clients, it is expected that more reviews and feedback will become available. This will provide potential clients with a clearer picture of the broker's reputation and service quality.
Note: EbonFX fees and minimum deposit requirements are absent. It's best to contact their support team for more details.
Our Final Verdict on EbonFX's Trading Services
In conclusion, EbonFX is a reputable company that offers many benefits. They also offer competitive trading conditions and excellent customer support. Being regulated by ASIC adds an extra layer of confidence for potential clients.
The broker's commitment to customer support and education is commendable. This is because they aim to help traders improve their skills and knowledge. Yet, it's critical to consider that EbonFX's trading instruments selection may not be as extensive as others. Therefore, potential clients are better off conducting thorough research. To discover more reliable companies like EbonFX or InvestFW, contact us today!
FAQs
Is EbonFX Legit?
Yes, EbonFX is a legitimate cross-border payment and foreign exchange business.
How Do I Open an Ebonfx Account?
To open an EbonFX account, visit their site and complete the free account creation process.
Does EbonFX Offer a Demo Account?
Yes, EbonFX offers a demo account for traders to practice and test their trading strategies.