September 05, 2023
Reading Time:
5
min
EDGEFinance Review: A Specialist Broker With No Shame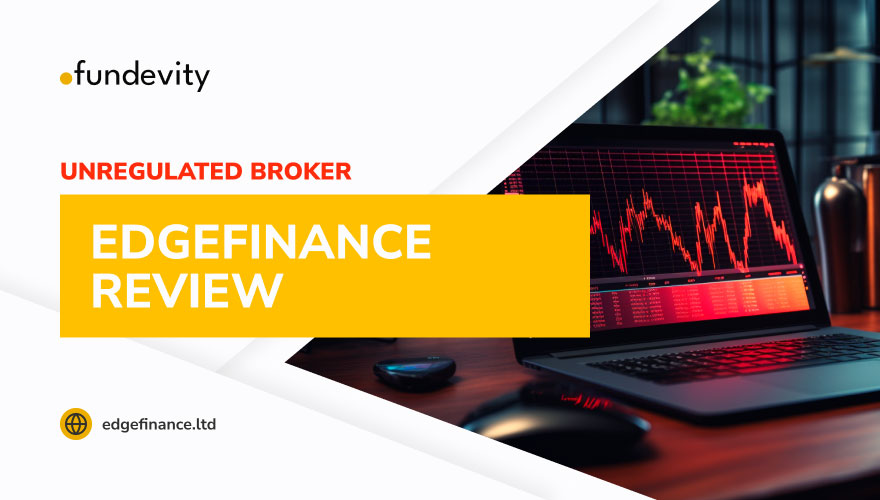 Thanks to this EDGEFinance review, you will meet a broker that can't hide his lies anymore. We are delving deep into the broker's background, history, services, and complete profile to determine whether he is a good choice for traders. Keep reading to find out. 
No matter what type of broker you plan to use, regulation is important. Unregulated brokers are more likely to succeed in scamming people and that is why your funds are at constant risk. For more exposing evaluations, read our Costa Markets review. 
Who Is EDGEFinance? All About edgefinance.ltd
EdgeFinance LTD is a brokerage company that at first glance might seem like a reliable option but unfortunately, that is just their mask. They have been active since 2023 which makes them very new to the market and by that very inexperienced. Without even a phone number to reach them, they seem pretty suspicious. 
But no broker can stay hidden from our in-depth truthful evaluations and EdgeFinance is among them. Delve deep into this review with us and join us in exposing this broker once and for all. You can also check our Crypto Liberty review for another broker you should avoid. 
General information
Name:
Edge Finance LTD
Regulation status:
Unregulated 
Warnings from Financial Regulators:

Autorité des marchés financiers (AMF)
CSA

Website link:
edgefinance.ltd 
Active since:
2023
Registered in:
N/A
Contact info:
[email protected] 

Web form

Trading platforms:
EDGEFinance WebTrader
Majority of clients are from:

United States 
France 
South Africa
Canada
Australia 

Customer support:
24/5 support via webform
Compensation fund:
None
EDGEFinance Regulation Info
On their website, the first red flag was no mention of any type of regulation. Unregulated brokers are bad as we repeated throughout our reviews and you don't want to trade with someone where your funds will be at constant risk. Further research proved our claims and the broker is unregulated. 
A MAJOR red flag is raised by the broker's request for traders to download AnyDesk and TeamViewer. They are used to access your computer and legit brokers would never need to do so. Avoid using brokers that request you to download such apps. 
It's also important to mention the warning issued by the AMF regarding EdgeFinance that is advising traders to avoid this broker due to its lack of regulation. 
The CSA supported the warning, providing a direct link on their website. 
This is enough reason for us to blacklist the broker but keep reading this EdgeFinance review to see more red flags you should avoid.
EDGEFinance Broker Profile
EdgeFinance forex broker also offers trading in stocks, indices, and commodities. There are a total of five account types available starting at 1:20 leverage and going up to 1:200. The minimum you need to deposit is $250 which seems excessive, and the maximum deposit required is $15,000 for the PRO account type. 
The broker doesn't offer trading on any known platforms such as MT4 or MT5, instead, you can use the EdgeFinance WebTrader. Overall, there are still no benefits for this broker which raises so many questions. Their account types remind us of EpsilonFx, so make sure to read that review. 
Account Types

Silver, Gold, Platinum, VIP, PRO

Financial Instruments On Offer

Forex

(EURUSD, EURGBP, USDNOK)

Stocks

(Apple, Amazon, Microsoft)

Indices

(S&P 500 Index, Dow Jones Industrial Average, FTSE 100 Index)

Commodities

(Crude Oil, Natural Gas, Corn)

Maximum leverage

1:200

Minimum Deposit

$250

Commissions/Bonuses

N/A

Mobile app

No

Desktop app

No

Autotrading

No

Demo account

No

Education or Extra tools

Economic Calendar, Technical Analysis
EDGEFinance Account Types
Silver Account: 
Deposit $250

Leverage up to 1:20

Maximum order: 10 lots

Minimum order: 0.01 lots
Gold Account: 
Deposit $1,000

Leverage up to 1:35

Maximum order: 15 lots

Minimum order: 0.01 lots
Platinum Account: 
Deposit $5,000

Leverage up to 1:50

Maximum order: 20 lots

Minimum order: 0.01 lots
VIP Account: 
Deposit $10,000

Leverage up to 1:100

Maximum order: 25 lots

Minimum order: 0.01 lots
PRO Account: 
Deposit $15,000

Leverage up to 1:200

Maximum order: 30 lots

Minimum order: 0.01 lots
All account types have some things in common like negative balance protection, limited asset selection, support, and tight spreads besides the PRO account which has all assets available in addition to a personal manager. 
Is EDGEFinance Safe To Trade With?
Considering the lack of regulation, the warning, and the overall experience of other traders, EdgeFinance can't be trusted. Adding hidden fees on top of all that makes them even a very unreliable broker to trade with. Avoid this broker and settle for more reliable options.
Don't wait to get scammed by brokers like EdgeFinance. There are many reliable options out there and some of those brokers are tailored for your trading needs. Reach out today for a free consultation or just trading advice, and don't be scared if you get scammed. We can get your money back. 
EDGEFinance Review: Traders' Thoughts and Opinions
We were especially worried about the broker's Trustpilot ratings. There are a total of 12 reviews, all of which are unfavorable. Since trader reviews are crucial when selecting a broker, this raised serious red flags. The main topics of discussion in each review are fraudulent profits and withdrawal problems. 
One review caught our attention saying:
"SCAMMERS. Stay away. If you register with them, they'll keep ringing you, I've asked them to stop and delete my account, in response I've got to listen to offensive swearing and abuse over the phone."
The reviews speak for themselves, warning you not to trade with this broker. It's important to take all of these things into consideration and avoid brokers like this. Give us a call, obligation free, and we will help you locate a worthy and reliable choice. 
A Look at EDGEFinance's Traders They Serve
According to EdgeFinance's reviews, the broker attracts clients by calling them non-stop offering fake profits. Additionally, installing AnyDesk and TeamViewer on your computer will allow them to access your computer and with it important files or personal information. They can also manipulate the platform or your profits, making you believe you are making money when instead you are losing it. 
The nations mostly affected by this EdgeFinance scam are the United States, France, South Africa, Canada, and Australia. It's needless to say that to operate from these nations, brokers would have to be regulated by the financial authorities from these nations but EdgeFinance is not regulated at all. 
Deposits and Withdrawal Methods
Standard payment methods are available with EdgeFinance such as cards and wire transfers. Electronic methods are not supported and the EDGEFinance withdraw process is not explained. We looked everywhere and there are no mentions of withdrawals at all. That raises serious questions regarding their reliability.
When a broker fails to describe the withdrawal procedure, only one thing can be inferred: withdrawals are not possible. Overall, this broker is false and suspicious in every way. Avoid this broker and try finding more reliable options. 
EDGEFinance Pros and Cons
Pros
Cons

None! 

Unregulated

Hidden fees

Lack of transparency 

Hidden spreads

Warning from the AMF

Unreliable trading platform

AnyDesk and TeamViewer

Bad reviews

High deposits

Withdrawal issues

No demo account
Long Story Short – EDGEFinance
There are many red flags surrounding this broker and he has nowhere to hide anymore. Our EdgeFinance review did uncover the real truth behind its operations. There is nothing transparent regarding this broker and the traders' reviews speak for themselves. There are only negative reviews surrounding the broker, which raises questions about their reliability. 
Overall, it is reasonable to state that EdgeFinance is not the best broker for you and that trading with them would be a waste of time and money. Nothing the broker offers is advantageous, and you should cross him off your list because he has so many disadvantages as well as no advantages. For additional trustworthy possibilities, get in touch with us right away, and we'll do our best to match you with the ideal broker. 
FAQ Section
Is EDGEFinance Legit?
EdgeFinance is not a reliable broker and you should avoid them. Due to their lack of regulation and transparency, hidden information, withdrawal issues, bad reviews, warnings, and many other red flags, the broker is not legit.
What Are The EDGEFinance Platforms?
The EdgeFinance broker offers a web trader for trading in forex, stocks, indices, and commodities. Overall, the platform is unknown, so it is more prone to manipulation, hence unreliable.
Does EDGEFinance' Offer a Demo Account?
No, EdgeFinance does not offer a demo account, making investors blindly get into trading with them.