July 27, 2022
Reading Time:
5
min
All You Need to Know About Emergency Loans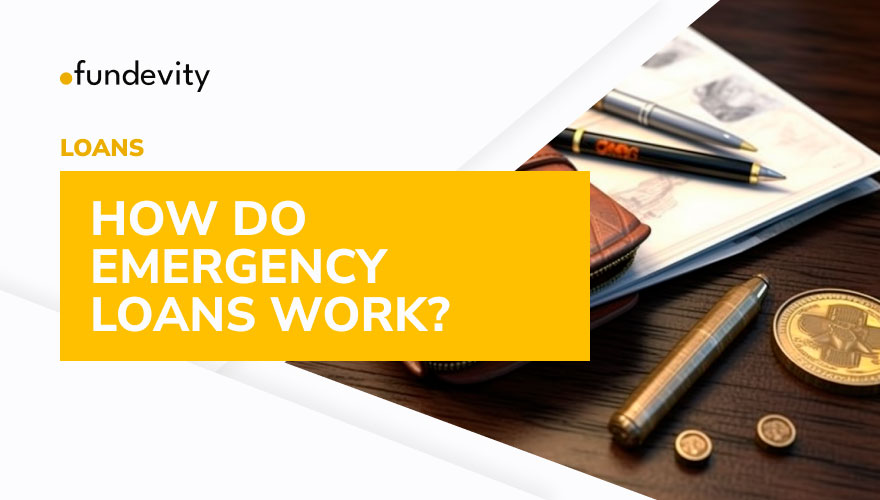 An emergency loan can help you with the expenditures if you are in a financial crisis and require cash right away. Depending on your credit score, several loan kinds also provide quick and straightforward application and approval processes.
Before applying, be sure you understand all the implications of an emergency loan because you don't want to put yourself in a worse financial situation. Let's learn everything there is to know about emergency loans, including how they function, how to apply, and the various loan options available.
What Exactly Is an Emergency Loan?
Personal loans used for emergencies are known as emergency loans. These loans can be used to cover unexpected expenses like last-minute repairs, medical expenses, or funeral fees. Look for creditors who offer speedy loan disbursement because you probably can not wait a few days for the loan to be funded if you have unexpected expenses.
Loans for emergencies may be secured or unsecured. With secured loans, you must use your property as security to guarantee the loans, which is frequently a car or other vehicle. Unsecured loans are given out solely based on your creditworthiness; security is not needed.
How Do Emergency Loans Work?
To cover unexpected costs or a shortfall in income, debtors might qualify for an emergency loan. Since you generally can't bear to queue around for the funding in an emergency circumstance, these loans are typically disbursed swiftly. Many creditors provide disbursements of loans with a quick turnaround, some even the following working day. These loans can be used to cover unexpected expenses like last-minute repairs, medical expenses, or funeral fees.
But not all urgent loans are created equal. As an illustration, some provide lesser interest rates for individuals with good credit scores, while others have extremely high-interest rates. Payday loans, credit card cash advances, and personal loans are a few examples of emergency loans. However, it's a great idea to educate yourself on how these 3 frequent emergency loans operate before deciding to go down this path.
Types of Emergency Loans
Emergency loans come in a wide variety of forms, from conventional installment loans to even more exploitative varieties with sky-high interest rates. Learn how each form of loan operates and what fees to anticipate before taking one out.
Personal Loans

Personal loans are unsecured loans that give you unrestricted access to a certain amount of money without any type of security. Over the length of the loan term, you then repay it in a series of fixed monthly installments.

Personal loans often have maturities of several months to many years, unlike many other kinds of emergency loans. A personal loan can generally be used for almost anything, making it beneficial for a variety of crises.
Payday Loans

An emergency loan with a relatively short duration, typically only a week or two, is a payday loan. Loans from payday creditors are frequently advertised as being accessible to debtors with poor credit. With the understanding that you would pay them back with your subsequent salary, payday creditors will advance your cash. These loans should be resisted at all costs because they frequently have excessive rates of interest (up to 400 %).
Car Title Loans

A car title loan is an additional choice for consumers seeking quick loans for persons with terrible credit. Car title loans are similarly short-term, small-dollar loans with high fees and interest rates to payday loans. Payday loans, on the other hand, do not require security, whereas automobile title loans do.

The drawback of a car title loan is that you risk losing your car if you default on the loan. But if there are no alternative options, you should avoid taking this huge risk.
Credit Card Cash Advances

Most of the time, you pay a business immediately using a credit card. While that can be helpful when making purchases at merchants that take credit cards, it is useless if you actually need cash. You can then use your credit card to acquire a cash advance.

However, you should be aware that a lot of credit cards impose fees for cash advances, and the interest begins to accrue as soon as you receive the money, even before your following statement.
Payday Alternative Loans

You might be eligible for a payday alternative loan (PAL). if you require an emergency loan but wish to stay away from exploitative payday loans or auto title loans.

Some credit unions use PALs as a way for their members to borrow cash quickly without having to use payday loans. Typically, you have up to 6 months to pay back the loan in increments and can borrow somewhere around $200 and $1,000. According to the National Credit Union Administration  (NCUA), the highest rate of interest that federal credit unions can impose on PALs is 28 percent.  Even while it still seems high, the rates you'd receive from a payday loan or vehicle title loan are much higher.
Pawn Shop Loans

You can use things as security at a pawn shop. You can use anything to guarantee a loan, even jewels, and game consoles. If you repay the loan by the due date, you receive the item back from the pawn shop in a swap for the cash they gave you in trade for it. If not, the pawn business will store it and may sell it to make money.

Pawnshop loans frequently have cheaper interest rates than other types of emergency borrowing. Just bear in mind that if you can't maintain the payments, you run the risk of losing the thing you pawned. Although pawn shops are not the best option, they are still much better than payday or auto title loans.
How to Qualify for Emergency Loans
Choosing the type of loan you want is the first step in obtaining an emergency loan. You might take into account a personal loan relying on your credit standing and financial position.
Individuals with all sorts of credit ratings can get loans from a variety of personal loan providers. Your credit history and the quantity of money you need will affect the interest rates and taxes you pay. A lot of loans could be funded in just a few days.
Here's how to apply for an emergency loan:
Compile your documents. Generally speaking, you'll require things like your id, Social Security number, and evidence of your income and employment.
Check out the creditors. When comparing creditors, take financing times into account. You can also compare price quotations by prequalifying, which demonstrates your potential eligibility before you make an application. Additionally, to obtain a sense of the reputation of the creditor, read testimonials from previous and present clients.
Complete the application form. Numerous creditors offer simple online applications and make decisions regarding approval the same day you apply.
Where to Get Emergency Loans?
Banks, credit unions, and online creditors all offer emergency loans.
Banks – Customers of some banks may be eligible for exclusive relationship discounts, which may result in a higher rate and potential long-term cost savings. But be mindful that banks and other creditors may use various application procedures.
Credit Unions – Although credit union interest rates may be cheaper than those offered by banks, you must join the credit union in order to apply for a loan. Each credit union does have its own requirements for who is eligible to join.
Online Lenders – Numerous businesses provide personal loans using a fully digital method. Your credit will be checked by online creditors, who may then make you an offer for an urgent loan that will be transferred into your bank account in one or two working days.
It might not always be feasible to be completely prepared, even if your resources are set up to handle an unforeseen bill. Being faced with an unexpected bill can be stressful, and being unable to pay for it can make things even worse. When deciding whether to lease money for an emergency, it's crucial to compare various emergency loan options to ensure you discover the most appropriate loan for your needs.