August 08, 2023
Reading Time:
7
min
Encore Capitals Review: Finding the Truth About This Offshore Broker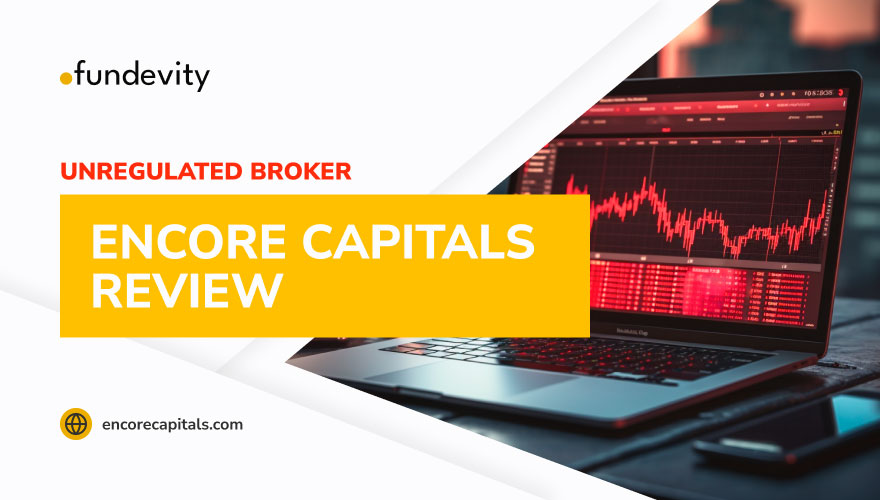 Welcome to our in-depth Encore Capitals review. In this article, we will explore the legitimacy of Encore Capitals, as well as other relevant details. We will also look at what traders have to say about their experiences with Encore Capitals. So, let's dive in and uncover the truth behind this broker.
Encore Capitals Legitimacy: Unraveling the Mystery
Encore Capitals, registered in the United Kingdom, is a broker that offers a variety of trading instruments for both retail and professional traders. These instruments include Forex, CFDs, and Precious Metals, accessible through the advanced MT5 trading platform. With five distinct trading accounts to choose from – Rookie, Scalper, ECN, Elite, and Islamic – Encore Capitals aims to cater to traders with diverse preferences, starting with a minimum deposit of just $10.
It's important to note that Encore Capitals is owned by ECR Capitals Limited, a company registered in the UK. However, it lacks critical regulatory licenses. As potential investors, we must know the associated risks.
Encore Capitals positions itself as an offshore forex broker. Be aware that this company lacks any regulatory license to prove its legitimacy. While they claim to be regulated, the absence of regulatory oversight raises doubts. Traders should assess the risks before investing with an unregulated broker like Encore Capitals or SimpleFX.
Encore Capitals and FCA Warning
Attention traders: A red flag has been raised. Encore Capitals, the broker in question, has found itself on the FCA's radar. This warning should ring alarms – brokers with such alerts could pose serious risks. Make sure you proceed with the utmost caution. 
Regulatory warnings often signal potential danger, revealing unscrupulous practices that could jeopardize your investments. Prioritize your safety and consider alternative, more trustworthy options for your trading endeavors.
General information
Name:

ECR Capitals Limited

Regulation status:

Unregulated Broker

Warnings from Financial Regulators:

FCA

Website link:

encorecapitals.com

Active since

2020

Registered in:

UK

Contact info:

Telephone: +44 1273 80 7865

Trading platforms:

MT5

The majority of clients are from:

India

United States 

United Kingdom 

Brazil

Japan

Customer support:

Yes (

[email protected]

Tel: +44 1273 80 7865

)

Compensation fund:

No
Trading Assets at Encore Capital
At Encore Capitals, traders access a wide array of trading instruments. This includes 62 currency pairs, crude oil, and various stock indices. The platform caters to diverse preferences and strategies with the following offerings:
Encore Capitals Forex. The platform offers major, minor, and exotic currency pairs for forex trading.

Encore Capitals CFD. Trade oil, futures, and international stock indices through the MT5 trading account.

Encore Capitals Precious Metals. Engage in spot trading of gold and silver per ounce.
Encore Capitals Trading Platforms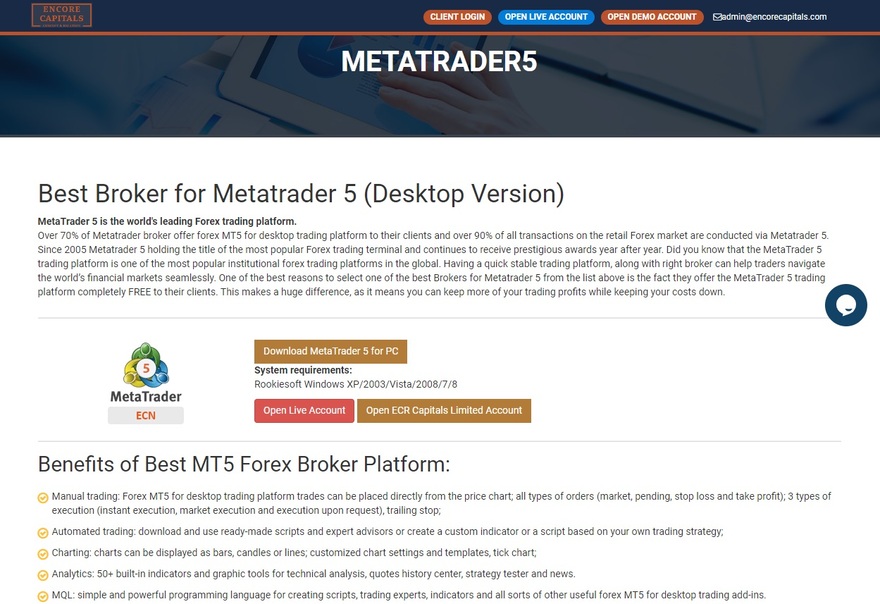 This firm provides traders access to the advanced MT5 trading platform. Namely, Encore Capitals MT5 is compatible with PC, Android, and MAC devices. It enables traders to automate trading using trading robots, signals, and fundamental analysis. Its UI-friendly interface makes it suitable for both newbies and experienced traders. The MT5 platform also offers traders a full range of analytical tools and indicators. All of that allows traders to make smart decisions and optimize their trading strategies. 
Besides, the platform is integrated with Encore Capitals' advanced risk management and security systems, as they claim. Yet, they operate without a license, so please remember that. This can be a risk to traders, as they do not have the same level of protection as a licensed broker. You should, therefore, research Encore Capitals before trading with them.
General Trading Environment: Account Types and More
Encore Capitals offers five distinct trading accounts to accommodate varying trader needs:
Rookie Account. Requires a minimum deposit of $10, making it an excellent option for beginners.

Scalper Account. Asks for a minimum deposit of $250, catering to traders with intermediate skills.

Encore Capitals Islamic Account. Designed for Muslim traders, it requires a minimum deposit of $100.

ECN Account. Suitable for professional traders, this account demands a higher initial deposit, starting from $1,000.

Elite Account. Tailored for high-end traders, it requires a substantial minimum deposit of $10,000.
To access your trading account, simply visit the Encore Capitals login page and enter your credentials. In addition, Encore Capitals also offers demo accounts, allowing beginners to familiarize themselves with the platform first. 
How to Open an Account with Encore Capitals?
Opening an account with Encore Capitals is straightforward:
Click the "OPEN LIVE ACCOUNT" link and fill in the required details on the pop-up page.

Upload the necessary personal data for verification purposes.

Select your preferred payment method, fund your trading account, and start trading with Encore Capitals.
Leverage: Use with Caution
Encore Capitals' leverage varies based on the type of trading account, ranging from 1:200 to 1:1000. These leverage levels are significantly higher than those required by most regulated authorities. This is quite interesting. 
Given that leverage can amplify both gains and losses, beginners are advised to choose a smaller leverage size. This is ideally no more than 1:10, for a safer trading experience.
Encore Capitals Mobile App: Trade on the Go
Encore Capitals offers a mobile app that enables clients to access their accounts and execute trades conveniently. They can do it from their smartphones and tablets. 
This feature enhances flexibility and allows traders to stay connected to the markets, even while traveling. The app also offers advanced charting capabilities and real-time streaming quotes. It also has a user-friendly interface that makes trading easier and more convenient.
Demo Account: Practice Makes Perfect
For novice traders, the Encore Capital demo account is very valuable. With a demo account, traders can practice their strategies and gain valuable trading experience without risking real money. It is an excellent tool for building confidence and improving trading skills. 
Demo accounts also allow traders to try out different trading platforms to determine which one works best for them. Besides, demo accounts can be used to test new strategies and practice trading different types of assets. Yet, keep in mind that this broker is not so reliable.
Encore Capitals No Deposit Bonus
Approach ECR Capitals Limited's forex no deposit bonus offer skeptically. While the idea of receiving $50 in exchange for trading may sound appealing, consider the stringent terms and conditions that may limit your ability to withdraw profits. 
Unregulated brokers raise concerns about fund safety and security. This includes the risk of scams. Successful trading requires knowledge, skill, and risk management, not just free bonus funds. Research the broker's reputation, regulatory status, and customer reviews before signing up. Always be cautious about forex promotions and prioritize your investments' safety.
Autotrading: A Helping Hand
Encore Capitals facilitates auto trading. It allows traders to automate trading strategies using expert advisors (EAs) or trading robots. 
This feature can be beneficial for traders who prefer a more hands-off approach. Yet, it is vital to thoroughly test and monitor any automated trading systems. Do this to ensure they align with your trading goals.
Education: Knowledge is Power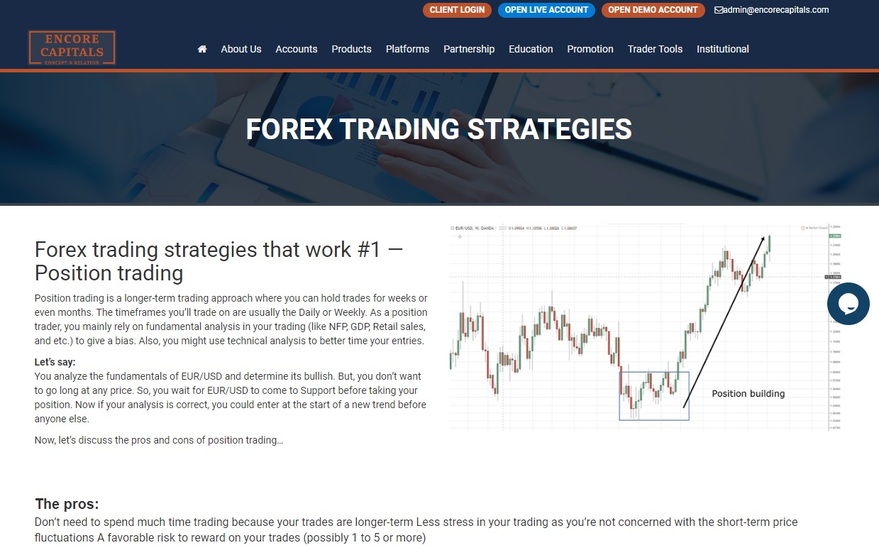 To help traders enhance their knowledge and skills, Encore Capitals offers tutorials, webinars, and articles. These resources help traders stay up to date with market news and trends. 
Moreover, they also provide insight into trading strategies and techniques. Still, make sure that you use education materials with a regulated broker only.
Note: Trading with offshore brokers like Encore Capitals or Sky Gold Market can be risky. They've been caught doing questionable things, like changing data and making trades without a license. To play it safe, go for trusted brokers with a good reputation for investing your money.
Withdrawals: Potential Risks of Encore Capitals
Encore Capitals lures traders with a seemingly enticing proposition – a minimal $10 deposit to kickstart trading. Yet, a closer look reveals a potentially risky path. 
This broker operates in an unregulated environment, lacking the oversight that ensures fair play and customer protection. While they offer multiple payment channels, including VISA, MasterCard, Skrill, Neteller, Perfect Money, Bitcoin, and more, it's crucial to proceed with caution. Unregulated brokers can leave you vulnerable, and easy trading might mask risks. It's vital to consider these factors before trading with this broker.
Refund Policy
Encore Capitals has a refund policy if a trader is dissatisfied with their service level. They accept refund requests for debit or credit card accounts. However, refunds are subject to review and may take up to 30 days. 
Only original cardholders are eligible for refunds. If the cardholder is not the consumer, the refund request must be accompanied by written authorization from the cardholder. Refunds are issued in the same payment form as the original purchase.
Trader Reviews: What Others Have to Say
Traders' reviews can provide valuable insights into a broker's quality of service. 
On Trustpilot, Encore Capitals has received a mixed score of 2.8 out of 5 stars, with 71% positive reviews and 29% negative reviews. It is essential to consider these reviews alongside other factors when evaluating a broker.
Protect Yourself with Smart Measures
In today's financial world, where scams abound, protecting yourself from dubious brokers is crucial. Stay vigilant and safeguard your investments with these simple steps:
Dig Deep:

Before committing, research brokers, ensuring they are reputable and regulated.

Listen to Others:

Check online reviews on platforms like Trustpilot to learn from fellow traders' experiences.

Be Skeptical:

If a broker promises incredible profits or unrealistic bonuses, tread carefully.

Trust the Regulated:

Opt for respected brokers with proper regulatory oversight for added security.
For personalized guidance in finding a reliable broker, reach out to us for a free consultation. Together, let's build a safer investment journey.
Long Story Short – Encore Capitals
All in all, Encore Capitals is an offshore forex broker offering a diverse range of trading instruments. Yet, its lack of regulatory oversight raises concerns, and traders should carefully assess the risks before investing. The availability of demo accounts, educational resources, and auto-trading features adds some value to the platform. 
As with any broker, it is essential to conduct thorough research and consider personal trading preferences. Still, think twice before choosing Encore Capitals or Smart Trade Group as your trading partners.
Want to have a reliable broker on your side? Contact us and we'll provide you with the best brokers for your specific needs.
FAQ Section
Is Encore Capitals Legit?
No, they are not legit. Encore Capitals is a scam broker claiming to be legit.
Does Encore Capitals Offer a Demo Account?
Yes, they offer a demo account. Still, it may not be safe.
Is It Safe To Trade With Encore Capitals?
No, it is not safe to trade with offshore brokers like Encore Capitals.