October 15, 2023
Reading Time:
4
min
EquitySet Review – Is This Technology Reliable Enough?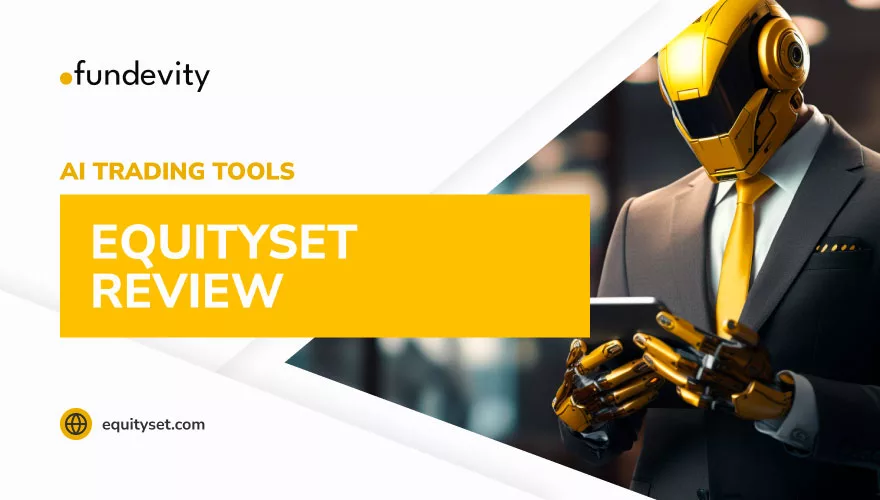 Important to realize is that EquitySet LLC company doesn't reveal its headquarters, neither do they mention anywhere contact options. Therefore, if you have any trouble with their software, you are done.
Generally, not something that you are looking for, especially when you are investing money. But that's why our EquitySet review brings you the most important facts.
| | |
| --- | --- |
| | General information |
| Name: | EquitySet LLC |
| Regulation status: | Unregulated |
| Warnings from Financial Regulators: | No official warnings |
| Website link: | Equityset.com |
| Active since: | 2018 |
| Registered in: | N/A |
| Contact info: | Data is hidden |
| Trading platforms: | Proprietary AI Software |
| The majority of clients are from: | United States, Bulgaria, India, United Kingdom |
| Customer support: | No |
| Compensation fund: | No |
Features And Security
Primarily, you need to understand that this software doesn't offer you investment advice, neither do they operate as the broker. Instead, once you complete the EquitySet login procedure you get access to the analysis tool. This tool helps you understand market movements and gives you a prediction of the price. However, it works only for stocks in the case of this technology.
The reliability of this tool depends solely on one thing. That's a group of people behind it. In this case, the group is unknown. Consequently, it brings less reliability. Since they are not a brokerage they don't need a license. Yet, it's important to know that you must have a trading account, where we strongly suggest you choose tier 1 licensed investment firms.
Account types
The company offers three packages. Of course, every higher step brings you certain benefits. In the case of the EquitySet portfolio, that's more triggers, watchlists analysis, data export and many more.
All the fees are paid monthly. But luckily, you can test it out for free. The account types are:

Free –

$0/month

Premium –

$25/month

Pro –

$75/month
Thus it seems too much of a trouble and information. Especially for a beginner. Once you check for example AI Analysis Bot you will understand the easiness of trading better. After all, one signal served on a plate can easily beat a bunch of statistical data. Feel free to contact us to compare it together.
Trading Platforms Available
Behind the company is most likely a group of developers. They were working hard on the app that helps you understand stock market movements properly. Thus, they don't offer a download option for the technology. Instead, you are using a web-based platform for your portfolio builder.
Tradeable Instruments
Another downside is that this technology is limited to stocks and indices. While our AI Analysis Bot uses technical analysis to predict the price movement for a wider range of assets.
Generally, more signals mean more opportunities. Still, you have to find an adequate brokerage to work with. To help you with the choice, we suggest you read our OFP Funding review.
Pros and Cons
AI tools generally have a lot of benefits. Of course, if those are trusted. Yet, without licensed brokerages everything becomes irrelevant. Anyway, some of the key advantages of this company's offer are:
Multi-level services with a demo feature

More than 8,000 stocks and indices reports

Equity screener

Data exporting

SMS notifications

Watchlist customization features
But generally, not something that you couldn't find anywhere else. Hopefully, reading our Ment Funding review will help you choose wisely. Anyway, for the downsides, there are also many. Starting with:
Non-transparent ownership and location information

Lack of customer support options

Unknown payment options

Only stocks and indices available

No user-experience reviews are publicly available
After all, Is It Worth It?
All in all, the company is not as reliable as it should be. Even though they don't need a license, they should be a bit more transparent. In any case, they are trying to sell you unproven services and tools. If you compare it with our AI Analysis Bot offer, you'll see the difference at first glance.
If you already tested it out we encourage you to leave a comment below. Ultimately, you can help other traders know more if this technology works or not. Be honest and objective. But also, feel free to contact our experts if you are still exploring your options.
Also, we suggest you read our VPFX review before you continue with anything. Many hidden gems are hidden there.
Is It Possible to Make Money By Online Trading?
Some traders are still wondering if the trading is a real deal. Of course, it is. But once you find a trusted and licensed brokerage. But even then, some will complain. Mostly about the length of the process until you become financially independent. Which is quite rare, to be honest. Almost 90% of traders are just throwing money away.
Thus, with new technologies, you could be ahead of the game. Forget about numerous statistics, charts and data for reading. Instead, with AI Analysis Bot you could be served with on-point information on where to invest next. But still, you are in control of your funds and choices. Nobody is forcing you to do anything.
After you experience something like that, you will start believing in the trading. If you are sick of scammers and anonymous brokerages, but also their shady features, contact us. Our experts can guide you step-by-step and help you solve all your doubts. Book your free first consultation now!
FAQ
Is EquitySet Legit?
The company operates in the grey zone since they are not a broker. Therefore, they depend on their results. If you will test them, it's up to you.
What plans are available at equityset.com?
You can choose free, premium and professional plans. Yet, for choosing the safe broker to use the software, we suggest you talk to our specialists.
Should I Invest In EquitySet?
Before paying any funds you may try a free account. However, professionals can give you more information and help you make an educated decision. Book your meeting today!