June 25, 2023
Reading Time:
4
min
ETX Capital Review: Unveiling the Broker's Closure and Exploring the Truth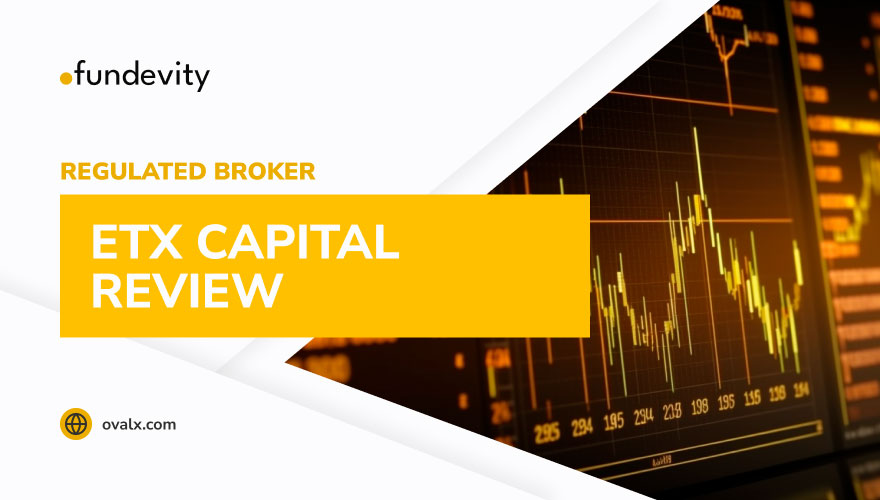 Introducing OvalX, a British financial services provider offering a bunch of trading options. Formerly known as ETX Capital, OvalX provides innovative financial derivatives trading solutions. In 2023, the company decided to wind down its operations due to substantial losses. As part of this process, OvalX has facilitated the transfer of client assets to Capital.com. 
OvalX operates under two trusted entities: Monecor (London) Limited, and Monecor (Europe) Limited. Join OvalX for reliable and innovative trading experiences. Keep reading this ETX Capital review for more interesting facts.
The Fascinating Journey of ETX Capital's History
Introducing OvalX, a unique and forward-thinking British financial services provider. With a rich history that dates back to its incorporation on 16th June 1965 as Dusrolgraph Ltd, the company has continuously evolved to meet traders' needs. On 30th May 1973, it transformed into Monecor (London) Ltd, laying the foundation for its successful journey. In 2002, Monecor (London) Limited introduced TradIndex, a retail derivatives arm.
Today, as OvalX, the company continues to innovate and provide a full range of trading options. That includes CFDs, spread betting, and corporate broker services. Operating under the trusted entities of Monecor (London) Limited, authorized by the UK's esteemed Financial Conduct Authority, and Monecor (Europe) Limited, regulated by the Cyprus Securities and Exchange Commission, OvalX upholds stringent regulatory standards.
While the recent decision to wind down operations was made, OvalX ensures a smooth transition for its valued clients. This is done by facilitating the transfer of client assets to the reputable brokerage firm, Capital.com. Embrace the unique opportunities offered by OvalX as we embark on an exciting new chapter together.
General information
Name:

OvalX, Monecor Limited, or ETX Capital

Regulation status:

Regulated Broker, FCA, CySEC

Warnings from Financial Regulators:

No official warnings

Website link:

https://maintenance.ovalx.com

Active since:

16.06.1965

Registered in:

London, UK

Contact info:

[email protected]

, +44 20 7392 1494

Trading platforms:

MT4

Majority of clients are from:

United Kingdom, United States, Denmark, Italy, Slovakia

Customer support:

Not anymore

Compensation fund:

Yes
London's Capital.com Ventures Into New Perspective With the Acquisition of Ovalx's Client Assets
London-based broker Capital.com is set to acquire FX and CFDs broker OvalX, according to FinanceMagnates. As part of the agreement, OvalX will offer its retail and professional clients the option to transfer their accounts to Capital.com, ensuring uninterrupted service and allowing trading. 
Capital.com's CEO, Peter Hetherington, expressed excitement about welcoming OvalX clients and providing support on their trading journeys. Also, Capital.com has appointed Niamh Byrne, formerly Head of UK B2B2C Sales at IG Group, as its Head of UK and Ireland. This is to bolster this new partnership.
Note: With diverse asset classes, Trade Nation broker prioritizes financial security, efficiency, and customization.
The Final Chapter: OvalX (Formerly ETX Capital) Bids Farewell
After an eventful journey, OvalX has decided to officially shut down its operations. The business experienced substantial losses following its acquisition by Guru Capital. That led to this regrettable outcome. In February 2023, OvalX took a step towards ensuring the most favorable outcome for its valued clients by agreeing to sell their assets to a reputable London-based firm, Capital.com.
While the decision to close its doors marks the end of an era, OvalX remains committed to its clients' best interests. By transferring client assets to Capital.com, OvalX aims to ensure a seamless transition for its loyal traders. This will enable them to continue their trading journeys with a trusted and reliable brokerage.
As OvalX bids farewell, it looks back on the challenges faced and the lessons learned. The company expresses gratitude to its clients for their trust and support throughout the years. Although this chapter comes to a close, the spirit of innovation and resilience fostered by OvalX will undoubtedly find new avenues of expression in the ever-evolving world of finance.
Did you know that Capex emerges as a compelling option for traders seeking a fresh perspective? It offers a wealth of opportunities to explore and unleash trading potential.
Embracing New Horizons: OvalX's Foulds Ventures to Alvar Financial after 20 Years
In a bold and transformative move, OvalX bids farewell to one of its esteemed veterans, marking the end of a remarkable 20-year journey. The seasoned executive expresses sincere gratitude to Andrew Edwards, the former CEO.
Andrew Edwards, a visionary leader, played a pivotal role in shaping OvalX's trajectory. He left an indelible mark on the company's history. Edwards introduced Foulds to finance and served as a constant source of inspiration throughout their two-decade collaboration. As Foulds embarks on a new chapter, he embraces the opportunity to join forces with Alvar Financial. This is an exciting venture that promises fresh perspectives and unlimited potential. 
On the other hand, Andrew Edwards continues to make significant contributions to the industry as he affiliates with Saxo Capital Markets UK, assuming the CEO role. His remarkable journey is a testament to his leadership prowess and unyielding commitment.
As OvalX bids farewell to Foulds and Edwards continues to carve his path, the spirit of collaboration, mentorship, and growth nurtured by their partnership will inspire future generations in the ever-evolving world of finance.
Interesting fact: At ActivTrades, traders find a harmonious blend of trustworthiness and trading excellence. This fosters a truly exceptional trading experience.
Navigating the Brokerage Maze: Seeking a Trustworthy Companion
Picture this: You've forged a bond of trust with a broker, traversing the tumultuous markets together for what feels like an eternity. But, your trusted companion suddenly leaves the trading world, leaving you uncertain. What's the next thing you should do?
We understand the significance of a reliable brokerage partner. That's why we extend our hand, offering expert advice and support in your quest to find the right trusted broker.
Please think of us as your guiding compass in this intricate maze of choices. With our vast knowledge and experience, we are poised to help you identify the right match. This is a broker who will protect your investments and propel your trading endeavors to new heights. Let us be your trusted advisor, unraveling the complexities. Together, we will explore the many options available. We will vet each candidate to ensure reliability.
When faced with the daunting task of finding the right broker, remember that you don't have to navigate this journey alone. Reach out to us, and let us empower you with the knowledge necessary to choose an ideal firm that will stand by your side.
FAQ
What happened to OvalX?
OvalX experienced significant losses and decided to wind down its operations, transferring client assets to Capital.com.
Who owns ETX Capital?
Guru Capital acquired ETX Capital, but ownership is no longer applicable as of its shutdown.
Is there another broker to choose from and how?
Yes. Research reputable options, compare services, and seek our professional advice for guidance.