October 12, 2023
Reading Time:
4
min
ExorCompany Review: Do Not Ignore the Warnings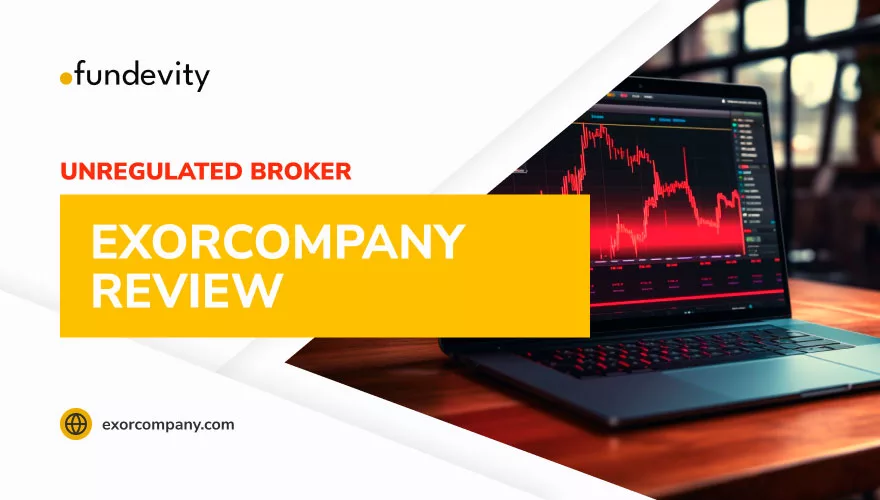 Let's talk about Exor Company, the platform claiming to be your ticket to financial freedom through online trading. Sounds promising, right? Well, let's not rush into it. There are some concerning details you need to be aware of before considering any investments. So, let's dig deeper into our ExorCompany review!
General information

Name

Exor Company International Limited

Type of company

Trading Software

Regulation status

Unregulated/Not expected

Warnings from Financial Regulators

FMA

Website link

https://exorcompany.com/

Active since

2022-04-21

Registered in

4 Williamson Avenue, Ponsonby, Auckland 1021, New Zealand

Contact info

[email protected]

,

[email protected]

, +12543130169, +447452234891

Trading platforms

n/a

Majority of clients are from

India, Netherlands, Saudi Arabia, Bangladesh and Qatar

Customer support

Email and phone

Compensation fund

No
First Impressions and Deceptive Appearance
When you take a first look at it, exorcompany.com appears to be a legit trading platform. It talks about professional website design and offers various subscription plans (more on that later on). 
However, when you take a closer look, the site reveals numerous grammatical errors and typos that raise questions about its authenticity and professionalism. This is an important factor to consider. 
Regulatory Concerns and Red Flags
Digging deeper, several red flags pop up. First and foremost, this business lacks a valid license from any financial regulator. Note that this is a crucial thing for any valuable trading platform. 
Besides, the platform in question makes unrealistic profit promises, including daily returns of up to 2.2%. Notably, these are highly odd in the volatile world of trading. We will elaborate on this later on.
Also, disparities in the provided leadership details and hidden domain ownership add to the suspicion.
Warnings from Regulators
Be aware that the Financial Markets Authority (FMA) of New Zealand raised its voice for investors to pay attention. Recently, they issued a severe warning about Exor Company International Ltd, particularly noting the sky-high investment returns being touted by the firm.
Now, let's be real here! Warnings from regulatory bodies like FMA, FCA, or CySEC, aren't to be taken lightly. They're not just bureaucratic jargon but loud alarms in the world of investments. 
What do they really mean? They mean real trouble. When a company's promises seem too good to be true and catch the eye of regulators, it's a neon sign flashing, "Danger Ahead!" So, please stay safe and avoid companies like this one.
Transparency and Payment Options
We already know that this company clearly lacks transparency. Besides, as we partially mentioned, the platform's promises of daily returns from 1.5% to as high as 2.2% are unrealistic and should be viewed with distrust, given the risks associated with trading. 
Also, this trading company makes a tempting offer. Apparently, you can kickstart your online journey with just 50 bucks. They promise profits on the 3rd and 18th of each month, all through small trading wins. 
But here's the catch – when it comes to crucial details like prices and payment options, their website falls short. We are left in the dark about these important aspects, making it harder to take a dive into online entrepreneurship.
Business Plans
The plans they offer can be broken down as follows:
SMART Plan

($50 – $4999)

Daily Income:

1.5%

Referral Income:

7%

Binary Income:

9%

Capping:

$1100

Returns Days:

160

PREMIUM Plan

($5000 – $19999)

Daily Income:

2%

Referral Income:

8%

Binary Income:

9%

Capping:

$2500

Returns Days:

135

PROFESSIONAL Plan

($20000 – $49999)

Daily Income:

2.5%

Referral Income:

9%

Binary Income:

10%

Capping:

$5500

Returns Days:

110

ELITE Plan

($50000 – Unlimited)

Daily Income:

3%

Referral Income:

10%

Binary Income:

10%

Capping:

$10000

Returns Days:

90

CLASSIC Plan

($50 – $19999)

Daily Income:

1.30 – 2.20%

Referral Income:

8%

Binary Income:

9%

Capping:

$3500

Returns Days:

140

ELEGANT Plan

($20000 – Unlimited)

Daily Income:

2.35 – 3.25%

Referral Income:

9%

Binary Income:

10%

Capping:

$10000

Returns Days:

Not listed
These plans might seem nice at first, but please approach such offerings with caution. High returns often come with high risks, especially when dealing with platforms that lack regulation. Stay safe!
Tip: Traders often inquire about Inside Options FX business, but they may not be as reliable. So, make sure to choose better and more reliable companies. 
Reviews on Trustpilot
Now, what about trader reviews? The company brags about a 4.2-star rating on Trustpilot, derived from 7 reviews posted quite recently (February-October 2023). 
Yet, this rating contrasts with their claim of being active since 2012, and the website's launch in April 2022. It's essential to see that a few reviews from a single year may not accurately reflect the company's long-term reliability. Keep that in mind. 
A Better Option: Smart Trading with AI Tools
Now, if you're looking for a genuine way to trade online, consider AI tools like our AI Analysis Bot. It's smart, reliable, and won't promise you the moon. 
With various subscription plans, including a 20-day free trial, it's an affordable and practical choice for anyone looking to dive into the trading world without getting scammed. So, why not try it out today? 
Also, we provide free consultations that are customized just for you! Contact us today for free advice! 
Tip: Have you ever wondered what makes AI a game-changer in the stock market? Know that it's all about the magic blend – technical analysis and fundamental analysis. 
Key Tips for AI Trading
Before jumping into AI-powered trading, here's a reality check. When it comes to AI trading, keeping it simple and smart is the key to success. Here are some easy tips to guide you:
Start small:

Begin with tolerable investments to lower risks when you're transitioning to real money trading.

Educate yourself:

Try to grasp the basics of financial markets, trading strategies, and risk management. Also, get familiar with concepts like technical analysis and risk-reward ratios.

Plan your strategy:

See whether you want to create your trading plan or use existing ones. For beginners, proven strategies are a solid starting point. What's more, you can tweak them later to fit your needs.

Test your strategy:

Before you fully commit, backtest your strategy to find flaws and areas for improvement. It's like a trial run for your trading plan.

Monitor and adjust:

Keep an eye on how your AI trading system performs. Make necessary adjustments to fix your strategy and maximize profits.

Stay updated:

The world of AI-powered stock trading is always growing. Stay informed about the latest developments and market trends. Knowing what's happening will help you make smarter trading decisions.
By following these steps, you'll be able to benefit from making wise AI trading choices.
Summary – Stay Sharp, Stay Safe
In a world full of scams, being cautious is your best defense. Don't fall for flashy websites like ExorCompany, and too-good-to-be-true promises. 
Stay thoughtful, trust your instincts, and you'll find real opportunities without risking your funds. Remember that!