August 11, 2023
Reading Time:
6
min
EXT LTD Review: Exploring Features, Fees, and Customer Feedback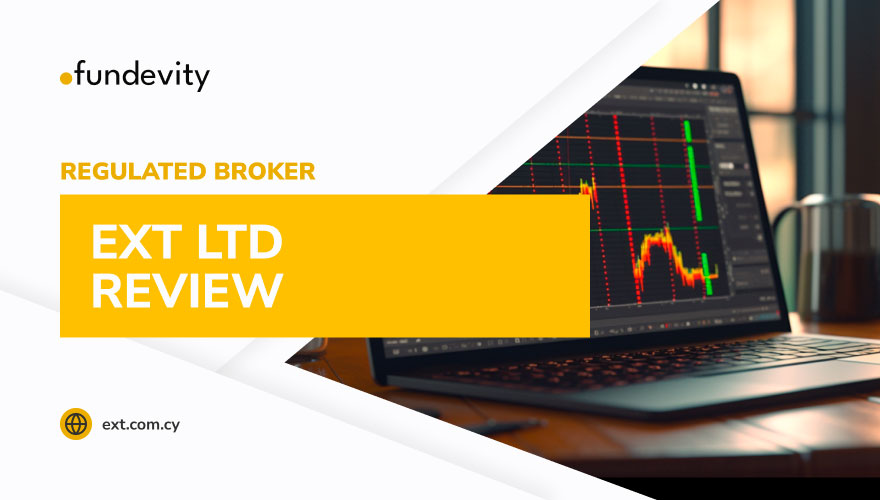 If this broker is one you're thinking about, check out our EXT LTD review. Examine their features, financial tools, fees, and many other aspects so you may decide with confidence. Our EXT LTD review, like all of our assessments, provides insight so investors will know what to anticipate. 
If you're looking for an ECN broker, Valutrades is a terrific choice, but we're here to investigate if EXT LTD is regarded as a trustworthy alternative. Without further ado, let's begin digging. 
Who Is EXT LTD? All About EXT LTD ETF Broker
European investment services firm EXT LTD is based in Cyprus and is subject to CySEC regulation. Since EXT LTD is governed by the European Securities and Markets Authority (ESMA), the highest level of investor protection is guaranteed. They were founded in 2020, and their registered address is 365 Vashiotis Seafront Building, 3107, Limassol, Cyprus (28 October Avenue).
General information
Name
EXT LTD
Regulation status
Regulated by CySEC
Warnings from Financial Regulators
Website link
ext.com.cy
Active since
2020
Registered at
28 October Avenue, 365 Vashiotis Seafront Building, 3107, Limassol, Cyprus
Contact info:
Telephone

+357 25342627

fax: +357 25344317

Email 

Trading platforms:
EXT Platform
Majority of clients are from
Poland

Cyprus 

United Kingdom

Latvia

Germany

Customer support:
24/7 via email and phone
Compensation fund:
FSCS, ICF
Regulation Info
EXT LTD is a Limited Liability Company that operates under Cyprus law and has the registration number HE 293592. Under License No.: 165/12, the business is authorized to provide investment services and is subject to regulation by the Cyprus Securities and Exchange Commission (CySEC).
Additionally, EXT LTD is registered with the Financial Conduct Authority (FCA) under registration number 589898 and is governed by it as well. Firms from the EEA, like EXT LTD, are granted temporary permission to operate in the UK as part of the Financial Services Contracts Regime in order to fulfill contractual obligations. The official website of the Financial Conduct Authority has further details about this regime. 
As a result, EXT LTD operates with regulatory oversight in both Cyprus and the United Kingdom, ensuring a level of compliance and accountability in its financial services operations. If this firm goes out of business owing you money you may be able to claim compensation from the Financial Services Compensation Scheme (FSCS). However, this is not always the case and these organizations may not cover some of this firm's activities.
EXT LTD Broker Profile
Stocks, ETFs, cryptocurrencies, commodities, futures, options, funds, and bonds can all be traded with EXT LTD. There is no information provided concerning their account kinds, but as their T&C only mentions Individual and Corporate categories, we infer that those are the only ones available. The minimum deposit is $10,000 and the maximum leverage is 1:30. 
Account types:

Individual, Corporate

Financial Instruments On Offer:

Stocks & ETFs

(Apple, Amazon, Microsoft)

Cryptocurrencies

(BTC, ETH, XRP)

Metals

(Gold, Silver, Platinum)

Futures

(E-mini S&P 500 Futures, Crude Oil Futures, Gold Futures)

Options

(Australian Stock Exchange, Chicago Board of Trade, Commodity Exchange, Inc.)

Funds

(200 funds to invest in)

Bonds

(Bund, JGB, U.S. Treasury Bonds)

Maximum leverage:

1:30

Minimum Deposit:

€10,000 Individual or €50,000 Corporate 

Commissions/bonuses:

Commissions can be found here.

Mobile app:

Yes

Desktop app:

Yes

Autotrading:

Yes

Demo account:

Yes

Education or Extra tools:

None
EXT Trading Platform
Every device can access the EXT platform, giving consumers the freedom to conduct trading activities as they see fit. The platform supports a variety of trading styles, whether it is through the online interface, a desktop terminal operating on Windows, macOS, or Linux, or even straight from iOS or Android smartphones as an EXT LTD mobile app.
An EXT LTD demo account for individuals keen to examine the platform's features before placing real trades is available on the EXT LTD login page. Users can utilize this function to quickly access a huge range of more than 600,000 instruments and become acquainted with the features of the platform. 
The minimum rates for EXT LTD options start at $1.5, stocks and ETFs start at $0.02, currency spreads start at 0.3, metals start at $3, futures start at $1.5, funds start at 0.5%, and bonds start at 9bps. 
Is EXT LTD Safe To Trade With?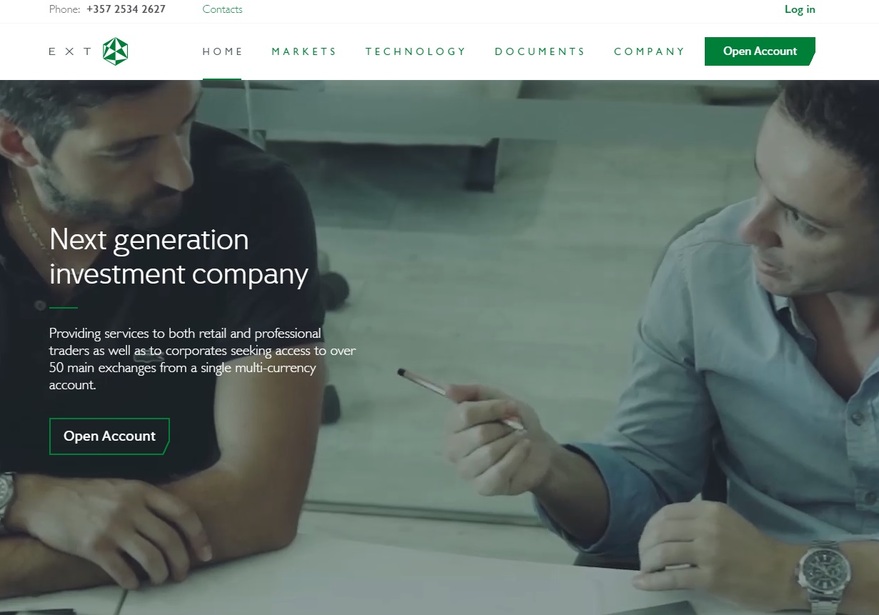 We could conclude that they are secure to trade with because they are governed by reputable agencies like the FCA and CySEC. Additionally, the broker has clients from Poland, Cyprus, the UK, Latvia, and Germany, all of which are subject to CySEC and FCA regulations. It is wonderful to see a broker operating from a country where he is subject to regulation. 
Additionally, they provide a demo account, a clear list of commissions, and let you trade a wide variety of financial instruments. EXT LTD is undoubtedly a wise decision, it is safe to state. To ensure that the broker you choose will best suit your needs, do your homework before working with them and test out their services on a demo account. Even licensed brokers can be dangerous, so entering the market blindly can result in you losing your money. 
A Look at EXT LTD's Traders They Serve
In a world where social networks and affiliate marketing are the norm, EXT LTD stands apart by depending on its standing as a dependable and trustworthy business partner. With operations in Poland, Cyprus, the UK, Latvia, and Germany, they rely on their reputation and word of mouth to attract new clients. 
This reminds us of the time we wrote our Saxo review. Although we can't claim that not having any social networks is a huge red flag, it is still something to consider because social networks are so common in today's world; therefore, why wouldn't a broker who prides himself on being a trustworthy alternative have any? 
Deposits and Withdrawal Methods
Wire transfers are the sole accepted payment option for both deposits and withdrawals. There are three acceptable currencies: GBP, USD, and EUR. The minimum deposit for a corporate account is $50,000, while the requirement for an individual account is $10,000. EXT LTD withdraw your funds category in your profile is where you can request a withdrawal. 
Concerning withdrawals, they will be processed in a single day, but the money won't show up in your account until three to five banking days later. There is a withdrawal fee, which is 30 EUR, USD, or GBP. Although it's possible that it's not displayed when you create an account, the withdrawal method is not discussed. This reminds us of Topstep, a broker with a murky withdrawal policy. Overall, the deposit seems a little excessive, and the fact that there is only one accepted method makes it challenging for some traders. 
EXT LTD Pros and Cons
Pros
Cons

Regulated

Numerous financial instruments

Demo account 

Transparency

No MT4 or MT5

Lack of educational resources

No social networks

No reviews
Long Story Short – EXT LTD
Overall, EXT LTD's pros and disadvantages are comparable, and the broker provides a lot of positive attributes such as a wide range of trading products, FCA and CySEC regulations, a demo account, and transparency. The EXT LTD fees structure is presentable on their website. On the other hand, it's impossible to ignore the negative effects of the lack of social networks and educational resources. Concerns are raised by the absence of trader reviews as well. 
Although there will always be superior options, it is reasonable to say that EXT LTD is a respectable choice that is subject to regulation. One of the most important characteristics to look for in a broker is regulation and transparency, both of which this broker possesses. Did a broker cause you to lose your hard-earned money? Don't give up! We are prepared to assist. We are aware of how frustrating it can be to lose money to dishonest brokers. 
Our team of skilled experts has a focus on money recovery, and we're dedicated to helping you get what's rightly yours back. Take the first step toward regaining your misplaced funds by getting in touch with us right away. Our devoted team is prepared to help you at every stage.
FAQ Section
What Is EXT LTD?
EXT LTD is a European investment services firm based in Cyprus and regulated by CySEC, offering a diverse range of trading products.
What does EXT LTD offer?
EXT LTD is a brokerage firm that facilitates trading activities and offers instruments like stocks & ETFs, crypto, metals, futures, options, bonds, and funds.
Should I Invest In EXT LTD?
EXT LTD is a licensed and open broker that provides its services in a range of instruments. If you are from the UK, Cyprus, or elsewhere in Europe, we do advocate investing with EXT LTD, however, it is crucial to double-check license information at the time and conduct appropriate research.