March 22, 2023
Reading Time:
4
min
FewaTrade Review: All the Lies Behind This Scam Broker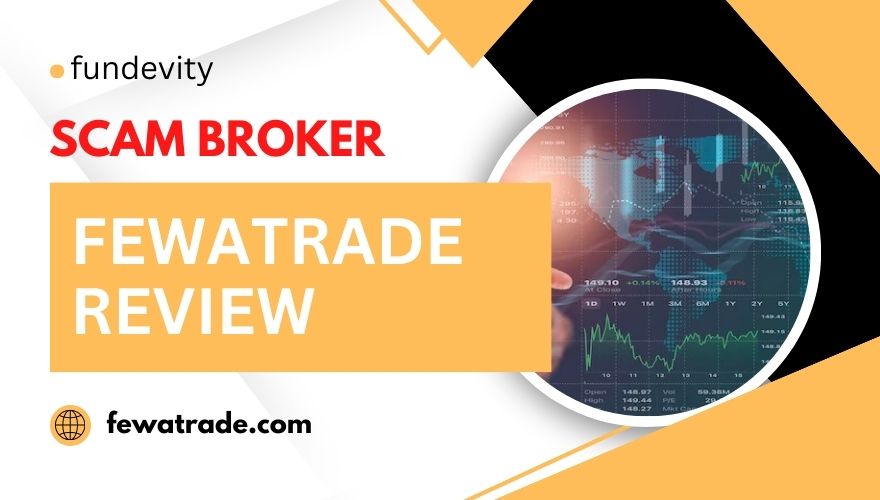 FewaTrade is a scam company. There are many proofs to support this theory. They are unauthorized, anonymous, and deliver short info about basic trading conditions. You will only get access to trade in a basic trading platform.
However, the chance of them stealing your money is quite high. It's advisable to only stick with approved, verified brokers. In this FewaTrade review, you will find more interesting facts as to why to avoid this broker scam.
| | |
| --- | --- |
| Company | OliNo Energy B.V. |
| Website | https://fewatrade.com/ |
| Address | 00 William St New York, NY 10038 USA |
| Email | [email protected] |
| Phone | +44 7451 2852 72 |
| Minimum Deposit | $100 |
| Leverage | 1:20 |
| Bonuses | n/a |
| Regulation | No |
| Warning | No |
Regulation of FewaTrade and Fund Security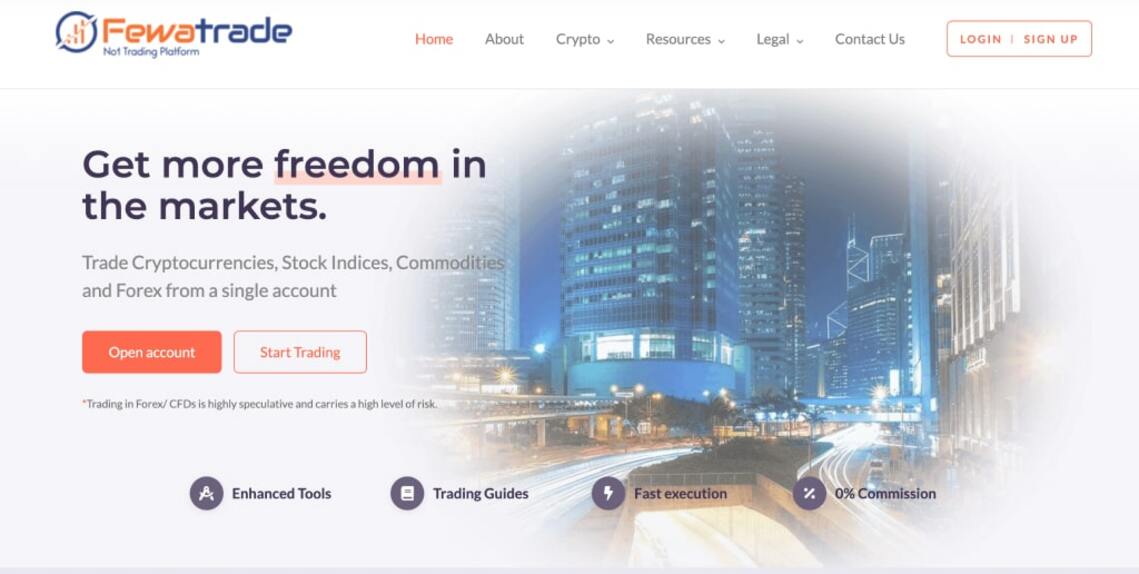 It's interesting how this broker claims that they are based in the United States but says that the law of the Netherlands applies to all lawful connections that FewaTRADE is a part of. Nevertheless, the broker is not licensed to work in either the States or the Netherlands. Be mindful of this, by all means.
The business name of this so-called company is OliNo Energy B.V. They are anonymous. Keep in mind that legitimate brokers will make sure to provide you with plenty of business data and statistics.
On the flip side, FewaTRADE's site only has a couple of short paragraphs of text. The Terms and Conditions are not impressive as well. They were short, poorly formatted, and hardly include any essential details.
Since this is an unregulated broker, working with them is not advisable. They are not under the control of any command and have not met any conditions.
Overview of the FewaTrade Trading Platform
FewaTRADE broker offers a terrible web-based trading platform. The platform itself is a poor copy of the TradingView chart tracking crypto asset markets only with two extra buttons. One button is for buying, and the other is for selling.
You barely need a brokerage to see TradingView. Why? Well, that software is available for free on the web. Authentic trading software has much more concerning charting and analysis tools. FewaTRADE broker scam offers nothing at all, considering all of this.
Check out regulated and legit brokers who deliver leading trading venues such as MT4 or MT5. This platform has reigned over the trading world for many years. The reasons are simple. The software is UI-friendly and delivers access to a charting and analysis packet and numerous additional components.
FewaTrade Account Types Available
This investment scam does not offer any data on its account types. Nevertheless, they apparently support trading multiple crypto assets: BTC, ETH, XRP, and LTC.
The anticipations around Fewatrade broker are ever-expanding. It's advisable to avoid dealing with this scam and look for brokers who sincerely announce such vital details on their websites.
Most regulated brokers share comprehensive details about the account options they provide to guarantee that each trader registers for the one that fits his or her needs and knowledge.
Selecting a shady, unregulated broker risks losing all your money. As a result, this may turn out to be the worst mistake of your life.
Deposit and Withdrawal at FewaTrade
Notably, FewaTRADE solely accepts deposits in BTC. Usually, only a scam broker would solely accept crypto payments and present no more traditional alternatives such as bank transfers, card payments, or e-wallets. Why is that?
Crypto transactions are much harder to track, and getting your money back can turn into a nightmare. Only use the crypto payment method with trustworthy businesses since all such transactions are often final.
Note: Regulated brokers often accept diverse payment methods such as wire transfers, cards (Visa, MasterCard, Maestro, American Express), and e-wallets such as Skrill, Advcash, and Neteller. These payment options let clients file for a chargeback within 540 days of the transfer.
How the Scheme Was Implemented
Please be mindful that you can waste a lot of money in FX trading. Always be smart, mainly if you are a novice. Do proper research before you decide to open an account with any broker. Even qualified traders who use the services of legit brokers do this.
Newbies can be misled by many scammy websites presenting as true brokers. Thieves will captivate you with many fake promises of easy profits. Stay far away from easy earnings and trade utilizing legit brokers only.
More often than not, these scammers promote huge profits for an insignificant investment. They will prompt you to invest even more cash. Yet, after you deposit, your investment will be gone.
You won't even see a single buck from these apparent profits. It will become hopeless to reach the minimum withdrawal amount. Scammers hide behind bogus names and locations. So, you won't be able to trace or hold them accountable.
Tip: Always know that many newly registered scam brokers will claim they use MT4 and MT5. Never let them assure you that this is accurate! Please do your analysis first!
FewaTrade Summary
FewaTRADE is just another deceptive website to stay away from. As you can notice from this FewaTRADE review, there are many adequate reasons to evade this scam. This broker uses misleading trading software and a fictional location.
Don't invest your funds here because everything about this FX broker is false.
Let us know if you have had a bad experience with this website. We can assist you in reporting this infamous broker.
FAQs About FewaTrade Broker
Is It Safe to Trade on FewaTrade?
FewaTRADE is not a legitimate or trustworthy broker. It is not safe to invest your money here!
Can I Open A Demo Account with FewaTrade?
No. This broker does not offer a demo account. There is only a live trading account to see.
What Is The Funding Method of FewaTrade?
FewaTRADE just accepts deposits in BTC. No other payment method is available for funding.