July 28, 2023
Reading Time:
4
min
Forex Trading Canada – Facts About Online Investing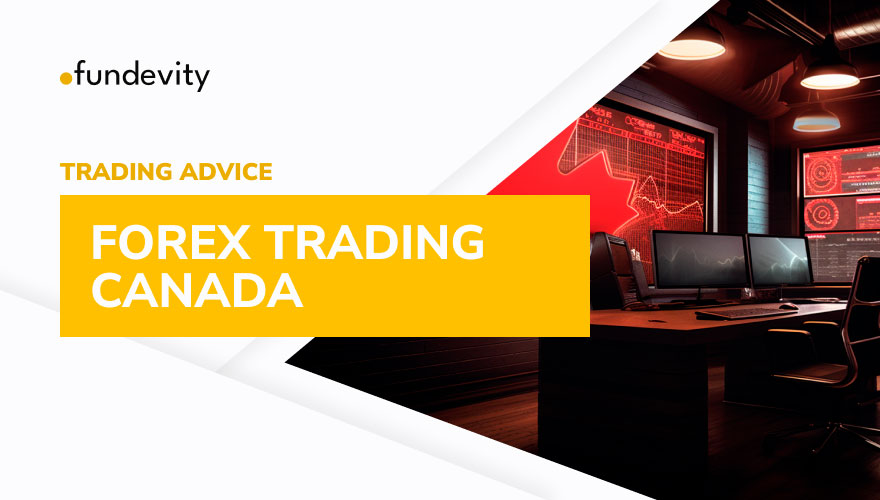 Are you ready to dive into the fast-paced and dynamic realm of online investing? Whether you're a seasoned investor or just starting out, this blog post provides all the essential facts about Forex trading Canada. 
From understanding what Forex trading entails to finding the right broker, we've got you covered. 
What is Online Forex Trading?
Online Forex trading, also known as foreign exchange trading, is the process of buying and selling currencies on the global market. Unlike traditional stock trading, where investors buy shares of companies, Forex traders speculate on the price movements of currency pairs.
One of the main advantages of online Forex trading is its accessibility. With just a computer or mobile device and an internet connection, you can participate in the world's largest financial market 24 hours a day, five days a week. This flexibility allows traders to take advantage of opportunities at any time.
Forex trading operates on a decentralized network consisting of banks, financial institutions, corporations, and individual traders like yourself. Currency pairs are traded electronically over-the-counter (OTC), meaning there is no physical exchange involved.
To make profits in Forex trading, you need to understand how currency prices fluctuate and be able to predict their future movements accurately. Traders use various tools and techniques, such as technical analysis charts and economic indicators, to analyze market trends.
Is Forex Trading Legal in Canada?
Is Forex trading legal in Canada? The answer is yes! Forex trading is perfectly legal and regulated in Canada. However, it's important to note that brokers operating within the country must be registered with the relevant regulatory authorities.
The Investment Industry Regulatory Organization of Canada (IIROC) is the main regulatory body overseeing Forex trading Canada. They ensure that all registered brokers adhere to strict rules and regulations to protect Canadian investors. This provides a level of trust and security for traders looking to invest their money.
As a trader, it's crucial to choose a broker who is authorized by IIROC or other recognized regulatory bodies such as the Financial Transactions and Reports Analysis Centre of Canada (FINTRAC). These organizations help maintain integrity within the industry by monitoring financial transactions and preventing money laundering activities.
In addition to ensuring compliance with regulations, choosing a reputable broker also guarantees access to various benefits such as segregated client accounts, competitive spreads, reliable customer support, and advanced trading platforms like MetaTrader 4 or 5 (MT4/MT5).
Forex Market Hours Canada
When it comes to Forex trading, timing is everything. Different countries have different market hours, and understanding the Forex market hours in Canada can help you make informed trading decisions.
The Forex market operates 24 hours a day, five days a week. However, not all trading sessions are equal in terms of liquidity and volatility. Major Forex trading sessions include Asian, European, and North American.
Canada's most active Forex trading session is during the North American session, when both New York and Toronto markets are open simultaneously. The overlap between the two markets creates increased liquidity and potentially greater trading opportunities.
It's important to note that while the market may be open 24/5, it doesn't mean that every currency pair will exhibit high volatility throughout this entire period. Understanding which currency pairs are more active during certain times can help you optimize your trading strategy.
How to Choose a Forex Broker in Canada?
When it comes to choosing the best Forex broker in Canada, there are several factors that you should consider. First, you must ensure the broker is regulated by a recognized authority such as the IIROC. Knowing that your funds are protected will provide peace of mind.
Another important factor to consider is the range of tradable instruments the broker offers. Look for a broker that provides access to various currency pairs, commodities, indices, and cryptocurrencies.
Additionally, consider the fees and spreads charged by different brokers. Some brokers may have lower commissions but higher spreads or vice versa. Assess your trading style and choose a broker that aligns with your needs.
Don't forget about customer support. A reliable Forex broker should offer excellent customer service through various phone, email, or live chat channels.
MT4 and MT5 Brokers
When it comes to Forex trading in Canada, choosing the right broker is crucial. One important aspect to consider is whether the broker offers MetaTrader 4 (MT4) or MetaTrader 5 (MT5) as their trading platform.
Both MT4 and MT5 are popular among traders for their user-friendly interfaces, advanced charting tools, and customizable features. However, there are some key differences between the two platforms.
MT4 is known for its simplicity and reliability. It has been around for a long time, and many traders are familiar with its interface. It offers a wide range of technical indicators and expert advisors that can automate your trading strategies.
On the other hand, MT5 is a more advanced version of MT4. It offers additional features such as more order types, depth of market information, and an integrated economic calendar. It also allows traders to trade Forex and other financial instruments like stocks and commodities.
Consider your trading style and preferences when choosing between an MT4 or MT5 broker in Canada. If you prefer simplicity and reliability, go for an MT4 broker. If you want access to more advanced features and different markets, opt for an MT5 broker.
Conclusion
In this article, we have explored the world of online Forex trading Canada and uncovered some important facts about this popular investment option. We learned that online Forex trading involves buying and selling currencies on the foreign exchange market, intending to profit from exchange rate fluctuations.
We also discovered that forex trading is legal in Canada, but it is regulated by various authorities to ensure fairness and transparency. Canadian traders can take advantage of flexible market hours, as the Forex market operates 24 hours a day, five days a week.
To make your journey into online investing smoother and more profitable, take your time to research different brokers and compare their offerings before making a decision. Remember to always prioritize safety and reliability over flashy promises or low fees.
Finally, contact our expert advisors if you need help choosing the right broker within your legal jurisdiction. We're at your disposal for anything you might need. Book a free, non-obligatory consultation today.