June 18, 2023
Reading Time:
5
min
Fred Trading Review: Sweet Lies for Victimizing EU Traders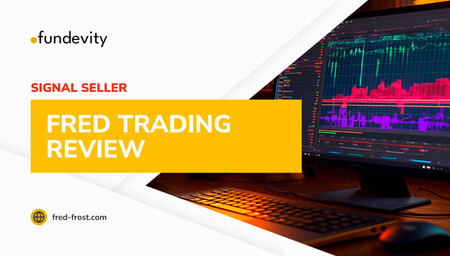 Have you been lured by Fred Trading? This is a platform that has gained significant attention on social media platforms. It is especially popular on Instagram and TikTok. We have thoroughly investigated Fred Trading and its founder, Fred Frost. 
We did that to uncover the truth behind this operation. In this Fred Trading review, we will shed light on the legitimacy of Fred-frost.com. We will expose how they make money, and the testimonials surrounding the platform. Ultimately, we will provide our verdict on whether it is a scam or not.
| | |
| --- | --- |
| | General information |
| Name: | Fred Trading / Fred Frost Trading |
| Warnings from Financial Regulators: | No official warnings |
| Website link: | https://fred-frost.com/ |
| Active since: | 30 September, 2022 |
| Registered in: | n/a |
| Contact info: | [email protected] |
| Trading platforms: | n/a |
| Majority of clients are from: | the United Kingdom, Denmark, the Netherlands, Australia, and Canada |
| Customer support: | Email & social media |
| Compensation fund: | No |
Who Stands Behind Fred-Frost.com?
Who is Fred Frost, the person behind the Fred Trading scam? This con artist portrays an extravagant lifestyle on his Instagram account and stories. But, our investigation reveals that his story is shady, designed to lure in traders. It is crucial to be cautious when dealing with individuals like Fred Frost. Such fraudsters refuse to answer questions about the regulation of their company. 
This evasive behavior raises red flags and casts doubt on the legitimacy of Fred Trading. Also, our findings show that Fred Frost responds rudely to people in direct messages on Instagram. All this is to hide its bogus operations. This lack of professionalism further reinforces the notion that the Fred Trading forex scam is erratic.
Is Fred Trading Legit?
We must consider how a legitimate business should be organized in terms of legal aspects. One red flag we found is the absence of any legal documentation. For instance, terms of use, policies, or disclaimers are missing on the company's site. Not to mention the Fred Trading Trustpilot reviews that are all fabricated. Additionally, it is crucial to note that they impersonated a CySEC regulation.
Fred Trading has duped individuals in countries such as the United Kingdom, Denmark, the Netherlands, Australia, and Canada through fraudulent practices.
Unveiling Fred Trading's Profit Mechanism
To understand how this fake name generates its revenue, we need to fully expose it. By delving into the details, we can expose the methods Fred Frost employs to profit. This individual claims everything is free. Still, there are underlying factors that contribute to potential earnings. These are often unrelated to Fred Frost's assistance. 
Sadly, many people end up losing their funds through this platform. What's more, negative Fred Trading reviews are often outnumbered by orchestrated positive ones. Additionally, our investigation has uncovered the use of unethical practices. The scammer published a paid article on Yahoo Finance, to further deceive traders.
Can I Earn Money Trading Forex with Fred Frost?
While it is possible to earn money trading forex, it is vital to analyze the overall process. Success is more likely due to other factors beyond Fred Frost's bogus guidance. 
Still, the reality is that most individuals lose their funds while using Fred Trading. And their experiences often go unnoticed due to the overwhelming number of fake positive reviews.
Are There Any Real Testimonials for Fred Trading?
We have extensively searched to compile genuine testimonials from individuals. The majority of these real testimonials reveal negative ratings from victims who fell prey to this scam. Many of these people lost huge sums of money. It is crucial to carefully consider these authentic experiences.
If you are currently looking for reliable brokers, we strongly encourage you to reach out to us for assistance. Our team is dedicated to helping traders like you find trustworthy partners in the ever-evolving trading world. Don't hesitate to contact us for guidance and support throughout your trading journey.
Fake Trustpilot Reviews
One aspect that requires immediate attention is the abundance of fake Trustpilot reviews for Fred Trading. It is alarming to note that there are currently 1297 reviews on Trustpilot. Nearly all have an astonishing perfect score of 5.0. Yet, note that these reviews are part of an elaborate scam orchestrated by Fred Trading.
Trustpilot is a reputable platform for gathering customer feedback. Still, it is essential to exercise caution when relying only on its reviews as a bar of credibility. In the case of Fred Trading, the most genuine reviews are often those marked as one or two stars. These negative reviews shed light on the true nature of the platform. They expose its deceptive practices and fraudulent activities.
Traders must recognize the danger posed by these fake Trustpilot reviews. They create an illusion of reliability. They only serve to lure individuals into believing in the legitimacy of Fred Trading. The orchestrated perfect score misleads potential traders, by all means. The score makes it increasingly challenging to differentiate between genuine and fabricated experiences.
We strongly advise traders to delve deeper into their research. Never solely rely on Trustpilot reviews when evaluating a company's credibility. Look for verified negative reviews, as they often provide priceless insights into the true nature of a firm. Besides, seek advice from trusted sources and consult with industry professionals. You can always contact us for a free consultation and help. 
Fake Video Reviews on Instagram
Fred Frost manipulates Instagram with fake video reviews. He sadly does this to create an illusion of trust and success. These videos deceive viewers, aiming to convince them of Fred Trading's legitimacy. Stay skeptical and avoid falling for these deceptive tactics. Be cautious when facing flashy videos and lavish claims. 
Keep in mind that they are carefully designed to mislead. Protect yourself by relying on verified information. Always do your research, and seek recommendations from trusted sources. Don't become a victim of Fred Frost's fraudulent scheme. Stay vigilant, remain wary, and make informed decisions based on reliable data.
Fake Reviews on TikTok
Similar to Instagram, Fred Trading creates fake TikTok reviews. It does this to enhance its reputation even more and increase awareness. What's more sinister is the fact that these videos appear on the first page of Google. 
Recognizing these videos as part of a larger manipulation strategy is important. Traders should be alert and rely on reliable data sources when making any decisions.
Long Story Short: FredTrading
After a thorough investigation, it is evident that Fred Trading operates as a scam. Fred Frost and associates use a number of deceptive tactics. They manipulate social media platforms and refuse to address regulation questions. Our message to traders is clear: if you want to trade safely and earn money online, avoid dubious opportunities for easy money. Instead, seek advice from experts and choose legitimate companies and brokers that align with your needs.
If you need help finding a reliable broker or have questions regarding safe trading, contact us. We provide free consultations to assist you in making informed decisions.
FAQ Section
Is Fred Trading a Scam?
Yes, Fred Trading is a scam operation that deceives traders with false promises and fraudulent practices.
Are Fred Frost Trading Reviews Real?
No, most of the positive reviews of Fred Frost Trading are fabricated and part of a scam.
How To Find A Broker For Safe Trading?
Consult our experts for free, no-obligation advice on finding a trustworthy broker for safe trading. Contact us today!