May 25, 2023
Reading Time:
4
min
FxEx Review: A Detailed Review of this Bogus Broker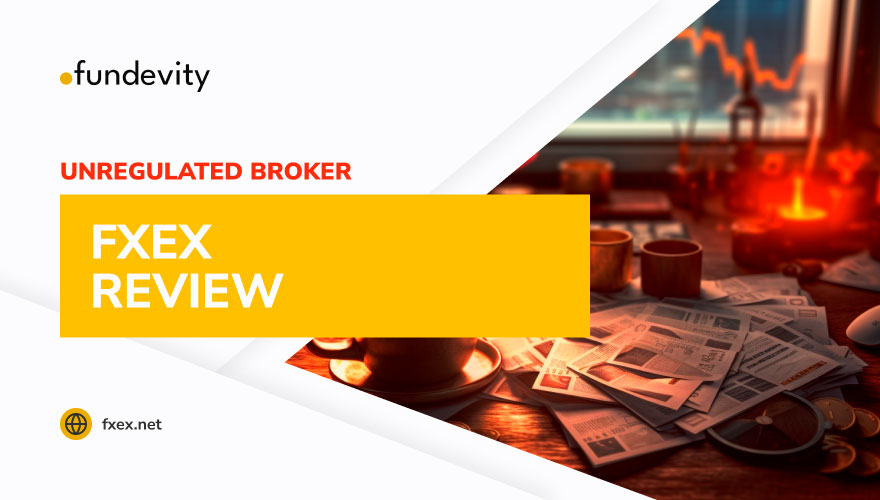 FxEx.net, also known as FxEx, is among the many websites that portray themselves as reputable and acclaimed forex brokers. That assures investors of their trustworthiness and reliability. While some of these claims may be true, many others are misleading. 
Unfortunately, FxEx.net falls into the latter group. In our honest FxEx review, we will explore why it is not a legitimate financial services provider. That makes it imperative to reject its services. Read on for more! 
Company

n/a

Headquarters

New Zealand

Website

fxex.net

Warning

n/a

Platforms

WebTrader,

MT4, MT5

Minimum Deposit

$50

Leverage

1:1000

Spread

1-2 pips

Review Rating

1/5
License and Safety of Funds at FxEx
FxEx.net lacks essential information, including company identity, contact details, and regulatory compliance. Note that these details are crucial for determining the broker's legitimacy. Legitimate brokers prioritize transparency by providing clear information and legal documentation. 
Despite claiming registration in New Zealand, we couldn't verify this claim. Remember that trusted brokers are typically based in reputable financial centers like the UK, EU, USA, or Australia. They usually adhere to regulations enforced by respected bodies such as the FCA, CYSEC, CFTC, and ASIC. These regulatory entities provide important investor protection, including safeguards against negative balances and fund separation. 
Brokers in the EU and UK also participate in guarantee schemes to protect investments in insolvency. It is advisable to invest with licensed intermediaries operating within robust regulatory frameworks. It's worth noting that FxEx lacks licenses from governing bodies like the FCA, ASIC, and BaFin, and doesn't possess Tier 1 regulation.
Trading Platform Overview
Furthermore, FxEx's lack of transparency regarding its software raises considerable concerns. Despite claiming to offer the famous MetaTrader platform, there is no option to test it out. MetaTrader is widely recognized as the industry's leading trading platform, known for its fast execution and superb tools that enhance trading outcomes.
FxEx allegedly supports both MT4 and MT5, as well as a mobile-optimized app for Android. However, the credibility of these claims remains questionable when dealing with unregulated brokers like FxEx or Maddex Capital.
It is advisable to use established and regulated brokers to prioritize your funds' safety. Additionally, looking for brokers that provide a demo account is crucial. This lets traders experience platform features without risking their money.
Account Types Available
Account types at FxEx deviate from the standard norm as they provide two options:
Individual Account: Requires a minimum deposit of $50.

Corporate Account: Requires a minimum deposit of $50,000. Traders enjoy similar conditions, but corporate accounts offer tighter spreads. Both account types offer swap-free options.
Regrettably, FxEx does not offer demo accounts. Instead of providing demo accounts for potential users, the broker insists on a full registration process. This compels individuals to disclose personal information to this questionable broker to test their services. Also, this further emphasizes the importance of regulations in selecting a broker.
Note: Please exercise caution when engaging with companies like FxEx and Maddex Capital to prioritize your safety.
FxEx – Deposit and Withdrawal
Despite promoting trusted payment options, this broker's credibility remains questionable. The advertised payment methods include credit/debit cards (Visa, Mastercard, Amex), e-payments (Skrill, Neteller, PayPal, FasaPay, UnionPay), and crypto (BTC). Yet, the authenticity of these claims can only be verified by registering with the broker. Based on reviews of FxEx, they heavily rely on cryptocurrencies for their anonymity and limited traceability.
The lack of proper legal documentation provided by FxEx.net raises concerns about potential scheming practices. Note that fake brokers often employ tactics to make fund withdrawals difficult. These tactics include imposing high fees and setting unrealistic trading volume conditions that are nearly impossible to fulfill.
How Does This Scam Operate?
In the online world, we often see enticing advertisements that promise quick and effortless wealth. This goes without saying. However, it is crucial to acknowledge that these promises are unrealistic and outright scams.
Fraudulent brokers take advantage of the public's limited knowledge of capital markets to benefit themselves. Sharing your contact information on flashy websites opens the door for persuasive scammers. These manipulators specialize in deceiving individuals and luring them into fraudulent schemes. They convince people to engage in dishonest acts, starting with small sums like $100 or $200 to gain trust. Once trust is established, they gradually persuade victims to contribute larger amounts.
Unfortunately, your money will never actually be invested in the market, and you will not receive the promised profits or returns on your initial deposit. When you try to withdraw your money, deliberate obstacles will arise. These traps often involve excessively high minimum trading volume requirements or withdrawal fees that can consume 10%, 20%, or even more of your funds.
Subscribe to Our Newsletter for Valuable Trading Insights
Stay informed with our exclusive newsletter! Sign up today to receive helpful insights and updates and get them delivered directly to your inbox. Stay ahead of the curve with helpful info tailored to your trading needs. 
Don't miss out on the latest market trends, expert analysis, and trading tips. Join our community and enhance your trading journey with our informative newsletter. Subscribe now and never miss an important update again!
FxEx
Summary
When it comes to legitimacy, FxEx falls short of industry standards. Despite claiming to be a reputable broker, their registration claims cannot be verified, casting doubt on their credibility. Legit brokers prioritize transparency and investor protection, qualities that FxEx lacks. No licenses from respected regulatory bodies like FCA, ASIC, and BaFin, as well as the lack of Tier 1 regulation, raise grave concerns.
Similarly, the lack of transparency encircling the MetaTrader platform used by FxEx diminishes its credibility. Odd account types and the absence of a demo account for potential users only add to the doubts. Besides, FxEx heavily relies on crypto, despite advertising other trusted payment options, which further raises fears about their practices.
To safeguard your investments, it is highly recommended to choose a regulated broker with transparent practices.
FAQs
Is my money safe with FxEx?
No, your money is not safe with this company.
Does FxEx offer demo accounts?
Yes, they claim to do so. Yet, when you register for a demo account, you will not receive login credentials.
How secure is FxEx?
They are not safe. Stay far away from them.