March 26, 2023
Reading Time:
6
min
FxPro Review – Learn More About FxPro.Com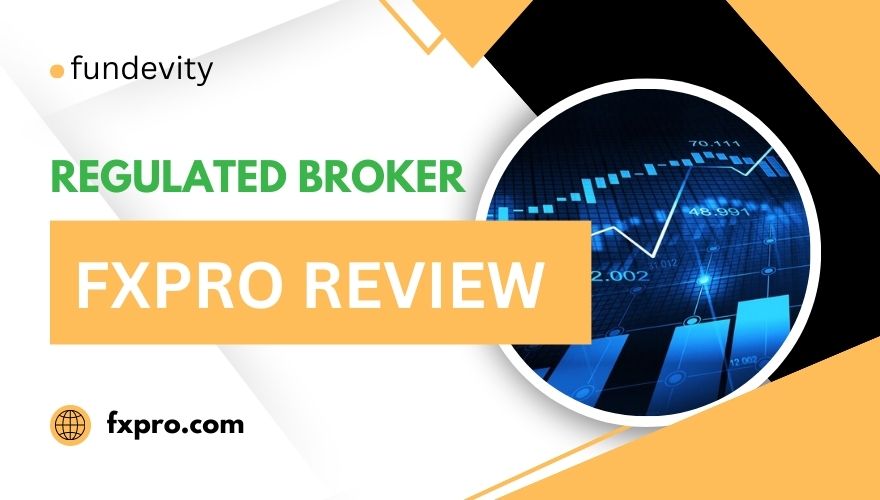 FxPro is a regulated international broker that operates under the supervision of the UK FCA, CySEC of Cyprus, and the SCB in the Bahamas. They offer a fast, easy, and fast online account opening procedure. The customer service of FxPro is efficient, provides quick and relevant responses, and is available in multiple languages.
With a range of deposit and withdrawal options that are all free of charge, FxPro provides a convenient trading experience. However, their product portfolio is limited to just FX and CFD. They have average non-trading fees, including an inactivity fee that is charged after 12 months of inactivity. Let's take a look at more relevant details in this FxPro review!
Headquarters
UK HQ, 13-14 Basinghall str., The City of

London, EC2V 5BQ, UK

Regulation
UK FCA, CYSEC of Cyprus, and the SCB

in the Bahamas, FSCA of South Africa

Instruments
Forex, Spot Indices, CFDs, Spot metals, Crypto
Platforms
MetaTrader 4, MetaTrader 5, cTrader,
Demo Account
Yes
Base Currencies
USD, EUR, PLN, GBP, AUD, CHF, JPY, ZAR
Minimum Deposit
100$
EUR/USD Spread
from 0.1 pips
Education
Videos, tutorials, written content
Customer Support
Live Chat, Email
FxPro Pros and Cons
FxPro is a reputable online broker that provides access to a range of financial instruments, including FX, stocks, commodities, and indices. Here are some of the pros and cons of using FxPro as a broker:
Pros:
Regulated Broker: FxPro is regulated by many financial authorities, including the FCA, CySEC, and DFSA. This gives traders assurance that they are working with a reputable and legit broker.
Competitive Spreads: FxPro offers tight spreads on its trading platforms, which can help traders save on trading costs.
Wide Range of Trading Platforms: FxPro offers a wide range of trading platforms. That includes MT4, MT5, cTrader, and its proprietary FxPro Edge platform. This gives traders the option to choose a platform that suits their trading needs.
Multiple Account Types: FxPro offers multiple account types, including demo, standard, and premium accounts. This lets traders choose an account that matches their trading style and preferences.
Educational Resources: FxPro provides educational resources, including webinars, trading tools, and market analysis, which can help traders enhance their trading skills.
Cons:
Limited Cryptocurrency Offerings: FxPro does not offer a wide range of crypto trading options, which may not be right for traders interested in this asset class.
Inactivity Fees: FxPro charges inactivity fees on accounts that have been inactive for more than a year. This can be a flaw for traders who do not trade frequently.
Limited Deposit and Withdrawal Options: FxPro offers limited deposit and withdrawal options compared to other brokers. This may not be suitable for some traders who prefer more options.
No US Clients: FxPro does not accept US clients, which can be a disadvantage for traders based in the US.
High Minimum Deposit: The minimum deposit for a standard account with FxPro is $500, which may not be cheap for some traders.
FxPro Awards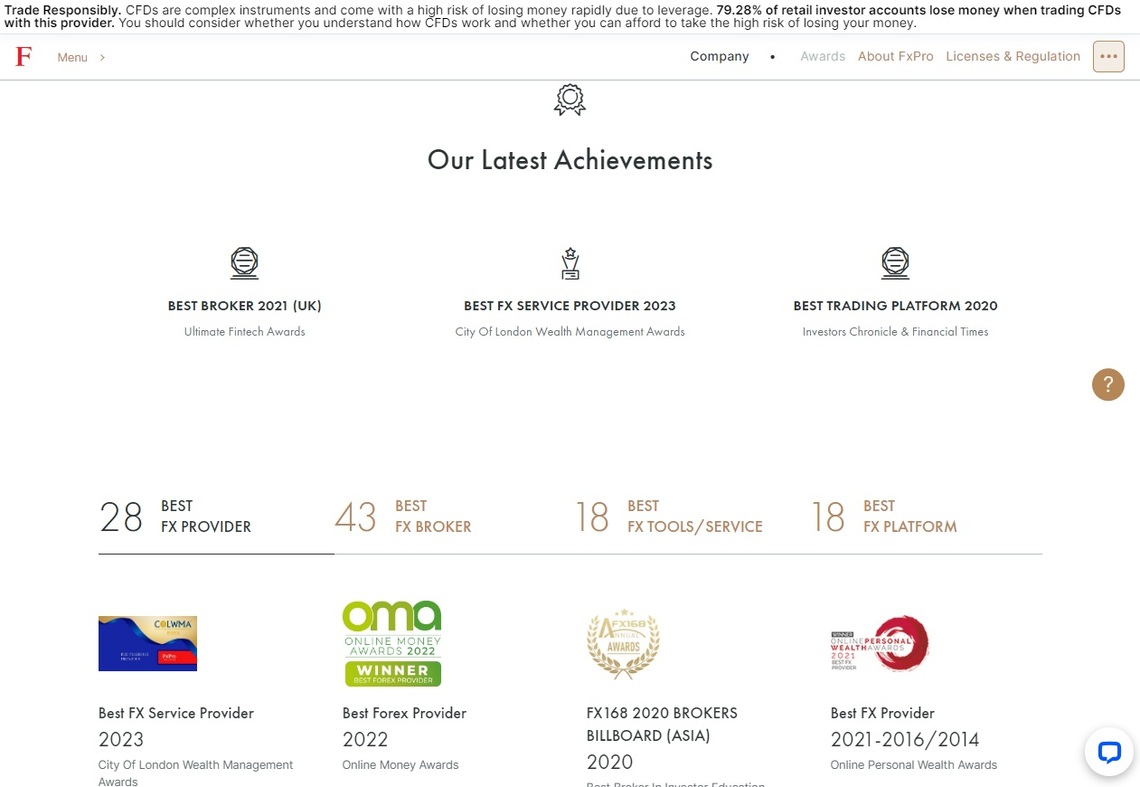 FxPro is a highly acclaimed broker that has earned numerous awards, with a total of over 95 accolades to its name. Its most notable awards include "Best Forex Trading Platform" and "Best Trading Platform."
These awards recognize FxPro's exceptional performance in many areas, including tech, innovation, and customer service. By earning these awards, FxPro has demonstrated its commitment to providing its clients with a top-notch trading experience and has set itself apart from its competitors.
How Safe is FxPro? Regulation and Security
FxPro is regulated by four financial service commissions. These are the FCA in the United Kingdom, CYSEC in Cyprus, FSCA in South Africa, and SCB in The Bahamas.
Please note that trading in CFDs with FxPro UK Limited carries a high risk due to leverage, with 78.87% of retail investor accounts losing money. Before engaging in CFD trading with this firm, try to consider your knowledge of how CFDs operate and whether you can bear the potential loss of your money.
A similar warning applies to trading CFDs with FxProFinancial Services Ltd, where 79.27% of retail investor accounts have shared losses.
Moreover, for those trading CFDs with FxPro Global Markets Ltd, the risk is even higher than 84.69% of retail investors losing money. It is critical to evaluate your knowledge and your ability to sustain potential losses before any trading.
FxPro Leverage
FxPro offers a flexible leverage model for forex trading, with the levels of leverage defined by the regulations set by each respective entity.
According to our research, the maximum leverage through FxPro may vary depending on the client's location and the instrument or platform they are using.
For clients based in Europe, the maximum leverage they offer is 1:30. Meanwhile, for international traders, the maximum leverage is 1:200.
FxPro Account Types Offered
At FxPro, there is a single account option that provides a comprehensive set of benefits. In addition, there are Micro Accounts and Swap-free accounts available for clients.
The broker also offers a demo account for practice purposes, which can be easily switched to a live account directly from the trading platform.
Trading Instruments Offered by FxPro
According to our research, FxPro initially established itself as a forex broker. Yet, over time, it expanded its offerings to include CFDs on six different asset classes, providing access to over 2100 trading instruments.
The company continues to grow by adding additional trading instruments to its platform. Our evaluation of FxPro's market range resulted in a score of 8.5 out of 10. This is due to the extensive selection of trading instruments available for Forex, Futures, Indices, Crypto, and more.
Funding Methods at FxPro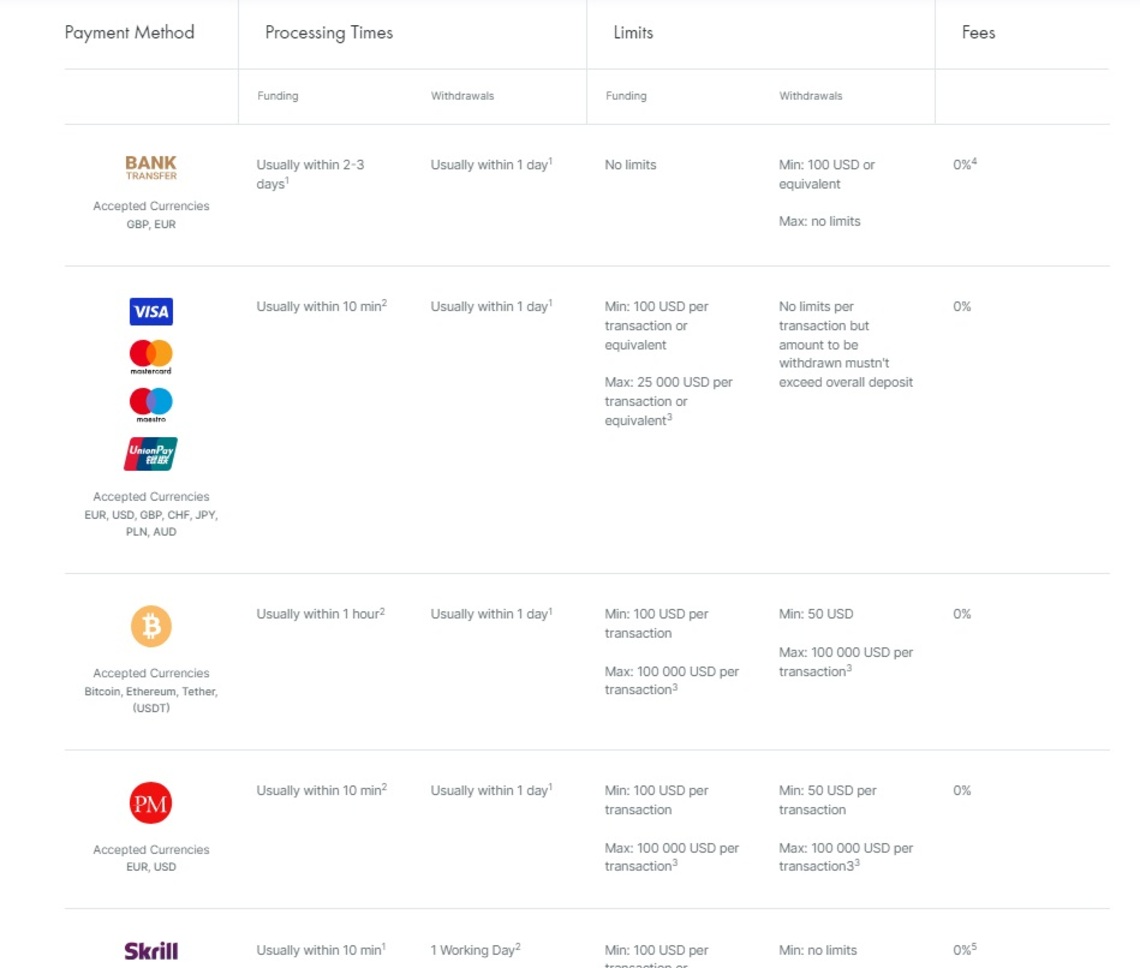 FxPro offers multiple payment methods, including credit/debit cards, bank wire, PayPal, Skrill, and Neteller. However, it is important to confirm the availability of each method based on regulation.
There are many ways to fund your trading account and enjoy zero fees for money transfers. This is a fact! Nonetheless, it's crucial to verify the conditions based on the FxPro entity you're trading through.
Remember: Offering multiple funding methods can help brokers to attract and retain clients. This is important for their business growth and success.
FxPro Trading Platforms Overview
FxPro provides several trading platforms, including MT4. It features high levels of customization and a transparent fee report. However, it has limitations, such as a lack of price alerts and an outdated design.
FxPro also offers a well-designed and UI-friendly mobile trading platform through the MT4 app. The app has a good search function but does not currently support Touch/Face ID login.
In addition to MT4, FxPro offers other mobile trading platforms such as MetaTrader 5 (MT5), cTrader, and the FxPro Direc. We tested the MT4 platform on mobile, similar to the web trading platform.
Once you have downloaded the MT4 mobile app, you will be able to access the suitable FxPro server, for example, FxPro.com-Real07. For iOS devices, all language options are the same as the web version. On Android, the app uses the default language of the user's phone, with no language option available.
Educational Tools
FxPro offers a range of educational resources. These include a demo account, tutorials for their trading platforms (excluding the MetaTrader platforms), as well as videos and written materials.
So, there is a lot to choose from. It's never too late to start learning, by all means.
Customer Support
FxPro provides a good support team that is available 24 hours a day, 5 days a week to assist you with any questions, concerns, or requests you may have.
This team is capable of communicating with traders in more than 20 languages, ensuring that everyone can receive help in a language they are comfortable with. The support team is well-trained and tech-savvy and can assist with a variety of topics.
FxPro Overall Summary
FxPro is a regulated broker, with top-tier authorities such as the FCA managing its operations globally. On the positive side, opening an account with FxPro is fast and efficient, with a wide range of deposit and withdrawal options available. Customer service is also vital, with support offered in many languages.
Yet, there are some drawbacks to consider. FxPro's product range is limited to forex and CFDs, and its trading fees are generally low but can be relatively high for some stock CFDs. Also, a $15 one-time account maintenance fee and a $5 monthly fee occur after 12 months of inactivity.
All in all, FxPro is a wise option for those who are interested in FX and CFD trading and value a smooth account opening procedure. You can also try it out with a demo account.
FAQs
What Account Types are Offered at FxPro?
FxPro offers one account with a full package of advantages, Micro and Swap-free accounts. A demo account is available too.
Is FxPro Broker Good for Beginners?
Based on our findings and this review, FxPro is a good choice for beginner traders.
What Is FxPro Minimum Deposit?
The minimum deposit is 100$. This is a relatively fair amount in comparison to other brokers.
Does FxPro Charge Fees?
FxPro broker does not charge any fees or commissions on deposits or withdrawals.