June 22, 2023
Reading Time:
8
min
FxView Broker Review: Exploring the Trading Services of FxView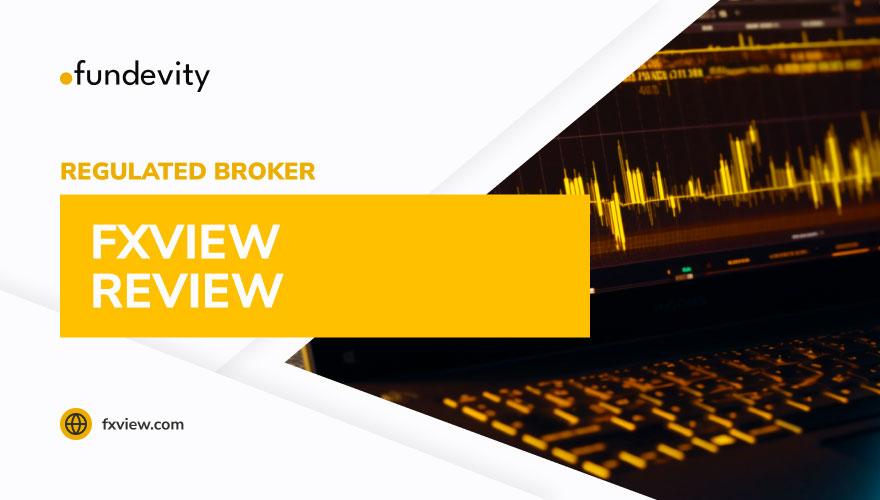 FXview is a prominent broker. It has made its mark in Cyprus, India, and the offshore destination of Saint Vincent and the Grenadines. With a global reach, FXview warmly welcomes clients from all corners of the world. This excludes countries like the USA, Cuba, India, Iran, North Korea, Sudan, Syria, and others where restrictions apply. 
At FXview, traders can experience refreshingly simple, human-centered, and distinctive trading. The company's unwavering commitment to compliance ensures a secure trading experience for all. Let's dig deeper into this FXview review. 
Is Fxview Legit and Safe?
FXview stands out with its distinctive group of brokerage companies. Each has its own unique regulatory framework.
Charlgate Ltd, situated in Cyprus, operates under the oversight of the CySEC. It ensures compliance and adherence to industry standards.

Finvasia Securities Private Ltd, from India, operates within the regulatory framework established by the Securities and Exchange Board of India (SEBI). It protects the interests of Indian traders.

Charlgate SVG LLC is registered in Saint Vincent and the Grenadines. It operates independently without regulation from government authorities.
Besides, FXview holds group licenses from esteemed regulatory bodies including BaFin (Germany), ACPR (France), CONSOB (Italy), CNMV (Spain), FCA (UK), and more.
FxView's Commitment to Safeguarding Client Funds
To prioritize customer funds' safety, FXview holds segregated accounts. It ensures a clear separation between client funds and the company's own assets. This delivers an extra layer of safety. Notably, this assures clients that their funds are not accessible for company use.
Moreover, FXview's dedication to customer protection extends to its affiliation with The Financial Commission. This is an esteemed organization specializing in dispute resolution between traders and brokers. In the event of disagreements, traders are covered for amounts up to 20,000 euros, fostering trust and ensuring fair resolution.
General information
Name:

FxView

Regulation status:

Regulated Broker, FCA, BaFin, ACPR, CONSOB, CNVM, and Finanstilsynet

Warnings from Financial Regulators:

No official warnings

Website link:

https://fxview.com/

Active since:

2011

Registered in:

Gauteng 2076, South Africa

Contact info:

Yes,

[email protected]

, +357 2526-2288, +357 2526-2040, [email protected]
Trading platforms:

ActTrader, MT4, MT5

Majority of clients are from:

South Africa; India; Cyprus

Customer support:

24/5, email, press, phone, chat, and contact form

Compensation fund:

Yes
Asset List Overview
When it comes to trading assets, FXview has a full range of options to cater to various preferences. Here's an overview of the available trading assets:
Forex Pairs. FXview provides access to an impressive selection of 70 FX pairs. This includes major, minor, and exotic pairs. Examples include EUR/USD, GBP/JPY, and NZD/CHF.

Stocks. With over 400 stocks available for trading, FXview enables traders to participate in the equity market. Trade popular stocks such as Apple Inc. (AAPL), Amazon.com Inc. (AMZN), Alphabet Inc. (GOOGL), etc.

Stock Indices. FXview includes trading opportunities on 11 stock indices. They allow traders to speculate on global markets. Examples of indices include the S&P 500, FTSE 100, NASDAQ 100, and the Nikkei 225.

Precious Metals and Energy Carriers. Traders interested in diversifying their portfolios can access precious metals like gold and silver. In addition, they can access energy carriers such as crude oil and natural gas. These assets can serve as a hedge or provide exposure to commodity markets.
Fxview Leverage
One notable aspect of this firm is its leverage options, which allow traders to amplify their trading positions. While adhering to regulatory guidelines, FXview broker offers generous leverage ratios that can significantly enhance trading potential. European traders can use leverage up to 1:30, in line with EU regulations. Yet, FXview extends beyond those restrictions by providing offshore companies in SVG. 
This enables European traders to access higher leverage ratios of up to 1:500. This increased leverage presents an opportunity for traders to maximize capital efficiency and achieve enhanced returns. Traders need to understand the risks associated with leverage and exercise proper risk management strategies. 
Exploring FXview's Range of Trading Platforms
FXview empowers traders with versatile and UI-friendly venues that cater to different preferences and trading styles. MetaTrader 4 (MT4) is renowned for its robustness and intuitive interface. It offers a comprehensive range of charting tools, technical indicators, and automated trading strategies. With MT4, traders can execute trades efficiently. They can access real-time market data, and implement various analysis techniques to make informed trading decisions.
Building upon MT4, FXview also offers MetaTrader 5 (MT5). This is a next-generation platform with enhanced features and capabilities. MT5 offers advanced charting tools, additional order types, and improved execution speeds. It is a preferred choice for traders seeking more sophisticated trading functionalities.
In addition to the MetaTrader platform, FXview supports the ActTrader platform. While less commonly known, ActTrader offers a comprehensive trading environment. It is equipped with various order types and customizable features. Traders can also benefit from additional tools provided by FXview. These are the Autochartist real-time market scanner and the ZuluTrade deal copying tool. These enhance market analysis and provide opportunities for social trading.
When using these trading platforms, traders must remain vigilant and stay informed about market conditions. Implementing effective risk management strategies is crucial to successful trading.
MT4
MetaTrader 4 (MT4) is a well-established and popular platform. It stands as the cornerstone of FXview's trading offerings. Traders can experience seamless and feature-rich trading with MT4. The platform's superb interface allows for effortless navigation. 
Its extensive range of indicators, tools, and other features provides traders with the flexibility to analyze the markets. Besides, MT4 supports automated trading through expert advisors (EAs). With its reliability and ample features, MT4 remains a preferred choice for many traders worldwide.
MT5
Building upon the success of MT4, MetaTrader 5 (MT5) further enhances the trading experience. MT5 provides traders with an expanded selection of indicators, charting instruments, and timeframes. The platform's improved execution speeds offer additional flexibility in executing trades. With the ability to simultaneously manage multiple trading accounts and access a broader range of financial instruments, MT5 caters to the needs of both beginner and seasoned traders. 
As a result, MT5 has gained popularity as a comprehensive and powerful trading platform. It provides traders with enhanced tools and functionalities to meet their trading objectives.
ActTrader
Alongside the MetaTrader platform, FXview offers the ActTrader platform. This one provides an alternative option for traders seeking diversity in their trading experience. ActTrader offers a great interface and a range of order types. With customizable features, traders can adapt the platform to suit their unique preferences. 
ActTrader may be less known compared to the MetaTrader platform. Still, it presents a reliable and comprehensive solution for traders looking for an alternative trading experience.
All in all, FXview assists a range of traders by providing many powerful and user-friendly platforms. 
Fxview Account Types
Trading accounts at FXview are tailored to meet the needs of a variety of traders. The trading account you will see is the RAW ECN account. This one offers low spreads and a fixed, competitive commission of $1 per $100,000 traded. 
Besides, FXview provides Islamic accounts and a demo account. With these accounts, traders can trade interest-free. FXview strives to offer institutional-level spreads and high-quality execution to all traders. This ensures a fair and inclusive trading experience.
Demo Account
The broker presents a demo account for those looking to explore the trading environment without risking real money. This account provides a simulated trading experience using virtual funds. This allows traders to practice their strategies, familiarize themselves with the platform, and test various trading instruments. 
The demo account is an invaluable tool for both beginners and experienced traders. This exists to refine their skills and gain confidence before venturing into live trading.
Islamic Account
FXview acknowledges Muslim traders' needs and provides Islamic accounts. For some people, this is quite beneficial. These accounts are interest-free and operate according to Islamic finance guidelines.
General Trading Environment
FXview has a favorable trading environment that boosts transparency, efficiency, and competitive conditions. You have many trading instruments, including 70 FX currency pairs, 400 stocks, 11 stock indices, metals, and energy carriers. FXview maintains low spreads on these instruments, enhancing trading experiences for its clients. 
Besides, traders have access to popular trading platforms like MT4 and MT5. The firm also provides access to the ActTrader platform, catering to traders who prefer alternative solutions. Similarly, FXview has additional features such as the Autochartist real-time market scanner, the ZuluTrade deal copying tool, and a selection of customizable trading indicators. These features provide clients with valuable insights and tools to aid their decision-making process.
Fees and Taxes
When it comes to fees, FXview maintains a transparent fee structure, generated from spreads and commissions. Traders can expect competitive spreads and a fixed commission of $1 per $100,000 traded with the RAW ECN account. 
It is crucial for traders to consider any applicable taxes related to their trading activities. These may vary depending on their jurisdiction and local regulations. Seeking advice from a tax professional or advisor is recommended to ensure tax compliance.
The FXview minimum deposit is $200 for EU clients and $50 for global clients.
Education
We know that the FXview investment options are immense. This firm places importance on trader education. It includes a range of educational resources to empower traders with knowledge and skills. These resources may include comprehensive trading guides, webinars, video tutorials, market analysis, and more. 
By providing educational materials, FXview aims to support traders in enhancing their understanding of financial markets and more. Traders can take advantage of these resources to improve their trading strategies and decision-making abilities.
Note: Valutrades and Saxo are renowned brokers in the industry. In contrast, FXview stands out with its regulation by FCA, BaFin, ACPR, CONSOB, CNVM, and Finanstilsynet. 
Customer Support
FXview is dedicated to providing excellent customer support service to traders throughout their journey. The broker offers responsive customer support agents who address inquiries, concerns, and technical issues. 
Traders can contact the support team through various channels, such as live chat, email, or phone. This is quite beneficial. 
Payment Methods and Account Funding
What about the FXview withdrawal? FXview includes a wide selection of convenient payment methods. One commonly used method is wire transfer, which ensures secure and traditional bank-to-bank transfers worldwide. This option is suitable for those who prefer direct transactions and don't have credit cards.
For quick and safe online transactions, Skrill is available as an option. It allows traders to fund their accounts using payment cards, direct deposits, or directly from a Skrill e-wallet account. Similarly, Neteller, a popular online payment service, is widely accepted by most forex brokers, including FXview.
In addition to these methods, the firm also supports cards, Rapid Transfer, Klarna, Nordea Solo (for EU traders), as well as Virtual Pay, Payretailers, Help2pay, Rapid OZOW, and Crypto (for global traders). This wide variety of payment options ensures flexibility for traders worldwide.
Note: FXview and Exness are renowned brokers in the industry, each with its own distinct offerings and regulatory frameworks.
FxView Customer Reviews
At the time of writing, FXview has garnered 87 reviews on Trustpilot, a legit review platform. The overall score is 4.2 stars. These reviews provide valuable insights into traders' experiences with the company. Traders praise FXview for its competitive low spreads and commissions. 
Many have commended the platform's availability of popular trading platforms like MT4 and MT5. Furthermore, FXview's responsive support has been mentioned positively.
It's critical to note that customer reviews can vary, and individual experiences may differ. To understand FXview's reputation and services fully, we suggest reading reviews on Trustpilot and other reputable sources.
Ready to partner with a reliable broker? Get in touch with us, and we'll assist you in finding the best broker tailored to your specific needs.
Tip: Finvasia, the owner of FXView, is a prominent company known for its expertise and innovative solutions in the industry.
Long Story Short – FxView
FXview is a reputable broker known for its strong regulation and secure trading. FXview is regulated by many authorities. This includes FCA, BaFin, ACPR, CONSOB, CNVM, and Finanstilsynet. This ensures a high level of regulatory oversight. Traders enjoy low spreads and a wide range of tradeable instruments. 
The broker includes a simplified account structure with the RAW ECN account, catering to various budgets. Islamic accounts are also available. With MT4 and MT5, as well as tools like Autochartist and ZuluTrade, FXview provides a sweeping trading experience. The minimum deposit is $200 for EU clients and $50 for global clients. 
Looking for a reliable broker? Contact us, and we'll connect you with the best brokers tailored to your requirements.
FAQs
Is FXview a Good Broker?
Yes, this is a reputable broker with strong regulations, low spreads, and a wide range of tradeable instruments.
What Countries Are Restricted to FXview?
Restricted countries are Cuba, Cyprus, India, Iran, Sudan, South Sudan, North Korea, Syria, the United States, Lebanon, Belarus, Afghanistan, and Congo.
How To Find A Broker For Safe Trading?
Our free and no-obligation consultation can help you find a safe broker tailored to your trading needs.