June 09, 2023
Reading Time:
5
min
GoldberryCo Review: Is GoldberryCo Legit or a Scam?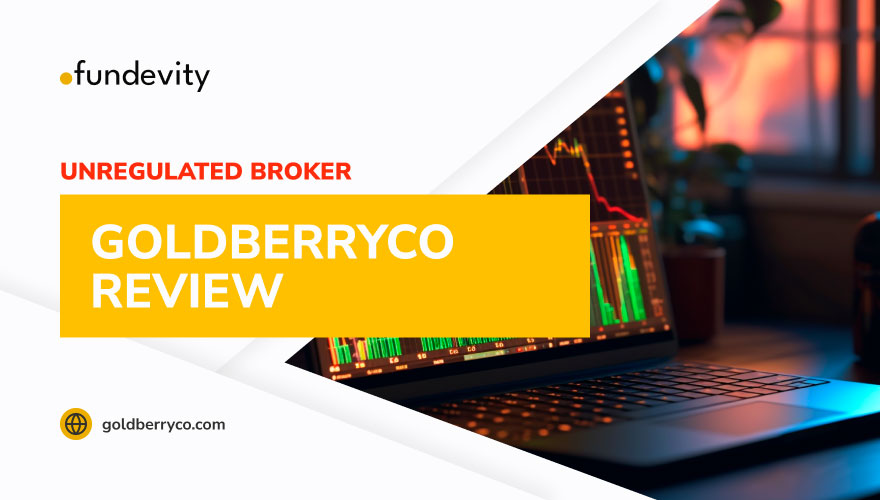 GoldberryCo is a company claiming to be reputable and headquartered in Montreal, Quebec (CA). Yet, it has been accused of engaging in fraudulent activities. Despite its alleged three years of operation in Canada and the European Economic Area, these claims are fabrications by the site owners. This is in an attempt to appear legitimate.
The truth is that GoldberryCo's domain was registered on December 1st, 2022. Since then, numerous complaints and reports of scams have surfaced.
In this GoldberryCo review, we will delve into the reasons behind these alarming accusations. 
| | |
| --- | --- |
| Company | GoldberryCo |
| Headquarters | 410 Rue Saint-Nicolas #236, Montreal |
| Website | goldberryco.com |
| Warning | CSA, NSSC, OSC, FCNB, BCSC |
| Platforms | WebTrader |
| Minimum Deposit | n/a |
| Leverage | 1200 – 1400 |
| Spread | n/a |
GoldberryCo's Regulatory Compliance and Fund Security
GoldberryCo's behavior raises serious concerns about its legitimacy. This is evident from the multiple warnings issued against them (CSA, NSSC, OSC, FCNB, BCSC). 
Canadian authorities have explicitly stated that GoldberryCo does not have the authorization to offer investment services. GoldberryCo would require a license from the state-level regulator, IIROC, which they fail to mention on their website. Licensing does not seem to be a priority for them.
IIROC's regulatory services mandate that licensed brokers must have segregated bank accounts for clients' funds. Yet, GoldberryCo's offering of leverage up to 1:400 is highly unacceptable. Beware that the regulations limit it to 1:50 in Canada and 1:30 in the EEA. This is another indication of GoldberryCo's attempt to push traders into risky investments.
While bonuses are allowed in Canada, they are banned in the EEA. GoldberryCo's Terms and Conditions mention a bonus policy, implying that bonuses may be available to all customers. 
To verify GoldberryCo's legitimacy, we conducted thorough checks in several databases for licenses. However, reputable regulatory bodies such as FINMA, FCA, BaFin, CySEC, CONSOB, and IIROC have no record of GoldberryCo. It seems that they lack the necessary permits for banking transactions and investment services.
Also, make sure to steer clear of another fraudulent broker called OTC. 
Trading Software Overview
It's evident that this dubious company has a knack for selectively targeting its victims. We attempted to register and we gained access to the client portal. Yet, we soon discovered that we couldn't interact with any of the functions, including opening the web trader. An error message popped up, instructing us to contact support for account verification and making deposits. It seems like the trading platform is either inaccessible or non-existent.
As an alternative, GoldberryCo offers options to download software for desktop and mobile users. Yet, when we tried to download the file, our antivirus software detected potential threats. It appears that this approach didn't work either. We can't help but wonder if GoldberryCo actually has a legitimate trading platform or if they simply distribute malicious files.
MT4 and MT5 are both highly popular and widely used platforms in this industry. They offer a range of powerful features and tools. These are designed to assist traders in analyzing the markets and executing trades effectively. 
Refer a Friend
GoldberryCo makes bogus claims regarding its Refer a Friend program on its website. They entice clients to invite their friends to trade with them. They promise ongoing earnings for both the client and their referred friends. They claim that for each credit earned, the client will receive $100.
Yet, it is important to expose the truth behind these claims. GoldberryCo fails to mention the significant limitations that render this program misleading. Firstly, the referred friend must make a one-time initial deposit of $500 or more and execute a single trade within six months of the invitation. GoldberryCo also prohibits referring the same person more than once. These restrictions severely limit the actual credit-earning potential.
Similarly, while GoldberryCo advertises that referral credits have no time limit or expiry, it is crucial to approach this claim with skepticism. 
Potential clients must be aware of GoldberryCo's deceptive Refer a Friend program and exercise caution.
Account Types Available
GoldberryCo's account types are presented simplistically, lacking specific details. The broker fails to provide information about the required initial investment or the features and costs associated with each account. The only disclosed feature is leverage, which can reach as high as 1:400. Yet, the overall transparency is questionable.
The available account types at GoldberryCo are:
The broker does not offer a demo account for traders to practice and explore the platform. As stated on the site, the only available account is a live trading account. Although we managed to register a new profile, we could not preview the trading platform. This implies that the demo account option is not available. 
Understanding Deposits and Withdrawals at GoldberryCo
By the time you reach the payout stage, it becomes evident that you have fallen into a fraudulent scheme. Once your account manager, or whoever they claim to be, starts distancing themselves and ignoring your inquiries, it becomes clear that something has gone terribly wrong. In truth, your investment in their scheme was doomed from the start.
One of the most alarming aspects is the potential bonuses GoldberryCo may offer you. Yet, withdrawing your funds becomes nearly impossible due to the requirement of fulfilling a specific trading volume. With GoldberryCo, your total trade volume must equal the bonus amount divided by four. This results in the number of standard lots required. For instance, if you received a $200 bonus, you would need to trade 50 lots. Each standard lot represents 100,000 units. This requirement is incredibly challenging, if not impossible, to achieve with just a $200 bonus.
Notably, fees pose another significant obstacle, accumulating with each withdrawal request. These fees are compounded by additional requirements. For instance, providing a colored photo of your credit card, ID, passport, and other personal documents. It's worth mentioning that RB Bitdeal, another bogus broker, employs similar deceptive tactics.
Cracking the Code: Unmasking Fraudulent Broker Tactics
Fraudulent brokers have an arsenal of deceitful tactics to exploit unsuspecting traders. Let's take a closer look at some of these clever strategies.
Sweet but false promises: These scammers dangle the temptation of quick profits and irresistible opportunities to entice their victims into their trap.

Relentless and pushy marketing: They employ aggressive tactics such as constant phone calls, spam emails, and flashy promotions. This creates a sense of urgency and pressures potential investors to make impulsive decisions.

Bogus credentials: These fraudsters shamelessly claim regulatory compliance or affiliation with reputable institutions.

Twisted trading platforms: They go to great lengths to manipulate trading platforms, distorting prices and trades to their advantage.

Sneaky hidden fees: Unscrupulous brokers impose excessive and undisclosed fees, quietly eroding traders' funds without their knowledge.
It's essential to stay on high alert and protect yourself from falling prey to these deceitful practices. Safeguard your investments by conducting thorough research. Always choose a reputable broker with a proven track record.
Unlocking the Path to the Best Broker: Connect With Us Today
As a committed company, our mission is to offer reliable guidance for safe trading brokers. Our primary objective is to shield traders from potential scams by providing them with accurate information. With our expertise and meticulous research, we strive to ensure a secure trading environment for all.
Discover more about us and gain access to priceless recommendations and comprehensive reviews. By making well-informed decisions, you can safeguard your investments. Contact us today for a free consultation and let us guide you on a successful trading journey.
GoldberryCo: A Comprehensive Summary
GoldberryCo has faced accusations of fraudulent activities and misleading claims. Their legitimacy is questionable, with their domain registered only recently and numerous complaints filed against them. 
They lack proper regulatory compliance and authorization to offer investment services. Also, their trading platform accessibility is limited, and they impose challenging withdrawal conditions with additional fees. Traders should consider reputable alternatives to protect their investments.
FAQs
How Secure is the GoldberryCo Trading Platform?
The security of the GoldberryCo trading platform is questionable.
Does GoldberryCo offer Demo Account?
No, GoldberryCo does not offer a demo account for traders to practice and explore the platform.
What Is the Minimum Deposit for GoldberryCo?
The minimum deposit requirement for GoldberryCo is not specified.