July 17, 2023
Reading Time:
5
min
Hamilton Court Foreign Exchange Limited Review: Empowering Clients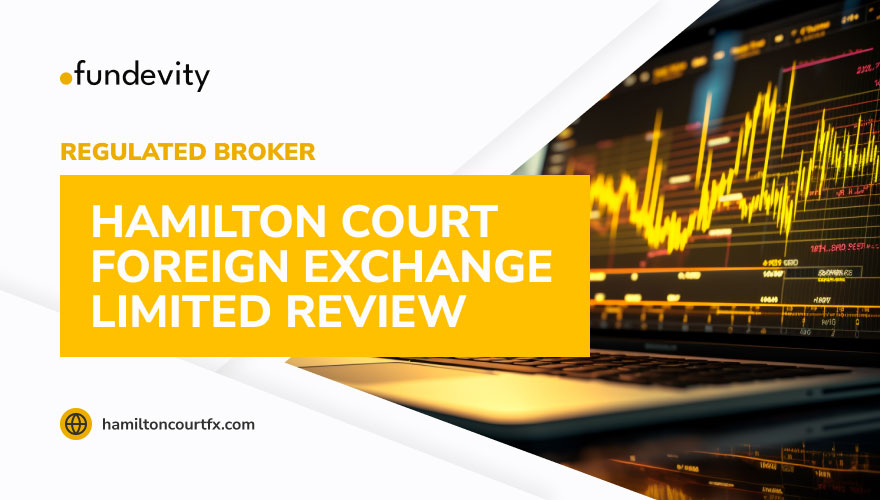 Welcome to HCFX, your trusted partner in finance. As an incorporated entity in the UK, regulated by the Financial Conduct Authority (FCA), HCFX provides comprehensive financial services globally. With a commitment to regulatory compliance, they are an authorized investment firm operating under strict regulations. 
Moreover, HCFX extends its reach to Canada, holding registration with FINTRAC as a Foreign Money Services Business. Keep reading our Hamilton Court Foreign Exchange Limited review for more.
Hamilton Court FX Regulation: Your Trusted Global Financial Services Provider
So, Is Hamilton Court FX safe? This company is incorporated in the UK and is regulated by the Financial Conduct Authority (FCA) (firm reference number 810631). HCFX adheres to stringent regulations, operating as an authorized investment firm. 
Expanding beyond the UK, their commitment to regulatory compliance extends to Canada. The company is registered with the Financial Transactions and Reports Analysis Centre (FINTRAC) as a Foreign Money Services Business. This registration illustrates their unwavering commitment to fulfilling their regulatory responsibilities. They also have a presence in Italy through HCFX SIM and HCFX PAY, incorporated entities with headquarters in Milan. 
As of 27/01/2021, HCFX SIM has been a registered and regulated investment company under CONSOB. The HCFX PAY company is a registered Payment Institution company. It is authorized and regulated by the Bank of Italy (registration number 103). 
HCFX's core values revolve around trust, compliance, and client satisfaction. Notably, they offer comprehensive financial services globally. HCFX is committed to the highest standards and regulations in the financial sector. They focus on customer service and strive for a secure and trusted environment. As a result, they have built a strong reputation in the industry.
General information
Name:

Hamilton Court Foreign Exchange Limited

Regulation status:

Regulated by FCA, FINTRAC, and CONSOB

Warnings from Financial Regulators:

No official warnings

Website link:

https://hamiltoncourtfx.com/

Active since

2011

Registered in

UK

Contact info:

[email protected]

, +44 (0)207 704 5650

Trading platforms:

n/a

The majority of clients are from

the United Kingdom, India, and the United States

Customer support:

Yes, email, and phone

Compensation fund:

Yes
Unlock Your Trading Potential With the HCFX Platform
Discover a trading platform designed for traders of all levels, whether you're a novice or an expert. HCFX offers advanced charting tools, real-time market data, and customizable interfaces, empowering you to tailor your trading experience to suit your needs. You can benefit from lightning-fast execution speeds and various order types.
Rest assured, HCFX prioritizes compliance and security. It implements robust risk management measures to protect your funds. Whether you're an individual trader or representing a corporate entity, the HCFX platform equips you with the essential tools to navigate the exhilarating world of foreign exchange with confidence. Unleash your trading potential and embark on a seamless journey with HCFX.
HCFX UK: Order Execution Policy
HCFX is committed to delivering the best overall result for its clients when executing orders. It runs beyond just obtaining the most reasonable price for individual trades. Their team considers factors such as costs, speed of execution, likelihood of execution and settlement, and other relevant considerations. 
This commitment is in line with regulatory requirements known as 'best execution' and reflects our MIFIDPRU status and business activities. Their Order Execution policy outlines the approach to this requirement. Here are some critical pieces of information from their Order Execution Policy. 
Simplifying Trade Execution at Hamilton Court Foreign Exchange
To ensure transparency, they provide an overview of typical dealing arrangements for different investment types and the execution venues they use. Their goal is to obtain the best execution outcome for clients. 
They consider factors such as execution speed, likelihood of execution and settlement, order size and nature, market impact, and implicit transaction costs. They utilize Multilateral Trading Facilities (MTFs) and off-exchange trading with regulated firms as execution venues, prioritizing their client's financial interests.
We could not find any specifics about the Hamilton Court FX bonus program on their website. Yet, they may offer transparent bonuses in the future.
Trading Assets at Hamilton Court Foreign Exchange
Hamilton Court Foreign Exchange provides its clients with a wide range of trading assets. The company offers access to over 40 currency pairs, including major, minor, and exotic pairs. This allows traders to diversify their portfolios and take benefit of market opportunities. 
Besides, Hamilton Court LTD offers precious metal trading, such as gold, silver, and platinum. These metals are considered safe-haven assets and are often used as a hedge against inflation and market volatility. The company also provides access to CFDs on indices, commodities, and shares. 
This allows traders to speculate on various financial instruments' price movements without owning the underlying asset. Hamilton Court Foreign Exchange has the most extensive suite of tools within the brokerage market.
Trading Platforms Available
More details about Hamilton Court Foreign Exchange's trading platforms may be available. Still, they are known for providing their clients with reliable and efficient trading solutions. 
While the exact platforms they offer may not be explicitly mentioned, reputable forex brokers often provide access to popular trading platforms such as MetaTrader 4 (MT4) or MetaTrader 5 (MT5). These platforms are widely recognized for their advanced features, user-friendly interfaces, and extensive technical analysis tools.
Note: TegasFX broker has been accused of having certain irregularities in its regulatory practices. Some traders have reported issues with withdrawals. This raises concerns about the overall safety and reliability of the platform. 
Trader Reviews for HCFX
Hamilton Court Foreign Exchange Limited does not currently have Trustpilot reviews. While Trustpilot is a popular platform for customer reviews and ratings, it is critical to note that the absence of reviews does not necessarily indicate negative aspects. Trustpilot reviews can be a helpful resource for gauging customer experiences. 
Yet, it is always advisable to conduct thorough research and evaluate other sources of information. Also, consider direct interactions with the company to assess their services and reputation.
Hamilton Court Foreign Exchange: Hassle-Free Withdrawals
Hamilton Court Foreign Exchange offers competitive spreads and commissions to its clients. The company charges a commission of $7 per lot for forex trading. The minimum deposit required to open an account with HCFX is $1,000. The company offers various payment methods, including bank wire transfers, credit/debit cards, and e-wallets.
Hamilton Court Foreign Exchange allows its clients to withdraw funds from their trading accounts at any time. The company processes withdrawal requests within 24 hours. However, the time taken for the funds to reach the client's account depends on the payment method used.
To withdraw funds from Hamilton Court FX, please log in to your account and go to the Hamilton Court FX Withdraw section. After that, select the withdrawal method you prefer and enter the amount you want to withdraw. Follow the instructions on the screen to complete the process. If you experience any issues or have questions, please feel free to reach out to Hamilton Court FX's customer support team for assistance.
Note: It is highly recommended to avoid ST Global Markets due to their suspicious regulations. Staying away from such brokers is crucial. 
Long Story Short – HCFX
To summarize, Hamilton Court Foreign Exchange Limited is a reputable and reliable financial services provider. They are committed to regulatory compliance. As an authorized investment firm regulated by the Financial Conduct Authority (FCA), HCFX ensures a secure environment for its clients. 
With a presence in the UK, Canada, and Italy, HCFX extends its services globally, offering monetary resolutions. While specific details about their trading platforms may not be disclosed, they are known for providing reliable trading solutions. 
Although there are currently no Trustpilot reviews available for the company, it is advisable to 
conduct thorough research and consider direct interactions. This will enable you to assess their services and reputation. Hamilton Court Foreign Exchange also offers hassle-free withdrawals and various payment methods for the convenience of its clients. Overall, HCFX strives to empower its clients.
Also, do you need a free consultation to find other reputable brokers like Thunder Markets or HCFX? Contact us today! 
FAQs
Who are Hamilton Court FX's Competitors?
Hamilton Court FX competitors include Currencies Direct, WorldFirst, and TransferWise.
What Is Minimum Deposit with Hamilton Court FX? The minimum deposit required to open an account
The minimum deposit required to open an account with Hamilton Court FX is $1,000.
Who owns Hamilton Court?
The co-founder of this investment company is Adam Musikant.