March 29, 2023
Reading Time:
3
min
Everything You Need to Know About Mortgage Call Reports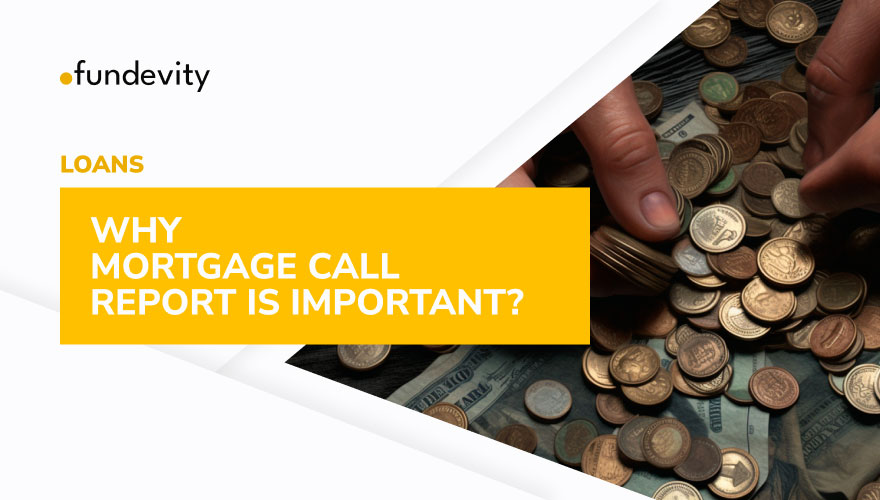 If you're in the mortgage industry, then you've probably heard of a Mortgage Call Report (MCR). But what exactly is it? And why is it so important for lenders and originators?
In this article, we'll cover everything you need to know about MCRs — from their definition and purpose to filing requirements and common mistakes. So, let's get started!
Mortgage Call Report: Its Definition and Purpose
If you are a mortgage lender or servicer, you are probably familiar with the MCR. The MCR provides state and federal regulators with information about your mortgage lending activities, which the Nationwide Multistate Licensing System (NMLS) requires.
The purpose of the MCR is to ensure that mortgage lenders and servicers are operating in compliance with state and federal regulations, and to help regulators identify potential risks in the industry. The report includes information about loan origination and servicing activities, as well as data on mortgage loan volume, delinquencies, and foreclosures. Most of its function is to ensure the accuracy of financial reporting.
Ultimately, by submitting the MCR on a regular basis, you can help ensure that your mortgage lending activities are in compliance with applicable laws and regulations, and help regulators identify and address any potential issues before they become major problems.
How to File Your MCR Report Correctly Every Time
Understand the Reporting Requirements.

Make sure you fully understand the MCR reporting requirements. This includes knowing what data is required, when it needs to be submitted, and how to properly format the report.

Keep Accurate Records.

Accurate record-keeping is crucial for a successful MCR submission. Keep detailed records of loan origination and servicing activities, loan volume, and other required information to ensure that your report is complete.

Use the Correct Codes.

Use the correct codes when reporting loan types, loan amounts, and other data. Check the MCR instructions and code sheets to ensure that you are using the right codes and categories.

Double-Check Your Report.

Double-check your MCR report for accuracy and completeness before submitting it. This includes verifying data, ensuring that all required fields are completed, and reviewing for errors or omissions.

Submit on Time.

Submit your MCR report on time to avoid penalties and fines. Set reminders for yourself or your team to ensure that you don't miss any reporting deadlines.
Make sure you have accurate and complete data, review your report thoroughly before submission, and be aware of the filing deadlines to avoid late penalties. Utilizing a reliable MCR software solution can help streamline the process and minimize the risk of errors.
Importance of Accurate Data in Your Mortgage Call Reports
Accurate data in your mortgage call reports ensures regulatory compliance, which avoids penalties or loss of licenses/registrations. It also helps identify areas where improvements could be made within your business operations.
Precisely put, having accurate data will help build trust with investors who rely on these reports when making investment decisions related specifically to mortgages. Ultimately, it will assist you in building your industry knowledge regarding this niche.
Accurate data can help build investor confidence in your business. By submitting accurate MCR reports, you can demonstrate that you have strong risk management practices in place, which can help attract investors and funding.
Submitting correct information is essential for maintaining compliance, managing risks, gaining business insights, protecting your reputation, and building investor confidence. If you're submitting accurate MCR reports, you can ensure that your mortgage lending activities are transparent, accountable, and in compliance with applicable laws and regulations.
Conclusion
In conclusion, if you are a mortgage lender or servicer, you need to understand the importance of MCRs in complying with federal regulations and ensuring the accuracy of your financial reporting. By submitting timely and accurate MCRs, you can enhance your operational efficiency and reduce the risk of penalties or fines. 
Make sure you know the requirements and deadlines for MCR submission and maintain thorough documentation to support your reports. Ultimately, a robust MCR process is crucial for maintaining compliance and securing the long-term success of your mortgage lending operations.
FAQs
Q: What happens if I don't file my mortgage call report?
A: Authorities, which could result in significant financial losses. In addition, non-compliance with MCR requirements can damage your reputation and erode trust with investors, customers, and other stakeholders.
Q: How often do I have to submit my mortgage call report?
A: MCRs are typically submitted on a quarterly basis. Meanwhile, the specific filing of deadlines and reporting periods may vary depending on the state where you are licensed. This includes the type of entity you operate.
Q: Can I manually enter my MCR data into the NMLS system?
A: Yes, NMLS offers a web-based platform where you can log in and input your MCR. Alternatively, some lenders and servicers may choose to use third-party software solutions to automate the data collection and submission process, which can streamline the MCR reporting process and reduce the risk of errors.