July 17, 2022
Reading Time:
5
min
8 Alternatives to Payday Loans That You Need to Know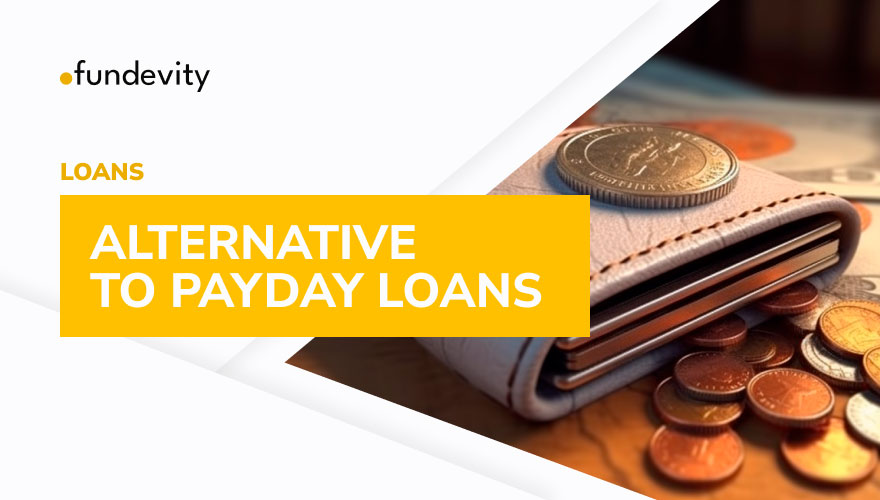 It's not unusual to run out of resources before payday, but using payday loans to fill the gap is a costly financial mistake. You might first believe it would only occur once, but if you are living paycheck to paycheck and you use the "comfort" of payday loans once, you'll probably use it again.
Consider either of these 8 alternatives to getting a payday loan if you need some short-term funding. While not all of them will be suitable for you, they all provide significantly more affordable borrowing options that won't keep you trapped in the loop of losing $15 to $100 or more from each paycheck to payday creditors. Share this knowledge with a friend if you know somebody who is having trouble with payday loans.
It may well be essential for some payday loan assistance if you are continually short on resources due to debt reimbursements eating up a sizable chunk of your paycheck before you could even have an opportunity to pay for financial needs. We can assist you in examining your financial circumstances to determine whether there are other ways of getting you out of debt and away from payday loans forever.
What Is a Payday Loan?
Payday loans include high-interest rates and are intended to be paid with the debtor's following paycheck. They normally range from $500 to $1000. Payday loans are frequently given to persons with poor or no credit and simply demand proof of identification, income, and a bank account.
Financial experts advise avoiding payday loans and turning to alternate financing sources instead, especially if there's any danger the debtor won't be able to return the loan right away.
A payday creditor will verify your employment status and checking account details before delivering cash on-site, online, or as soon as the same day.
The creditor will need a signed check or authorization to electronically withdraw funds from your bank account in exchange. The loan is payable right away following your subsequent payday, usually in two weeks, but occasionally in one month.
If the loan was obtained at a physical location, you may return it or pay it back earlier or on the due date. The creditor will issue the check or execute the withdrawal for the loan quantity borrowed plus the interest if you don't show up. Lenders on the internet withdraw resources electronically.
Payday loans are a sort of unsecured personal loan since they have high-interest rates and no need for collateral. These loans could be regarded as predatory lending since they contain exorbitant interest rates, don't take a debtor's capacity to pay back into the account, and have unstated terms that charge debtors additional costs.
Therefore, they may put consumers in a debt trap. If you're thinking about getting a payday loan, you might want to start by considering safer personal loan options.
Why Are Payday Loans a Bad Idea?
Among the most costly methods of borrowing resources is to take out a payday loan. While it might be more or less, a typical payday loan quantity is $500. In most cases, a debtor pays back the entire loan when they get paid on their following payday or when they get another sort of settlement, like a Social Security check. Typically, a payday loan must be repaid within 2 to 4 weeks. The majority of payday loans don't demand a credit check or evidence that you can pay back the loan.
If you are unable to reimburse the loan during the time frame specified in the lending agreement, you may be able to do what is termed as a renewal or rollover to prolong the loan. However, in addition to the principal and interest originally incurred, you might also be charged a renewal or rollover cost, such as $45 for example. Every time you reapply or roll over a payday loan, this cycle might continue, possibly costing you several hundred dollars in additional costs.
Some states forbid payday loans, while some payday creditors avoid operating in states with strict regulations on interest rates and fees. In some states, payday loans are limited in size.
Alternatives to Payday Loans
Payday loans could seem like your only choice if you're in a tight spot. However, due to their risk, take into account alternatives first, like:
Try Payday Alternative Loan (PAL)

Payday Alternative Loans (PALs) are only available through credit unions and are subject to strict regulations that cap the fees and loan sums you can incur. Payday loans can be avoided or paid off by using funds from PALs. When compared to payday loans, lower-cost PALs offer debtors greater time to reimburse their debt.

For PAL applications, a credit union may impose a cost of up to $20. With a settlement period of one to six months, PAL sums might vary from $200 to $1,000. As long as no PAL overlays or rollover, a debtor may receive up to three PALs in a six-month period.

APRs similar to credit card APRs are frequently offered by credit unions as PALs.
Apply for Personal Loans

You can normally borrow resources with a personal loan for terms of 2 to 5 years, occasionally even up to 7 years.

Large loan sums are simpler to manage because the longer period means lesser monthly settlements. It's not ideal to drag things out for so long, though, because you make settlements for just as long as you lend. Many internet creditors are open to dealing with clients who have poor or acceptable credit.
Borrow from Relatives or Friends

Although borrowing resources from friends and family might strain relationships, there are occasions when it's the ideal way to avoid taking out expensive loans. If someone is prepared to assist you, weigh the benefits and drawbacks, and consider what would happen if you were unable to return the loan.

You must make a formal agreement with your family member that specifies the loan's terms, including its minimal interest rate, according to IRS regulations. Set up a free appointment with a CPA if you can, and ask them what all the potential tax consequences of the loan might be for both you and the individual lending to you.
Use Your Credit Card to Get a Cash Advance

A credit card cash advance is really not a cheap solution, but it's almost always preferable to a payday loan. The majority of issuers will tack on a fee as a percentage of the advance, typically approximately 5%, with a minimum of $5 to $10. The typical annual percentage rate (APR) for financial advances is roughly 25%.

It's important to settle the advance as soon as possible to avoid excessive interest on the balance. Interest is charged on credit card cash advances right away, unlike purchases or debt transfers. Your short-term loan may turn into a long-term debt burden if you let the balance linger month after month.
Borrow from a Credit Union

Credit unions are member-owned, not-for-profit organizations, unlike typical banks. Because of this, credit unions may offer personal loans as well as other forms of loans at lower rates. Additionally, credit unions typically have fewer eligibility standards than regular banks, so even if your credit is less than outstanding, you might be able to get a loan.

Similar to a payday alternative loan, the said choice necessitates membership in a credit union.
Request Payment Assistance from Your Lenders

Inquire about settlement and assistance programs if you're thinking about getting a payday loan because you require assistance settling your bills or keeping up with your settlements. For instance, your auto loan provider might be open to negotiating a solution with you. Instead of taking on extra debt or having your automobile repossessed, you may even be able to bargain for late settlement or an alternative settlement schedule.
Look for Local Government Programs

You may also receive some financial aid from regional assistance programs run by your department of health and human services. Your local office needs to have details on a range of financial assistance programs that might settle for food and other costs.

For instance, up to $835 per month in food assistance may be available under the Supplemental Nutrition Assistance Program (SNAP). If you're qualified for the program, the benefits you receive for food may be able to prevent you from getting a loan.
Consider Your Emergency Fund

Consider using your emergency savings, if you're privileged enough to have them, rather than taking out a payday loan. An emergency fund can be used to cover your necessities while preventing pricey debt, which may be necessary at the time. Of course, if you're considering borrowing resources for a "desire" rather than a "need," it's important to maintain your savings intact.
Select a different financing solution from this list if you wish to avoid the escalating expenses associated with a standard payday loan. The greatest choice for your particular situation will depend on how each alternative stacks up. The solution that will save you the most resources is probably the best choice for you.