October 28, 2023
Reading Time:
4
min
SmartTrader.com Review: Where Trading Becomes an Adventure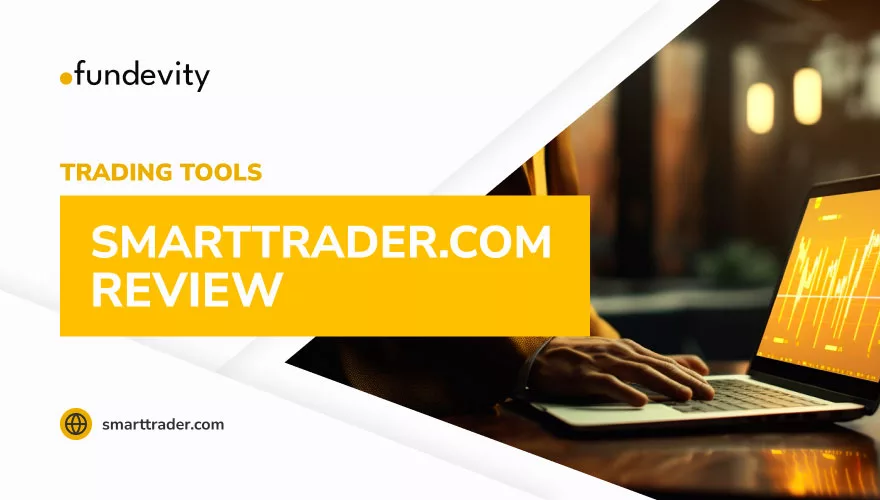 Having a reliable charting and analysis platform can make or break your success story. We all know this! SmartTrader, a thorough tool designed for stock, forex, and cryptocurrency trading, offers a ton of features. These are algorithmic trading, customizable workspaces, and smart tools. But is it the right choice for you? Let's dive into our SmartTrader.com review to find out.
| | |
| --- | --- |
| | General information |
| Name | SmartTrader.com |
| Type of company | Trading Tool |
| Regulation status | Unregulated/Not expected |
| Warnings from Financial Regulators | No official warnings |
| Website link | smarttrader.com |
| Active since | n/a |
| Registered in | Orlando, Florida, United States |
| Contact info | Data is hidden |
| Trading platforms | Web Terminal |
| Majority of clients are from | United States, Colombia, Thailand, Ecuador, Spain |
| Customer support | Contact form (email), chat, and social media |
| Compensation fund | No |
Trading Bots 101
Trading bots, often misunderstood as robotic overlords, are actually programs designed to assist traders. They can operate autonomously, allowing 24/7 trading. Or, they can work alongside manual strategies, reducing repetitive tasks. 
These bots offer benefits like trading efficiency, emotion-free decisions, and effective multitasking. Yet, it's vital to understand that fully automatic bots aren't magic. They do require smart decisions and continuous monitoring. So, educating yourself about expert advisors is crucial. The same goes for thorough testing on demo accounts before live trading. 
How Does SmartTrader.com Work?
SmartTrader stands out as a broad charting and analysis platform for various trading domains. It supports automated technical analysis and algorithmic trading. What's more, we can see it provides access to professional trade ideas and trading rooms. 
Highly customizable, it can be connected to any MetaTrader 4 brokerage. Is this the right fit for your trading journey? Let's explore further.
SmartTrader.com Pricing Options
This tool offers a free tier with basic tools, limited workspaces, and indicators. The Plus plan at $14.95 per month or $155.40 per year expands the features. Then, the Prime plan at $29.95 per month or $299.40 per year unlocks advanced chart types and SMS alerts. 
The Pro plan at $99.95 per month or $1,019.40 per year offers extensive customizations. It also has unlimited brokerage connections. Moreover, their marketplace allows purchasing custom indicators and trading scripts, which is great.
Tip: Experience trading redefined with Overcharts. Based in Italy, this cutting-edge platform opens doors to a world of powerful tools. You can check them out!
SmartTrader Features
Their charting interface offers many styles and over 100 technical indicators. Its unique feature allows viewing multiple smarttrader.com charts simultaneously. This is all done within a workspace. We must say this truly boosts user experience. 
The platform's automated tools overlay Fibonacci retracements, trendlines, and candlestick patterns, simplifying analysis. Besides, their "smart gauge" tool provides quick buy, sell, or hold ratings, for better decision-making.
Note: Are you curious about Magnifi? This company has arisen as a favorable candidate in the world of investments. They are registered with the SEC.
Explore the Smart Hub
Discover Smart Hub, an amazing learning hub provided by SmartTrader.com. We truly like it so far! Here's what this comprehensive resource offers:
Tutorials:

You can access a variety of tutorial videos to boost your trading skills and knowledge.

Blog:

Explore insightful blog posts filled with practical tips and trading insights.

Knowledge Base:

You can find answers to your trading queries and access instructional how-tos for better learning.

Ideas Community:

Engage with other traders, exchange setups, and discuss smart trading strategies.

Trading Rooms:

Participate in live interactive trading rooms hosted by experts for real-time insights.

Marketplace:

Customize your trading experience by shopping for Smart Tools, Indicators, Workspaces, and more.
Smart Hub truly simplifies learning. We can see this is a solid platform for traders at all levels.
Assets and Compatible Brokers
Now, what is there to mention regarding brokers and the assets they support? There are over 8,000 symbols covered, including stocks, ETFs, forex, and crypto assets. Smart Trader cares about the interests of many. 
It easily integrates with any MetaTrader 4-compatible broker, although direct FX trading is the primary option.
SmartTrader Platform Differentiators
This company is different with its robust automated technical analysis tools. Yet, let's not forget their outstanding user interface. 
Adding trendlines and identifying support and resistance zones becomes effortless. Clearly, this makes it an ideal choice for experienced traders with verified strategies. The platform's alert system, customizable to execute trades, adds to its appeal. 
What Type of Trader is SmartTrader Best For?
It's important for us to know what type of traders prefer this company. Namely, this company is more for experienced traders with developed strategies. It is primarily made for those who prefer forex trading. Also, its flexibility suits both day and swing traders. 
Yet, caution is advised for new users, as the automation features need careful handling. Remember, this tool excels when used by traders with proven, profitable strategies.
Trader Reviews on Trustpilot
Now, what is there to know about trader reviews? Trustpilot reviews point to an average rating of 3.7 stars from 14 traders. 
While this indicates a fair experience, it's wise to consider platforms with higher ratings for a better trading journey. Popular brokers with 4.5-star ratings or above guarantee a safer trading environment. Keep this in mind. 
Pros and Cons
It's time to take a look at the pros and cons of this trading tool. Let's hop into it! 
Pros of SmartTrader.com:
Customize your workspace to match your preferences.

Simplify market analysis with automated tools for easier decision-making.

Get continuous trade ideas for potential opportunities.

Automate your trades and test strategies as you wish.

Easily integrate with any MetaTrader 4 brokerage.
Cons of SmartTrader.com:
Limited options for stock and forex trading directly.

Some advanced features like trading rooms and the smart gauge come at an extra cost.
Earning Money Trading
Interested in making money through online trading? Our free consultations and expert advice can guide you to the best trading platforms. Also, we have our AI Analysis Bot that offers insightful trading advice. 
Try it free for 20 days, and explore detailed FX and stock analysis reports. Boost your profits in no time with our cutting-edge tools.
Final Words
All in all, SmartTrader offers a great platform for seasoned traders. They have an amazing educational hub, we must agree! However, for a more reliable and advanced trading experience, consider exploring our AI Analysis Bot. 
We aim to simplify trading, helping you make wise decisions and achieve profitable outcomes. Stay informed and trade smart.
FAQs
Is SmartTrader Free?
Yes, SmartTrader offers a free tier with basic tools, though advanced features need subscription upgrades.
What is the Difference Between SmartTrader and TradingView?
SmartTrader offers robust automated tools, while TradingView provides a platform with diverse charting options.
Can I Trade Without Making an Investment?
SmartTrader offers a free tier, but for better features, a subscription is required.