November 23, 2022
Reading Time:
4
min
XpresTrade Review – Learn More About XpresTrade Broker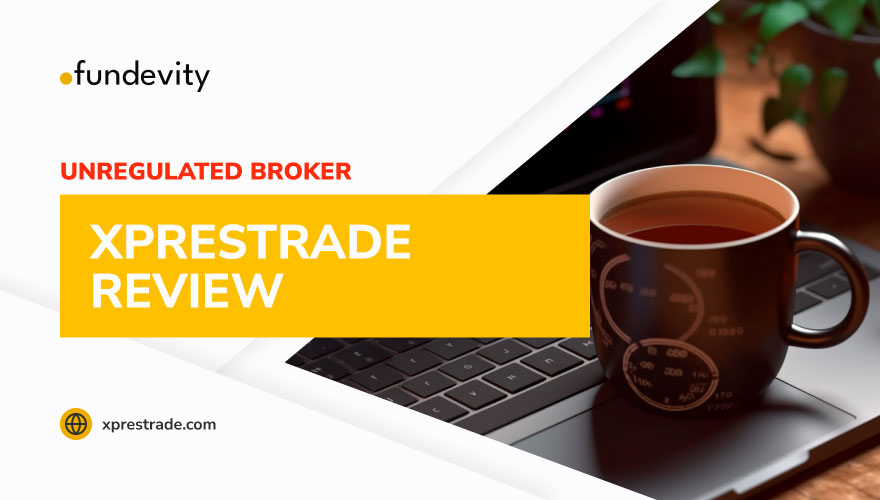 Taking a quick look at their webpage, an inexperienced trader might get the impression that this is just another broker trying to make its way to the top of the food chain. Everything seems to be in order, the footer section offers most of the information that a future client might need, and besides the eye-stabbing color scheme, this appears to be another brokerage offering their clients forex and CFD trading.
| | |
| --- | --- |
| Leverage | 1:400 |
| Regulation | Unregulated |
| Broker Site | xprestrade.com |
| Headquarters | Marshall Islands |
| Minimum Deposit | 250$ |
| Review Rating | 1/5 |
| Broker Type | Forex |
| Platforms | Webtrader |
| Spread | 3 pips |
That is until you realize that the brokerage is registered in the Marshall Islands, an offshore zone famous for offering refuge to financial swindlers of all sorts. This little piece of information is where XpresTrade starts to unravel, revealing them to be another scam broker.
Are You Protected at XpresTrade? Regulation and Safety
XpresTrade claims to be operated by Signix LTD, which appears to be a small-sized marketing agency located in the Marshall Islands. This is seriously starting to look like a fraudulent project already. 
The first thing you should know is that the Marshall Islands have no legal framework dealing with forex regulation. This means that brokers based in the Marshall Islands are not regulated, allowing them to offer basically anything to their customers. 
Another red flag for XpresTrade is that its payment provider is located in Bulgaria, another country that is not well known for its credibility. 
Another inconsistency that is easy to spot is that while their site has a page dedicated to legal documents, a trading license is actually not mentioned anywhere. Although we could have guessed from their registration location, this bogus broker is operating without a license, which is a big no-no in the world of trading and investing. XpresTrade is obviously not a safe place for your capital and you'd be smart to avoid them.
XpresTrade Trading Platform Overview
Like any other scam broker, XpresTrade claims to give its users access to the best of the best in trading software. This is of course a blatant lie, the phony broker offers its customers a basic Webtrader platform that is anything but innovative. 
Webtrader is famous for being used by financial swindlers over the world, it lacks most functions that advanced platforms have to offer, it is not reliable, and has poor performances compared to platforms such as MetaTrader 4 or MetaTrader 5. Offering a subpar trading platform while claiming that is unique and innovative, is another sure sign that you are dealing with a fraudster and that you should keep your money away.
Account Types You Can Choose at XpresTrade
The would-be broker offers their clients 5 different accounts, which turn out to really differ only by the minimum deposit required to open the account and leverage offered to clients. 
The accounts offered are: 
Classic Account
Silver Account
Gold Account
VIP Account
Black Account
The minimum deposits for the accounts range from 250$ for the Classic Account to 200000$ for the Black Account. It is worth mentioning that the average deposit required by regulated brokers is around 10$. With this in mind, it is easy to see that Xprestrade is nothing but a scam project designed to rob you of your money.
Trading Instruments You Can Trade
Xprestrade offers their clients pretty much what any other scam broker or even legitimate broker has to offer. The difference here is that while their offer may be standard, their trading conditions are insane. Trading instruments made available by Xprestrade are:
Forex
Stocks
Indices
Cryptocurrencies
Commodities
While it may look like you have an amazing offer in one place, taking a closer look at the trading conditions reveals quite the opposite. The spread for currency pairs offered for example is 3 pips, this is three times higher than what you would normally encounter. The maximum leverage of 1:400 is another reason to avoid this fraudster, as this kind of leverage poses a great risk to your investments.
XpresTrade Deposits/Withdrawals Methods
As we've mentioned before, the minimum deposit with Xprestrade is 250$, which is a standard minimum deposit that scammers like to ask for. Depositing and withdrawing methods are credit and debit cards. Though this might seem legitimate, the scam trader uses a very suspicious payment processor which is well known for offering services to scammers of all kinds. 
Withdrawal conditions are even more dubious. The minimum withdrawal amount is 100$ which is too much. Besides that, withdrawals take 30 days to be processed, which is insane. The average time for processing withdrawals is 24-48 hours. Last but not least, withdrawals require 500 000$ or more in turnover, not fulfilling this absurd requirement means that clients have to pay 120$ in fees. This, of course, comes on top of the standard fee of 20$ applied to any transaction.
How Can I Get a Refund if XpresTrade Scammed Me?
We hope that you didn't fall for Xprestrade's false promises, but if you have don't worry, as this happens to people all the time. Lucky for you, all is not lost, as making a transfer by debit or credit card means that you can go to your bank and request a chargeback.
Transactions made through banks are legally regulated in a way that allows people to reclaim their money if they have been scammed. But be careful not to wait for too long, as you can request a chargeback only for up to 540 days after you have made your deposit.
XpresTrade Summary
Unlicensed broker.
Bad trading platform.
Terrible trading conditions.
High fees.
Very high requirements for withdrawals.
FAQs About XpresTrade Broker
Is XpresTrade a Trustworthy Broker?
As you can see from our Xprestrade review, they are not a trustworthy broker.
How Long Do XpresTrade Withdrawals Take?
Withdrawals can take up to 30 days.
What Is The Minimum Deposit For XpresTrade?
The minimum deposit for XpresTrade is 250$.