July 14, 2023
Reading Time:
6
min
4C Trading Signal Review: A Critical Analysis of 4C Trading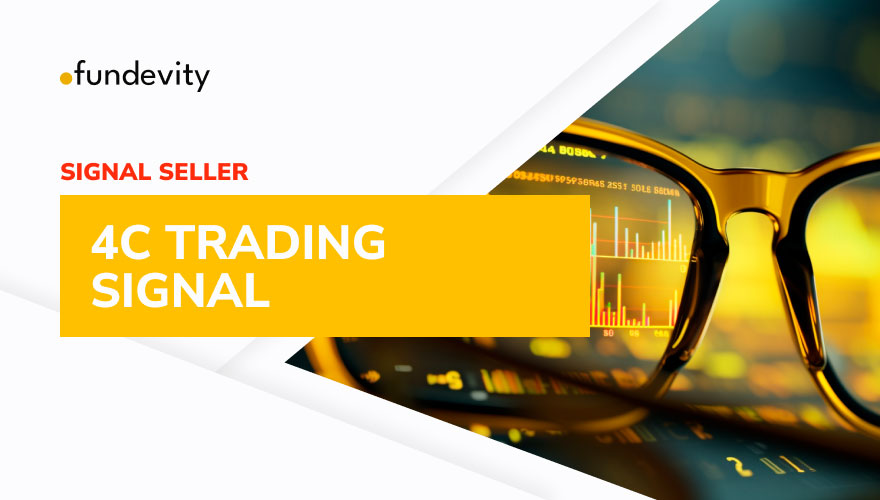 On June 15, 2019, Crypto Addicts and CryptoMedics merged, forming a group of channels offering diverse services. 4C was launched to provide outstanding crypto signals and education for beginners. 
Safe Trading works with Crypto Addicts and can vouch for their high-quality Bitcoin signals. Although less familiar with CryptoMedics, they are experienced crypto professionals. Expect enriching trading groups, courses, and cryptocurrency predictions from them. Read our 4C Trading review for more details.
Exploring 4C Trading
Our review of 4C Trading bots explores their unique crypto signals and trading services. Their advanced algorithms support BTC, BNB, ETH, LINK, and SOL, enabling beginners to invest hands-free in 2023. Established in 2018, 4C Trading is based in Brussels, Belgium. Benjamin Duval and Julien co-founded the startup and honed their trading skills. 
Signing up to review the 4C trading bot is easy. They offer a seven-day free trial, allowing clients to explore the platform. Subscription fees can be paid by credit card. Once registered, traders can integrate their Binance exchange API key with the 4C dashboard. To create an API key, clients need to log in to Binance, access their Profile, and navigate to API Management. By providing a name and completing 2FA security, Binance generates your API key consisting of a long string of random numbers.
The next step involves reviewing the available bots at 4C Trading and selecting one to trade with. Users can determine their investment amount, and the bot will automatically execute trades for the chosen currency pair on the Binance exchange through API integration.
Our evaluation reveals that 4C Trading operates a free Telegram channel with a thriving community. It has over 7,600 subscribers. They receive the latest news, BTC updates, and a weekly diamond report with market research.
4C-Trading
During our review of the 4C Trading bots, we found that the company keeps its algorithm and bot strategies confidential. This makes it challenging to determine the specific trading types employed. Yet, they emphasize the use of a robust risk protection system. They also take advantage of daily price fluctuations based on market trends to generate profits.
As of 2022, the 4C bots are compatible with popular cryptocurrencies such as:
Bitcoin

BNB

Chainlink

Ethereum

Solana
These automated machines track these markets 24/7. They patiently wait for lucrative trading opportunities to arise. 4C trading bots are well-suited to beginners as they need minimal knowledge to set up. The team behind these bots aims to assist individuals without extensive trading experience. While they may lack customization options, this simplicity makes them an excellent starting point for newcomers.
Currently, the 4C bots are only compatible with the Binance exchange. That is a prominent cryptocurrency platform. Binance offers competitive fees, a wide range of markets, and seamless integration with trading bots. It is, by all means, an attractive choice for beginner traders. 
During our 4C Trading analysis, we discovered that a dedicated mobile trading app was not yet available. Yet, their website loads quickly on 4G connections. The trading interface is well-designed, with many menu options. And it scales down effectively for convenient smartphone use.
4C Trading Signals
4C Trading is a crypto platform that enables users to buy, sell, and trade cryptocurrencies around the clock. They offer secure crypto-analyst spot and futures signals, along with free daily signals in their general group. The signals include detailed entry points, profit levels, and stop-loss orders. These signals are generated using an advanced algorithm that follows current market trends.
One of their offerings is the 4C Investment Bot. This one provides access to premium-only spots or futures channels. They offer monthly and yearly pricing plans. Also, they offer detailed entry points, take profit levels, stop-loss orders, access to premium indicators, and 24/7 support.
Telegram Channel
Crypto Telegram groups offer real-time communication and timely information. 4C Trading excels at delivering these advantages. We know that their team consists of 15 experts, each specializing in specific areas. They address inquiries and concerns from users. 
Crypto trading signals are promptly shared with users through public chat. 4C Trading ensures traders stay informed and updated. Regardless of the time, the 4C Trading Signal Telegram channel administrators provide clear and timely responses. They maintain well-moderated chatrooms free of spam or errors. This ensures crypto calls remain accurate, up-to-date, and accessible. You want to avoid getting lost in irrelevant or outdated data.
4C Trading Offering
4C Trading customers have access to two primary products: Crypto Trading Signals and robots. These crypto robots utilize advanced trading algorithms, allowing users to autonomously buy, sell, and execute crypto assets based on predetermined trading plans.
One notable offering is the 4C Investor Club. This one caters to elite traders by providing a comprehensive package of advanced crypto trading algorithms. Members of the 4C Investor Club enjoy unrestricted access to SMART bots without initial fees. This ensures they can benefit from lucrative market opportunities.
Crypto Robots
We discovered several notable features offered on the platform. 4C Trading offers advanced Smart bots that handle complex tasks while traders profit. These algorithmic bots are specifically designed for Bitcoin, Ethereum, BNB, Link, and SOL (Solana). They let traders quickly increase their capital with minimal fees.
4C Trading's robots offer highly advanced trade margin signals, empowering subscribers to determine the optimal timing for profitable trades. With cutting-edge automated crypto trading technology and low fees, traders can make well-informed decisions.
4C Dashboard: Throughout our evaluation of 4C Trading Bots, we were impressed by the platform's ample services and professional website layout. The UI-friendly dashboard presents traders with vital trade and investment details. It also provides insights into the cryptocurrency market, automated trading, portfolio management, and access to profitable marketing tools. This is all conveniently accessible from one central location.
Investors can leverage the 4C dashboard to stay updated, analyze their trades, and effectively manage their portfolios. Alongside these services, 4C Trading also offers other bot trading products.
Crypto Trading Signals
4C's crypto signals notify subscribers when to execute profitable trades. 4C Trading provides the most reliable crypto signals available.
We also discovered that clients had succeeded in manually trading the provided crypto signal alerts. With an impressive hit rate of over 80%, the signals come with a risk management factor to help traders determine their suitability. As a reliable trading signal provider, 4C Trading offers both technical and fundamental alerts. This enables beginner traders to learn about the markets and make profitable trading decisions.
With over four years of operation, 4C Trading Signals offers software services in the cryptocurrency industry. They have gained recognition on reputable crypto platforms such as CoinTelegraph and Stacked. Yet, it is critical to note that online reviews of the company are mixed. While some customers have had positive experiences and made profits using their services, some expressed dissatisfaction and reported losses.
4C Trading Customer Support
To assist beginners with their trading education, 4C Trading's website includes a comprehensive FAQ section. These informative resources address common questions and serve as a great starting point for them. 
Clients can contact 4C Trading's customer support team via email at [email protected] or via live chat on their sites: 4ctradingsignals.com or 4c-trading.com.
Protecting Yourself From Forex Scams
Protecting yourself from forex scams is vital for safeguarding your investments. Follow these steps to stay safe:
Research and verify brokers and signal sellers before investing.

Avoid unrealistic promises of high returns with low risk.

Use secure and trusted trading platforms.

Educate yourself about forex trading and common scam tactics.

Seek advice from trusted sources and avoid unsolicited tips.

Trade with regulated brokers and avoid unregulated ones.

Practice with demo accounts to familiarize yourself.

Be skeptical of guaranteed profits or secret strategies.
By taking these precautions, you can minimize the risk of falling victim to forex scams. Also, you can ensure a safer trading experience.
Signals to Look Out for When Identifying Fraudulent Forex Signals
Beware of fraudulent forex signals! Look for these warning signs:
Guaranteed profits or unrealistic success rates.

Mysterious or undisclosed trading strategies.

Urgency and pressure tactics.

Exorbitant subscription fees or hidden charges.

Unverifiable performance claims or testimonials.

Lack of responsive customer support.

Unregulated signal providers.
Stay vigilant and choose reputable providers that prioritize transparency and reliability. Protect yourself from forex signal scams.
Getting All The Thoughts Together
Our review of 4C Trading Signal reveals valuable insights. The platform offers intelligent bots, advanced trading algorithms, and superb crypto signals. It operates a free Telegram channel with a thriving community. 
Yet, the company's approach to algorithm and bot strategies is confidential and raises questions. The bots are compatible with popular crypto coins and suited to beginners. While the platform lacks a dedicated mobile app, its website is mobile-friendly. 4C Trading also offers a 4C Investor Club, crypto trading signals, and a UI-friendly dashboard. Customer support is accessible via email and live chat. Yet, it would be best if you considered both positive and negative customer experiences with 4C Trading Signal.
You must conduct independent market research before making decisions based on our information. Here you can book a free consultation and find out what to do for a start.
FAQs
What is 4C Trading?
4C Trading is a crypto platform that offers a range of services to traders and investors in the crypto market.
Does 4C Trading provide support for its users?
How does 4C Trading distribute forex signals?
4C Trading distributes forex signals through various channels. For instance, their platform and Telegram channel.
What are some red flags when evaluating forex signal providers?
When evaluating forex signal providers, red flags are guaranteed profits, mysterious or undisclosed trading strategies, and more.