August 19, 2023
Reading Time:
5
min
B&B Profit Review in Detail: Unregulated Broker Alert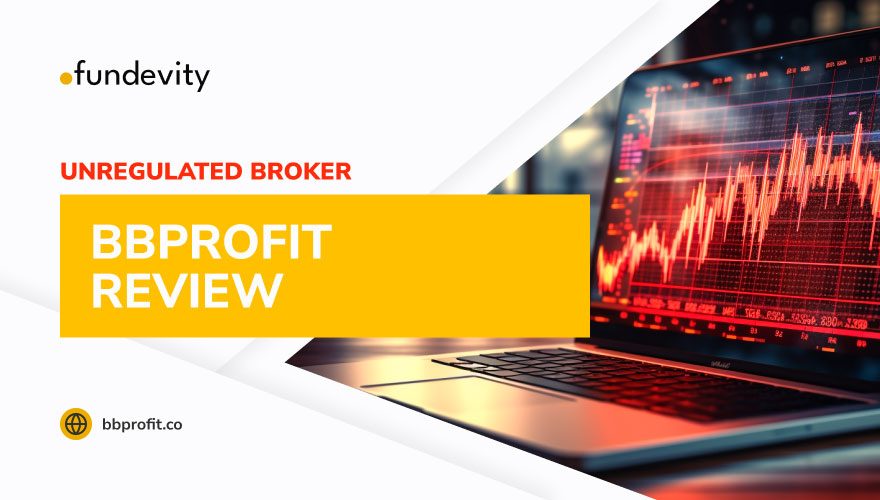 Many people have been wondering about the B&B Profit scam. In the busy trading world, one name that's been making waves is B&B Profit. Promising a wide range of CFDs and other financial services, this broker claims to be located in London, UK. However, beneath the surface, there seems to be a lot more than meets the eye. In this B&B Profit review, we delve into the world of this unregulated broker. We will separate fact from fiction and uncover some unsettling truths. Stay tuned!
General information
Name:

B&B Profit

Regulation status:

Unregulated Broker

Warnings from Financial Regulators:

No official warnings

Website link:

bbprofit.co

Active since

2023

Registered in

London, UK

Contact info:
+48451691968; +3613237093 +420354978447; [email protected]
Trading platforms:

Web-MT5

The majority of clients are from

Hungary

Slovakia

Ukraine 

Customer support:

Email, form, and contact form

Compensation fund:

No
B&B Profit Legitimacy: Is There More Than Meets the Eye?
B&B Profit CO LTD positions itself as a provider of various trading instruments, hailing from the heart of London. But as we dig deeper, a sense of suspicion surrounds its offerings. 
The alleged London address raises eyebrows, with indications that it might not be as genuine as it claims. More alarmingly, the broker lacks substantial regulations, relying on a questionable license from the 'England and Wales office. Remember that this one holds no weight in real financial regulatory circles. The lesson here is clear: it's crucial to trade exclusively with Tier 1 regulated brokers to ensure the safety of your investments. 
Go for brokers that are regulated by ASIC, BaFin, CySEC, or FCA.
B&B Profit Assets: An Array of Choices or Smoke and Mirrors?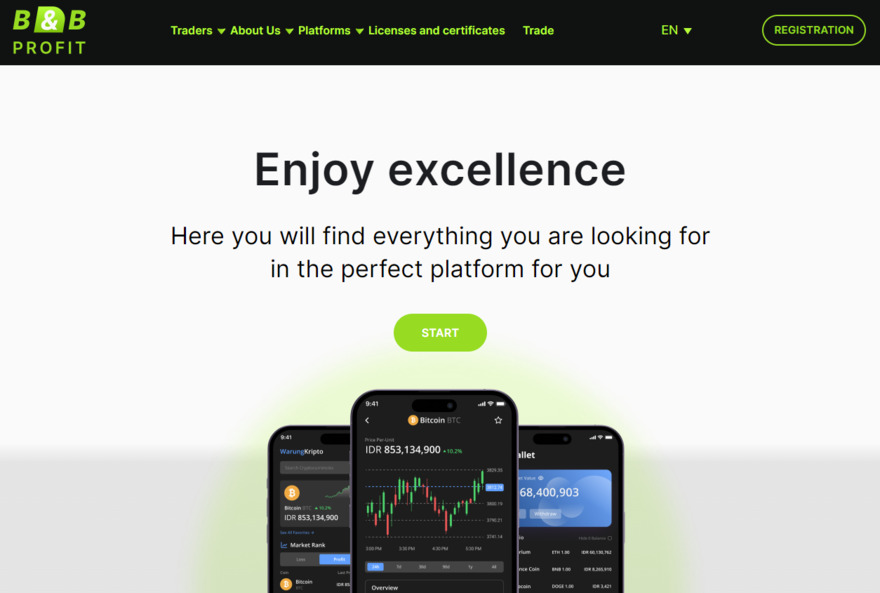 B&B Profit scam entices traders with a staggering 300+ assets spread across various classes. They promise opportunities in stocks, Forex, commodities, cryptocurrencies, and international stocks. While they list assets like EUR/USD, S&P 500, and BTC & ETH, the lack of transparency around their stock offerings raises suspicions. 
However, the promise of "practice brings results" coupled with minimum transaction amounts could be seen as an attempt to attract traders.
Modern market signals and the concept of building a trading plan are the features that they highlight. They claim a global presence in 108 countries. Namely, this diverse range of assets and features might sound appealing, but it's vital to approach it with caution.
Important Note: Safeguard your funds by steering clear of unregulated brokers such as BBprofit and CoinsBank. Your financial security is paramount.
Trading Platforms Available: A Dubious MT5 File
One of the most eyebrow-raising aspects is B&B Profit's offer of a downloadable MT5 file, which raises concerns about its authenticity and security. 
To steer clear of potential risks, it's best to opt for brokers that offer established platforms like MT4 and MT5, known for their reliability and robustness. These platforms offer features like advanced charting, expert advisors, and UI-friendly interfaces, ensuring a smooth trading experience.
Remember: Stay safe with your money by not using unregulated brokers like BBprofit and Coin Xe.
Trading Environment: The Fine Print of Too-Good-to-Be-True Claims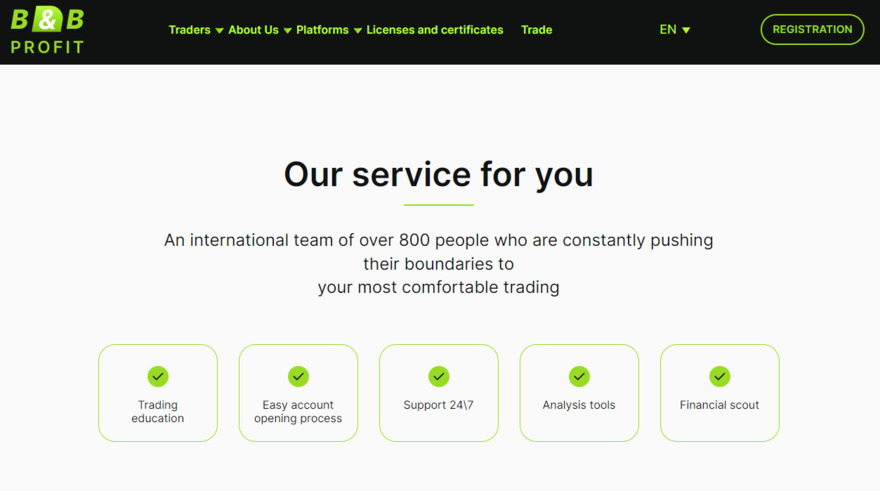 B&B Profit claims to provide a qualified consultation team, a personal manager, and an improved trading site. While these claims sound enticing, it's important to remember that they are part of the broker's marketing strategy. 
A cautious approach is essential, as promises of maximum profit and comfort might be just that – promises. Evaluating the platform's main criteria and considering its market signals can be beneficial but should be taken with a grain of suspicion.
Note: Make sure to avoid unregulated brokers like BBprofit and Coin Royal. Keep your money safe. 
Customer Support: Is It Reliable?
B&B Profit offers contact details, including telephone numbers and an address in London. However, authenticity remains questionable. It's important to approach such contact information with caution. 
Legitimate brokers often have clear and professional customer support systems, so it's recommended to opt for regulated brokers for added peace of mind.
Take a look at the contact details:
+48451691968; +3613237093 +420354978447; +421233221012

22 BISHOPSGATE LONDON ENGLAND EC2N 4BQ
B&B Profit Withdrawal: Hidden Payment Options
Here's where B&B Profit's lack of transparency truly comes to light. The broker conveniently omits to mention its payment options. It leaves traders in the dark about their financial dealings. This raises concerns about the legitimacy of the broker's operations. 
To ensure secure transactions, it's wise to choose regulated brokers with transparent payment options. Those can be PayPal, Skrill, Advcash, bank cards, and crypto.
Trader Reviews on Trustpilot: 2.5-Star Rating
It's quite concerning that reviews available on Trustpilot for B&B Profit are extremely poor (2.5). Trustpilot serves as a crucial platform for customers to share their experiences, and the fact that there are poor ratings for this broker is certainly a cause for suspicion.
Trustpilot's purpose is to provide transparency and help customers make informed decisions by reading about others' experiences. When a company lacks reviews or has bad ones, it's natural to wonder why that might be the case.
In the world of online trading, choosing a broker with a solid reputation is vital. Brokers who have received consistently high ratings, such as 4.5 stars and above on platforms like Trustpilot, usually indicate a more reliable and secure trading environment.
Scam Broker Tactics: Protecting Yourself from Deceptive Strategies
When it comes to scam brokers, their bag of tricks is vast and cunning. Stay on guard against the allure of extravagant profits that seem too good to be real. Be cautious of their nebulous assertions about regulations. And don't give in to their tactics of rushing you into quick investments. 
Always, without exception, undertake meticulous research before concluding your choice of FX brokers. Remember, if a proposal sounds too enticing, chances are it's a mirage designed to ensnare you. Your financial well-being is paramount, and staying informed and cautious is your best defence against these risky tactics.
Long Story Short: B&B Profit
In the ever-expanding world of online trading, B&B Profit's claims might appear alluring. However, a closer examination reveals a trail of suspicion and questionable practices. When it comes to your hard-earned money, it's essential to prioritize security and legitimacy. 
Opting for regulated brokers with a proven track record offers a safer and more reliable trading experience. Stay vigilant, and remember that in the realm of trading, caution is your greatest ally.
If you need help choosing regulated brokers, contact us for a free consultation.
FAQs
Is BBProfit Legit?
No, BBProfit's legitimacy is questionable. Avoid them.
Does BBProfit Have a Mobile Trading App?
Yes, it offers bogus MT5 apps for iPhone and Android.
Does BBProfit Offer a Demo Account?
No, BBProfit doesn't provide a demo account.